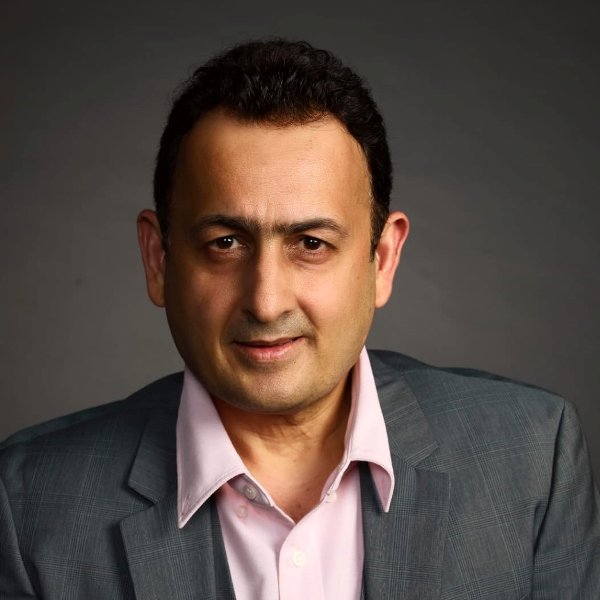 Vinod Bhanushali is an Indian businessman and film & music producer, who served as the president of Global Marketing and Media Publishing for T-Series. He has worked with several popular artists including Kumar Sanu, Sonu Nigam, and Abhijeet Bhattacharya. He is the founder of Bhanushali Studios Limited.
Wiki/Biography
Vinod Pradhan Bhanushali was born on 15 January in Mumbai. His zodiac sign is. He did his schooling till the tenth standard at Smt. M D Bhatia English Medium High School and pursued commerce at K. J. Somaiya College of Science & Commerce in Mumbai. He pursued a bachelor's degree in Commerce at the University of Mumbai.
Physical Appearance
Height (approx.): 5′ 8″
Hair Colour: Black
Eye Colour: Dark Brown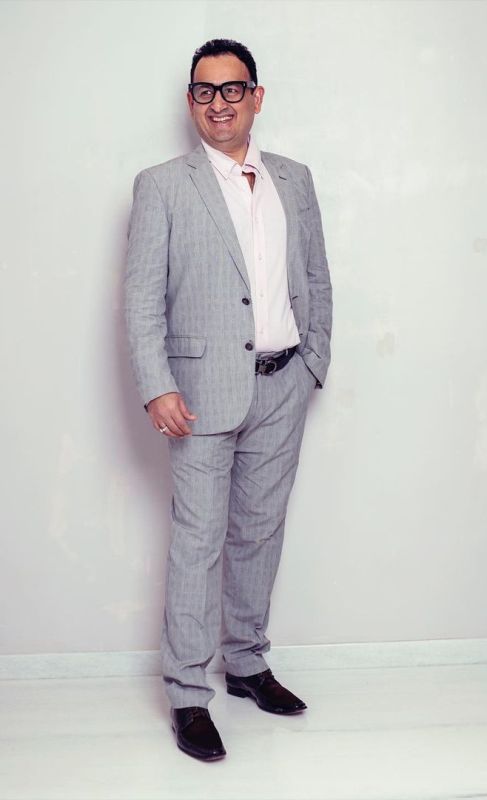 Tattoo
He got a tattoo of Chinese characters inked on his right arm.
Family & Caste
He belongs to a Hindu family from the Vaishya community.
Parents & Siblings
His father's name is Pradhan Bhanushali. His mother, Jamnaben Pradhan Bhanushali, passed away on 18 October 2022. He has two brothers, Arvind Bhanushali, and Bhavesh Bhanushali. Both his brothers are associated as co-directors and designated partners with several private companies just like Vinod.
Wife & Children
On 29 December 1996, he got married to Rinku Bhanushali, who hails from Chhindwara in Madhya Pradesh. The couple has two daughters, Dhvani Bhanushali, and Diya Bhanushali. His elder daughter, Dhvani, is a model-turned-singer. She is popularly known for singing the Hindi songs Dilbar, Ishtehaar, and Vaaste.
Career
Vinod's Golden Opportunity
Bhanushali began his career at the Mumbai Customs Docks as a clearing and forwarding agent. Later, Vinod worked as an associate junior worker for Sahara Movie Studios. While he was working there, the founder of Super Cassettes (T-Series) Gulshan Kumar observed his work and asked Vinod to come along with him. In November 1994, he offered Vinod to work with T-Series, an opportunity Vinod didn't want to say no to!
Working with T-Series
He dedicated all his time to working for Gulshan Kumar even if it meant working over 18 hours a day. Initially, he worked under the production team, where his work majorly consisted of booking dates for film and song shoots, getting the logistics in place, and coordinating with the directors, producers, and artists (for music videos).
The process of creation, and creating an IP! That's where it got into my DNA. The thought of creating something from air and being a part of the process of creating something so beautiful made me feel excited and gave me a sense of satisfaction! The feeling of being proud of something after it became successful, and having the honour of being a part of it, that was my drive!"
Between 1996 to 1997, Vinod earned a position in the marketing team. The first task he was given was to get their music on Channel [V] India. He faced several rejections while getting the song Billo, sung by Sukhwinder Singh, on Channel [V] India. Later, he became the president of Global Marketing and Media Publishing, and content acquisition at T-Series. In August 2021, Vinod Pradhan Bhanushali resigned from T-Series after working there for 27 years. In an interview, while expressing his gratitude to Gulshan Kumar and Bhushan Kumar, Vinod talked about resignation and said,
Whatever I know about music and films, I have learnt it all during my sole long innings in this company. I'll forever be obliged to my mentor, Gulshan Kumar Ji, and Bhushan Kumar for giving me a platform and directing me to perform and grow from strength to strength along with the company."
Launching Production Studios 
In 2021, he started his own production house, Bhanushali Studios Limited. The following year, he launched his own music label, Hitz Music.
Vinod Bhanushali's notable works include the production of Bollywood films including Kabir Singh (2019), Batla House (2019), Thappad (2020), Janhit Mein Jaari (2022), and Main Atal Hoon (said to release in December 2023).
Other works
Director & Designated Partner
On 1 October 2021, Vinod was appointed as the director of Aum Advertising And Media Private Limited, a private company. Additionally, Vinod Bhanushali got associated with various private companies including Big Umbrella Licensing & Distribution Llp (on 03 August 2021) and Hitz Music Llp (on 20 September 2021), Hifi Digi Advertising Solutions Llp (01 October 2021), and Body Corporate DP Nominee (22 October 2021) as a designated partner.
Controversy
Tax Evasion Raid in 2023 
On 19 April 2023, the Mumbai-based Income Tax Department's Investigation Wing searched the homes and offices of several well-known Bollywood producers. Vinod Bhanushali along with Jayantilal Gada, a film producer and distributor, were also the targets of the income tax raids. Bhanushali Studios Limited, Hits Music, and Vinod's home office were raided by the I-T Department for alleged income tax fraud and financial irregularities. The income tax inspectors carried out the operation all day long. 
Favourites
Snacks: Pav Bhaji, Chaat-papdi
Film(s): Don (2006), Bajrangi Bhaijaan (2016), Dangal (2016)
Facts/Trivia
He also goes by the names Pradhan Vinod Bhanushali, Vinod Bhanu, and Vinod P. Bhanushali.
Vinod likes to binge-watch Netflix shows like Narcos and also likes to watch The Kapil Sharma Show.
Vinod consumes alcoholic beverages occasionally.
He is a travel enthusiast and often shares pictures from his trips with his family.
Vinod Bhanushali became a confidante to Gulshan Kumar. Vinod said in an interview that he frequently wondered why someone like Gulshan would trust someone who was so young and inexperienced as Vinod. He responded for himself, recalling his father's words,


Heere Ki Parakh Sirf Johar Ko Hoti Hai (Only a jeweller can truly identify a (real) diamond)."
Gulshan Kumar was a magician since it was he who helped the non-creative Vinod become who he is today, said Vinod in an interview. While giving the reference to the Mahabharat, he compared himself with Eklavya and said that the late producer turned him into an Arjun.


Being a non-creative person, learning the process and being a part of it all was my favourite part. He created something out of air, and I always learned by his ways of thinking. I always looked upto him in more than many ways. I called myself Eklavya, and he was my guru. I am glad, and proud to say today, Eklavya turned into Arjun."
In 2020, Vinod along with three other producers, Anubhav Sinha, Bhushan Kumar, and Krishan Kumar, was nominated for the Australian Academy of Cinema and Television Arts (AACTA) Awards for the Bollywood film Thappad (2020) under the category Best Asian Film.
In an interview, Vinod said that after the demise of Gulshan Kumar, he was completely shattered and thought that he lost his career. He also said,


It was a day of mourning when the entire company was lost somewhere, and felt helpless after losing their leader. Everything changed! It was almost like an end to a dream. For me, I lost my guiding light, and now I am blind. Gulshan Kumar Ji was someone who held my hand, made me walk, made me run and always showed me the direction to run in. He always gave me a vision, showed me the finish line and it was always on me as to how I wanted to reach there."