Vijay Krishna is an Indian actor. He has worked in the Kannada and Hindi theatre, film, and TV industries. In 2023, he appeared in the Hindi film 'The Kerala Story' directed by Sudipto Sen.
Wiki/Biography
Vijay Krishna was born in Bengaluru. When he was 15 years old, he ran away from his home to pursue arts. He studied art history at Karnataka Chitrakala Parishath in Bengaluru. While studying art history, he began to work in theatrical productions.
Physical Appearance
Height (approx.):  5′ 9″
Weight (approx.): 65 kg
Hair Colour: Black
Eye Colour: Dark Brown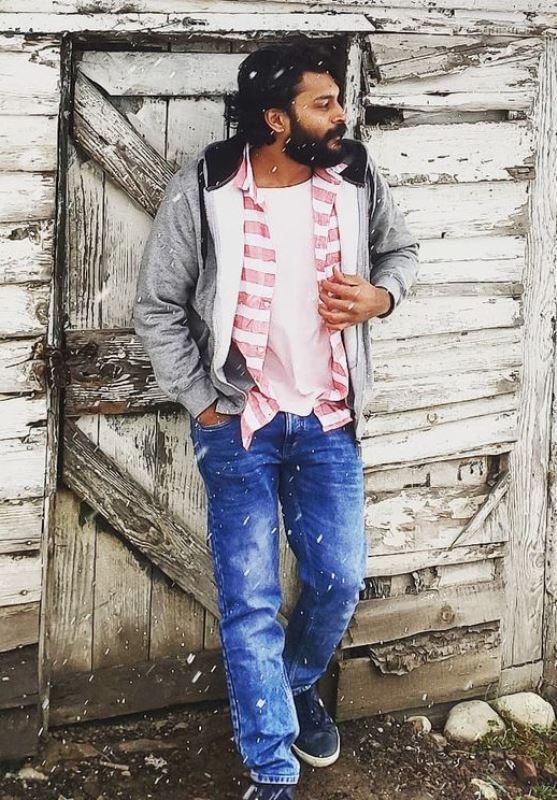 Family
Parents & Siblings
There is not much information about his parents and siblings.
Relationships/Affairs
He is in a relationship with Moumita Pal, who is an actor.
Career
Theatre
Before acting in TV shows and films, he has worked in theatre for more than 15 years. He has worked with theatrical productions across many Indian states including Bengaluru, Kerala, Pondicherry, Goa, Mumbai, and West Bengal. He has worked with many theatrical production teams including WeeMove, Rajamarga Art Culture, Visual Respiration, and Lights Off.
In an interview, he talked about his love for theatre and how he started his acting journey from theatre. He said,
Theatre happened at a very interesting point in my life. I had run away from home because I wanted to take up the arts (laughs). During that time, I met a theatre director who allowed me to stay with him. He was continuously working on plays, writing poetry, novels, and a lot of other things. And that intrigued me very early on in life – the kind of passion, way with words, the work that actors put into their craft. Soon, I worked on my first play with them. And then, everything else happened because I couldn't stop. I kept finding theatre at every point in life and I kept exploring."
Short Film
In 2011, he appeared in a Hindi fantasy and adventure short film 'This Side Up' directed by Kenneth Sebastian, an Indian standup comedian and filmmaker. In 2021, he was cast in a lead role as Himangshu in the Hindi short film 'Ped (The Tree).' 
Film
In 2016, he debuted with the English crime drama film 'A 'Pitch-Dark' Diorama' in which he played the role of Aditya.
In 2020, he appeared a supporting role as Rasool in the hit Kannada film 'ACT 1978,' which revolves around a pregnant woman, who condemns the injustice caused by the bureaucratic system in her own way. In 2022, he played the role of 'Chaudhary,' who was one of the four friends going on a trip to Mussoorie, in the Hindi comedy 'Mussoriie Boyz.' In the same year, he appeared in a supporting role as Sanjay Subramaniam in the Hindi thriller film 'Mithyam – The False Truth' in which a doctor's values and commitments are tested when he discovers many mercury poisoning cases and how he deals with them. In 2023, he appeared in the Hindi film 'The Kerala Story.' The movie focused on the contentious topic of love jihad, involving the conversion of women in Kerala to Islam and their alleged abduction to ISIS-controlled Syria at the peak of the group's power.  
In November 2022, the teaser of the film 'The Kerala Story' was released by director Sudipto Sen, claiming that around 32,000 girls were converted to Islam and forcibly joined the Islamic State of Iraq and Syria (ISIS) in Syria and Afghanistan. The trailer faced backlash for allegedly depicting the state as a hub of Islamic terrorism. Tamil Nadu-based journalist B. R. Arvindakshan filed a complaint seeking a film ban unless the director substantiated the facts. He argued that the movie could disrupt peace, unity, and integrity, leading to communal tensions. A case was registered under sections 153 A & B of the Indian Penal Code, which addresses promoting disharmony and enmity between faith-based groups. Sen, however, addressed a press conference and said that the film itself would address all questions and concerns upon its release and he would later further substantiate the other questions.
Television
In 2020, he debuted with Colors Kannada's Kannada drama TV show 'Kannadathi' in which he played the role of Dr Dev.
Web Series
In 2021, he appeared as Arjun Rao, a quirky playboy, in the Tharle Box's Kannada comedy web series 'Kyaabre.' In 2022, he played the role of Captain Imtiaz Waziri in Sony LIV's Hindi web series 'Avrodh 2: The Seige Within.'
Facts/Trivia
Vijay Krishna can speak Kannada, Tamil, Telugu, Hindi and English.
He has appeared in TV commercials for many brands including MTR, Tanishq, and One Card.
He is a fitness enthusiast, and he is also trained in kickboxing.
He considers himself an acting nerd.
He is often spotted smoking in public.