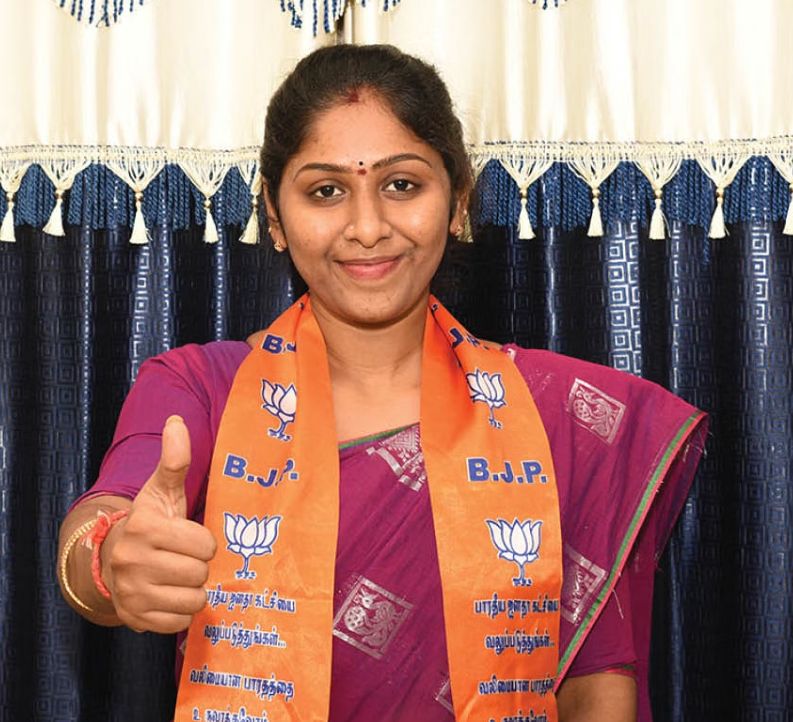 Vidhya Rani is an Indian politician and actor. She became famous for being the daughter of a notorious Indian criminal and sandalwood smuggler named Veerappan. In 2020, she gained popularity when she joined the Bharatiya Janata Party.
Wiki

/Biography

Vidhya Rani was born as Vijayalakshmi on Tuesday, 30 October 1990 (age 33 years; as of 2023) in Salem, Tamil Nadu. Her zodiac sign is Scorpio. She studied at St.Joseph's Residential School, Sriperumbudur, Tamil Nadu. She pursued a bachelor's degree in arts from Women's Christian College, Chennai and B.A. L.L.B degree from VV Puram Law College, Bangalore.
Physical Appearance
Height (approx.): 5′ 5″
Hair Colour: Black
Eye Colour: Black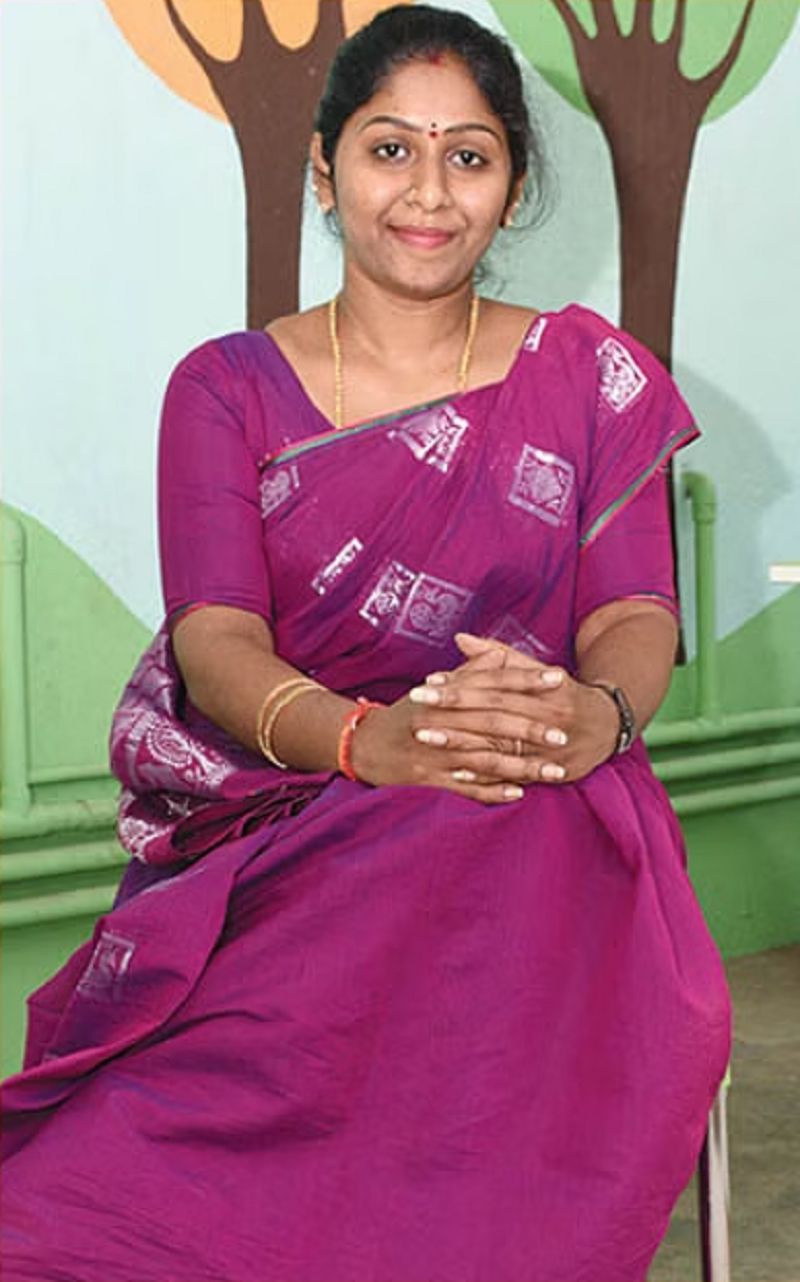 Family
Parents & Siblings
Vidhya's father's name is Veerappan, who was a bandit-turned-domestic terrorist in the 1990s.
Her father was involved in many unlawful actions like kidnapping, murder, extortion, smuggling sandalwood, and killing elephants for their ivory. He was responsible for the deaths of 184 people, including 97 police officers and forest officials. Moreover, he was involved in the killing of approximately 900 elephants for their tusks. In October 2004, a Special Task Force (STF) conducted 'Operation Cocoon' to capture Veerappan. On 18 October 2004, the STF successfully killed him in Papparapatti, Dharmapuri, Tamil Nadu, as he was injured from gunfire. At the time of her father's death, Vidhya was attending a boarding school, where she was studying since she was very young. She was the last person in her family to be informed about his passing. Her mother's name is Muthulakshmi, who is a politician.
She has a younger sister, Prabha.
Vidhya's parents got married in a forest temple in January 1990. After some time, her mother got pregnant with Vidhya and they lived in the forest for eight months during the pregnancy. However, as the delivery date approached, Muthulakshmi decided to return to her parent's home. Due to the fear of being arrested, Muthulakshmi's father took her to Chennai, where she surrendered to the police. She was then placed in a women's hostel and later gave birth to Vidhya. An officer named Sylendra Babu named the baby Vidya Rani.
Husband & Children
Vidhya got married to Mariya Deepak on 30 March 2011.
She has two children, a son and a daughter.
Relationships/Affairs
Vidhya and Mariya Deepak dated each other for two years before getting married in 2011.
Career
Politics
In February 2020, Vidhya became a member of the Bharatiya Janata Party (BJP). She joined the party during an event held in Krishnagiri, Tamil Nadu, where Party General Secretary Muralidhar Rao and former Union Minister Pon Radhakrishnan were also present. In the event, she said,
I want to work for the poor and underprivileged irrespective of their caste and religion. PM Narendra Modi's schemes are for the people and I want to take them to the people."
In July 2020, she was chosen as the Vice-President of the Tamil Nadu State branch of Bharatiya Janata Yuva Morcha (BJYM), which is the youth wing of the party.
Film
She made her acting debut with the Tamil Film Maaveeran Pillai (2023).
Facts/Trivia
Her social media accounts often use the name 'Vidhya Veerappan'.
In an interview, Vidhya revealed that she met her father once when she was about six years old. It happened during a school vacation while she was in her grandfather's village, Gopinatham, near Hanur in Karnataka. He came to where she was playing, had a short chat with her, and then left. He encouraged her to excel in her studies, become a doctor, and help others. Vidhya learned more about him from the people around her, who said that he was a kind-hearted person.
When Vidhya was young, she witnessed the consequences of conflicts between her father and the police. Many people around her suffered mentally and financially due to these clashes. They lacked access to basic education, which left a strong impact on her. As a result, she always had a desire to help these people and make a difference in their lives.
In an interview, Vidhya mentioned that her teachers and sisters played a significant role in shaping her into a good person. Education was crucial in helping her make the right choices in life. During her law studies, she made many friends, and despite her background, they accepted her for who she was without any judgment. Her friends were supportive and always there to help her whenever she faced difficulties.
Vidhya manages a small school for children in the Krishnagiri district of Tamil Nadu. The school has seven teachers and follows a regular schedule with classes and activities in the morning. They also have extra activities during the day. On weekends, they offer spoken English classes and coaching for civil services, taught by experts who have achieved success in those fields.
In 2011, Rani came to the limelight when she chose to stand up against her mother for her husband, Deepak. They fell in love when they met at a college function and continued their relationship for two years. After graduation, they got married, and the wedding was officially registered on 23 April 2011. Rani's mother was unhappy with the marriage because Deepak was a Christian, but his parents were supportive. After the marriage, Rani and Deepak lived together in a hotel room for six months. However, her mother convinced her to return to their hometown with the promise of accepting the marriage and attending a function near Veerappan's memorial site in Macheri village, Salem district. During her time there, Rani's mother tried to persuade her to reconsider her decision and stopped her from rejoining her husband. In September 2011, Deepak filed a petition in court, seeking the return of his wife, as Rani's mother was not allowing her to come back home. When the court heard the habeas corpus petition, they were not aware of Rani's identity. However, when she was produced in court, she expressed her wish to be with her husband, stating that she was 21 years old and could make her own decisions. After verifying the documents, the court permitted them to live together. Subsequently, Rani's mother asked the family members not to support her financially. In an interview, Rani's mother claimed that Deepak manipulated her daughter and used her money since he was unemployed.
In an interview, she shared that she had a deep passion for serving the community, which led her to join politics. Union Minister Pon Radhakrishnan suggested that she engage in social work for a political party since she enjoyed it.
On 27 July 2023, the online streaming platform Netflix released a trailer for the documentary called 'The Hunt for Veerappan.' On 4 August 2023, the documentary became available for streaming on the platform. The documentary focused on the life of Vidhya Rani's father.