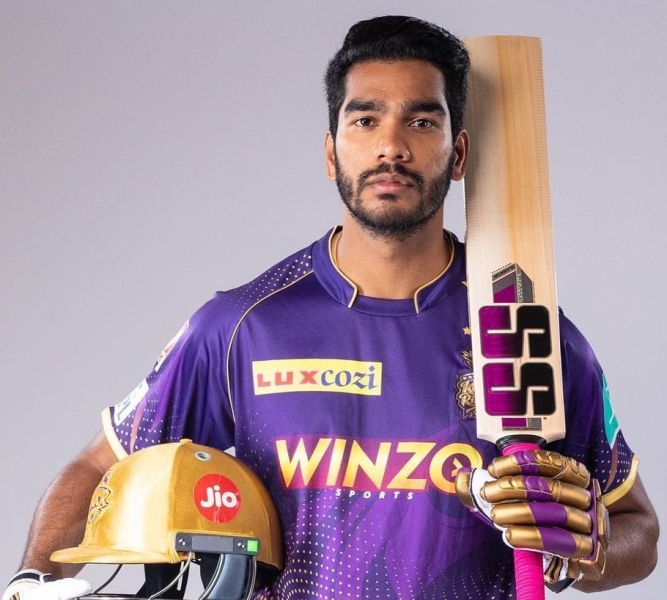 Venkatesh Iyer is an Indian cricketer who played for India in the ODI and T20I formats of the game. He represented Madhya Pradesh and Central in domestic cricket. He played for Kolkata Knight Riders (KKR) in the Indian Premier League (IPL).
Wiki/Biography
Venkatesh Rajasekaran Iyer was born on Sunday, 25 December 1994 (age 28 years; as of 2022) in Indore, Madhya Pradesh, India. His zodiac sign is Capricorn. He started playing cricket as his parents used to send him outside to play games to develop his physique. He completed his schooling at St. Paul Higher Secondary School, Indore. He pursued a Bachelor's degree in Commerce (B.Com) from Devi Ahilya Vishwavidyalaya (DAV), Indore. He gave exams to become a Chartered Accountant and cleared the intermediate level in 2016; however, he had to miss out on some games to appear for the final CA examination, so he dropped out of CA to continue playing cricket. He later pursued a Master's in Business Administration (MBA) in Finance from the Institute of Management Studies, DAV Indore. He was hired by Deloitte, one of the Big Four tech companies, in 2018; however, he did not join the organisation to pursue his career in cricket.
Physical Appearance
Height: 6′ 4″
Weight (approx.): 85 kg
Hair Colour: Black
Eye Colour: Black
Body Measurements (approx.): Chest 42″, Waist 32″, Biceps 14″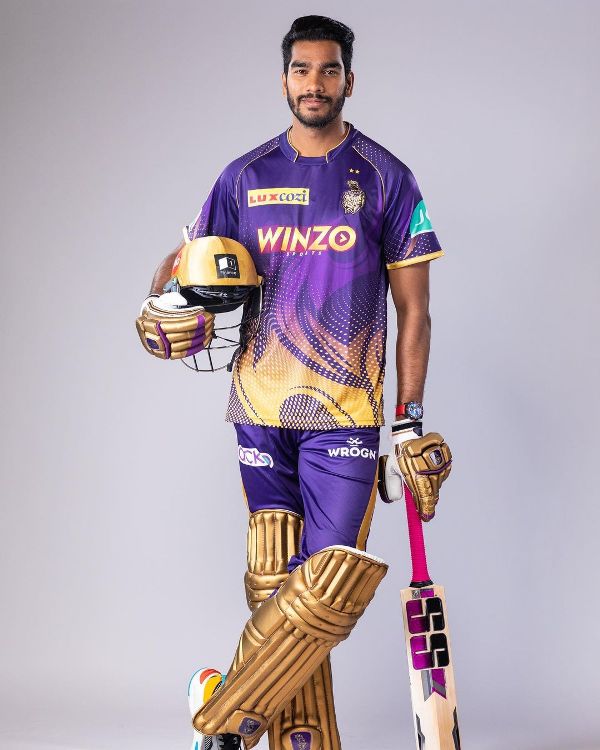 Family
He was born into a Tamil-speaking Hindu Brahmin family.
Parents & Siblings
His father's name is Rajasekaran Iyer, and his mother's name is Usha Iyar. His father works as a Human Resource (HR) consultant in a beverage company and lived in Bhopal and Devas before settling in Indore. His mother works as a floor coordinator/head nurse at the Apollo Hospital in Indore. He has an elder sister named Priya Lakshmana Rao.
Wife & Children
He is unmarried.
Relationships/Affairs
He is single.
Career
Domestic
He was selected for Madhya Pradesh Under-16 in 2010 and Indore Under-18 in 2012. He was selected for Indore in 2014 and Madhya Pradesh Under-23 in 2015 and later captained them as well. He was selected for Indore Under-23 in 2015. He played his debut T20 match for Madhya Pradesh on 25 March 2015 against Railways at Indore in the Syed Mushtaq Ali Trophy; he did not get a chance to bat in the match; however, he grabbed one wicket for 21 runs in 3 overs. He played his debut one-day match for Madhya Pradesh on 11 December 2015 against Saurashtra at Rajkot; he scored 16 runs off 15 balls and gave 8 runs for 1 over in the match. He played his debut Ranji match for Madhya Pradesh on 6 December 2018 against Hyderabad at Indore; he did not get a chance to bat; however, he took 1 wicket for 16 runs in 1 over.
In a Vijay Hazare Trophy match against Punjab on 28 February 2021, he scored 198 runs off 146 balls which included 20 fours and 6 sixes and took 2 wickets for 24 runs in 4 overs. In December 2021, he scored 151 runs against Chandigarh in a Vijay Hazare Trophy match. In a Syed Mushtaq Ali Trophy match against Rajasthan on 11 October 2022, he scored 62 runs off 31 balls which included 5 fours and 4 sixes and took 6 wickets for 20 runs in 4 overs. In 2022, he played for Central Zone in Duleep Trophy.
International
ODI
He played his debut ODI match on 19 January 2022 against South Africa at Paarl, South Africa and scored 2 runs. In a match against South Africa on 21 January 2022 at Paarl, he scored 22 runs and gave 28 runs in 5 overs.
T20I
He played his debut T20I match on 17 November 2021 against New Zealand at Jaipur and scored 4 runs off 2 balls in the match. Upon his selection, he said that he wanted to help India to win the maximum number of matches. He said,
I am not thinking too much about my (performances in the Mushtaq Ali Trophy). It is a privilege to play for the country and I want to go out there and enjoy my game."
He played as a finisher in the T20I matches and scored crucial runs. In a T20I match against West Indies on 18 February 2022 at Eden Gardens, he scored 33 runs off 18 balls including 4 fours and 1 six. In a T20I match against West Indies on 20 February 2022 at Eden Gardens, he scored 35 runs off 19 balls including 4 fours and 2 sixes and took 2 wickets for 23 runs in 2.1 overs. In a T20I match against Sri Lanka on 24 February 2022 at Lucknow, he took 2 wickets for 36 runs in 3 overs. He was selected for the Ireland tour; however, he did not play in any match during the tour.
Indian Premier League (IPL)
In the 2021 IPL auction, he was acquired by Kolkata Knight Riders (KKR) for his base price of Rs 20 lakhs during the final round after being unsold twice in the initial rounds. He was also called by Delhi capitals for trials before the auction. He became happy after being selected for KKR and said that he felt relaxed and confident about his auction. He said,
Once I was in KKR, there was a point where I felt like I was somewhere, I am doing something correctly in my life. Then the first phase happened and I did not get my opportunity. But, thanks to KKR for believing in me and making me understand that even though I am not playing, I am there in the mix. They did not ignore me altogether or any player for that matter. They always kept pushing me that I'll play, and when I play, I am going to do well."
Although Venkatesh Iyer played as a middle-order batsman during his domestic career, KKR featured him as a batting opener. He played his debut IPL match on 20 September 2021 against Royal Challengers Bangalore, he scored 41 runs not out off 27 balls. He scored his maiden IPL fifty on 23 September 2021 by scoring 53 runs off 30 balls. In the 2021 IPL season, he scored 370 runs in 10 matches at an average of 41.11 and a strike rate of 128.47 which included 4 half-centuries with the highest score of 67 runs against Punjab Kings and took 3 wickets for 69 runs in 8.3 overs at an average of 23.00 and economy of 8.11 with the best bowling figures of 2 wickets for 29 runs against Delhi Capitals; he took 7 catches in the tournament.
In the 2022 IPL mega-auction, he was acquired by KKR again for Rs 8 crores against his base price of Rs 20 lakhs which was a 3900% increase or 40 times his previous price. In the 2021 IPL season, he scored 182 runs in 12 matches at an average of 16.54 and a strike rate of 107.69 with the highest score of 50 runs not out against Mumbai Indians and conceded 46 runs in 4 overs without any wicket; he took 4 catches in the tournament. In a match against Gujarat Titans on 9 April 2023, he scored 83 runs off 40 balls with 8 fours and 5 sixes at a strike rate of 207.50 which helped KKR to win the match Rinku Singh's explosive finish with 5 consecutive sixes.
Venkatesh was on F-Iyer vs GT 🔥😤 @venkateshiyer | #GTvKKR | #AmiKKR | #TATAIPL 2023 pic.twitter.com/rZNt1yqzDy

— KolkataKnightRiders (@KKRiders) April 11, 2023
Injuries
On 16 September 2022, he was playing in a Duleep Trophy match for Central Zone against West Zone in Coimbatore, Tamil Nadu. He defended the delivery bowled by Wets Zone's bowler Chintan Gaja back to him; however, Gaja hurled the ball back at Iyer in frustration which hit him below his ear. He fell to the ground in pain and was taken to a hospital by ambulance for precautionary checks. He did not suffer any serious injury and came back to bat.
Unpleasant scene here. Venkatesh Iyer has been hit on the shoulder as Gaja throws the ball defended ball back at the batter. Venkatesh is down on the ground in pain and the ambulance arrives. #DuleepTrophy pic.twitter.com/TCvWbdgXFp

— Dhruva Prasad (@DhruvaPrasad9) September 16, 2022
In November 2022, he suffered a serious injury when he tripped over a suitcase and twisted his ankle. He was hopeful that he would play in the 2022 T20I World Cup held in Australia; however, he instead had to undergo an operation to treat his injury. He said,
Right now, my only focus is to go to the gym and do whatever exercises I am told. I don't look at things too far ahead. When I was called into the Indian cricket team, I felt I could play in the World Cup and then I was not there. That really hurt me. I don't want to put myself in a position to think about something which is really far away from me. If things are to happen, they will happen. The only thing in my hands is to stick to the process, get better every day and leave the rest to god."
Car Collection
He owns a BMW X1 SUV and a Jaguar XF sedan car.
Favourites
Cricketer: Sourav Ganguly
Book: Sapiens: A Brief History of Humankind
Film/Web Series Genre: South Indian crime thrillers
Travel Destination: Seychelles
Facts/Trivia
His batting style is left-handed, and his bowling style is right-arm medium.
He is a fan of WWE (World Wrestling Entertainment) and likes watching John Cena and Roman Reigns.
He is the first Indian player to score a half-century and take 6 wickets in a T20 match.
His nickname is Venky and Sairam.
Apart from cricket, he likes to play Billiards in his leisure time.
His parents were present at a Shiva temple for Valli Kalyanam (an auspicious day in Tamil culture) when he got selected for the Indian team in November 2021. He informed them over the phone as he was in New Delhi with his Madhya Pradesh teammates. Their neighbours arranged a grand welcome for them by the time they came back home.
He is the first Indian batsman to score a score of 150 or more in a List A (one-day) match at number 6 or lower batting position.
He was a very big fan of Sourav Ganguly since his childhood. His father shared an incident from his childhood when he started to cry after watching Ganguly's dismissal in a match against Australia. His parents tried to console him; however, he kept crying and even fell ill.
He likes watching Rajinikanth's movies and has instructed his family to address Rajinikanth as Rajni Sir.
His father did not like his cricketing passion; however, his mother always supported him and took him to Maharaja Yeshwantrao Cricket Club in Indore where he met coach Dinesh Sharma. Dinesh later talked about this in an interview and said,


He is a natural talent. He has brilliant hand-eye coordination. That's his weapon. The way he was hitting the ball, it was amazing. I immediately knew this guy is keen to learn and needs someone who can show him the way. I asked him if he is serious about playing cricket. coach, I will do everything to be a good cricketer and I won't disappoint you."
His coach Dinesh Sharma calls him modern-day Yuvraj Singh.
He was one of the several players selected for helping the Indian team to prepare for the 2021 T20I World Cup.
Sanjay Jagdale, a former national selector and former BCCI secretary, praised his attitude and confidence in an interview in 2021. He said,


From his younger days, Venkatesh has always been hard working and very confident and well-mannered. His parents did a lot of sacrifice. They always encouraged him and sent him to play for the local clubs. Besides talent, you should have the hunger to succeed. To me, he always had that thing. He was lacking in fitness. But, over the last two years, he has been working on his fitness and is now a very strong guy. He is a good package. In the shorter version of the game, you require such cricketers. The best thing I liked about him is that he constantly works on the areas that need improvement."
Sandeep Mungre, former MPCA honorary joint secretary, talked about Venkatesh's dedication towards cricket in an interview in 2021 and said that he once travelled from Nagpur to Indore (around 450 km) to give a job interview as per his parent's wishes on a 24-hour practice and went back to Nagpur to play in the tournament. He said,


Academically, Venkatesh is a very strong boy. This also made him mentally strong while playing cricket. He had gone to Nagpur for a BCCI tournament when his parents informed him that he had an interview with Deloitte International the next day. He immediately caught a bus from Nagpur and gave the interview in Indore the next day. His turn at the interview came late in the afternoon and he got selected. One of the interviewers asked him why he was in a hurry as he was selected for the job. He said he had to rush to Nagpur for a match the next day. He took the bus that night to Nagpur and scored a century, almost 150 runs. Ultimately, he was selected for Madhya Pradesh."
He was once playing in four-day Ranji Trophy trial matches when his paternal uncle passed away. He took permission from the team management, performed the last rites of his uncle in Dewas and went back to the ground to play in the match.
When he appeared in the Deloitte interview, he was asked about how he managed his time to which he replied by saying that he learnt his time-management skills from his mother who worked two shifts in a hospital and dropped him off at the ground before going to work and prepared everything he needed for his practice.
Although he shares the same surname with the Indian player and former KKR captain Shreyas Iyer, they are not related. Shreyas was the captain of KKR during the 2021 IPL when Venkatesh made his debut, and he praised Venkatesh's hunger for winning and team spirit in an interview. He said,


Obviously he's done great as an opener last year for KKR, that will be at the back of the mind. He's a team man. I've seen that on the field. He always talks about winning. That's the type of character we need in our team, one who is ready to go out there and show that relentless."
When he was asked about the immense pressure for a place in the Indian squad, he said that it was important to adapt to grab the limited opportunities. He said,


See, I believe that in cricket, you adapt or you perish. The opportunities are limited and the talent is so much so it is great to be a part of the huge pool of talent. So you need to adapt to fit into the scenario or else you will be pushed behind the line. So I always look to contribute to the team in any way possible, whether it's opening, batting in the middle-order or bowling a couple of overs."
He shares a very close relationship with KKR coach Chandrakant Pandit who was also the coach of Madhya Pradesh, Venkatesh's state team.
He thanked his college faculty for helping him by lowering attendance criteria and rescheduling the exams for him. He said,


I was fortunate the faculty liked cricket, and they saw I was doing well, and gave me the cushion by taking care of my attendance, preparing notes and rescheduling exams."