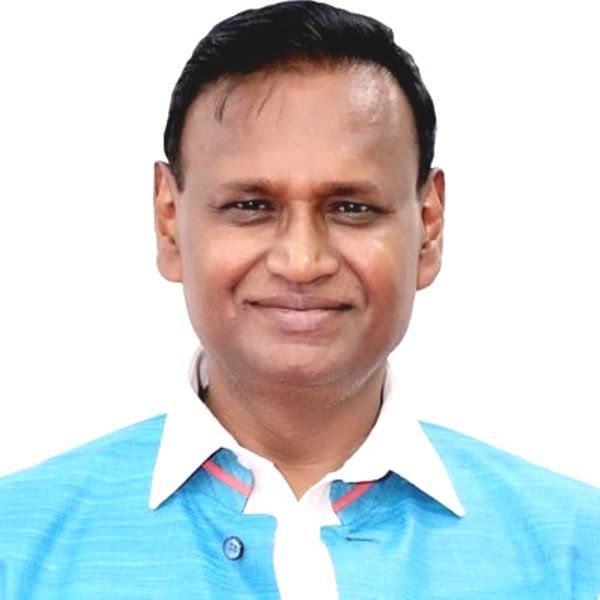 Udit Raj is an Indian politician and spokesperson of the Indian National Congress (INC) party. He was a former MP from the North West constituency of New Delhi.
Wiki/Biography
Udit Raj was born on 26 January 1961 (age 62 years; as of 2023) in Ramnagar, Allahabad, Uttar Pradesh. His zodiac sign is Aquarius. He completed his primary education at Purv Madhyamik Vidhyalaya Samogara, Allahabad, and higher secondary education (12th) at Lala Ramlal Aggarwal Inter College Sirsa, Allahabad. In 1980, he enrolled himself in a German language course at the Jawaharlal Nehru University Delhi. Later, he pursued a Master of Arts degree at the Osmania University Hyderabad and then an LLB in 1990. In 2003, he was awarded an Honorary Doctorate by the Bible College and Seminary Kota, Rajasthan.
Physical Appearance
Height (approx.): 5′ 9″
Weight (approx.): 70 kg
Hair Colour: Salt and Pepper
Eye Colour: Black
Family
He belongs to a Dalit Khatri family.
Parents & Siblings
His father's name is Kalan Singh; he was in the Indian Army. Kalan Singh took early retirement from the army and started farming.
Udit's mother's name is Sukh Dei; she was a homemaker.
Udit is the second child of six children in his family. He has two sisters named Shyama Kumari and Kamla, and three brothers. Two of his brothers are named Ramsagar and Kalicharan; Kalicharan is a former MLA from Uttar Pradesh.
Wife & Children
Udit got married to Seema Bahl on 24 March 1990. Seema is an Income Tax Commissioner in the Indian government.
Together the couple has two children, a son, Abhiraj, born in 1991, and a daughter, Saveri Raj, born in 1996.
Relationships/Affairs
Udit met Seema Bahl during his training period at the National Academy of Direct Taxes (NADT) in Nagpur. Seema belongs to an upper caste group. They both were probationer trainees at that time and fell in love during their training period because they shared similar ideologies on casteism and its eradication.
Religion
On 4 November 2001, Udit Raj converted to Buddhism with hundreds of Dalit people.
Caste
He belongs to the scheduled caste category.
Address
He resides at 192, North Avenue, Near RML Hospital, New Delhi-110001
Career
Civil Servant
In 1988, Udit Raj cleared the UPSC Civil Service examination and was allotted to the Indian Revenue Services. In 1989, he joined the National Direct Tax Academy Nagpur as a trainee. In July 1990, he got his first posting as an Assistant Tax Commissioner in Meerut. Then after a few months, he, with his wife, posted at Ghaziabad where he served for five years. In 1996, he was stationed in Delhi. He resigned from the service in 2003 as an Additional Tax Commissioner.
Politician
Udit resigned from the civil services on 24 November 2003 to pursue his political aspirations. In November 2003, he founded the Indian Justice Party.
In February 2014, he dissolved his own party and joined the Bharatiya Janata Party (BJP) which made him a candidate in the 2014 general election of Lok Sabha from the North West Constituency of Delhi. He defeated the Aam Aadmi Party (AAP) candidate Rakhi Birla by a huge margin of 1.06 lakh votes and became a Member of the Parliament.
During his tenure as MP, he served as a member of the Consultative Committee in the Ministry of Finance and Corporate Affairs and a member of the Standing Committee in the Ministry of Social Justice and Empowerment. In 2019, he left the BJP and joined the Indian National Congress over the issue of the BJP denying him a ticket in the 2019 general elections. Congress made him the spokesperson of the party.
Editor & Writer
He founded a bilingual fortnightly newspaper titled Voice of Buddha; he is the editor-in-chief of the newspaper. This magazine focuses mainly on the issues and problems faced by Dalits, backwards and minorities.
Controversies
Spread Fake News in Unnao Murder Case
In February 2021, Udit posted a tweet about the Unnao murder case of three minor girls, he wrote,
Spoke to former MP Savitribai Phule over the phone. It was after difficulties that she was allowed to meet victims. The families of victims have said that the girls were raped and against their wishes, the bodies were burnt."
Uttar Pradesh police took notice of the tweet and lodged an FIR against Udit Raj under Section 153 (provocation with intent to cause riot) of the IPC and Section 66 of the Information Technology Act at the Kotwali (Sadar) police station in Unnao. Superintendent of Police (SP) Anand Kulkarni alleged that the post was an attempt to create anger through misleading rumours because it is clear that in the post-mortem, rape was not confirmed and the bodies of the girls were buried as per the family's wishes.
Appealed to Not Visit the Temples
Related to a tweet posted in May 2022, Udit faced backlash when he suggested that Dalits, who frequently face abuse and physical violence while visiting temples, should avoid visiting temples. Further, he expressed that instead of sympathizing with the Dalits, they should get even harsher punishment for their actions.
आए दिन समाचार मिलते रहते हैं कि दलितों को मंदिर प्रवेश या पूजा पाठ से रोका जाता है और पीटते भी हैं। मैं चाहता हूं इनकी और पिटाई हो तभी जाना बंद करेंगे। जहां सम्मान न हो वहां जाते क्यों हैं?

— Dr. Udit Raj (@Dr_Uditraj) May 9, 2022
Remarks against President Draupadi Murmu
In October 2022, Udit used disrespectful words for President Draupadi Murmu when she posted a tweet applauding Gujarat for the production of salt. She said,
Gujarat manufactures 76% of the salt produced in the country. It can be said that all countrymen eat Gujarat's salt."
Udit got offended and targeted Murmu, he said,
No country should get a President like Droupadi Murmu. This is the height of sycophancy. She says 70% of people eat Gujarat's salt. Spend your life eating salt, then you will know the truth."
The National Commission for Women summoned Udit for his remark. Later, Congress sidelined him for his remark. Udit apologised for the words he used and said that this is my personal view and party has nothing to do with my opinion.
Awards, Honours, Achievements
FAME India Best Parliamentarian Award 2018 by Dr Harsh Vardhan
Assets & Properties
Movable Assets
Shares & Bonds: Rs. 93,396
Immovable Assets
Residential Buildings: Rs. 2,00,000
Note: The given estimates of movable and immovable assets are according to the year 2014. It excludes the assets owned by his wife and dependents (minor).
Net Worth
Udit's net worth for the financial year 2014-2015 was estimated to be Rs. 2,93,396. It excludes the net worth of his wife and dependents (minors).
Favourites
Idol: B.R. Ambedkar, Abraham Lincoln
Facts/Trivia
His real name is Ramraj. He changed his name from Ram Raj to Udit Raj on 24 November 2001, after converting to Buddhism.
His hobbies include reading, writing, and travelling.
His father took a loan of Rs. 200-300 to send him to Delhi for the study.
In June 1983, he went to Tihar Jail due to his participation in the hunger strike at Delhi University.
Due to his active involvement in social and political activism, he encountered a challenge in balancing his academic studies. In 1984-85, he had to appear for the UPPCS exam which was scheduled to be held at a centre in Meerut, Uttar Pradesh. At that time, a farmers' protest was going on in Meerut; Udit participated in the protest which resulted in his absence from the exam.
In 1997, he founded the All India Confederation of SC/ST (Scheduled Caste/Scheduled Tribe) Organizations. This is the largest organization in the country which is fighting for the rights of SC/ST employees and officers in the State Government, Central Government, Public Sector Undertakings and Corporate Sector.
He gained prominence among other Dalit leaders by organizing a massive gathering of supporters and activists advocating for reservation rights in Ram Lila Maidan, New Delhi. This protest was in response to the issuance of five anti-reservation orders by the government at the time, which caused a tumultuous situation throughout the country. From 1997 to 2000, large-scale rallies were organized in New Delhi. This struggle had a significant impact on the Indian government, resulting in three constitutional amendments being passed to restore the benefits that had been previously revoked. Prominent national leaders such as V.P. Singh, Harkishan Singh Surjit, Chandrajit Yadav, and Buta Singh participated in the rallies. Udit Raj, upon observing the impact of the rally, was even predicted to become the future Prime Minister.
In 2005, the Prime Minister of India, Manmohan Singh, nominated him to the National Integration Council, which is one of the top bodies in the Indian Government; the main job of this council is to maintain the unity and integrity of the country. The Prime Minister leads this Council.
 In 2005, a famous US Congressman named Joseph Pitts published a collection of his writings titled 'Dalit and Religious Freedom' in English. There's also a version of this book in Hindi.
In 2005, he attended a Congressional Hearing in Washington and in 2008 represented the cause of minorities and Dalits in Human Rights Council in Geneva.
He is the National Chairman of the Buddha Education Foundation which is working to promote education. The Foundation operates schools primarily for Dalit children, the underprivileged, and minority groups.
He loves animals and has three dogs, Bruno, Simba, and Timor.