Tarun Gogoi (1936-2020) was an Indian politician, who was a veteran member of the Indian National Congress and a six-time Lok Sabha MP. He served as the chief minister of Assam for three consecutive terms i.e. from 2001 to 2016. In 2021, he was posthumously honoured with the Padma Bhushan Award.
Wiki/Biography
Tarun Gogoi was born on Wednesday, 1 April 1936 (age 84 years; at the time of death) in Rangajan, Jorhat, Assam. His zodiac sign is Aries. In 1955, he completed his schooling at the Jorhat Government High School, Assam. Later, he pursued a bachelor's degree at the J.B. College, Jorhat. He then obtained a Bachelor of Legislative Law degree from Gauhati University.
Physical Appearance
Height (approx.): 5′ 10″
Hair Colour: Grey
Eye Colour: Black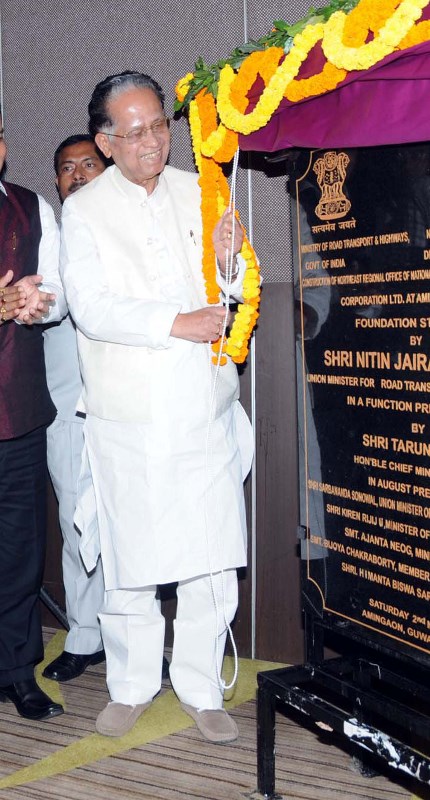 Family
Tarun Gogoi belongs to an ethnic Assamese Tai-Ahom family.
Parents & Siblings
Tarun Gogoi's father, Kamaleswar Gogoi, was a doctor at Rangajan Tea Estate. His mother, Usha Gogoi, was known for her poetry collection 'Hiyar Samahar'. His younger brother, Dip Gogoi, is an Indian politician who served as a Lok Sabha MP from 2002 to 2014.
Wife & Children
On 30 July 1972, Tarun Gogoi got married to Dolly Gogoi, who holds a post-graduate degree in Zoology.
The couple has two children, a son, Gaurav Gogoi, who is a member of parliament from the Kaliabor constituency, and a daughter, Chandrima Gogoi, who holds an MBA degree.
Religion
Tarun Gogoi followed Hinduism.
Visited #Kamakhya temple and seek Maa Kamakhya's blessings for peace, prosperity and harmony. pic.twitter.com/dksRbWmRrn

— Tarun Gogoi (@tarun_gogoi) June 26, 2017
Signature
Career
Entry into politics
Tarun Gogoi entered into politics while he was a student at Jagannath Barooah (JB) College. He was an active leader of the Assam unit of Bharat Yuvak Samaj. In 1963, he joined the Indian National Congress (INC). In 1968, he was elected as a member of the Jorhat Municipal Board.
Member of  Parliament
In 1971, he contested the Lok Sabha elections from the Jorhat constituency on a ticket of the Indian National Congress (INC) party and defeated Khogen Bar Baruah of the Revolutionary Communist Party of India by 71,010 votes. He was re-elected to the 6th and 7th Lok Sabha from the Jorhat constituency in 1977 and 1983, respectively. In 1991, he contested the Lok Sabha elections from the Kaliabor constituency on a ticket of the Indian National Congress (INC) party and was elected to the 10th Lok Sabha.
From 1991 to 1993, he served as the Union Minister of State (Independent Charge) in the Ministry of Food under the P. V. Narasimha Rao government. Later, he served as the Union Minister of State (Independent Charge) in the Ministry of Food Processing Industry from 1993 to 1995.
In 1996, he contested the Lok Sabha elections from the Kaliabor constituency on a ticket of the Indian National Congress (INC) party but was defeated by Keshab Mahanta of the Asom Gana Parishad party by a margin of 1,616 votes. This loss led him to venture into state politics. He was re-elected to the 12th and 13th Lok Sabha from the Kaliabor constituency in 1998 and 1999, respectively. In 2001, he quit as the Member of Parliament, to assume office as the Chief Minister of Assam.
Lok Sabha Committees
Tarun Gogoi served as a member of various Lok Sabha Committees from 1998 to 2000. He was a Member of the Committee on Government Assurances, the Committee on External Affairs, the Consultative Committee on the Ministry of Petroleum and Natural Gas, and the Committee on Railways.
Party Positions held
In 1976, he was appointed as the Joint Secretary of the All India Congress Committee in the Indira Gandhi government. In 1985, he was appointed as the General Secretary of the All India Congress Committee under the then Prime Minister, Rajiv Gandhi. Later, he served as the President of the Assam Pradesh Congress Committee (APCC) from 1986 to 1990.
Member of Legislative Assembly
In 1996, he contested the Assam Legislative Assembly by-elections from the Margherita constituency and defeated his nearest rival, Lakheswar Moran, by 2,953 votes. In 2016, he contested the Assam Legislative Assembly elections from the Titabar constituency and managed to win though the BJP along with its allies defeated the Congress.
Chief Minister
In the 2001 Assam Legislative Assembly elections Tarun Gogoi led the INC, wherein the party successfully secured 70 seats in the assembly. On 17 May 2001, Tarun Gogoi succeeded Prafulla Kumar Mahanta in becoming the new Chief Minister of Assam. In the 2006 Assam Legislative Assembly elections, INC won 53 seats (64 needed for a majority) and formed the government in coalition with the Bodoland Peoples Front (BPF) party. Tarun Gogoi was then sworn in as the Chief Minister of Assam for a second consecutive term. In the 2011 Assam Legislative Assembly elections, Gogoi again led the INC to victory by a clear majority and secured 78 seats in the assembly. He was the longest-serving Chief Minister of Assam.
Controversies
Congress MLAs rebel against Gogoi
In March 2013, Gogoi faced a challenge wherein 31 out of the 79 Congress MLAs signed a memorandum which described Gogoi as an 'autocratic megalomaniac.' This campaign to topple Gogoi was headed by the then-state Health and Education Minister, Himanta Biswa Sarma, after he announced a possible alliance with the All-India United Democratic Front (AIUDF) for the 2014 Lok Sabha elections. During the 2011 Assam Legislative Assembly polls, Gogoi had opposed an alliance with the AIUDF. An MLA alleged Gogoi of switching his stance due to the results derived by AIUDF in panchayat polls earlier that year. AIUDF did well in several places under the Kaliabor Lok Sabha constituency from where Gogoi's son, Gaurav Gogoi, was seeking a ticket. However, this decision to form an alliance with the AIUDF was rejected by Rahul Gandhi.  A cold war started between Sarma and Gogoi. Gogoi was rumoured of seeking help from the Income tax department to prepare a dossier on Sarma's assets. However, Sarma denied his involvement in any memorandum signed against the CM and said,
I have never said anything against the honourable Chief Minister. I don't know of any memorandum. We have some minor differences but we can sort them out directly."
Rs 1,000 crore North Cachar Hills scam
In January 2011, the Tarun Gogoi-led Congress government was alleged to be involved in a Rs 1,000 crore North Cachar Hills scam. Prafulla Mahanta blamed the government for allegedly covering up the NC Hills scam, which involved misappropriation of 1000 crore, by ordering a probe into the functioning of only 8 departments. However, on 11 August 2023, the Gauhati High Court acquitted all persons accused in the Rs 1,000 crore North Cachar Hills scam.
Corruption case against Gogoi
In 2018, a police case was registered in Dispur against Tarun Gogoi for implementing a scheme in 2015, under the chief minister's Special Programme Scheme for the distribution of blankets and yarn, that disobeyed the guidelines laid down by the chief vigilance commissioner (CVC), and guidelines of the finance department. It included five sections – 120(b), 420, 406, 409 and 34 – of the Indian Penal Code which relate to fraud, criminal conspiracy and breach of trust. In the bidding process a Ludhiana-based industry, Youngman Woollen Mills Pvt Ltd, was selected for supplying the blankets as they quoted the lowest rates. However, the firm received the supply order only for 2 zones out of 6 zones of the state. The rest of the order for 4 zones was given to firms that did not even participate in the bidding process.
Irregularities in the appointment of police constables
In 2004-2005, each district in Assam was to be allotted a specific number of police constables, and a selection process was designed for the same. However, a huge number of petitions were filed, challenging the selection process, in the Guwahati High Court. The above matter was to be heard by Justice Ranjan Gogoi. Tarun Gogoi then met with Ranjan Gogoi's mother and requested her to convince Ranjan Gogoi to uphold the suggested selection and appointment of constables in all districts.
Awards
In November 2021, Tarun Gogoi was honoured with the third highest honour, the Padma Bhushan, posthumously for his exceptional and distinguished service in the field of public affairs.
Net Worth
Tarun Gogoi's net worth for the year 2011 was estimated to be approximately Rs 4.8 Crores.
Death
On 2 November 2020, Gogoi was rushed to hospital after facing post-COVID-19 complications and was put on non-invasive ventilation (NIV). On 22 November 2020, Tarun Gogoi died from multi-organ dysfunction at the age of 84, while undergoing treatment at the Guwahati Medical College and Hospital (GMCH).
Facts/Trivia
Tarun Gogoi's nickname was Punakon.
His father wanted him to study medicine or engineering, but Gogoi was always inclined towards politics.
He used to play golf regularly and enjoyed watching other sports like cricket, football and tennis.
In 2006, he underwent surgery in which he had a double pacemaker implanted in his heart. In 2010, he underwent a complex bypass surgery and aortic valve replacement at Mumbai's Asian Heart Institute.
In the 1950s Tarun Gogoi taught in a school in Mariani, Jorhat.
In his leisure time, he'd read or indulge himself in gardening.
During his tenure as the chief minister, he was successful in curbing several militant activities in Assam. He brought the United Liberation Front of Asom (ULFA), an armed separatist organisation, to the negotiating table which helped reduce riots and violent demands for accession to the Bodoland Territorial Region. He also managed to negotiate with militant organisations like the NDFB (Pro-talk group), DHD, and UPDS. He established a much-improved law and order system in Assam.
When Gogoi took over Assam for the first time on 17 May 2001, the state was in a huge debt crisis so much so that even government employees weren't paid their salaries on time. He launched various self-employment schemes and focused on the implementation of these schemes. He led the state towards industrialisation which later helped him ensure economic stability.
He served as a former director of Vayudoot, a member of the Assam Bar Council, and a former Chairman of the Assam Small Scale Industries Development Council.
In 2005, Gogoi facilitated the tripartite talks between the Central government, AASU, and the state government. The updation of NRC began during his tenure as the chief minister. According to him, an updated NRC would act as the base document to prevent unreasonable harassment of illegal immigrants. Gogoi during the tripartite talk said,


The Constitution of India, as also the Assam Accord, does not differentiate among illegal migrants and foreigners on the basis of religion. We made it clear before the home minister that we will stiffly oppose any such move."
In 2019, he opposed the Citizenship (Amendment) Act because the Modi government pushed for amendment in the citizenship laws that were directed to grant citizenship to only non-Muslim illegal migrants.
My father and former 3-term Assam Chief Minister Shri Tarun Gogoi dons his lawyer robes to file his case against the Citizenship Amendment Act in the Supreme Court today. @tarun_gogoi @INCIndia pic.twitter.com/fsOxEFKtcm

— Gaurav Gogoi (@GauravGogoiAsm) December 18, 2019
In May 2016, Gogoi's autobiography, 'Turnaround – Leading Assam from the Front,' was published by Harper Collins.
Tarun Gogoi took part in various festivals and played the drum at Bihu Pandals, which brought out his joyful and amicable nature in public.
He successfully organised the 33rd National Games of India also known as the 2007 National Games in Assam, despite threats from militants.
Gogoi extended the sixth schedule of the Constitution of India to the Bodo areas in the Brahmaputra Valley. He established the Bodo Territorial Council which was a result of the second Bodo peace accord.
Gogoi laid emphasis on the empowerment of women and the education of girl children. He supported various Self Help Groups.
I am greatly impressed to see the initiative undertaken by the SHGs under the banner "Gharjeuti Federation" of my Titabor constituency for establishing a unit for producing sanitary napkins which is very important particularly for the poor and illiterate women of the country. pic.twitter.com/38NXTEZJvP

— Tarun Gogoi (@tarun_gogoi) October 4, 2019
Tarun Gogoi enjoyed eating traditional Assamese fish dishes. His favourites were Magur and Singi fish dishes cooked with herbs.
Gogoi served as a Treasurer at All Assam Moina Parijat & Children's Organisations.
He was known as the ever-smiling CM, who was popular for his candid and fearless remarks in the media. His favourite catchphrase was: misa kole kidal hobo (What's the point lying).
He was always a true supporter of INC and stood beside Indira Gandhi during the 1975 Emergency.