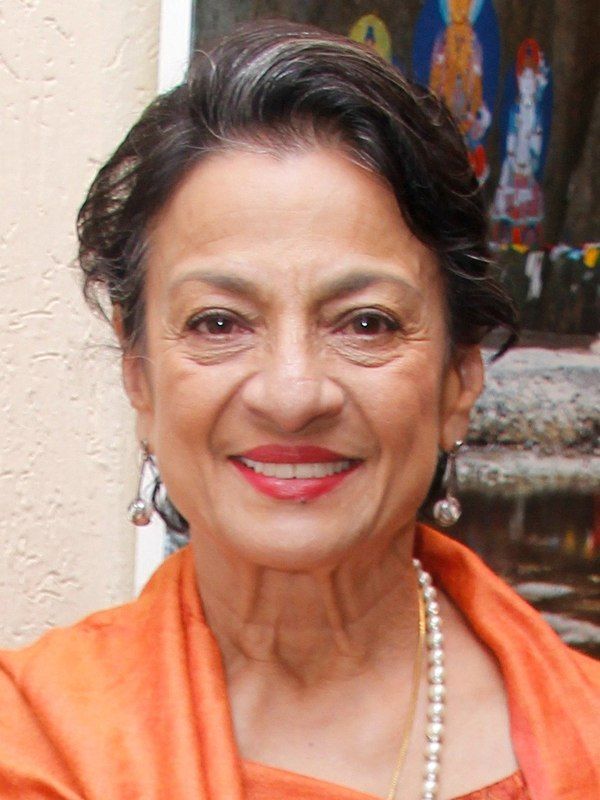 Tanuja Samarth, prominently known as Tanuja, is a renowned Indian actress who is to date known for her remarkable beauty on and off the silver screen. Best known for her exceptional work in both Hindi and Bengali films such as Memdidi (1961), Chand Aur Suraj (1965), Haathi Mere Saathi (1971), and Do Chor (1972) to name a few, Tanuja charmed her way into the industry and made a lasting impact.
Wiki/Biography
Tanuja is a famous Indian actress born in 1943 (age 80; as of 2023) in Bombay, state Maharashtra, United Provinces of British India (now, Mumbai), into a Marathi family. Both, her father Kumarsen Samarth, a filmmaker, and her mother, Shobhna Samarth, an actress, were well-established in their own times.
Her keen interest in the movies was naturally imbibed in her genes because of her parents. Being a high school graduate, she attended St. Joseph's, Panchgani India, and St. George's, Switzerland to attain her formal qualification . Tanuja is well known in the public eye for her outspoken and energetic nature. She has appeared in a plethora of films, however, she never viewed acting as a race to the top and always aimed at savoring the moments of the entire process. It took Tanuja seconds to transition into her puckish natural avatar in an era when actresses refused to fling off the Sati Savitri attire even after pack-up. She didn't feel the need to add cola to her drink or slink into the restroom for brief puffs. She also made new ground as a performer by embracing the understated. There's no coquettish overdrive here. Tanuja was always indifferent to both tradition and competitiveness, a friend to her co-stars and a non-rival to her pouting competitors.
Physical Appearance
Height (approx.): 5′ 1″
Hair Colour: Natural Black
Eye Colour: Newborn Gray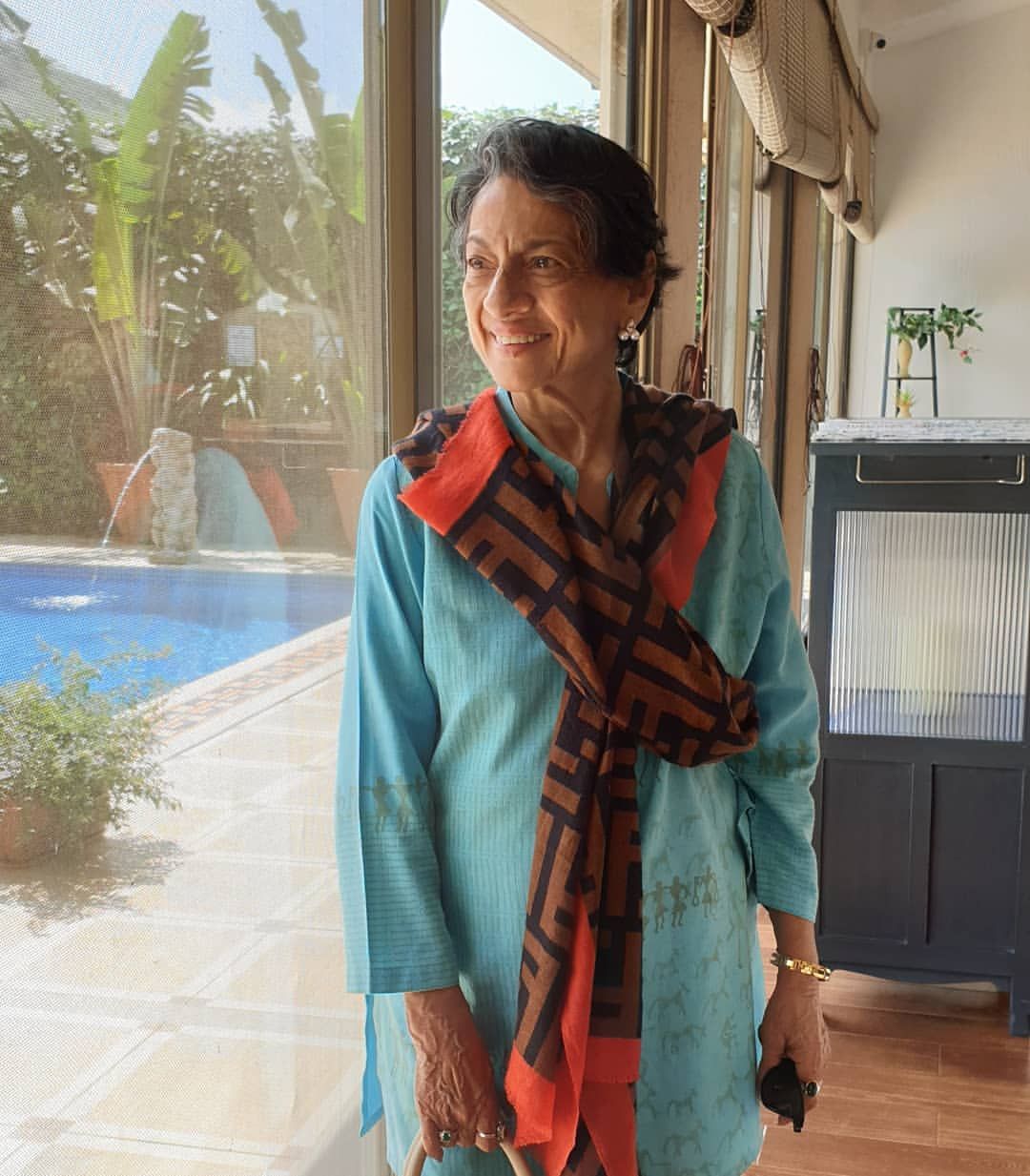 Family
Parents & Siblings
Tanuja's childhood was centred on films and cameras as four generations of the Samarth family have been a part of the film industry. Her mother, Shobhna Samarth, was an actress, and her father, Kumarsen Samarth, was a filmmaker; she herself started her career at the tender age of five.
Rattan Bai, her grandmother, and Nalini Jaywant, her cousin, were also actresses. Tanuja has three sisters and one brother. One of her sisters, Nutan is also an actress.
Tanuja's mother, Shobhana, produced debut films for Tanuja and Nutan both. Her other sisters are Chatura, an artist, and Reshma, and her brother is Jaideep, none of whom have pursued careers in acting. Her parents divorced in her early childhood days. Tanuja said in an interview that her parents divorced when her brother was still a baby. She was quoted saying:
My parents separated before my brother was born: When my parents went their own ways, Jaideep was yet to be born. But although they were no longer husband and wife, they were still Mom and Dad for us. In fact, Dad came to meet us almost everyday. Around then, Mom decided that I would study at St George's in Switzerland because I had a flair for languages. While in Switzerland, Dad wrote to me in German and I always replied in German. "
Husband & Children
Tanuja on the set of her film Ek Baar Muskura Do (1972), met the late filmmaker, Shomu Mukherjee and both instantly fell in love with each other and got married in 1973.
The couple welcomed their first child, Kajol, in 1974, and later had another baby, Tanishaa, in 1978.
However, it wasn't hunky dory for Tanuja and Shomu Mukherjee for too long. The differences between both of them led to the couple's separation. Regardless of the situation, they both had decided to co-parent their wonderful two daughters who now are famous Bollywood faces themselves.
Other Relatives
Tanuja is an aunt to a few famous Bollywood names such as Mohnish Behl (actor), Ayan Mukherjee (director), Sujoy Mukherjee (actor), and Rani Mukherjee (actor).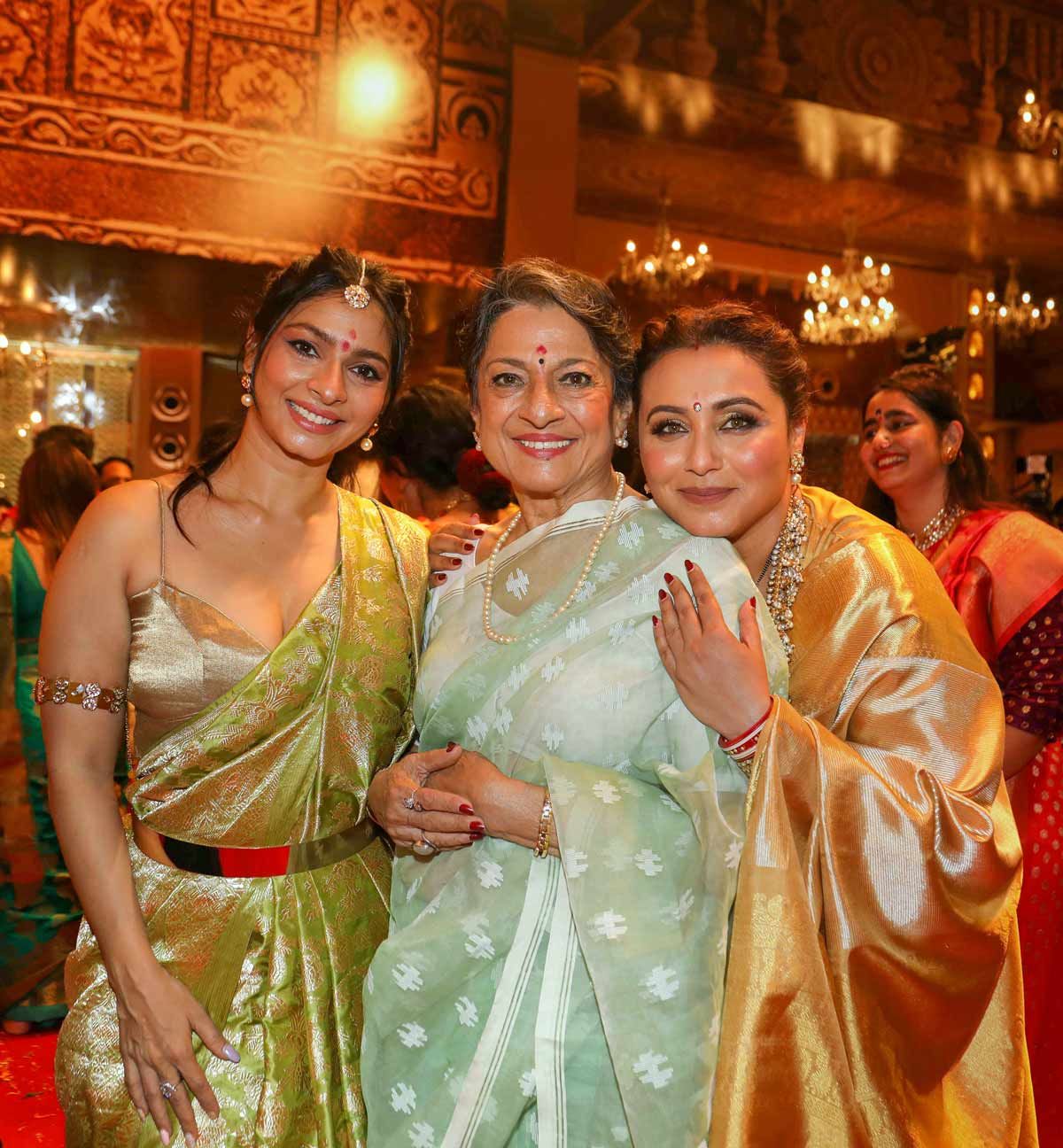 Career
Film
Even though Tanuja claims that getting into the film industry was not a choice but rather a responsibility, she was a very easy and spontaneous person in front of the camera. She kickstarted her career with her elder sister Nutan, in her debut movie, Humari Beti (1950) which was produced by their own mother, Shobhna Samarth.
A decade later, in 1960, another one of their home production was named Chhabili. Unfortunately, none of these releases did well for them to make an identity for themselves. The turning point for Tanuja's career was with her film, Humari Yaad Aayegi (1961), which was directed by Kidar Sharma, the man behind Raj Kapoor and Madhubala's unbeatable career. Tanuja didn't restrict herself to only Hindi movies as she started working in Bengali and Marathi movies parallelly and left her mark, as best as she ever could. Even though Tanuja's career was full of turbulence and pitstops, she didn't back down. That's when Do Duni Char, starring the legendary Kishor Kumar happened in which Tanuja was praised immensely for her amazing comic timing. Tanuja was also a part of Antony Firingee, the Indian Biographical Musical Drama Film directed by Sunil Banerjee in 1967, starring Uttam Kumar and Tanuja as lead actors. The movie did exceptionally well at the box office due to its out-of-the-box concept.
Later in 1969, with its astonishing storyline, Jeene Ki Raah bought Jeetendra and Tanuja together on the screen and hit the box office like no other. That's when Tanuja knew that there was no stopping whatsoever. After having a sabbatical from the movies, Tanuja is still pursuing her passion for acting and is doing wonders for herself.
Television
Tanuja started her television journey in 1985 with a series named 'Khandaan' which broadcasted on Doordarshan. It gained amazing viewership and aimed to be Indian television's first long-running soap opera. Later in 1994, Tanuja was casted for another TV series- 'Junoon'. It was initially aired on Doordarshan and was broadcasted for five years, setting a record for the 'longest-running prime-time program' on Doordarshan. In 2008, Tanuja starred as a judge, alongside her daughter Kajol and son-in-law Ajay Devgan in Zee Tv's family dance series, Rock-N-Roll Family.
In 2017, Tanuja got into a historical fiction television series- 'Aarambh: Kahaani Devsena Ki', which was produced by Rose Audio Visuals and was telecasted on Star Plus.
Awards, Nominations & Honours
Best Supporting Actress for Paisa Ya Pyaar (1970)
Best Actress for Adalat o Ekti Meye (1981)
Nomination for Best Supporting Actress for Jewel Thief (1968)
Filmfare Life Achievement Award (2014)
Bengal Film Journalists Association Awards for Best Supporting Actress (Hindi), Benazir (1964)
20th Life OK Screen Awards for Best Actress Award for Marathi Movie Pitruroon (2013)
Apsara Film & Television Producers Guild Award- Lifetime Achievement Honour (2014)
Facts/Trivia
Tanuja is known for being an avid smoker and a drinker. She is often seen smoking in public settings.
Tanuja in her Switzerland days dated an Italian man named Pier Franco Giacardi. She even experienced her first kiss with him.
Tanuja slapped Dharmendra during the shoot of Chand aur Suraj (1965) because the latter tried to flirt with her.
Tanuja didn't like how her voice sounded when she first saw the rushes of her first film.
Tanuja wanted to get into diplomatic studies.
Tanuja came back from Switzerland after five years due to a financial crisis in the family.
Tanuja was all about 'breaking rules' when she was on set.
Tanuja was a very strict parent and she used to beat up Kajol on a regular basis.
Tanuja doesn't watch her or anybody else's films, except Kajol's.