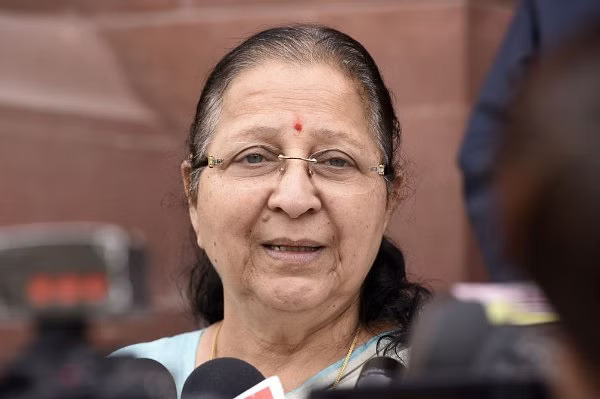 Sumitra Mahajan, a prominent Indian political figure, held the position of Speaker of Lok Sabha, the lower house of India's Parliament, from 2014 to 2019. A member of the Bharatiya Janata Party, she was a representative of the Indore constituency in Madhya Pradesh. Notably, she served as the longest-tenured female Member of Parliament, holding this role from 1989 to 2019.
Wiki/Biography
Sumitra Mahajan was born on Monday, 12 April 1943 (age 80; as of 2023), in Chiplun, which was part of the Bombay Presidency in British India and is now located in Maharashtra, India. Her astrological sign is Aries. She attained her MA and LLB degrees from Indore University, which is currently known as Devi Ahilya Vishwavidyalaya. Among her interests, Sumitra Mahajan enjoys reading, engaging with music, drama, and cinema, and she also has a keen passion for singing.
Physical Appearance
Height (approx.): 5′ 4″
Hair Colour: Black
Eye Colour: Hazel Green
Family
Parents & Siblings
Sumitra Mahajan's father was named Purushotam Neelkanth Sathe, while her mother's name was Usha Sathe. Limited information is available about her family or any potential siblings.
Husband & Children
Sumitra Sathe married Jayant Mahajan, a well-known lawyer in Indore, on 29 January 1965. She experienced the loss of her husband a few years ago. Sumitra is the mother of two sons, Milind and Mandar. Milind Mahajan, her older son, is engaged in IT and business activities, while her younger son, Mandar Mahajan, has chosen a career path as a commercial pilot.
Caste
Sumitra Mahajan belongs to a Chitpavan Brahmin Marathi family.
Address
68 Manish Puri, Chandra Lok Colony, Indore, Madhya Pradesh.
Signature/Autograph
Career
Politics
In 1982, Sumitra embarked on her political journey by assuming the role of a corporator within the Indore Municipal Corporation. Following this, in 1984, she attained the position of Deputy Mayor within the same corporation. In 1989, she ventured into and emerged victorious in her first Lok Sabha elections. Significantly, she secured this victory by prevailing over Prakash Chandra Sethi, a respected Congress leader and former Chief Minister. Her constituents fondly address her as "Tai."
On 6 June 2014, Sumitra Mahajan achieved a unanimous election as the Speaker of the 16th Lok Sabha. Prior to this, she had been a member of the 'Panel of Chairmen' in the Lok Sabha. Displaying her leadership, in August 2015, she took the decision to suspend 25 Congress MPs for a five-day period due to their breach of discipline within the House. Sumitra also played a pivotal role as a patron at NLC Bharat, overseeing the proceedings of meetings.
Controversies
Allegations of Involvement in Bank Scam Surrounded Former Speaker Sumitra Mahajan and Son Milind Mahajan
Anil Kumar Dhadwaiwale, the former chairperson of the Indore-based Maharashtra Brahmin Cooperative Bank, accused Sumitra Mahajan and her son Milind Mahajan of playing significant roles in the fraudulent activities that occurred within the bank between 1997 and 2003. During this timeframe, Sumitra Mahajan held a ministerial position in the Central Government, while Milind Mahajan served as one of the directors of the bank when the alleged scam unfolded. In 2005, a First Information Report (FIR) regarding the scam was filed at the Central Kotwali Police Station in Indore, targeting 16 individuals, including Milind Mahajan. However, the FIR was subsequently dismissed after the investigation. Notably, several directors, including the husband of Sumitra Mahajan's Private Secretary, were also implicated in securing loans but failing to repay them.
Awards & Honours
When the Indian Parliamentary Delegation visited the Republic of Korea (Seoul) from September to October 2016, Sumitra Mahajan was honored with an Honorary Doctorate by Hankuk University of Foreign Affairs in Seoul.
In 2021, Sumitra Mahajan received the Padma Bhushan from President Ram Nath Kovind at Rashtrapati Bhawan, one of India's most prestigious awards, in recognition of her notable contributions to politics and public welfare.
Assets and Properties
Movable Assets
Gross Total Value of Movable Assets as per the Affidavit (including cash and Jewellery) – Rs. 25,32,234.
Immovable Assets
Agricultural Land – Rs 2,00,000
Commercial Buildings – Rs 80,00,000
Residential Buildings – Rs 80,00,000
Note: The given estimates of movable and immovable assets are according to the year 2014.
Salary
According to the affidavit submitted for the 2014 Lok Sabha elections, Sumitra Mahajan's total income shown in ITR for the financial year 2012-2013 is Rs 6,67,075.
Net Worth
Sumitra's Net Worth for the financial year 2012-2013 was estimated to be Rs. 1 crore.
Facts/Trivia
Throughout her life, Sumitra Mahajan has recognized the 18th-century queen Ahilyabai Holkar as a source of inspiration. She authored a book titled 'Matoshree' that delves into Ahilyabai Holkar's life journey. This book was officially introduced by Prime Minister Narendra Modi in 2017.
Sumitra Mahajan became the second woman, following Meira Kumar, to be chosen as the Speaker of the Lok Sabha.
In February, Sumitra Mahajan earned a place in the LIMCA book of records for becoming the first Indian woman to consecutively represent the same Lok Sabha constituency under the banner of the same political party for eight terms.
She previously served as the President of the Marathi Academy in Madhya Pradesh and held positions as the Chairperson of the Ahilya Utsav Committee in Indore and the Contemporary Study Centre in Indore.
She played a pivotal role in conceiving and leading the inaugural National Conference of Women Legislators as well as the first-ever National Legislators Conference in New Delhi in March 2018.
During her tenure as the Chairperson of the BRICS Parliamentary Forum in 2016, Sumitra Mahajan orchestrated the convening of the BRICS Women Parliamentarians Forum in Jaipur and also orchestrated the gathering of Speakers and Presiding Officers of Parliaments from the BRICS Parliamentary Forum in Geneva, Switzerland.
In 2021, Sumitra encountered a situation where she was admitted to Indore's Bombay Hospital. This occurrence led to the spread of unfounded rumors and false information about her passing on the internet. A number of news outlets prematurely reported her demise without verifying the accuracy. Even politician Shashi Tharoor posted a tweet expressing condolences, which he later retracted. However, Sumitra's family clarified the situation and confirmed her good health, effectively putting an end to the unfounded speculations.
In the 2009 Lok Sabha elections, Sumitra Mahajan secured victory with a narrow margin of 11,480 votes, marking the slimmest victory margin in her entire political career. Recognizing the waning popularity, she displayed astute political acumen by reconciling with Kailash Vijayvargiya, a prominent MP Minister renowned across the Malwa region. This strategic decision proved fruitful, as she achieved a remarkable triumph in the 16th Lok Sabha elections, surpassing her Congress party opponent Satyanarayan Patel by an impressive margin of 4,66,901 votes. This achievement marked the highest vote margin victory in Madhya Pradesh during those elections.