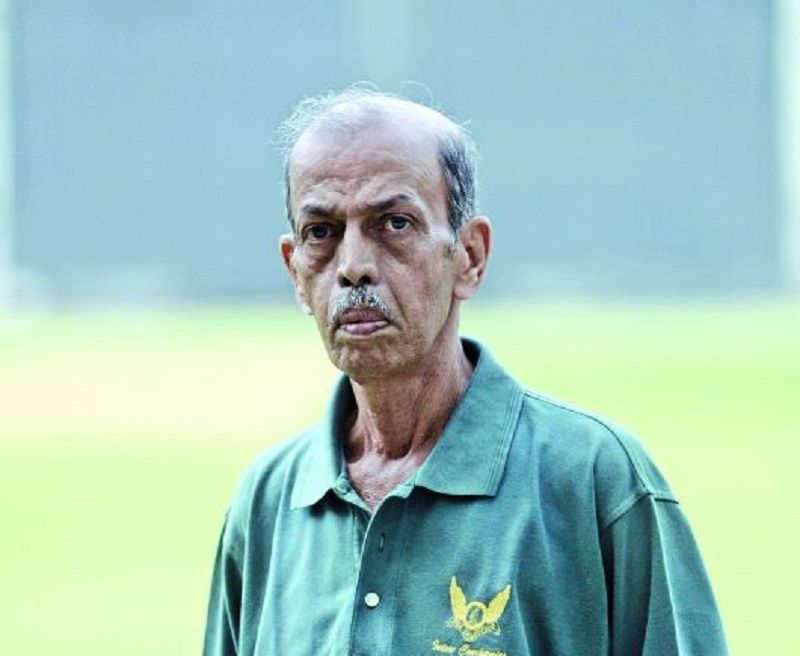 Sudhir Naik (1945-2023) was an Indian cricketer who is known for playing the Ranji Trophy for Bombay in the 70s.
Wiki

/Biography

Sudhir Sakharam Naik was born on Wednesday, 21 February 1945 (age 78 years; at the time of death) in Tardeo, Bombay Presidency, British India. His zodiac sign was Pisces. He pursued MSc in Organic Chemistry at Ruparel College, Mumbai. When he was a child, he used to play with kids from Tardeo's Chikkalwadi with a table tennis ball. He also used to pester animals with his friends. When he was in class 10, his elder brother told him to start taking coaching under Vinoo Mankad. When he was in school, he always studied when he was not playing cricket. On tours, he used to carry his books and study whenever he got time. He used to study at 5 in the morning and practice during the day. His first dream was not to become a cricketer but to become the boss of a company. In an interview, he said that at that time there was no money in cricket because of this he even applied for an engineering degree and got admission to VJTI (Veermata Jeejabai Technological Institute) in Mumbai before he decided to become a chemist. He dropped the idea of becoming an engineer after former cricketer Madhav Apte told him that he would not get time to play cricket if he chose to become an engineer.
Physical Appearance
Height (approx.): 5′ 9″
Hair Colour: Grey (Semi-bald)
Eye Colour: Black
Family
Parents & Siblings
There is not much information available about his parents. He had nine siblings.
Wife & Children
Sudhir was married to Vasundhara Pendse Naik, who was an author. She died a few years before Sudhir's death. Their daughter's name is Radhika Deshpande who lives in Melbourne.
Career
Domestic Cricket
Sudhir used to play for the Mumbai cricket team. After taking admission to Bombay University, he became the captain of the team. He was also the captain of the Tata Oil Mills team where he used to work. In 1967 and 1968, he was the only captain to win the Police Shield Tournament and Mahindra Shield Tournament for two consecutive years at Bombay University. During his graduation, he was selected for Mumbai's junior squad and the senior team. According to Sudhir, in 1970, only one team was allowed to play in the knock-out rounds. Before 1970, Bombay won against Maharashtra after which Maharashtra proposed to the BCCI to allow two teams from each group to play in the knock-out. BCCI agreed to the offer and in 1971, Maharashtra stood at number 1 and Bombay came on number two in the West Zone. In 1970-71, his performance in the match led Bombay to win the Ranji Trophy even when players like Sunil Gavaskar and Ajit Wadekar were not part of the squad. In the 1972 Ranji season, he was not included in the playing squad. In an interview, he talked about this and said,
I was dropped for the knock-outs. I had good scores and it was definitely unfair. It was politics played by some of our own senior players. They were afraid that if Sudhir plays in the knock-outs, he may get selected for India and we may go out. That was dirty politics. But this is part and parcel of the game."
In the 1973-94 Ranji Trophy season, he scored 2687 runs (40.10) against Baroda. The score became the highest score of 200 not out. He scored 4376 runs in 85 First-Class matches with seven hundred and 27 fifties in his domestic career.
International Cricket
Sudhir made his ODI debut on 13 July 1974 against England at Leeds. He made his test debut on 4 July- 8 July 1974 against England at Birmingham. In 1974, he played three Test matches and two One Day Internationals for the Indian cricket team. In 1974, he was part of India's tour of England and was the opening batsman. He did not play in the first and second test matches even when he was the highest scorer in all the tour games. In the match that he played, he scored 77 runs in the second innings, but India did not win the match. His score became the highest score, and he became the man of the match. In 1974, he became part of the Indian team and played the final Test at Edgbaston. In the match, he scored 730 runs (40.55).  In a One-day International match in England, he scored 18 runs from 29 balls including the first four for the team.
Curator
In 1984-85, he was a part of the Mumbai selection committee and worked as a chief selector and managing committee member. In 2005, he started working as a ground in charge at the Wankhede Cricket Stadium and used to take care of the wicket and the outfield before the matches. In 2011, before the World Cup at the Wankhede Cricket Ground in Mumbai, he prepared the pitch for the tournament. He used to prepare the grounds and pitches of the west zone in the capacity of West Zone In-charge of BCCI's Ground and Pitch Committee. In 2016, he retired as the curator and ground in charge of the Wankhede Cricket Stadium after he was criticized by Ravi Shastri because the pitch was not batsman-friendly. In an interview, he said that he could not take the things Shastri told him because he was 70 years old and had some pride.
Death
Sudhir was admitted to the Intensive Care Unit (ICU) at the Hinduja Hospital in Mumbai on 24 March 2023 when he had a head injury after he fell down in his residence in Dadar. He died on 5 March 2023 because he could not recover from the injury. After his death, Zaheer Khan expressed his condolences on his death and said,
A day after he was hospitalised, I went and saw him. He was responding to the treatment. He recognised me and tried talking to me. I had a bit of a conversation with him. Knowing the personality that I have seen over the years, I was hoping he would fight through this. But it wasn't to be. On Sunday night, he became critical, and we were told that the next 72 hours will be critical. While we were hoping for his recovery, all through this time, I have been recalling my innumerable conversations with him as soon as I moved to Mumbai."
Facts/Trivia
He was a right-hand batsman.
Apart from cricket, he used to work as an organic chemist.
After 1974, he did not play cricket but started coaching at his own National Cricket Club, Mumbai. He coached cricketers like Zaheer Khan, Wasim Jaffer, Rajesh Pawar, Raju Sutar and Paras Mhambrey.
In 1975, he played his last Test at Eden Gardens against the West Indies.
His students in the club referred to him as James after James Bond.
In an interview, former India skipper Dilip Vengsarkar said that Sudhir was a straightforward person.
In the 1970s, during his tour to England, he was falsely accused of stealing two pairs of socks at a London departmental store. In an interview, he said that BCCI did not support him at all because, at that time, BCCI was not very strong. He suffered a lot because of the incident. In the book 'Sunny Days,' Sunil Gavaskar talked about the incident and said that Naik would have not felt the humiliation if he was given better lawyers to prove him innocent. However, after the incident happened to him, he scored a half-century in a test match. In an interview, former Mumbai captain, Milind Rege talked about the incident and said that Sudhir's self-respect was so big that he would wear torn gloves but would never ask anybody for spare gloves.
In another interview, Milind Rege remembered the time spent with Sudhir and said when they used to play, they travelled together to Ranji Trophy games with their kits in a taxi. They used to spend half of the day together because they lived close to each other's house and practised together. He also said that Sudhir was a great captain. In the interview, he further said,


He was extremely sound tactically. That was his plus point. He knew his field placement, he knew the temperament of his players. Sudhir would never rebuke us on the field. He never told us, " Kya kar raha hai? Barabar se bowling nahi ho raha hai (What are you doing? You are not bowling properly)… He would put his arm around us and be very cool and calm. In that final of 1970-71, we were all youngsters – most of us were in our early 20s – with the exception of Vijay Bhosale and Padmakar Shivalkar. We were just raw talents and he captained the team marvellously. He was a great leader."