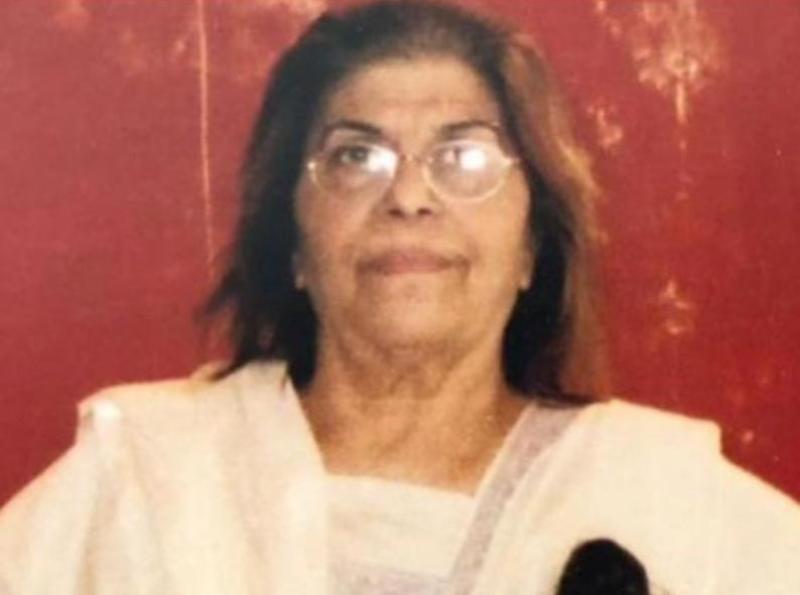 Snehlata Panday (1934-2021) was an Indian doctor, physician, and dietician, who had a wide experience in fitness & nutrition for more than 30 years. Other than this, she was known for being the wife of Sharad Panday and the mother of Bollywood actors Chunky and Chikki Panday. She passed away on 10 July 2021 in Mumbai due to a prolonged illness at the age of 87.
Wiki/Biography
Snehlata Panday was born on Thursday, 17 May 1934 (age 87 years; at the time of death). According to some sources, she was 85 years old at the time of her death. Her zodiac sign was Taurus. After graduating with an MBBS degree, she earned a diploma in Gynaecology and Obstetrics following which she did a diploma in Family Planning.
Physical Appearance
Height (approx.): 5′ 6″
Hair Colour: Light Red Copper Brown
Eye Colour: Dark Brown

Family
Parents & Siblings
There is not much information about her family.
Husband & Children
Her husband, Sharad Panday (1934-2004), was an Indian heart surgeon who was one of the surgeons who carried out the nation's first heart transplant at the King Edward Memorial Hospital and Seth Gordhandas Sunderdas Medical College in Mumbai in 1968. On 8 November 2004, Sharad Panday passed away at his home in Mumbai at the age of 70.
The couple has two sons, Chunky Panday and Chikki Panday. Sharad's son Chunky Panday is a veteran Indian actor and businessman, who has mainly worked in Hindi and Bangladeshi films. Chikki Panday is an Indian businessman who co-founded the Akshara Foundation of Arts & Learning, a non-profit organization that supports the education of underprivileged children. Chikki is a member of the Steel Consumers' Council as well as the Telephone Advisory Committees of the Ministry of Communication and Information Technology of India.
Other relatives 
Snehlata's son Chikki Panday got married to Deanne Panday, a wellness coach and author, in 1994. Snehlata's son Chunky Panday got married to the Indian costume designer Bhavana Pandey on 17 January 1998 after dating her for almost ten years. Ananya Pandey (actress), Rysa Panday, Alanna Panday (social media influencer), and Ahaan Panday (actor and model) are Snehlata's grandchildren.
Career
When Dr Snehlata Panday began her career, she observed that only 20% of the patients who required medical assistance were actually unwell whereas the remaining 80% of patients had medical issues that were almost always related to weight. After visiting several slimming centres in many countries, Dr Snehlata Panday co-founded a beauty parlour cum slimming centre, Slimelle, in Mumbai on 1 August 1974. At Slimelle, Snehlata worked as a weight-loss consultant-gynaecologist and provided her services to several socialites in Bandra and Bollywood celebrities including Rekha, Babita Kapoor, Jaya Bachchan, Meenakshi Sheshadri, Madhuri Dixit, Hema Malini, and Vinod Khanna. Dr Panday acquired expertise in a number of paramedical disciplines over the years, including yoga, acupressure, reiki, and hypnosis. In addition to appearing on numerous TV programmes and discussion programmes in India and abroad, she has written extensively for a variety of newspapers as well as magazines. She received numerous job offers from abroad but continued her practice in Mumbai.
Death
She passed away in Mumbai due to a prolonged illness on 10 July 2021.
Facts/Trivia
She was often referred to by the names Snehlata Sharad Panday and Snehlata Pandey.
When Snehlata was born, the doctors told her parents that she wouldn't survive much longer as she had a defective heart valve.
Snehlata Panday had a deep interest in palm reading.
In 1997, she penned a book titled Slim Now Stay Slim.
In an interview, Chunky Panday talked about his mother and said that he used to take his mother to shows and shootings abroad because he was afraid of his multiple girlfriends who might get angry if he didn't take them instead. He recalled how he was often mocked for being a mama's boy and said,


I have travelled with her everywhere and I was known as a mama's boy. Normally heroines used to take their mothers along with them while travelling for films, I was the only hero who travelled with his mom. And since I didn't have a steady girlfriend, I used to take my mother everywhere. I am glad that she got to see the world with me."
Snehlata, who wanted to have a daughter, used to dress up her son Chunky as a girl till he was two years old. She even made him wear earrings. Talking about this in an interview, Chunky Panday laughed and said,


When I was born, she always wanted to have a daughter and she got a son. So, till the age of 2, she used to dress me up like a girl. I used to wear these lovely earnings and that's why today when I go shopping, I normally pick up ladies clothes and the shopkeeper asks me if this is for my wife or for my daughter and I say, it's for me."
She created the special "Rekha Diet" and introduced Rekha to aerobics and a healthy diet, which resulted in Rekha's iconic body transformation.
After Snehlata's demise, her granddaughter Ananya Panday penned a note and shared it on her Instagram post and said,


She worked every day up until the age of 85, going to work at 7 am in her block heels and red streaked hair."