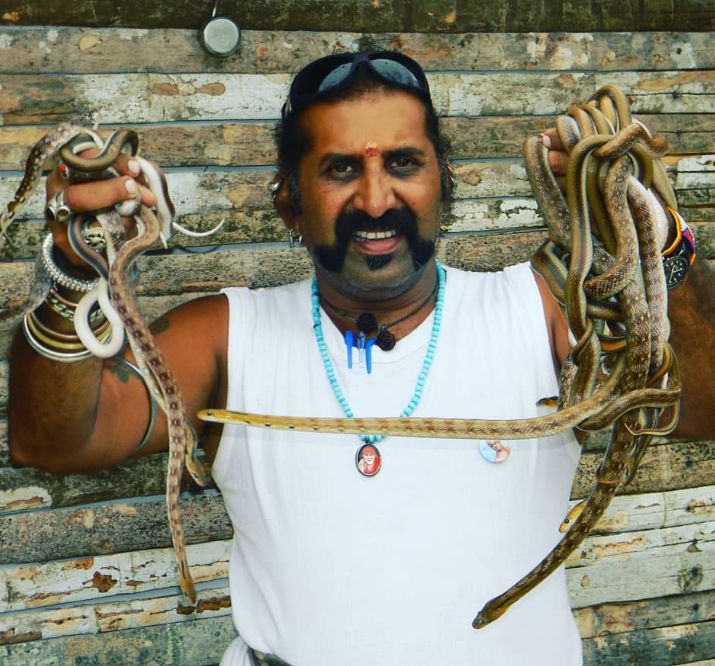 Snake Shyam is an Indian snake enthusiast, lecturer, former counsellor at Mysore City Corporation, and wildlife conservationist from Mysore, India. He is best known for his snake enthusiasm.
Wiki/Biography
Snake Shyam aka M. S. Balasubramania (alt spelling Balasubramanya) was born in 1967 (age 56 years; as of 2023) in Cheluvaamba Hospital, Krishnarajanagara, Mysore State, India.
Physical Appearance
Hair Colour: Salt 'N' Pepper
Eye Colour: Dark Brown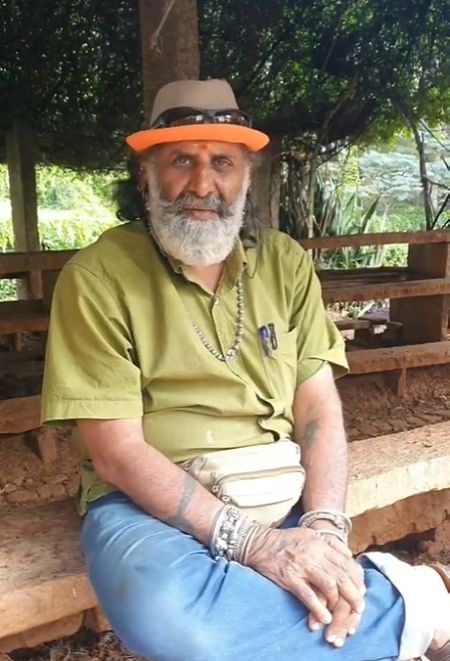 Family
Snake Shyam was born into a poor family in Mysuru.
Parents & Siblings
His father's name is M.R.Subbarao and his mother's name is A.Nagalakshmi Mirle.
Wife & Children
His wife's name is Satyavati. His son's name is Surya Keerthi and he is also a part of various snake rescue operations. His son was born in 2000.
Caste
He comes from a Brahmin family.
Career
Auto Rickshaw Driver
Before beginning his career as a snake enthusiast, he worked as an auto-rickshaw driver for 25 years, transporting children to school.
Acting
Films
Snake Shyam has worked as an actor for five years. He acted in the film "Kalaya Tasmai Namaha" (2012) in which he made a special appearance.
Television
He acted in the TV show Gandhari (2015-2016) on Colors Kannada.
Snake Enthusiasm 
He developed an interest in snakes at an early age. When he was young, a snake invaded the home of one of his neighbours. He was called to the incident and requested everyone not to kill the snake. He himself caught it and released it in the nearby garden. After this incident, at the beginning of 1982, he was frequently called on the incidents to catch the snakes when snakes invaded people's properties. He uses a pillowcase and a badminton racquet without the strings to net the snakes. The frequent callings by people to catch the snake became a job for him for which he was not paid. There was a continuous desire in Shyam to save the snakes and release them rather than kill them. This cost him a lot of expenses and the authorities in Mysore decided to compensate him by paying his telephone bills. As of 2008, during his rescue procedures, Shyam has been bitten only four times by the snake. During his rescue procedures, he developed an allergy to antivenin. Shyam has great knowledge as he can easily identify 28-30 local species of snakes. He gained this knowledge on the basis of his personal experience. He gained further knowledge about snakes by reading the works and speaking to professionals like Romulus Whitaker, J.C. Daniel, and various faculty members of Mysore University. Apart from this, he also educates the people about rescuing snakes. Not only this, he is also sometimes called and consulted by local hospitals to identify the species of snakes to treat the snakebite victims. For his extraordinary skills and capabilities of rescuing, he has been worshipped by people after the rescue operation is over.
Reality Shows
In 2022, the city of Mysore became the first city in Asia to be selected for making a documentary study on snakes. It was the ninth season of the reality TV show "Snake City" which aired on National Geographic. The documentary featured the couple Simon and Siouxsie, the wildlife nature expert. Snake Shyam was supporting the team in their wildlife adventure.
In 2023, Snake Shyam participated in the reality TV show Bigg Boss Kannada Season 10 which aired on Colors Kannada. Kiccha Sudeep (alt-spelling Kichcha Sudeep) is the host of the show.
Awards, Honours, Achievements
Rajyotsava Award in November 2015
Facts/Trivia
He is also known by the name Snake Bite because he was often called by his neighbours to catch the snakes and release them instead of killing them.
As of 2019, he has made the record of catching the 32,000 snakes.
The vans of Snake Shyam feature paintings and slogans like "Snakes are not as poisonous as human beings" and "Care for the rare."
In March 2013, Snake Shyam was elected to the Mysore City Corporation, sponsored by the BJP (Bharatiya Janata Party). However, for conducting the anti-party activities, he was expelled from the party. Though he chose to contest independently, but was unsuccessful.
A road has been named after Snake Shyam by the Mysore City Corporation. Apart from this, the city of Mysore (Mysuru) has dedicated its first "urban forest" to him and his fellow environmentalist Hyder Ali Khan.
Throughout the Mysore region, Snake Shyam is popularly known as "naturalist on wheels".
He was featured in National Geographic's Croc Chronicles: Snakes, Karma, Action Special and on Discovery channel.
Snake Shyam was 23 years old when he first rescued a snake which he and a girl spotted hiding under a stone.
Several times, he has been called a "Snake God."
Shyam is best known for his extraordinary personality and according to the 2008 reports of the newspaper The Hindu, he is described as "easily the most recognisable characters [sic] of Mysore, complete with his sun hat, overflowing beads and multiple rings that adorn his fingers".
In August 2023, he made an appeal to the Chief Minister of Karnataka, Siddaramaiah, to provide compensation to the families of fellow rescuers who died in various snake rescue operations. Considering the deaths of people in snake rescue operations, he requested to reserve 10 hospital beds exclusively for the victims of snake bites.
Snake Shyam maintains a log book in which he writes the counts of his snake-rescuing operation.