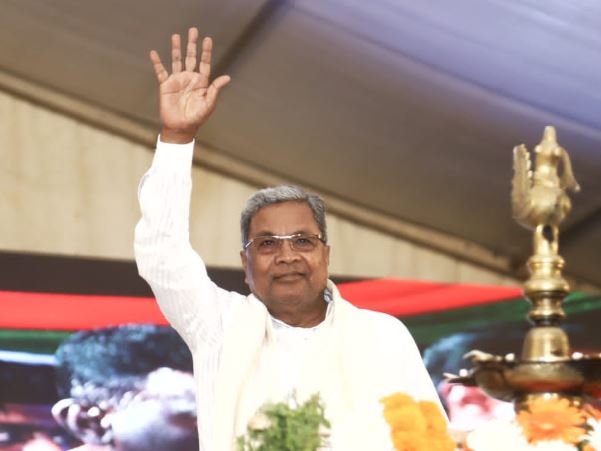 Siddaramaiah is an Indian politician, who is a member of the Indian National Congress (INC). He served as the 28th Chief Minister of Karnataka from 13 May 2013 to 17 May 2018, becoming the second person to hold the office for a full term.
Wiki/Biography
C. Siddaramaiah was born on Thursday, 12 August 1948 (age 75 years; as of 2023) in Siddaramanahundi in Varuna Hobli near T. Narasipura of Mysore district, Karnataka. However, according to his school records, he was born on Sunday, 3 August 1947. His zodiac sign is Leo. Hailing from a family with a poor rural background, Siddaramaiah helped his father at farms in childhood. Siddaramaiah did not receive any formal education till he was 10 years old. However, he used to attend folk art classes near his home, where he often practised writing alphabets with his figures on the sand near the village pool. Later, he enrolled in a local school in class 5. Despite joining the school late, Siddaramaiah managed to top the state board examination. In school, his teachers often addressed him as S Cube. He attended Yuvaraja College, Mysore, to pursue a Bachelor of Science degree. Thereafter, he obtained an LL.B. from Sharada Vilas Law College, Mysore (1972). He practised law till 1978 and later ventured into politics.
Physical Appearance
Height (approx.): 5′ 8″
Hair Colour: Salt & Pepper
Eye Colour: Black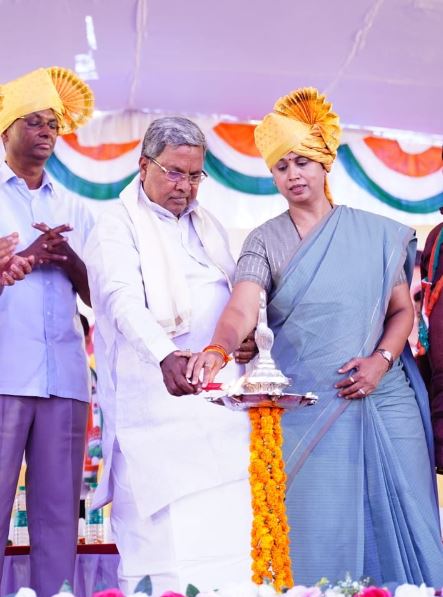 Family
Siddaramaiah belongs to a family of farmers.
Parents & Siblings
Siddaramaiah's father's name is Siddarame Gowda (deceased), and his mother's name is Boramma Gowda. He had an elder brother Thamme Gowda aka Thammayyanna (deceased) and a younger brother Rame Gowda, who passed away in 2022. Siddaramaiah has a younger brother named Sidde Gowda. His elder sister Chikkamma died of a kidney ailment in 2017. He also had a sister named Putramamma.
Wife & Children
Siddaramaiah is married to Parvathi Siddaramaiah, who is a director at Prasiddh YS Diagnostics Pvt. Ltd. and a partner at  BMMN Enterprises & PRY Projects LLP. Siddaramaiah's elder son Rakesh was a Kannada actor, who died due to multiple organ failures in July 2016. Following Rakesh's demise, some of his friends revealed on Facebook that they were travelling with Rakesh to attend 'Tomorrowland,' the world's biggest electronic dance music festival held in Belgium annually. Siddaramaiah's younger son Yathindra is a doctor and a politician. Yathindra contested the Legislative Assembly elections from the Varuna constituency in Mysore in 2018 and won the seat by 45,000 votes; the seat was formerly held by his father.
Religion/Religious Views
While some sources claimed that Siddaramaiah was an atheist, others said that he followed Hinduism. In an interview in 2016, Siddaramaiah revealed that he was not an atheist but was strictly against superstition. He said,
Word has spread that I am an atheist, which I am not. I am spiritual — I have participated in festivities as a child. I have visited some of the popular pilgrimage centres. But I am definitely against superstition, as I view everything from a science point of view,"
In another interview in 2021, Siddaramaiah claimed that he was an athiest and said,
Basically I am an atheist. I visit temples only during elections with a view not to hurt the feelings of people who join me."
Caste/Community
Siddaramaiah belongs to the Kuruba Community , which is regarded as the third most influential caste in Karnataka after the Lingayats and the Vokkaligas. Traditionally, Kuruba's were shepherds, militiamen from the hills, armed vassals, or postmen.
Address
#32, Siddatramana Hundi, Varuna Hobnail, Mysore Taluk, Mysore District, Karnataka
Signature/Autograph
Politics
While Siddaramaiah was practising as a lawyer, a senior advocate and politician Nanjunda Swamy spotted him at a district court and asked him to contest in the Legislative Assembly elections from the Chamundeshwari constituency on a ticket from the Bharatiya Lokdal Party in 1983. Siddaramaiah won the elections, becoming a member of the seventh Karnataka Legislative Assembly. Later, he associated himself with the Janata Party. He became the first president of the Kannada Surveillance Committee (Kannada Kavalu Samiti); the committee was set up to oversee the implementation of Kannada as an official language. Two years later, during the mid-term polls, Siddaramaiah was re-elected from the Chamundeshwari constituency.
He later served as the Minister for Animal Husbandry and Veterinary Services. During the government of Ramakrishna Hegde in Karnataka, Siddaramaiah was given the charge of diverse portfolios like Sericulture, Animal Husbandry and Transport at different stages. In 1989, Siddaramaiah contested the Legislative Assembly elections from Chamundeshwari constituency on a ticket of the Janata Dal. However, he lost to M. Rajasekara Murthy of the Indian National Congress by 6,409 votes. In 1992, Siddaramaiah was appointed as the Secretary General of Janata Dal. In 1994, he won the Karnataka Legislative Assembly elections from Chamundeshwari constituency on a ticket of the Janata Dal. Subsequently, he was appointed as the Minister of Finance in the Ministry of Deve Gowda.
During the 2013 Legislative Assembly Elections, he contested from the Varuna constituency on a ticket of the Indian National Congress (INC). He won the elections from Kapu Siddalingaswamy of Karnataka Janata Paksha (KJP) by 29,641 votes. INC achieved an absolute majority in the state by winning 122 seats out of 124 seats. Siddaramaiah was elected as Chief Minister of Karnataka on 13 May 2013. He resigned from his office on 15 May 2018, becoming the first chief minister of Karnataka to serve full 5 years term in 40 years, and the second in the history of the southern state after Devaraj Urs.
Controversies
Cases Where Pending
3 charges related to Mischief by destroying or moving, etc., a land-mark fixed by public authority Mischief by fire or explosive substance with intent to cause damage to the amount of one hundred or (in case of agricultural produce) ten rupees (IPC Section-435)
1 charge related to Punishment for undue influence or personation at an election (IPC Section-171F)
1 charge related to Punishment for bribery (IPC Section-171E)
1 charge related to Undue influence at elections (IPC Section-171C)
11 charges related to Punishment for Being a member of an unlawful assembly (IPC Section-143)
10 charges related to Every member of unlawful assembly guilty of an offence committed in prosecution of a common object (IPC Section-149)
6 charges related to Punishment for Rioting (IPC Section-147)
6 charges related to Punishment for wrongful restraint (IPC Section-341)
6 charges related to Mischief causing damage to the amount of fifty rupees (IPC Section-427)
5 charges related to Punishment of abetment, if the act abetted, is committed in consequence, and where no express provision is made for its punishment (IPC Section-109)
5 charges related to Joining unlawful assembly armed with a deadly weapon (IPC Section-144)
5 charges related to Rioting, armed with a deadly weapon (IPC Section-148)
4 charges related to Unlawful assembly (IPC Section-141)
4 charges related to Punishment for public nuisance in cases not otherwise provided for (IPC Section-290)
4 charges related to Acts endangering the life or personal safety of others (IPC Section-336)
1 charge related to Disobedience to order duly promulgated by a public servant (IPC Section-188)
1 charge related to Threat of injury to induce a person to refrain from applying for protection to a public servant (IPC Section-190)
Luxury Watch Gift
In 2016, Siddaramaiah received a diamond-studded Hublot watch worth Rs. 70 lakhs as a gift from an undisclosed follower. Many political parties targeted Siddaramaiah for flaunting expensive gifts despite being a socialist and also suggested him to declare the gifted watch as a state asset. A Karnataka-based activist S Bhaskaran filed a complaint in the matter with the state Lokayukta, seeking Siddaramaiah's prosecution under the Prevention of Corruption Act for accepting the expensive gift and not declaring it before appropriate authorities.
Hindutva vs Hindu Remark
In February 2023, Siddaramaiah stirred up controversy for his contentious remark on Hindutva. While addressing the media during a book launch event, a biopic of former congress MLA BR Patil, in Kalaburagi, Siddaramaiah claimed that Hindutva was for murder, violence and discrimination. He said,
Hindutva is against Constitution. Hindutva and Hindu dharma is different. I am not against the Hindu religion. I'm a Hindu but oppose Manuvad and Hindutva."
He further said that no religion supported murder and violence but Hindutva and Manuvad support murder, violence and discrimination.
Corrupt Lingayat Chief Minister Remark
In April 2023, during an interview on a Kannada news channel when Siddaramaiah was asked to comment on the Bharatiya Janata Party batting for a Lingayat as the next chief minister of Karnataka to seek the favour of the community, Siddaramaiah replied,
Already a Lingayat is CM. He has indulged in corruption and spoiled the state."
His comments did not go well with the BJP, who accused Siddaramaiah of hurting the community with his insensitive and hateful remarks. Later, while clarifying the matter, Siddaramaiah said that he did not make any controversial remarks but his statements were misrepresented. He said,
I said Basavaraj Bommai is corrupt. I did not call the entire community corrupt."
He further said that he had great respect for the community.
Car Collection
Siddaramaiah owns a Toyota Crysta of 2018 make bearing the registration number KA04MV7666. Earlier, he owned a Renault Duster and a Mercedes.
Salary/Income
In the financial year 2021-2022, Siddaramaiah earned a salary/income of Rs. 20,49,480.
Assets & Properties
Movable Assets
Bank Deposits: Rs. 21,86,455
Loans and Advances: 8,82,97,720
Motor Vehicles: Rs. 28,08,033
Jewellery (350 gram Gold + 2 Kg Silver): Rs. 22,26,000
Immovable Assets
Commercial Buildings: Rs. 7,33,22,000
Residential Buildings: Rs. 2,10,50,000
Note: The given estimates of movable and immovable assets are according to the year 2023. It excludes the assets owned by his wife and dependents (minor).
Net Worth
Siddaramaiah's net worth for the financial year 2021-2022 was estimated to be Rs. 12,07,65,958. It excludes the net worth of his wife and dependents (minors).
Facts/Trivia
His favourite food is Upma.
Although Siddaramaiah had an interest in Mathematics and Science in his school days, he decided to become a lawyer. His father's always wanted him to become a doctor.
In one of his interviews, Siddaramaiah revealed that he sometimes cooked food during his spare time. He likes to cook upma and rice.
In an interview, Siddaramaiah also revealed that he had never set an alarm to wake up on any occasion. He further revealed that he had never asked his wife to wake him up on any occasion, instead, he himself takes care of all his meetings and timings with his biological clock.
He is fondly called Siddu by his family and friends.
In August 2022, ahead of the 2023 Karnataka Legislative Assembly Elections, Siddaramaiah's 75th birthday celebrations were organised by Sri Siddaramaiah-75 Amruta Mahotsava Sameeti in Davangere, Karnataka, to celebrate his services in 40 years of political life as a farmer, farmer activist, socialist, language activist, and economist. The highlights of the event included a 3 Km long cloth banner with pictures from special moments in his life, a music album containing several songs about him, and a meal arrangement for around 5 lakh supporters. A similar event was hosted on his 65th birthday celebrations in 2012, ahead of the 2013 Karnataka Assembly polls.