Shan Masood is a Pakistani cricketer who has played in all formats of the game for Pakistan. He has played many matches in Pakistan's domestic circuit and went on to play in county cricket where he made many records. He is one of the most educated Pakistani cricketers and is also known for his professional demeanour.
Wiki/Biography
Shan Masood Khan was born on Saturday, 14 October 1989 (age 33 years; as of 2023) in Kuwait. His zodiac sign is Libra. When Iraq invaded Kuwait and the Gulf war started in 1990, his family returned to Pakistan and settled in Karachi. He joined a cricket academy at the age of 5. He studied at a high school in Karachi and also played cricket regularly as his father encouraged him to pursue any field sports. He later moved to Stamford High School in Lincolnshire, England where he regularly played cricket. After completing his schooling, he enrolled at Durham University to study economics with a stipulation of six months time off to play first-class cricket in Pakistan; however, his studies put a burden on him as he had to complete a full-year syllabus in only six months. He then pursued graduation from Loughborough University in Management and Sports Sciences before becoming a professional cricketer.
Physical Appearance
Height (approx.): 6′ 3″
Weight (approx.): 75 kg
Hair Colour: Black
Eye Colour: Black
Body Measurements (approx.): Chest 40″, Waist 32″, Biceps 14″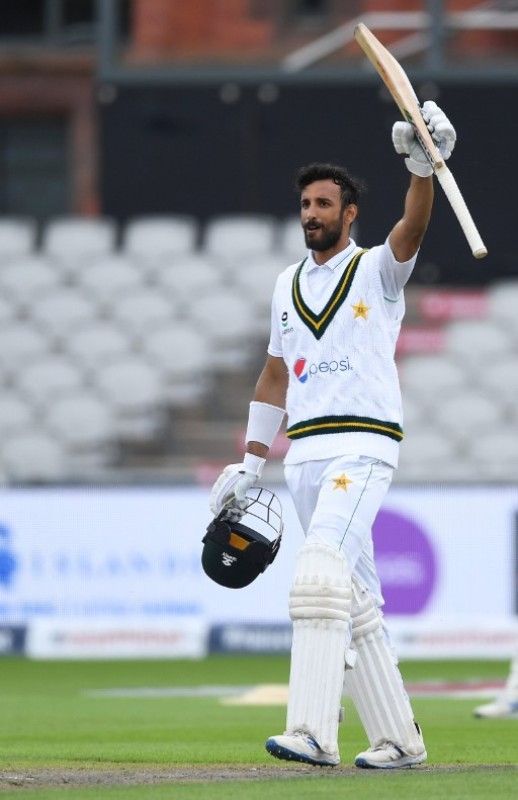 Family
Shan Masood belongs to a Muslim family.
Parents & Siblings
His father's name is Mansoor Masood Khan, and his mother's name is Anjum. His father is a successful professional banker and lived in many countries, and his mother is a housewife. His father became a member of the Pakistan Cricket Board (PCB) in 2014, and his uncle, Waqar Masood Khan, served as Finance secretary of Pakistan and Special Assistant to the Prime Minister for Finance and Revenue during Imran Khan's government in Pakistan. He had an elder sister, Mishal Hameeda Khan, who suffered from a rare chromosome disorder which hindered her mental development, and she died at the age of 35 years on October 2021. He has a younger brother, Ali Masood, who is a barrister.
Wife & Children
Shan Masood got married to Nische Khan on 21 January 2023 in Peshawar, Pakistan. Their valima ceremony was held on 27 January 2023 in Karachi.
Career
Domestic Cricket
He played his debut match in Quaid-e-Azam Trophy on 21 October 2007 for Karachi Whites and scored 54 runs against Hyderabad (Pakistan) in the match played at Hyderabad (Sind), Pakistan. He made his debut on 22 March 2008 in ABN-AMRO Cup for Karachi Zebras and scored 25 runs against Pakistan Customs at Lahore. He played his debut match in Faysal Bank Super Eight T-20 Cup on 25 June 2011 for Islamabad Leopards and scored 21 runs against Hyderabad Hawks. He played as the vice-captain of the Khyber Pakhtunkhwa team for the 2018 Pakistan Cup. He captained the Southern Punjab team in the 2019–20 Quaid-e-Azam Trophy tournament.
Under-15, Under-19 & Pakistan-A
Shan Masood was only 13 years old when was selected for the Under-15 Asia Cup in 2002 by the selector at that time Aaqib Javed. He scored 80 runs in a match playing for Pakistan under-19 team against Australia and later played in the Under-19 World Cup in 2008. He also represented the Pakistan-A side in various tours and tournaments.
Tests
He played his debut test match on 14 October 2013 against South Africa at Sheikh Zayed Stadium, Abu Dhabi, UAE and scored 75 runs in the first innings of that match. He made his first test century in July 2015 when he scored 125 runs against Sri Lanka at Pallekele International Cricket Stadium, Kandy, Sri Lanka. He made his first test half-century in October 2015 when he scored 54 runs against England at Dubai International Cricket Stadium, Dubai, UAE. In December 2018, he scored 65 runs in an inning of a test match against South Africa at SuperSport Park Cricket Stadium, Centurion, Gauteng, South Africa. In December 2019, he scored 135 runs in an inning of a test match against Sri Lanka at the National Stadium in Karachi, Pakistan and completed 1000 test runs in the same match. In February 2020, he scored 100 runs in an inning of a test match against Bangladesh at Rawalpindi Cricket Stadium, Rawalpindi, Pakistan. In August 2020, he scored 156 runs in an inning of a match against England at Old Trafford Stadium in Manchester, England.
ODIs
He played his debut ODI match on 22 March 2019 against Australia at Sharjah Cricket Stadium, Sharjah, UAE and scored 40 runs. He made his first ODI half-century on 31 March 2019 when he scored 50 runs against Australia Dubai International Cricket Stadium, Dubai, UAE. He was selected as the Vice-Captain for the New Zealand ODI series held in Pakistan.
T20Is
He played his debut T20I match on 20 September 2022 against England at National Stadium in Karachi, Pakistan. On 23 September 2022, he scored his first T20I half-century when he scored 65 runs not out against England at National Stadium in Karachi, Pakistan. On 2 October 2022, he scored 56 runs against England at Gaddafi Stadium, Lahore, Pakistan. He played in the 2022 T20 World Cup held in Australia and scored 52 runs not out in the match against India held on 23 October 2022 at Melbourne Cricket Ground, Melbourne, Australia.
County Cricket
He was signed by the Derbyshire team to play in the County Championship 2022. He became the first player to score 1000 runs in the County Championship 2022. He scored three double-centuries in the 2022 County season. He was signed by the Yorkshire team to play as their captain in the County Championship 2023 and became the second overseas player to become a captain of a county team.
Premier Leagues
Shan Masood plays in the Kashmir Premier League as the captain of the Bagh Stallions team. He played for Multan Sultans in the Pakistan Super League.
Controversies
Nepotism Allegations
Shan Masood belongs to an affluent family due to which many people criticised his selection in the Pakistan team as a consequence of nepotism, and whenever he played in the domestic matches, he was teased by the name Parchi, a notorious term for ridiculing rich kids.
Fined 25 % match fee
In November 2029, Shan Masood was fined 25% of his match fee for showing dissatisfaction towards the umpire's decision in a match in Quaid-e-Azam Trophy where he was playing for Southern Punjab against Northern Punjab at Jinnah Stadium in Sialkot. He was found to violate clause 2.8 of the Pakistan Cricket Board's (PCB) Code of Conduct for Players and Player Support Personnel, which is related to showing obvious disappointment with the umpires' decision when given out caught behind. On-field umpires Abdul Moqeet and Farooq Ali Khan levelled the charges against Masood which he denied, and subsequently, a hearing took place in which the match referee Kamran Chaudhry upheld the decision.
Aerial shot deflected by Spider Cam
In the India-Pakistan match in T20 World Cup 2022, Shan Masood hit an aerial shot which was deflected by the spider cam rope. Fans alleged that the shot would have been caught by Indian cricketer Virat Kohli who was standing in the deep and criticised ICC for spider cam use in the World Cup.
Appointment as Vice Captain
In January 2023, Shan Masood was appointed as the vice-captain of the ODI team selected for the New Zealand ODI series in Pakistan. His appointment was ridiculed by fans and Pakistan interim chief selector Shahid Afridi who said that neither he nor Pakistan captain Babar Azam was not consulted before Shan's appointment as Vice-captain. In an interview, he said
Shan Masood should not have been named as vice-captain of the ODI squad. Chairman of the Pakistan Cricket Board (PCB) should have taken captain or chief selector under confidence; he was neither under consideration by me nor by Babar Azam for the first two ODIs against New Zealand. Shan Masood cannot be named as captain or vice-captain of the Pakistan Cricket Team based on his performances for Derbyshire."
Facts/Trivia
Shan Masood scored 1237 runs for Stamford School in the 2009 school cricket season and featured in the Wisden Book of 2009 as the top Schoolboy batsman. He was 50 runs short to break the all-time record of highest runs in school cricket made by England cricketer Alastair Cook whom Sham admires for his style of play.
He is the first batsman of the Derbyshire team to score consecutive double centuries in county cricket. For his performance, he was chosen as the Player of the Month for April month.
🥁 And your April Player of the Month Winner is…@shani_official🥳

The Derbyshire batter has really set the @CountyChamp standard so far with two double-hundreds!

Congratulations! 🙌

👉 https://t.co/ORfh6LWGyQ pic.twitter.com/4gM5kmkADO

— PCA (@PCA) May 9, 2022
Shan Masood's father is a huge sports lover, particularly cricket and hockey. When his mother was giving birth to him on 14 October 1989, his father was watching the ODI between Pakistan and the West Indies being played at Sharjah, in which Wasim Akram took a hat-trick. His father also played hockey at the provincial level in Pakistan.
During a test match between Pakistan and Australia, he tore his pants from the side while fielding. He dived towards the boundary rope to stop the ball; however, he was unsuccessful.
#PAKvAUS #PakistanBachanaHai
Trousers of Shan Masood gets torn down as he slips in a bid to stop boundary. pic.twitter.com/BC3ff8VhAO

— Baseer Ahmed (@journoBaseer) March 7, 2022
Shan Masood was hit on the head during a practice session before India Pakistan clash in T20 World Cup 2022. He was practising in the nets when a shot by another Pakistani cricketer Mohammad Nawaz hit him on the head after which he was taken to the hospital. He did not suffer any major injury and became fit in time for the match.
After Shan's father was diagnosed with Type 2 Diabetes, Shan also made changes to his own diet and workout regimen to improve his fitness to reduce his risk.
His favourite exercise is the deadlift.
His favourite Indian cricketer when he was growing up was Yuvraj Singh.
He won the Best Domestic Batsman of the Year award in 2018 awarded by Pakistan Cricket Board.