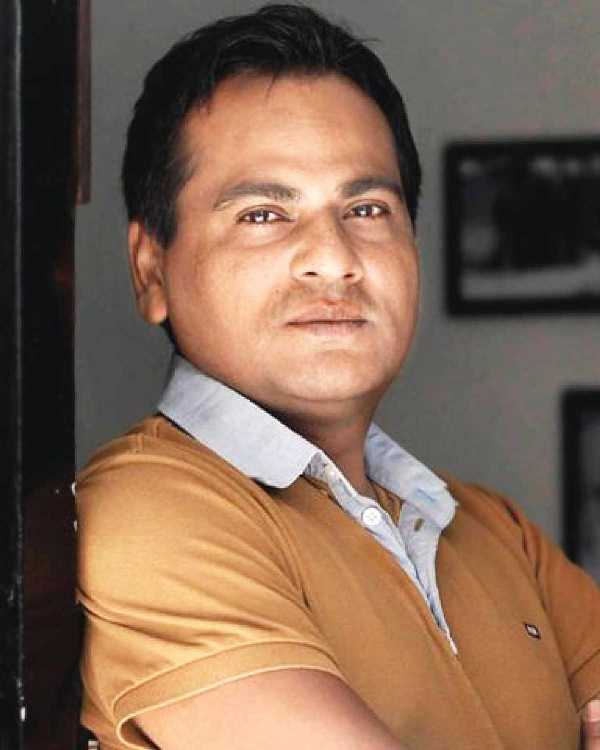 Shamas Nawab Siddiqui is an Indian film director. He is the brother of the popular Bollywood actor Nawazuddin Siddiqui.
Wiki/Biography
Shamas Nawab Siddiqui was born on Wednesday, 5 October 1983 (age 39; as of 2022) in Budhana, Uttar Pradesh, India. He attended the D.B.S. (P.G.) College in Dehradun, Uttarakhand.
Physical Appearance
Height (approx.): 5′ 8″
Hair Colour: Black
Eye Colour: Black
Family
Shamas Nawab Siddiqui was born into a Zamindar Muslim Family called Numberdars. He hails from the Sunni sect.
Parents & Siblings
His father, Late Nawabuddin Siddiqui, was a farmer.
His mother, Mehroonisa, is a homemaker. He has six brothers and two sisters. His sister, Syama Tamshi Siddiqui, died in December 2019 at the age of 26 after battling breast cancer. Bollywood actor Nawazuddin Siddiqui is his eldest brother.
Wife & Children
He got married to Married to Sheeba Siddiqui on  15 October 2021.
In February 2023, the couple was blessed with a daughter whom they named Ira Siddiqui.
Career
Director
Shamas Nawab Siddiqui started working as a TV director in 2005 and has directed many TV programs. In 2015, he directed the short film 'Mister, Come Tomorrow (Miyan Kal Aana)' which was produced by Nawazuddin Siddiqui. The film was based on the practice of Nikah Halala in the Muslim sect. The film was later screened at the Cannes International Film Festival 2015 as part of the Short Film Corner category.
After the success of his debut film, he directed some more films including 'Bole Chudiyan,' 'Zero Kilometer,' 'Chalta Purza,' 'Gehu, Ganna aur Gun,' and 'You Are Not My Husband.'
Producer
Apart from direction, Shamas also tried his hand at film production. He has produced various Bollywood films among which some of the most notable include 'Manto' (2018), 'Roam Rome Mein' (2019), and 'No Lands Man' (2021).
Controversy
Defamation Case
On 20 March 2023, Nawazuddin Siddiqui filed a defamation suit against his estranged wife Anjana Pandey (Aaliya) and Shamas Siddiqui seeking Rs 100 Crores as compensation for the damages he has to face because of the misleading claims made by them. However, the actor later sent a "settlement draft" to his wife. Reportedly, Shamas worked as a manager of Nawazuddin from 2008-2020, during which he was accused of defrauding and cheating Nawazuddin. The actor claimed that he received legal notices from various government authorities for unpaid dues of Rs 37 crore that Shamas was supposed to pay. He further claimed that Shamas and Anjana blackmailed him with "cheap videos" and comments on social media. In response to the allegations made by Nawazuddin, Shamas took to Twitter to pen a lengthy note for the actor in which he questioned his defamation case and also disclosed his other cases.
प्रिये भाई #NawazuddinSiddiqui ये भी एलीगेशन नहीं इमोशंस हैं pic.twitter.com/89B9sWH5gy

— Shamas Nawab Siddiqui (@ShamasSiddiqui) March 26, 2023
Awards
He won an award for his film "Zero Kilometer" for 'Fiction Short Film' at the Chicago South Asian Film Festival 2021
He won an award for his film "Zero Kilometer" for 'Best Indian Short Film' at the Port Blair International Film Festival 2021.
His film "Zero Kilometer" also won an award at the Birsamunda International Film Festival.
In 2022, he won an award for 'Best Director' at the 11th Kolkata Shorts International Film Festival.
Facts/Trivia
He is also known as Shamasuddin Siddiqui.
Shamas Nawab Siddiqui has travelled to film festivals in more than 35 countries for his film "Miyan Kal Aana" (2015). The film has won 14 International awards with official 34 nominations. In an interview, he talked about this and said,


I got an opportunity to travel to film festivals across 35 countries for Miyan Kal Aana (his earlier short film, about 'triple talaq'), which I can't forget ever.
Shamas has a keen interest in filmmaking. In an interview, he revealed how his elder brother Nawazuddin Siddiqui encouraged him to pursue a career in filmmaking. He revealed that once Nawazuddin read his notes that he jotted down about the scenes he had visualised. He said,


After reading, Nawaz bhai asked whether I want to study further or join him in Mumbai to pursue cinematography. He helped me understand world cinema and also encouraged me to write scripts."