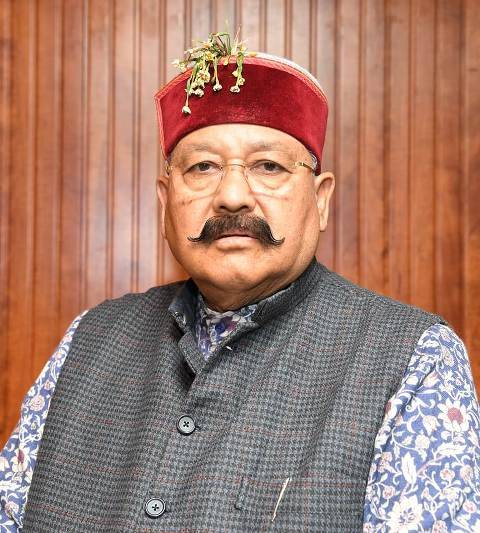 Satpal Maharaj is an Indian spiritual leader who transitioned into politics. He is a national executive member within the BJP and holds the role of Tourism, Cultural, and Irrigation Minister in the Uttarakhand state government. He is also the originator of the Manav Utthan Sewa Samiti.
Wiki/Biography
Satpal Maharaj, also known as Satpal Singh Rawat, was born on Friday, 21 September 1951 (age 72 years; as of 2023), in the small town of Kankhal in Haridwar district, Uttrakhand. His zodiac sign is Virgo. From a young age, he displayed a keen interest in spirituality and regularly engaged in deep meditation practices. For his formal education, Satpal attended St. George's College in Mussorie.
Physical Appearance
Hair Colour: Black
Eye Colour: Black
Family
Parents & Siblings
Satpal was the eldest child of Yogiraj Paramsant Shri Hans Maharaj, a spiritual leader, and his second wife, Rajeshwari Devi. He has a sister named Savitari and four brothers named Mahi Pal, Dharam Pal, Bhole Rawat & Prem Rawat. His siblings, Bhole Rawat, and Prem Rawat, are also spiritual leaders.
Wife & Children
Satpal Maharaj and Amrita Rawat, who is also involved in politics and spirituality, tied the knot on 8 February 1981. The couple have two sons, Shraddhey and Suyash. The older son, Shraddhey, also known as Shri Vibhu, wedded Aradhya, the daughter of Thakur Shri Virender Singh, a politician and Member of Parliament, on 23 October 2012. The couple has a son. Suyash, Satpal's younger son, had a royal wedding ceremony with television actress and Reva princess Mohena Singh in Haridwar, Uttrakhand, on 14 October 2019. The event attracted various well-known figures from the political and entertainment spheres, including Baba Ramdev, Kailash Kher, and Urvashi Rautela. Suyash and Mohena became parents to a baby boy on 15 April 2022.
Address
H. No. 45, Vill Sediagad, P.O. Sediakhal, Teh. Chaubattakhal,Distt Pauri Garhwal 246169
Signature/Autograph
Career
Spiritual Master
After the passing of his father in 1966, Satpal Maharaj assumed the responsibility of sharing spiritual wisdom with the global community. Even from a young age, he would speak to sizable gatherings of his followers, delivering spiritual discourses. At the core of his teachings is the message that "God transcends religious labels like Hindu, Muslim, or Christian. Instead, God is singular and universal, akin to a common father for all."
Social Welfare Initiatives and Spiritual Engagements
Acknowledgement as a Social Figure
From his early years, he emerged as a social activist, instigating positive changes. He established numerous non-profit clinics and introduced crucial services to underserved regions, often inaccessible to government aid due to their remote locations. During his teenage years, he became acquainted with the challenges faced by inhabitants of remote mountainous areas in then-Uttar Pradesh. He actively engaged with and supported the residents' call for the creation of a distinct state, Uttarakhand.
Manav Utthan Sewa Samiti
He established a socio-spiritual organization intending to free humanity from ignorance and baseless beliefs. This association, recognized as the "Manav Utthan Sewa Samiti," is headquartered in Delhi, India. He created the "Manav Utthan Sewa Samiti" intending to disseminate meditation practices known as "Knowledge." The Society is committed to elevating the lower strata of society through cultural refinement and fostering a sense of unity by offering them spiritual guidance in times of joy and sorrow. The organization advocates for the rights of marginalized communities and stands against injustices perpetrated on lower castes. It strongly opposes any discrimination barring their access to places of worship. The practice of communal meals and communal living is a shared aspect of society.
Foot March Initiatives (
Satpal Maharaj has led numerous foot marches (padayatras) to address various social issues and promote awareness and harmony, both within India and on an international scale. His efforts align with the vision of constructing a more improved, healthful, and content society. Some of his notable endeavours include:
Bharat Jago Padyatra (Wake Up India Foot March) – This foot march successfully navigated treacherous mountainous terrain, covering a route that spanned 500 villages. During this journey, Maharaj Ji engaged with over 300,000 individuals, engaging in conversations and attentively listening to their concerns. Essential assistance, such as medicines and blankets, was provided to the underprivileged and those in need. Simultaneously, a campaign to restore the polluted Ganges River commenced during this march, further underscoring the multifaceted impact of this initiative.
Jan Jagran Padyatra (Awaken The People Foot March) – The objective behind this foot march was to motivate the younger generation to foster a favourable environment for the progress of the mountainous region. Additionally, it aimed to urge the Government to acknowledge and address the persistent challenges faced by these hilly areas. Furthermore, the initiative played a significant role in rejuvenating the longstanding call for the official recognition of the Nepali language. Ultimately, this effort proved fruitful, resulting in the inclusion of Nepali in the 8th Schedule of the Constitution of India.
Janata Jage Padyatra (People Awake Foot March) – The foot march occurred in Bihar, a state grappling with poverty and violence. Its purpose was to call upon the populace to rejuvenate the compassionate principles of peace and unity as epitomized in the teachings of Buddha and Mahavir Swami. The primary objective of this padayatra was to help the masses, particularly the youth, recognize the significance of maintaining law and order for economic and social advancement.
Gandhi Yatra (A Car Rally Dedicated to Non-Violence) – In a bid to reignite interest in the teachings of Mahatma Gandhi and foster harmony among various religious communities, Shri Satpal Ji Maharaj spearheaded the "Gandhi-Yatra." This unique initiative took the form of a 'car rally,' with the participation of 350 cars. The journey commenced from the place where St. Kabir was cremated, a site where a temple and a mosque stand side by side, symbolizing unity.
Shrandhanjali Padyatra (Tribute Foot March) – This march was conducted as a tribute to honour the memory of the martyrs who tragically lost their lives while participating in peaceful demonstrations advocating for the establishment of a distinct state of Uttarakhand. During his tenure as the Minister of State for Railways in the Devegowda Government, he seized the opportunity to persuade the Prime Minister to grant statehood to Uttarakhand. This decision was officially announced during the Independence Day celebrations on August 15, 1996. The march thus became a symbol of the journey towards attaining recognition and autonomy for Uttarakhand, as well as a homage to the sacrifices made by its dedicated advocates.
Sadbhawana Padyatra (Goodwill Foot March) – The objective of this march was to foster reconciliation and harmony between Hindus and Muslims in the aftermath of the devastating violence that plagued Gujarat. Spanning 350 kilometres over 22 days, the procession attracted individuals from various religious backgrounds who wholeheartedly participated. Their collective enthusiasm demonstrated the commitment to rebuilding relationships and creating a more cohesive and united community in the face of challenging circumstances.
Gandhi Rainbow Peace March – The march commenced when Mahatma Gandhi was forcibly removed from a train for his audacity to occupy a carriage designated for 'Whites only.' It concluded at Durban's City Hall, where the Mayor extended a civic welcome to the participants. During this event, Shri Maharaj Ji gifted a sculpture of a youthful Gandhi as a lawyer to the Deputy Mayor of Pietermaritzburg and other esteemed attendees. This sculpture was intended to be placed at the railway station as a tribute to Gandhi's journey and his transformative role in history.
Political Leader
Shri Satpal Maharaj holds the position of Cabinet Minister within the Uttarakhand State Government. In this role, he serves as the Minister responsible for Tourism, Irrigation, and Culture. During his tenure as a Union Minister and Minister of Railways for the State of Uttar Pradesh (now Uttarakhand) in 1996, Shri Satpal Maharaj inaugurated a significant project involving a tunnel rail initiative. This particular project, which has gained approval and budget allocation from the government, is notably the longest tunnel rail undertaking in India. Its significance lies in its potential contributions to both national security and the livelihoods of Uttarakhand's residents. The Rishikesh to Karnprayag Rail Line, part of this project, holds a strategic role for the country, primarily aimed at facilitating swift movement for the Army (given its proximity to the India-China border), pilgrims, and the local populace. The foundation stone for the project survey was laid by UPA Chairperson Sonia Gandhi on November 9, 2011, in Rishikesh. Encompassing a 125-kilometre railway line, the project's survey concluded around the year 2013. However, project commencement was delayed due to challenges in land acquisition rules in Uttarakhand, leading to a holdup in providing the required land to Rail Vikas Nigam Limited (RVNL) for construction. Satpal Maharaj also introduced a private member bill in the Lok Sabha for adding Garhwali and Kumauni languages in the 8th schedule of the Indian Constitution in 2011.
Other Social Work
Satpal Maharaj, along with his sons Shri Shradhey Maharaj and Suyash Maharaj, has been actively engaged in various philanthropic endeavours for the betterment of society. One notable initiative they organised is The Mission Education program. This program aims to address the issue of underprivileged children discontinuing their education due to a lack of essential stationery. The initiative involves a unique approach where recurring stationery supplies are provided to these children, preventing them from dropping out of school. Under the guidance of Satpal Maharaj and his sons, The Mission Education program has successfully developed a model that encourages more fortunate students to contribute to the cause by donating excess stationery items. The program emphasizes the collection of supplies from well-off institutions, raising awareness about the initiative, and assembling kits of necessary items. These kits are then distributed to underprivileged schools, and the entire process is executed without any monetary transactions. Remarkably, in May 2019, The Mission Education program achieved a significant milestone by securing a Guinness World Record for being the fastest and largest system for donating stationery globally. This initiative also operates on an international scale.
Controversies
Former Congress MP Satpal Maharaj's controversy regarding Election loss and party change
Satpal Maharaj, who changed his allegiance to the BJP, claimed that he was not given greater responsibilities within the Congress party due to being perceived as a "Hindu face." After joining the BJP in 2014, Maharaj accused the Congress of categorizing individuals based on religious identities such as Hindu and Muslim, and failing to appreciate or show regard for their dedicated party members. In an interview he said,
I was told in Congress that I am a Hindu face. You must have seen that Harish Rawat was made the minister at the Centre, then chief minister after Vijay Bahuguna was removed…he was also made state party president. You gave him everything. What about the other leaders."
Assets and Properties
Movable Assets
Deposits in Banks, Financial Institutions, and Non-Banking Financial Companies – Rs 2,64,25,058
Bonds, Debentures, and Shares in companies – Rs 7,35,574
NSS, Postal Savings, etc – Rs 2,61,712
Personal loans/advance given – Rs 60,00,000
Motor Vehicles (details of make, etc.) – Rs 13, 20,000
Other assets – Rs 2,55,200
Immovable Assets
Agricultural Land – Rs 37,32,80,995
Residential Buildings – Rs 27,06,41,000
Note: The given estimates of movable and immovable assets are according to the year 2017.
Salary/Income
According to the affidavit submitted for Uttrakhand elections 2017, Satpal's income for the financial year 2015-2016 shown in his ITR is Rs 83,89,491.
Net Worth
Satpal Maharaj's Net Worth for the financial year 2015-2016 is estimated to be Rs 60 crores.
Facts/Trivia
On October 17, 2011, he gave a speech during the 66th session of the United Nations General Assembly in New York City. The speech focused on the subject of "Sport for Peace and Development."Subsequently, on October 19, 2011, he represented India's statement during the First Committee Thematic Debate on Conventional Weapons at the same 66th session of the United Nations General Assembly in New York City.
On May 30, 2020, Satpal Maharaj, along with his wife and a group of 22 family members and staff, tested positive for Covid-19. Subsequently, both Satpal Maharaj and his wife were admitted to AIIMS Hospital in Rishikesh for treatment. Within three weeks, they successfully recovered from the virus. They were released from AIIMS Hospital in Rishikesh on June 17, 2020.
On World Tourism Day in 2022, under the leadership of State Tourism and Culture Minister Satpat Maharaj,  the state of Uttarakhand received the first prize in two categories, for the best adventure tourism destination and all-around development of tourism from the Ministry of Tourism, Government of India.