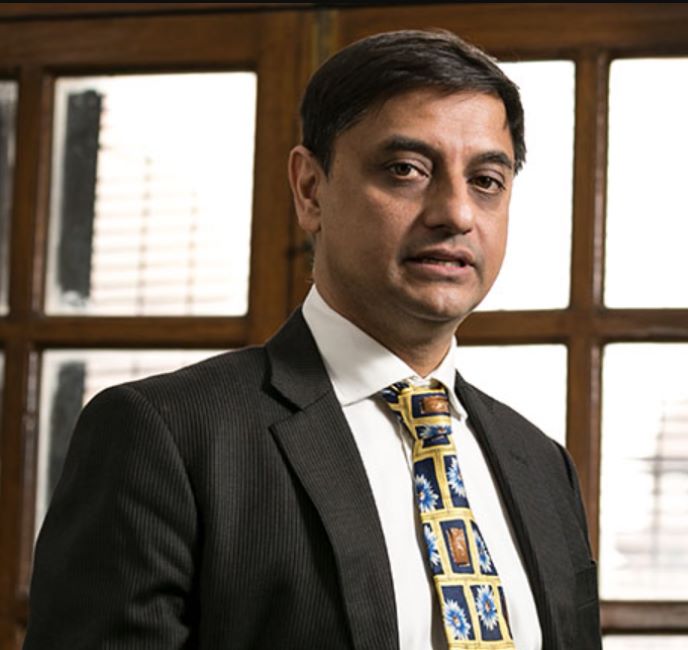 Sanjeev Sanyal is an Indian historian, author, urban theorist, and economist. Sanjeev is a part of the Economic Advisory Council to the Prime Minister of India and has assisted the Indian government in drafting six editions of the Economic Survey of India. He is the author of several books such as The Incredible History of India's Geography (2015) and The Ocean of Churn: How the Indian Ocean Shaped Human History (2016).
Wiki/Biography
Sanjeev Sanyal was born on Thursday, 27 August 1970 (age 53 years; as of 2023) in Calcutta (now Kolkata), West Bengal. His zodiac sign is Virgo. Sanjeev Sanyal did his Kindergarten in a Bahá'í school (run by Bahá'í institutions whose teachings focus on the Bahá'í Faith) in Gangtok. Thereafter, he attended St. Xavier's Collegiate School and St. James' School in Kolkata.
Sanjeev Sanyal went to Shri Ram College of Commerce, New Delhi, where he received a Bachelor of Economics degree. He then went to St John's College, University of Oxford, on a Rhodesscholarship. There, he received a BA in philosophy, politics and economics in 1992 and an MSc in Economics in 1994.
Physical Appearance
Height (approx.): 5′ 8″
Hair Colour: Black
Eye Colour: Black
Family
Sanjeev's maternal family migrated to India from the Hindu-majority area of Kushtia in Bangladesh due to religious persecution. The family came to India seeking refuge.
Parents & Siblings
There is not much information about his parents and siblings.
Wife & Children
Sanjeev Sanyal is married to Smita Barooah Sanyal, who is an addictions counsellor, writer, and photographer. They have two sons, Varun Sanyal, who is an MMA player and became the Indian National Champion in 2023, and Dhruv Sanyal, who is a music producer and artist.
Other Relatives
Sanjeev's granduncle is Sachindra Nath Sanyal, an Indian revolutionary and co-founder of the Hindustan Republican Army (which became the Hindustan Socialist Republican Association after 1928), created to carry out armed resistance against the British Empire in India.
Nalinaksha Sanyal, who was an Indian politician, economist and freedom fighter, is Sanjeev Sanyal's maternal great-grandfather.
Religion/Religious Views
Sanjeev Sanyal follows Hinduism. According to Sanjeev,
So Hinduism is like an operating system which provides the basic framework to structure the search and different thinkers, sages, monks, philosophers have built 'apps' on top of that architecture, on top of that operating system, building thoughts and ideas that assist people on the faith to knowing the Truth."
Signature/Autograph
Career
Economist
Sanjeev Sanyal began his career in financial economics by working with financial markets in the 1990s.
In 2004, the Green Indian States Trust was established by Sanjeev and Pavan Sukhdev in order to promote sustainable development. He worked as the chief economist for South and Southeast Asia at Deutsche Bank until 2008 and returned in 2011. He received numerous promotions and became managing director and global strategist at Deutsche Bank by the time he left the organisation in 2015. Sanyal was also a member of the Future City Sub-Committee of the Singapore government. In 2017, he became the Principal Economic Adviser to the Indian Ministry of Finance and played a role in preparing six editions of the Economic Survey of India. In February 2022, he was chosen as a member of the Economic Advisory Council to the Prime Minister, holding the rank of Secretary to the Government of India. In March 2023, Sanyal acted as a supporter of the inaugural Delhi University Literature Festival, where Swapan Dasgupta served as the festival director.
Economic Advisor
Sanjeev Sanyal was made the Principal Economic Advisor, of the Department of Economic Affairs, for the Ministry of Finance from 21 February 2017 to 20 February 2022. He was a co-chair of the G-20 Framework Working Group and played an important role in creating the G-20's Global Action Plan, which helped countries work together to respond to the COVID-19 pandemic worldwide. Immediately after serving as the Principal Economic Advisor, he was appointed as a Member of the Economic Advisory Council to the Prime Minister (EAC-PM) and assumed office on 22 February 2023, on a three-year basis.
Books
Sanjeev Sanyal is the author of books such as The Indian Renaissance: India's Rise After A Thousand Years of Decline (2008), Land of the Seven Rivers: A Brief History of India's Geography (2012), The Incredible History of India's Geography (2015), The Ocean of Churn: How the Indian Ocean Shaped Human History (2016), Life over Two Beers and Other Stories (2018), India in the Age of Ideas: Select Writings (2006-2018), and Revolutionaries: The Other Story of How India Won Its Freedom (2023).
The bestselling and most popular of these books are:
Land of the Seven Rivers: A Brief History of India's Geography (2012)
The book offers an exploration of India's history through its geography. The book examines the role that India's seven major rivers have played in shaping its civilization. Sanyal focuses on the different historical periods, showing how geography influenced trade, migration, empires, and cultures.
The Ocean of Churn: How the Indian Ocean Shaped Human History (2016)
Sanjeev Sanyal looks into the maritime history of the Indian Ocean, tracing its influence on trade, cultural exchange, migrations, and the rise and fall of civilizations. "The Ocean of Churn" shines a light on the role of the Indian Ocean in shaping global history.
Life over Two Beers (2018)
"Life over Two Beers" is a collection of short stories and offers a diverse and entertaining exploration of contemporary India through a series of fictional tales. The stories in "Life over Two Beers" are set in various parts of India and cover a wide range of themes and topics. They touch upon issues such as urbanization, tradition versus modernity, love, politics, and more. The title of the book, "Life over Two Beers," reflects the idea that the stories are like conversations one might have with a friend in a casual setting, discussing life over a couple of drinks.
Revolutionaries: The Other Story of How India Won Its Freedom (2023)
Sanjeev Sanyal's aim with this book is to shed light on the important story of people who used violence to resist the British rulers, as opposed to the usual story about India's fight for freedom focuses on peaceful protests and leaders like Gandhi. Some famous names from this side include Vinayak Savarkar, Aurobindo Ghosh, Bhagat Singh, and Subhas Chandra Bose. The book focuses on how these names were part of a larger movement. This group of revolutionaries had a big network that operated not only in India but also in other countries like Britain, France, and the United States. They even got support from some of these countries' governments. Their role in the Indian National Congress was also significant. This wasn't just a small group of brave individuals; it was a big movement with many remarkable young men and women who were connected to each other and to the events of their time. "Revolutionaries" tells their story, which is full of adventure, secrecy, bravery, betrayal, and unexpected twists of fate.
Other Work
Sanjeev Sanyal has held various positions in the academic and research fields. He has served as an Adjunct Fellow at the Institute of Policy Studies at the National University of Singapore and as a Senior Fellow at the IDFC Institute in Mumbai. He has been a fellow of the Royal Geographical Society in London. Sanjeev Sanyal is also a visiting scholar at the University of Oxford, Oxford, United Kingdom. Furthermore, Sanyal has been an adjunct fellow at the Institute of Policy Studies in Singapore and held the position of Senior Fellow at the World Wide Fund for Nature (previously known as the World Wildlife Fund). Sanjeev Sanyal is the co-founder and director of GIST (Green Indian States Trust) and is on the board of directors. GIST is an NGO whose focus is on sustainable development and was created in July 2004.
Additionally, Sanyal hosts "Economic Sutra," a television show broadcast on Sansad TV, the official channel of the Parliament of India. The show explores various aspects of economic and financial policies, breaking them down for the average citizen's understanding.
Awards & Honours
Sanjeev Sanyal was awarded the Eisenhower Fellowship for his work on urban issues in 2007.
Sanjeev Sanyal was named Young Global Leader by the World Economic Forum in 2010.
Sanjeev Sanyal was honoured as a Young Leader by the Singapore Government at the World Cities Summit in 2014.
Sanjeev Sanyal won the Kalinga Literary Festival Non-fiction Book Award 2022 in English for his book Revolutionaries: The Other Story of How India Won its Freedom.
Sanyal received the SKOCH Economics Award for Economic Policy in 2023.
Favourites
Bollywood films: Sholay (1975), Three Idiots (2009), and Bhaag Milkha Bhaag (2013)
Hollywood film: Master and Commander: The Far Side of the World (2003)
Non-fiction writers: Ryszard Kapuscinski and Peter Hopkirk
Sweets: Nalen Gurer Rasogolla and Jalebi
Facts/Trivia
Sanjeev Sanyal is against Nehruvian socialism and thinks that the system of Complex Adaptive Systems (CAS) must be applied to economic issues. CAS is a system aimed at creating a system under which there is no position of authority to coordinate the actions of others.
Sanjeev Sanyal is a Taekwondo black belt holder.
Sanjeev Sanyal loves reading, travelling, climbing over old ruins, and following old maps.
Sanjeev Sanyal is in favour of renaming India to Bharat. According to Sanjeev, the word India is a foreign word of Indian origin, while Bharat is an Indian term with its roots in the Vedas.
Sanjeev Sanyal is a popular speaker at events, forums, and conferences that are related to economics. He also writes articles on several websites on the topics of history and economics.
Sanjeev Sanyal has served on the board of the National Council of Educational Research and Training (NCERT) aimed at developing new textbooks for classes 3 to 12 under a newer curriculum. Popular individuals like

Sudha Murthy

and

Shankar Mahadevan

are also on the board.
According to Sanjeev Sanyal, he was robbed when backpacking through Guatemala as a student and was once sucked into quicksand.
I agree….. I had a similar experience when traveling on a shoestring through Guatemala as a student (the place did not even have a Indian embassy in those days). One really feels completely helpless. https://t.co/bcpMjhnGZo

— Sanjeev Sanyal (@sanjeevsanyal) July 16, 2022