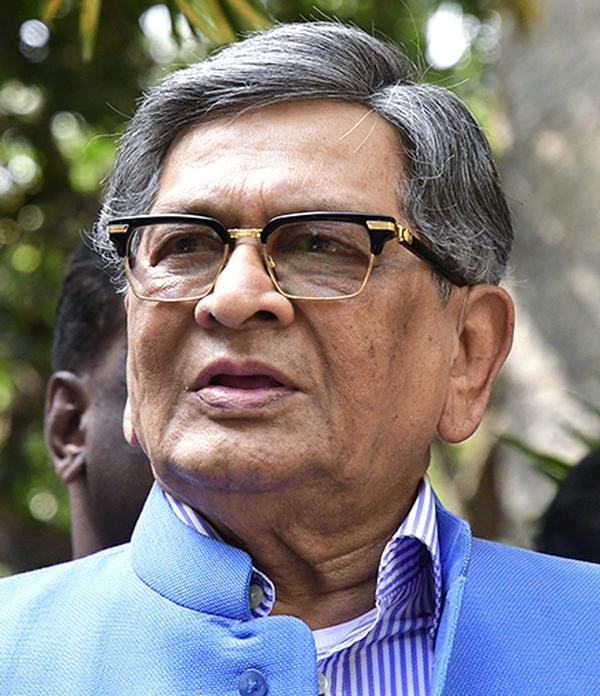 S. M. Krishna is an Indian politician who held various significant posts in the Government of Karnataka. He served as the 10th Chief Minister of Karnataka from 1999 to 2004 and as the Minister of External Affairs of India from 2009 to 2012. Krishna has earned a reputation for his visionary statesmanship and adept administrative skills throughout a career that has spanned over sixty years.
Wiki/Biography
Somanahalli Mallaiah Krishna was born on Sunday, 1 May 1932 (age 91 years; as of 2023) in Somanahalli, Kingdom of Mysore, British India (now in Karnataka, India). He studied at Sri Ramakrishna Vidyashala in Mysore, Tamil Nadu (now in Karnataka).
Krishna pursued a Bachelor of Arts (1952) at Maharaja's College, University of Mysore, Mysore and obtained a Bachelor of Law degree (1955) from Government Law College in Bangalore (now University Law College in Bengaluru, Karnataka). He pursued a Master of Corporate Law (M. C. L.) (1958-1962) under Fulbright Scholarship at Southern Methodist University in Dallas, Texas, US.
Physical Appearance
Height (approx.): 5′ 6″
Hair Colour: Salt & Pepper
Eye Colour: Black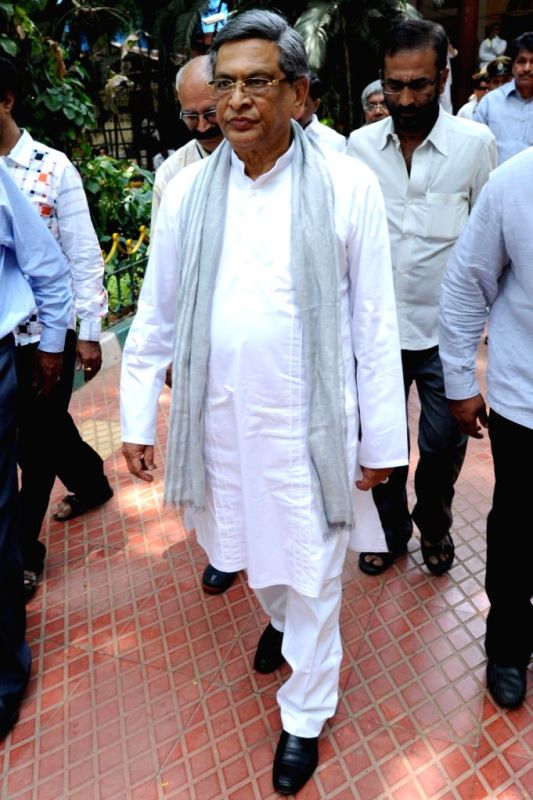 Family
He belongs to a Vokkaliga family in Somanahalli, Karnataka.
Parents & Siblings
His father's name is  S. C. Mallaiah.
Wife & Children
S. M. Krishna got married to Prema, a social activist, on 29 April 1964. The couple has two daughters, Malavika Krishna and Shambhavi Krishna, who works as businesswomen. Malavika Krishna was married to V. G. Siddhartha, a businessman and the founder of Cafe Coffee Day who reportedly committed suicide in 2019.
Signature
Career
Politics
Karnataka Legislature
Krishna started his political career in 1962 by winning the Mysore Legislative Assembly election from the Maddur constituency as an independent candidate. Following this, he joined the Praja Socialist Party. In 1967, he contested the Mysore Legislative Assembly elections from the Maddur constituency; however, he lost the elections. He became a member of the Mysore Legislative Council in 1972 (now Karnataka Legislative Council) and remained its member till 1977. He became the Speaker of the Karnataka Legislative Assembly in 1989, and he served in the position until 1992. Krishna contested and won the 1989 Karnataka Legislative Assembly elections on a ticket from the Indian National Congress (INC) party from the Maddur constituency and remained in the position till 1994. In February 1999, he was appointed as the president of the Karnataka Pradesh Congress Committee (KPCC); Krishna served in this position till June 2000.
Member of Parliament
Krishna contested the bye-elections in 1968 from the Mandya constituency on a ticket from the Praja Socialist Party and was elected to the 4th Lok Sabha. In 1971, he was re-elected to the 5th Lok Sabha from the Mandya constituency on a ticket from the Indian National Congress (INC) party. In 1982, he became a member of the Indian delegation to the United States. In March 1990, he served as a Delegate to Commonwealth Parliamentary Seminar at Westminster, U.K. In April 1996, he was elected to the Rajya Sabha as an INC candidate from Karnataka; he served as a parliamentarian until October 1999.
Minister
In 1972, he was inducted as the Minister of Commerce, Industries, and Parliamentary Affairs for the Government of Karnataka; he held the position till 1977. Krishna served as the Union Minister of State for Industry from 1983 to 1984 and as the Union Minister of State for Finance from 1984 to 1985. On 21 January 1992, he was appointed as the Deputy Chief Minister of Karnataka, becoming the first person to serve in the post. He served in this position till 11 December 1994. Krishna became the 10th Chief Minister of Karnataka on 11 October 1999, succeeding J. H. Patel. He continued serving the post until 20 May 2004. On 23 May 2009, he was appointed as the Minister of External Affairs, a post he served till 28 October 2012.
Global Ties and Innovative Reforms
During his term as the external affairs minister, S. M. Krishna travelled extensively including a 2012 visit to Tajikistan to strengthen economic and energy ties. His initiatives in power reform were significant including the establishment of Electricity Supply Companies (ESCOMs) that oversee electric power distribution in Karnataka. Krishna was instrumental in digitizing land records under the Bhoomi project. This joint project between the Government of India and the Government of Karnataka replaced paper records with a digital system managed by the National Informatics Centre. It addressed longstanding inefficiency and corruption issues prevalent in various regional offices in North and South India. Krishna's emphasis on public-private partnerships led to the creation of the Bangalore Agenda Task Force, comprised of both private and public sector individuals. The aim of this task force was to engage pro-bono leaders from business and civic areas to outline a development plan for the city, focusing on improving the city's infrastructure and service delivery. One of his significant urban development achievements was the construction of the Hebbal Flyover, one of India's longest flyovers, to alleviate traffic congestion. To tackle drought-like conditions, he pioneered cloud seeding programs. S. M. Krishna's leadership was tested by two significant challenges. Firstly, the kidnapping of Kannada actor Dr Rajkumar by forest brigand Veerappan, which Krishna managed to resolve by ensuring the safe return of Dr Rajkumar.
Secondly, the escalating dispute over the Kaveri River's waters. This issue has been a longstanding point of contention between the Indian states of Tamil Nadu and Karnataka. The water stored in Karnataka's Krishnasagar dam serves irrigation purposes and meets Bangalore's water demands, while Tamil Nadu's Meetur dam supplies water to crops in the state's delta region. Since both dams are situated on the same river, with the latter downstream, the Meetur dam can only be filled if water is released from the upstream Krishnasagar dam in Karnataka. This predicament restricts both states from accessing adequate water for their populations. In response to this situation, Krishna embarked on a padayatra from Bengaluru to Mandya, aiming to reassure the farmers in the Kaveri basin of the government's unwavering support.
Governor
On 12 December 2004, S. M. Krishna was appointed as the 18th Governor of Maharashtra; he resigned from the post on 5 March 2008. It was reported that this was due to his intention to return to active politics in Karnataka. S. M. Krishna resigned from his primary membership of Congress, attributing his decision to insufficient regard for senior members and a shift away from the party's central values. In a press conference, he talked about his resignation and said that the party appeared to require managers instead of true political leaders and demonstrated a deficiency in respect for its senior members. Krishna, in the press conference, said,
The party just wants managers now, not mass leaders. I am old, yes, but is that a reason to sideline a loyal partyworker? A party that doest not respect seniors does not have a future."
On 22 March 2017, he joined the Bharatiya Janata Party (BJP) in the presence of the 31st Minister of Home Affairs Amit Shah. Krishna announced his retirement from politics on 7 January 2023.
Controversy
Alleged Illegal Mining Scam
In 2011, an FIR was filed against S. M. Krishna and two other former Karnataka Chief Ministers, N. Dharam Singh and H.D. Kumaraswamy, by the Karnataka Lokayukta police over alleged illegal mining. Businessman and activist Abraham T. J. accused the trio of corruption, stating that Krishna exploited the state's natural resources for personal gain during his 1999-2004 tenure as Chief Minister. The accuser asserted that Krishna's decision to de-reserve approximately 11,797 square kilometres of forest in the Ballari (formerly Bellary) district of Karnataka initiated large-scale illegal iron ore mining and other illicit activities. He further claimed that Krishna illegally accumulated wealth in the names of his family members and close former cabinet colleagues in exchange for de-reserving forest land for private companies. Abraham provided RTI-obtained documents as evidence, detailing investments made by Krishna's son-in-law. The apex court, however, stayed the probe against Krishna on 16 November 2016 due to a lack of evidence.
Awards & Honours
On 22 March 2023, S. M. Krishna was awarded Padma Vibhushan, the second-highest civilian award in India.
Assets & Properties
Movable Assets
Bank Deposits: Rs. 47,47,495
Bonds, Debentures and Shares in companies: Rs. 3,06,000
Other Financial Instruments (PPF): Rs. 6,51,049
Motor Vehicles: Rs. 21,38,000
Immovable Assets
Agricultural Land: Rs. 6,65,000
Non-Agricultural Land: Rs. 1,80,000
Buildings: Rs. 1,25,00,000
Note: The given estimates of movable and immovable assets are according to the year 2008. It excludes the assets owned by his wife and dependents (minor).
Net Worth
In 2008, S. M. Krishna's net worth was estimated to be Rs. 2,10,77,544. It excludes the net worth of his wife and dependents (minors).
Facts/Trivia
According to sources, Krishna had a soft spot for the Indian actress B. Saroja Devi (also known as Bangalore Saroja Devi). Politician Adaguru Huchegowda Vishwanath's biography alleged that Krishna liked Saroja Devi. According to the biography, Saroja's mother once approached Krishna's family; however, nothing happened after that.
Krishna enjoys playing lawn tennis and regularly practices Yoga. Additionally, he has a deep love for reading.
He has a passion for designing clothes, especially men's.
S. M. Krishna released his biography named 'Smriti Vahini' in January 2020. The book was written in the Kannada language and consisted of conversations between Krishna and his friend Pavagada Prakash Rao, who recorded about 200 hours of conversations with Krishna when the latter was the Governor of Maharashtra.
Krishna ran John F. Kennedy's presidential campaign in localities that had lots of Indians. He considered him as his political guru. Reportedly, in September 1960, Krishna wrote a letter to Kennedy, expressing his desire to run his presidential campaign in localities that had a sizeable population of Indians. Kennedy accepted Krishna's help and when he won, he thanked Krishna through a letter.
At the dawn of his political life, he released his biography "Smritivahini" in the presence of many dignitaries. He penned many interesting incidents including the kidnapping of South Indian actor Rajkumar by Indian dacoit Veerappan during Krishna's tenure as the Chief Minister of Karnataka.
Reportedly, Krishna earlier criticised the idea of Hindutva; however, after observing the religiosity of the people of the Vokkaliga community, he supported the ideology of Hindutva. In an interview, he talked about this and said that the people from the Vokkaliga community in Karnataka are religious and they get connected to the ideology of Hindutva, which they observe coming from politics.