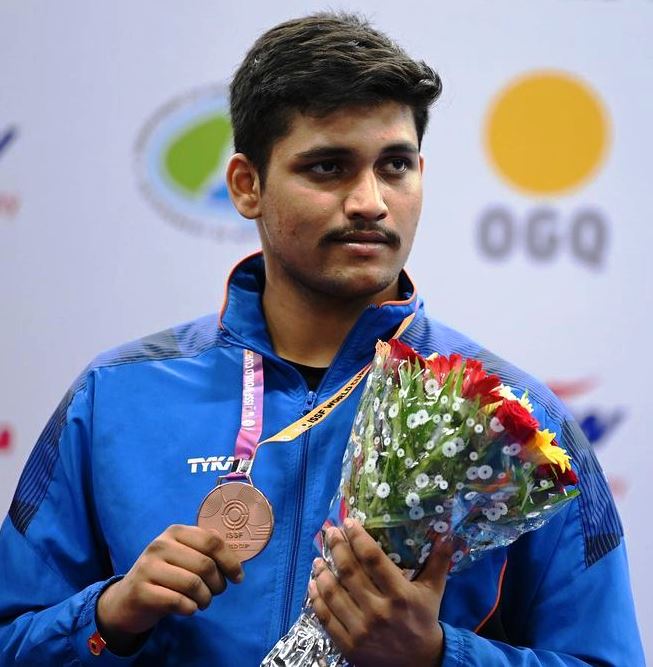 Rudrankksh Patil is an Indian sports shooter. He shot to popularity after winning a gold medal in 10m air rifle at the 2022 ISSF World Championship Rifle/Pistol in Cairo, securing a Paris 2024 Olympic quota. He became the second Indian to clinch gold in the 10m air rifle at the world championships after Olympic champion Abhinav Bindra won it in 2006. At 18, Patil became world No. 1 in men's 10m air rifle shooting after winning a gold medal each at the world championships and the ISSF President's Cup. He won two gold medals during the 2023 World Cup in Cairo in the individual and mixed team events, and two bronze medals in the same event at the 2023 World Cup in Bhopal.
Wiki/Biography
Rudrankksh Balasaheb Patil was born on Tuesday, 16 December 2003 (age 20 years; as of 2023), and he hails from Thane, Maharashtra. His zodiac sign is Sagittarius. He did his schooling at Smt. Sulochanadevi Singhania School, Thane. He was athletic since childhood In his teens, his parents used to send him to summer camps for different sports like swimming, table tennis, chess, badminton, skating, and football. Patil started his shooting journey when he was thirteen. His father, Balasaheb, a deputy commissioner of police, was invited to inaugurate a shooting range in Thane. There, coach Snehal Papalkar encouraged Balasaheb that Rudrankksh should try his hand at shooting. Thereafter, he started training under Papalkar at the Dronacharya Sports Academy. Interestingly, he quit the sport only a month after joining it. In an interview, while talking about the time he quit shooting, he said,
When I started shooting at the Dronacharya Sports Academy, I did not have much interest. I left it within weeks. When you say shooting, you visualise rolling on the floor, aiming and stuff like in paintball but this was exactly the opposite. Standing in the same spot for so many hours was really boring."
However, he returned at the insistence of his mother. Soon, Patil was competing and winning at local and national-level school meets. In 2017, he started training under Ajit Patil. At one of the national school meets he made the acquaintance of Ajit Patil, a Kolhapur-based coach who had trained national team veterans like Tejaswini Sawant and Rahi Sarnobat. There, Rudrankksh's parents convinced Ajit to move to Thane to coach Rudrankksh full-time. Incidentally, Ajit was going through a financial crisis and was finding it difficult to keep it afloat, hence, he accepted their offer. For a few months at the beginning, the duo trained at a range in the western suburbs that was an hour away from Thane. Then, they started training at the range at a school run by the People's Education Society Trust in Thane. It was a humble dimly lit shooting range with manual targets. Describing the facility in an interview, Patil said,
It was a very basic facility. The targets were manual, lighting wasn't up the mark…So, we set-up a lane for ourselves by first installing new automatic targets and later, with the prize money from some tournaments, installing new lights."
Physical Appearance
Height: 5' 7"
Hair Colour: Black
Eye Colour: Black
Family
Rudrankksh's father's name is Balasaheb Patil, and his mother's name is Hemangini Patil. Both his parents are high-ranking officers in the police. He has a younger brother.
Career
In January 2020, he won a gold medal in the 10m air rifle men's youth U-17 category at Khelo India Youth Games 2020 in Guwahati, Assam.
In 2021, Rudrankksh Patil secured a silver medal at the 64th National Shooting Championship Competitions (NSCC) held in Bhopal, Madhya Pradesh.
He secured a silver medal in the 10m air rifle at the 2021 ISSF Junior World Championships held in Lima, Peru. In May 2022, he won the gold medal in the 10m category at ISSF Junior World Cup 2022 held at Suhl in Germany. Patil, Paarth Makhija, and Umamahesh Maddineni also secured gold in the men's air rifle team at the World Cup.
Thereafter, he broke through to the senior squad. He finished seventh in the men's 10m air rifle competition at the Baku Shooting World Cup and eleventh in the Cario World Cup.  In October 2022, Patil clinched the gold medal in the 10m air rifle at the 36th National Games of India held in Gujarat, beating Arjun Babuta of Punjab by 17-7.
In the same month, Patil won the gold medal in the 10m category at the 2022 ISSF World Championship Rifle/Pistol held in Cairo, Egypt, earning a spot for India in the Paris 2024 Olympics. Patil won the final against Danilo Sollazzo of Italy by pulling off a dramatic 17-15 victory over Italy's Danilo Dennis Sollazzo. At the Championship, Patil also won gold for India in the 10 m air rifle team, along with Arjun Babuta and Kiran Ankush Jadhav. This was Patil's first time participating in the world championships. The feat made him only the second Indian sport shooter after Abhinav Bindra in 2006 to win the men's 10m air rifle World Championship gold medal.
In December 2022,  Patil defeated Danilo Sollazzo of Italy in the 10m air rifle final to win the gold medal at the ISSF President's Cup 2022 in Cairo, Egypt. With the victory, Patil earned the Golden Target Award, bestowed upon the best athlete of the year in the category by the ISSF. Patil was placed second in the ISSF Rankings prior to the President's Cup. The gold medal helped Patil become world no. 1 in the ISSF rankings for 10m air rifle shooters. In February 2023, Patil won gold in the 10m air rifle at ISSF World Cup 2023 in Cairo, defeating Germany's Maximilian Ullbrich by 16-8. He paired with Narmada Raju to win the 10m air rifle mixed team gold with one of the highest qualification scores ever scored in the mix (635.8) at the World Cup. In March 2023, Patil won a bronze medal in the 10m air rifle at ISSF World Cup 2023 Bhopal. He also won a bronze in the mixed team air rifle event, along with Narmada Nithin Raju.
In September 2023, Patil, Aishwary Pratap Singh Tomar, and Divyansh Singh Panwar won a gold medal for India in the men's team 10m air rifle at the 2022 Asian Games held in Hangzhou, China. Rudrankksh was the highest scorer among the trio. With the feat, Patil and Tomar also qualified for the men's 10m air rifle individual final. Patil finished 4th in the Men's 10m air rifle individual final with a score of 208.7.
Awards
He won the Sportsman of the Year Award (Olympic Sports) at the 2023 Sportstar Aces Awards in Mumbai.
Favourites
Facts/Trivia
In his free time, he likes to do research on Shooting. He reads about the history of the sport and other players.
Apart from sports, Patil is also good at academics. He scored more than 90% on his ICSE board 12th-grade examination. In an interview, he said that he aspired to take UPSC examinations.
In an interview, he revealed that he was a big-time foodie. In an interview, talking about the same, he said,


I consider myself a big foodie. So, wherever I go for competitions, the first thing I do is try the local cuisine. So, food has always been my aim. I have to control my diet before certain matches but there is always an excitement about competitions ending because I get to try different things. I don't have a favourite, but I am a huge non-vegetarian lover."

Once he revealed that whenever he found himself in a tight spot in a match, he would think about what was being cooked in the kitchen to take his mind off the pressure. He also said that eating was one of his favourite hobbies. In fact, at the beginning, his mother used to lure him into practising shooting with food.