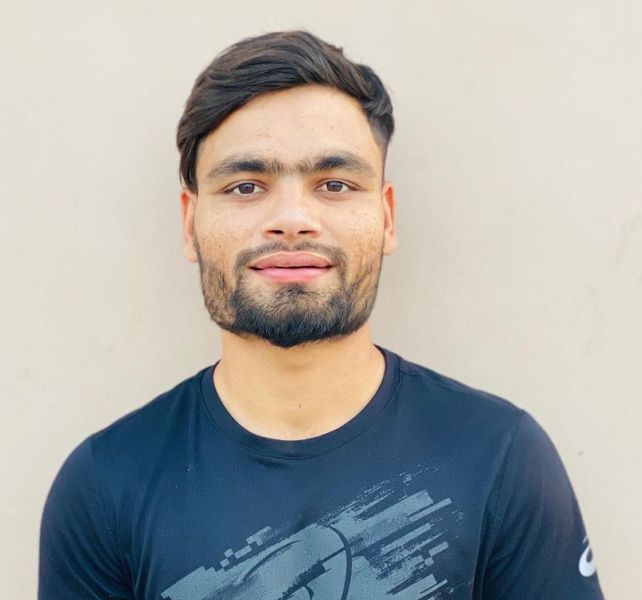 Rinku Singh is an Indian cricketer who has played for Uttar Pradesh and Central Zone in domestic cricket. He has played for Punjab Kings and Kolkata Knight Riders in different seasons of the Indian Premier League (IPL). He became popular after hitting 5 consecutive sixes in an IPL match.
Wiki/Biography
Rinku Khandchandra Singh was born on Sunday, 12 October 1997 (age 25 years; as of 2023) in Aligarh, Uttar Pradesh, India. His zodiac sign is Libra. He was passionate towards cricket since childhood and used to play in his neighbourhood. He studied at Delhi Public School, Aligarh; however, he was not interested in studies and dropped out of school after failing in 9th standard. He trained under different coaches named Zeeshan, Masud-uz-Zafar Amini, Suresh Sharma, and Mansoor Ahmad.
Due to poor financial conditions, he was once forced to take up the job of a sweeper at a coaching academy; however, he did not do the job as he did not like it and persuaded his parents that he would make a career in cricket. He talked about this incident later in an interview and said,
My mom once told me that your father isn't supporting you, so why don't you get a job. I thought of taking a job to support my family at a coaching center near us. I thought I'll get a good job and went wearing a shirt and pant. But I was offered a sweeping job. They said you come and sweep in the morning before anyone comes, no one will get to know you do this. I didn't like that and I told myself I'll focus on cricket instead and I left from there. I worked hard and my hard work has paid off."
Physical Appearance
Height (approx.): 5′ 6″
Weight (approx.): 70 kg
Hair Colour: Black
Eye Colour: Black
Body Measurements (approx.): Chest 42″, Waist 32″, Biceps 16″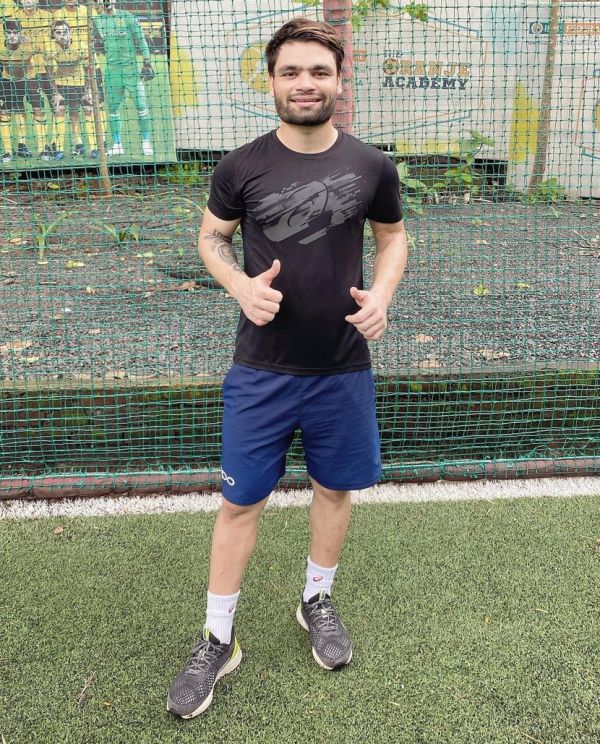 Family
He belongs to a Dalit family.
Parents & Siblings
His father's name is Khand Chandra Singh, and his mother's name is Vina Devi. His father works as an LPG delivery person, and his mother is a homemaker.
He is third among 6 siblings including 5 brothers and 1 sister. Two of his brothers' names are Jeetu Singh and Sonu Singh, and his sister's name is Neha. One of his brothers works as an autorickshaw driver, and the other brother works at a coaching institute.
Wife & Children
He is unmarried.
Relationships/Affairs
He is single.
Religion
He follows Hinduism.
Career
Domestic
In 2013, he was selected for the Uttar Pradesh Under-16 team and scored 154 runs in his debut match in the Vijay Merchant Trophy. In 2014, he was selected for the Uttar Pradesh Under-19 team.
He played his debut one-day match for Uttar Pradesh on 5 March 2014 against Vidarbha at Jaipur in the Vijay Hazare Trophy and scored 83 runs off 87 balls. He played his debut T20 match for Uttar Pradesh on 31 March 2014 against Vidarbha at Jaipur in the Syed Mushtaq Ali Trophy and scored 24 runs off 5 balls with 5 fours and 2 sixes. In 2014, he played for Central Zone Under-19, and in 2015, he was selected for Uttar Pradesh Cricket Association XI. He played in a camp organised by Mumbai Indians in 2015, and in a match of the camp, he scored 95 runs off 31 balls. In 2015, he was selected for Uttar Pradesh Under-23. He played his debut Ranji match for Uttar Pradesh on 5 November 2016 against Punjab and scored 50 runs in the first innings and 43 runs not out in the second innings. He made a name for himself in the domestic circuit by scoring runs at an average of more than 50 in both Ranji Trophy and Vijay Hazare Trophy.
In 2018, he was selected for Indian Board President's XI. In the 2018-19 Ranji Trophy, he was the highest runscorer for Uttar Pradesh in the group stage with 803 runs in 9 matches and finished the tournament with 953 runs in 10 matches including 4 centuries with the scores of 149, 149, 150, and 163 runs not out.
In 2019, he was selected for India A team. In 2022, he was selected for Central Zone in the BCCI's Zonal tournament.
Indian Premier League (IPL)
In the 2017 auction, he was acquired by Kings XI Punjab for his base price of Rs 10 lakhs; however, he did not get a chance to play any match.
In the 2018 auction, Kolkata Knight Riders (KKR) acquired him for Rs 80 lakhs against his base price of Rs 20 lakhs. He was very happy after the auction and said that he wanted to organise a grand wedding ceremony for his sister Neha, and he could not do it. He said,
Last year, after being picked in the auction, I started dreaming of organising a glittering wedding for my sister. Now that KKR has taken me for Rs 80 lakh, my dream has strengthened."
In the 2018 IPL, he scored 29 runs in 4 matches at an average of 7.25 and a strike rate of 93.54 with the highest score of 16 runs; he took 4 catches in the tournament. In the 2019 IPL, he scored 37 runs in 5 matches at an average of 18.50 and a strike rate of 108.82 with the highest score of 30 runs; he took 1 catch in the tournament. In the 2020 IPL, he scored 11 runs in 1 match at an average of 11 and a strike rate of 100; he took 1 catch in the tournament. He did not play in the 2021 IPL due to an injury in his right knee. In the 2022 mega-auction, he was acquired by KKR again for Rs 55 lakhs against his base price of Rs 20 lakhs. In the 2022 IPL, he scored 174 runs in 7 matches at an average of 34.80 and a strike rate of 148.72 with the highest score of 42 runs not out; he took 9 catches in the tournament. In a match against Rajasthan Royals, he scored 42 runs off 23 balls at a strike rate of 182.61 and won his maiden Man of the Match award.
In a match against Lucknow Super Giants, he scored 18 runs off 5 balls in the last over bowled by Marcus Stoinis; however, he got out on the penultimate delivery, and KKR lost the match by 2 runs. In the match against Gujarat Titans in the 2023 IPL on 9 April 2023, he smashed 5 consecutive sixes off the last over bowled by Yash Dayal, who is also his Uttar Pradesh teammate, to help KKR win the match as they needed 28 runs off last 5 balls to win the match. He scored 48 runs off 21 balls in the match which included 1 four and 6 sixes. After the win, KKR captain Nitish Rana and KKR coach Chandrakant Pandit rushed to the field and hugged him with the crowd dancing in celebration. He won the Man of the Match award for his performance, and during the post-match presentation, he dedicated his sixes to his family as they sacrificed for him. He said,
I come from a farmer's family where my father struggled a lot for my upbringing. Every ball that I hit out of the ground was dedicated to the people who sacrificed so much for me."
He later spoke about his innings in an interview and said that he felt happy when he was compared to Javed Miandad and Ravi Shastri. He said,
Feel good, it was my life's best innings, the whole country has now heard of me. I have played such innings before, so I was confident, and I'm confident about the number I play at. It is a big deal for me to be compared with the big players like (Ravi) Shastri and (Javed) Miandad. I loved Nitish bhaiya's reaction the best. He was running hard at me, I was worried we might hit each other. Ut that was great. Pandit ji hugged me and almost cried, he said 'you saved our respect (izzat rakh li)."
KKR took to Twitter to post the video after the match showing Pandit speaking about Rinku's heroics.
How a winning dressing room sounds like! 💜😍#GTvKKR | #AmiKKR | #TATAIPL 2023 pic.twitter.com/hTOJidtTnR

— KolkataKnightRiders (@KKRiders) April 10, 2023
KKR owner Shah Rukh Khan also tweeted out an edited image of Rinku in the poster of Pathaan to which Rinku replied by conveying thanks for his support.
Shah Rukh sir yaaar 🥹♥️
Love you sir & thank you for your constant support 🙏🏻 https://t.co/WYswjeFsvm

— Rinkusingh (@rinkusingh235) April 9, 2023
ICC also tweeted about Rinku's sixes and compared his innings to West Indies player Carlos Brathwaite's innings in the 2013 T20I World Cup.
Rinku Singh 🤝 Carlos Brathwaite

"Remember the name!"#IPL2023 #T20WorldCup pic.twitter.com/AHoEs3BfXx

— ICC (@ICC) April 9, 2023
Injury
He suffered a meniscus tear in his right knee while running a double in a Vijay Hazare Trophy match in 2021. He was sidelined for 6-7 months as he underwent an operation to treat the injury. He trained at National Cricket Academy in Bengaluru; however, he could not play in the 2021 IPL as he was recovering from the injury. He talked about the injury in an interview in 2022 and said that his father did not eat for 2-3 days upon hearing that he got injured. He said,
I trained hard the way my body language is. The team never thought I was down. Last year was quite tough for me as I got a knee injury during the Vijay Hazare Trophy while running a double. The moment I fell, I thought of the IPL. They told me I needed an operation and would require 6-7 months to recover. I wasn't happy staying away from cricket for so long. My father didn't eat for 2-3 days. I told him its' just an injury and it's part of cricket. I'm the sole breadwinner of my life and when such things happen, it is bound to be worrisome. I was a bit sad, but I knew I would recover quickly as I had a lot of self-belief."
Controversy
Banned for 3 months by BCCI
In 2019, he was banned for three months by BCCI with effect from 1 June 2019 for playing in the Ramadan T20 Tournament held in Abu Dhabi, United Arab Emirates without taking permission from BCCI. He helped his team Deccan Gladiators to win the tournament by scoring 104 runs off 58 balls in the final against New Medical Centre. BCCI issued a statement which mentioned,
Mr. Singh did not seek permission from the BCCI before taking part in the T20 league hence directly violating the BCCI rules and regulations. As per the BCCI norms, a player registered with the Board cannot play in any tournaments abroad without the Board's permission. Mr. Rinku Singh therefore has been suspended with immediate effect for a period of three months starting June 1, 2019. He has been removed from the current India A squad set to play a multi-day game against Sri Lanka A starting May 31, 2019.
Bike Collection
He owns a Royal Enfield Bullet 350.
Car Collection
He owns a Maruti Brezza SUV.
Facts/Trivia
He is a left-handed batsman, and his bowling style is right-arm off-break.
Since Rinku belonged to a poor background, his father used to beat him for not focusing on his studies and playing cricket all the time; however, Delhi Public School, Aligarh organised a Cricket World Cup school-level tournament in 2012 which comprised teams from Pakistan, Sri Lanka and Bangladesh. He scored 354 runs and took 8 wickets in the tournament following which he was given the Man of the Series award and won a motorbike. His parents were present on the ground and were impressed by his performance. He gave the bike to his father who never beat him again after that tournament.
He lives in a three-storeyed house; however, his parents still live in the two-room quarter of the LPG cylinder compound where he grew up. His father refuses to move to the new house as he likes to live in the old quarter.
He got admitted to Delhi Public School, Aligarh through sports quota as DPS principal Swapnil Jain saw him batting in a match where he scored 68 runs not out.
He is known as Junior Raina among his Uttar Pradesh teammates as he was impressed by Suresh Raina and considers him his idol.
After his quickfire hitting of 5 consecutive sixes against Gujarat Titans in the 2023 IPL, many fans tweeted about his innings and called him Lord Rinku Singh.
All hail Lord Rinku Singh. 5 sixes in 5 balls in the last over of a run chase. One of the best last over hitting in a chase that you would ever see. #KKRvGT

— Virender Sehwag (@virendersehwag) April 9, 2023
The bat with which he hit 5 consecutive sixes in the 2023 IPL belonged to KKR captain Nitish Rana. Rinku said that his bat chipped off from the edges before the match, and he knew that Rana's bats are good, hence he asked for Rana's weight before he went out to play.
His family's combined earnings were Rs 12,000 before he was first auctioned off in the 2017 IPL auction.
He helped KKR win the match by chasing 29 runs in the final over which is the highest run chase in the final over in IPL history.
"Because he's the Knight #KKR deserves and the one they need right now" – Rinku Singh 😎#GTvKKR #TATAIPL #IPLonJioCinema | @KKRiders pic.twitter.com/b1QrN3fLjX

— JioCinema (@JioCinema) April 9, 2023
His favourite actress is Shraddha Kapoor.
He has four tattoos on his right arm which include a dove, a rose, the word Family, and a clock showing the time 2:26, the exact moment he was selected for KKR in the 2018 auction.
He is the first cricketer from Aligarh to play in the IPL.