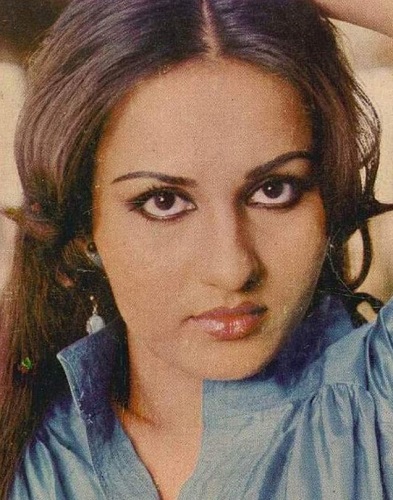 Reena Roy is a veteran Indian actress, who mainly appears in Hindi films. In 1976, she became one of the highest-paid actresses after the release of her Hindi films 'Kalicharan' and 'Nagin.'
Wiki/Biography
Reena Roy was born as Saira Ali on Monday, 7 January 1957 (age 66 years; as of 2023) in Bombay (now Mumbai), India. Her zodiac sign is Capricorn. She dropped out of her school to pursue a career in acting.
Physical Appearance
Height (approx.): 5′ 4″
Hair Colour: Brown
Eye Colour: Brown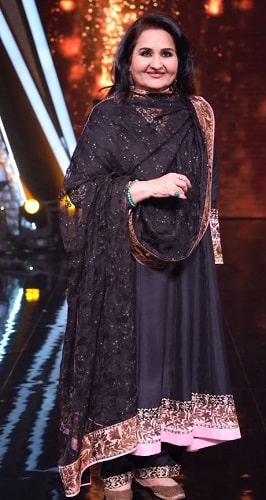 Family
She is half Muslim (from her father's side) and half Punjabi Hindu (from her mother's side).
Parents & Siblings
Her father, Sadiq Ali, was an actor and part-time junior artist supplier. Her mother, Sharda Rai, was an actor and film producer. She has one elder brother and two younger sisters. After her father disowned them all, her mother renamed her brother Yaseen Hussain to Raja (film producer), her sister Bilquees to Barkha (film producer), and Firdaus to Anjali (actor).
Reena was also renamed from Saira Ali to Roopa Rai by her mother. However, she was later given the screen name Reena Roy by the producer of the Hindi film 'Zaroorat' (1972).
Husband & Children
According to sources, she was married to the Indian actor Amin Hajee for a short period of time.
In 1983, she got married to the Pakistani cricketer Mohsin Khan.
Later, the couple was blessed with a daughter. Initially, Reena and Khan decided to name their daughter 'Jannat,' but following the immense success of the Hindi film 'Sanam Teri Kasam' (1982), they changed her name to Sanam.
However, in 1990, Reena Roy got divorced from Mohsin. In an interview, when Reena was asked about the divorce, she said that she could not adjust to the lavish life of Khan. She said that her husband had a house in London, but she never liked it. Her sisters would visit her in London for her company when her husband used to travel for his cricket matches. She used to feel very lonely. Moreover, he wanted her to get British citizenship, which she couldn't accept. She struggled to adjust to his environment and lifestyle, including late-night parties. Soon, she realised that they were two very different personalities. One day, she called her mother to her home and asked her the meaning of marriage. Her mother replied just stick with it. She followed her mother's advice, but after a few months, she decided to take a divorce from Mohsin. After their divorce, the custody of their daughter was given to Mohsin, but after he got remarried, Reena got her daughter's custody.
Relationships/Affairs
Shatrughan Sinha
At the age of 19, Reena Roy worked alongside the Indian actor Shatrughan Sinha, who was 11 years older than her. Their collaboration in a film brought them closer, and they developed a strong friendship that eventually blossomed into love. Their frequent appearances together caught the attention of the public, and even Reena's mother became aware of their relationship.
Despite her mother's warnings to end her relationship with Sinha, Reena paid little heed and continued her relationship with Shatrughan. As time went on, the media and Reena's fans started speculating that Reena and Shatrughan would announce their marriage. However, to everyone's surprise, Shatrughan tied the knot with the Indian model and actor Poonam in 1980.
This revelation came as a shock to Reena, but it did not mark the end of her affair with Sinha. The situation became complex as Shatrughan maintained his relationship with Reena even after getting married to Poonam. This created a weird situation for all three individuals involved. Shatrughan seemingly disregarded any changes and continued interacting with Reena as before. He remained open about his extramarital affair, making no attempts to conceal it. Poonam, on the other hand, realised that her husband was not completely loyal to her. Instead of talking clearly about Sinha's extra-marital affair, Poonam kept on passing insulting comments in the media on Reena and Sinha's relationship. In an interview, when Poonam was asked about Reena and Sinha's relationship, she said,
The truth is that I did step aside and gave Reena a clear field, but Shatru didn't want to marry a girl whose fidelity was in doubt. I was aware that they revived their old romance after our marriage."
Gradually, Reena also realised that her dream of marrying Sinha would never come true. Also, she was fed up with being a second choice of Sinha. Eventually, she decided to distance herself from him.
Vinod Khanna
In the July 1983 edition of Stardust magazine, her brother Raja Roy claimed that following her breakup with Shatrughan Sinha, Reena Roy was in a relationship with the Indian actor Vinod Khanna. Raja further asserted that Reena wanted to leave her career behind and accompany Vinod Khanna to Oregon, USA.
Autograph
Career
Model
In 1970, she started her career as a model. She appeared in print advertisements for various brands like Lux Soap.
Film
In 1972, she made her Bollywood debut with the film 'Zaroorat' in which she played the role of Anju. Soon after the release of the film, she started getting recognised as 'The Zaroorat Girl.'
She then appeared in a few other Hindi films like 'Jaise Ko Taisa' (1973), 'Umar Qaid' (1975), 'Zakhmee' (1975), and 'Barood' (1976). However, she did not gain much popularity with these films.
In 1976, after the release of her Hindi film 'Nagin,' she received appreciation from the audience and critics for her performance in the film.
She then acted in many popular Hindi films like 'Kalicharan' (1976), 'Vishwanath' (1978), 'Muqabla' (1979), 'Pyaasa Sawan' (1981), and 'Dharm Kanta' (1982). Her pairing with the Indian actor Jeetendra was liked by the audience, and they were paired in around 22 Hindi films including 'Badaltey Rishtey' (1978), 'Pyaasa Sawan' (1982), 'Apnapan' (1977), 'Aasha' (1980), and 'Arpan' (1983).
In 1985, she took a break from Hindi films after getting married to Mohsin Khan, and from 1985 to 1988 her previously completed films like 'Ghulami' (1985), 'Hum Dono' (1985), 'Faqeer Badshah' (1987), and 'Do Waqt Ki Roti' (1988) were released.
She has also appeared in a few Punjabi films like 'Sat Sri Akal' (1977) and 'Walayati Babu' (1981).
In 1993, she made her comeback in Bollywood with the film 'Aadmi Khilona Hai.' However, she failed to regain success with her films. She then appeared in a few other Hindi films such as 'Policewala Gunda' (1995), 'Kalyug Ke Avtaar' (1995), 'Smuggler' (1996), and 'Gair' (1999). After the release of the Hindi film 'Refugee' (2000), she did not appear in Hindi films.
TV
In 2015, she made her TV debut with 'Eena Meena Deeka' which aired on DD Metro. Later, the serial was aired on Star Plus.
Some of her other TV serials are 'Rani Mahal' (2015) and 'Karmyogi' (2017).
Other Work
She worked as a producer in the 1991 Hindi film 'Gunehgar Kaun.' In 2004, she started an acting school with her sister Barkha Roy.
Awards
Filmfare Awards
1977: Nominated for Best Actress for the Hindi film Nagin
1979: Won Best Supporting Actress for the Hindi film Apnapan
1981: Nominated for Best Actress for the Hindi film Aasha
1998: Filmfare Lifetime Achievement Award
Facts/Trivia
In an interview, she said that in her younger days, she was a tomboy.
In the initial days of her Bollywood career, she was bad at dancing. While shooting the dance sequence for the film, she used to often make her co-actor fall by her dance steps. She then brush up on her dancing skills under a few dance teachers.
At the peak of her career, her fans used to write her letters in blood.
In the late 60s, she was a huge fan of the Indian actor Rajesh Khanna. After making a debut in Hindi films, she dreamt of working with him. She waited for almost eight years to get a role in a film starring Rajesh Khanna. In an interview, while talking about Rajesh Khanna, she shared that when she was a teenager, she would wait outside his home to get a glimpse of him. Reena further shared that when she met the Indian actor Jeetendra for the first time, she was star-struck.
In her younger days, she loved horse riding and travelling on motorcycles.
Reena Roy and the Indian actor Shatrughan Sinha were paired in sixteen Hindi films out of which eleven films were declared hit at the box office.
She has been featured on the cover of various magazines like Cine Blitz, Filmfare, Madhuri, and Rangbhoomi.
The looks of the Indian actress Sonakshi Sinha (daughter of Reena Roy's ex-boyfriend Shatrughan Sinha) are often compared with Reena Roy. According to various media sources, Sonakshi has a resemblance to Reena. In an interview, while talking about it, Reena Roy said that Sonakshi looked like her mother Poonam Sinha and not her. She said in the Hindi film 'Dabangg' (2010), Sonakshi was given a typical Indian look which resembled Reena's looks in various Hindi films and after that people started comparing their looks. She said,


I think Salman Khan's family has given a very typical Indian look that resembles my look on screen. When I did Zakhmee, I was called Asha Parekh and Nasir Hussain's daughter. Dimple was referred to as Nargis's daughter. Film industry mein toh yeh silsila chalte rehta hai. Kuch din baad khatam ho jaata hai."
During the filming of the Hindi film 'Nagin,' Reena Roy and the Indian actress Rekha shared the screen in various scenes. Reena Roy played the lead role, and the film primarily revolved around her character. However, Rekha was displeased with the idea of playing a supporting role. Later, when Rekha came to know that Reena's dresses in the film were more expensive than hers, she created a ruckus out of it. Rekha became so upset that she went to the director of the film Rajkumar Kohli and asked him to change her (Rekha's) outfit which was more expensive than before. He immediately approached the producer to change Rekha's outfit, but the producer was hesitant, fearing delays in the shoot, as everything was already on the set for shooting. Rekha, however, remained firm in her stance and gave an ultimatum that she would not shoot unless her dress was changed. This created tension among the crew, leaving them with no choice but to comply with Rekha's demand. Eventually, Rajkumar Kohli relented and arranged for Rekha's costume to be replaced. The song was shot after this resolution, but the incident left the crew in awe of Rekha's assertiveness and influence on the set.
In 2004, Reena campaigned for Indian National Congress. In the same year, there were rumours that she would join the party.
In July 2021, during an episode of Indian Idol Season 12 dedicated to the 'Reena Roy Special,' she made a guest appearance. The episode featured her talking about her deep love for motorcycles. She said that she loved riding bikes since her childhood. Her sister Barkha, who made 'Sanam Teri Kasam,' had specially added the bike scene to it because of her desire. She used to wake up in the morning, take her bike, and go for rounds. She was the Bandra girl with a bike. She owned a Yamaha and once, when she was busy shooting, her younger sister tried to give it a ride and hurt herself. So, her mother returned the bike to the person they took it from and said that they didn't want it in the house.