Ravindra Mahajani (1949-2023) was an Indian actor, director, and producer who worked in the Hindi and Marathi entertainment industries. He is known for acting in popular films like Saat Hindustani (1969), Devta (1983), Mumbaicha Fauzdar (1984), Kalat Nakalat (1990), and Panipat (2019). He is the father of the popular Marathi actor Gashmeer Mahajani. He breathed his last on 14 July 2023 in Pune, Maharashtra, India.
Wiki/Biography
Ravindra Mahajani was born in 1949 (age 77 years; at the time of death) in Belgaum, Bombay State (now in Karnataka), India. After spending a few years of his childhood in Belgaum, he, along with his family, shifted to Mumbai, where he grew up and completed his formal education. After completing his formal education, he started working as a cab driver in Mumbai and simultaneously began giving auditions in both, Marathi, and the Hindi entertainment industries.
Physical Appearance
Height (approx.): 5′ 9″
Hair Colour: Salt and Pepper
Eye Colour: Dark Brown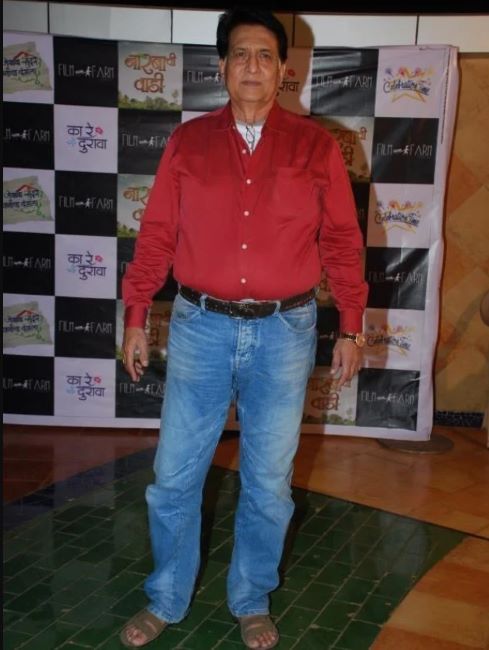 Family
Ravindra Mahajani belongs to a Hindu Marathi family.
Parents & Siblings
His father, H. R. Mahajani, was a renowned journalist and a freedom fighter.
Wife & Children
His wife's name is Madhu Mahajani.
He has two kids, a son named Gashmeer Mahajani, and an elder daughter. Gashmeer is a popular Marathi actor, play director, filmmaker, and choreographer.
Religion
He followed Hinduism.
Career
Plays
While working as a cab driver, Ravindra Mahajani received an offer to appear in the Marathi TV play Janata Ajanata directed and produced by Madhusudan Kalekar. Thereafter, he went on to work in many Hindi and Marathi plays in different capacities.
Hindi Entertainment Industry
He made his acting debut in Bollywood with the 1969 film Saat Hindustani in which he appeared as a police inspector. In the film, he shared the screen with the famous Indian actor Amitabh Bachchan.
In 1983, he appeared as an Inspector named Rakesh in the Hindi film Be Aabroo. In the same year, he appeared as Lakhan Pal in the Hindi film Devta.
He bagged a role in Kanoon Kanoon Hai, a Hindi film released in 1987. He shared the screen with Juhi Chawla and Kumar Gaurav in the 1989 Hindi film Goonj; he played the role of Dennis Pereira in the film. In 2019, he portrayed the character of Malharrao Holkar in Ashutosh Gowariker's Hindi epic war drama film Panipat; the film was his last film.
Marathi Entertainment Industry
He made his debut in the Marathi film industry in 1975 with the film Zunj as a character named Arjun Nangre.
In 1976, he landed the roles of the characters Mahesh Kuber and Suresh Vichare in the film Aram Haram Ahe. He bagged a role in the film Chandoba Chandoba Bhaglas Ka, which was released in 1978. He appeared in the 1979 film Ashta Vinayak. In the same year, he shared the screen with popular Marathi actors like Ramesh Bhatkar, Ranjana, and Bhalchandra Kulkarni in the film Duniya Kari Salaam.
He bagged the role of Yeshwantrao Vastad in the 1981 film Soon Mazi Laxmi. In the same year, he appeared in a short film titled Devghar as a character named Ravi. Ravi made his directorial debut in 1990 with the film Julum; he appeared as an Inspector named Ajay Bendre in the film.
In 1998, he was seen in a TV serial titled Teesra Dola. In the 2001 comedy film Dekhni Baiko Namyachi, Ravindra Mahajani appeared as a character named Hindurao Patil. In 2011, he landed the role of Nageshrao (Aaba) Jahagirdar in the TV serial Arundhati. In 2015, he bagged the role of a Captain in the film Kaay Raav Tumhi. In the same year, he appeared as a folk singer in the film Carry On Maratha.
Controversy
Allegations Of Committing Fraud
Ravindra Mahajani was arrested by the police in Mumbai in 2003 for engaging in fraudulent activities. Anil Damle, a partner in Saraswati Cinema, filed a First Information Report (FIR) in 2002 stating that Ravindra and Anil had made an agreement. According to the agreement, Ravindra was supposed to pay Anil Rs. 75,000 to screen his film Satte Sathi Kahihi at Prabhat Cinema Hall, run by Saraswati Cinema, for a month (four weeks). The agreement further entailed information that the money collected from ticket sales would be deducted from this fee. If there was any excess money, it would be given to Mahajani, but if there was a shortfall, he would be responsible for paying Damle. After four weeks, it was discovered that Mahajani owed Damle Rs. 80,000. When Mahajani gave Anil a check, it bounced. In January 2003, Mahajani was released on bail by a court in Mumbai after he submitted a personal bond of Rs. 15,000 to a court in Maharashtra.
Awards
In 2015, Ravindra Mahajani received the Sarvashreshtha Kala Gaurav Puraskar for his contribution to the Marathi film industry.
Death
Ravindra Mahajani passed away due to unknown reasons at the age of 77 at his apartment in Xrbia Housing Society in Ambi village, Talegaon Dabhade district, Pune, Maharashtra, on 14 July 2023. The Pune police reported that the body of Mahajani was discovered in his rented apartment after neighbours notified the authorities about a strong odour coming from his flat. The authorities disclosed that Mahajani had resided in the leased flat for about eight to nine months and had recently undergone a surgical procedure, limiting his mobility. They also mentioned that he had passed away two to three days prior to being discovered. The cops, while talking about it in an interview, said,
We received a call from the neighbours of the flat, where Mahajani was staying alone, informing us about a foul odour emanating from his house. We went to the spot and broke open the door of the flat, where he was found dead. It is suspected that he died three days ago."
Facts/Trivia
Ravindra Mahajani loved to travel, and he had visited numerous places to explore.
Due to the remarkable resemblances between him and the Bollywood actor Vinod Khanna, he was referred to as the Vinod Khanna of the Marathi film industry.
In 1981, while filming for the Marathi film Satichi Punyayee, Ravindra Mahajani received an axe wound, which took him several months to recover.
During an interview, Ravindra Mahajani shared that during the early 2000s, he attempted to enter the real estate industry. Unfortunately, the business did not thrive and resulted in significant losses and financial debt for the Mahajani family. He also disclosed that his son Gashmeer Mahajani took matters into his own hands and established GRM Dance Studio at the age of 15, where he started teaching dance to students in order to assist the family in repaying the debt.