Rajiv Gauba is an Indian Administrative Service (IAS) officer of the 1982 batch of the Jharkhand cadre. He has held numerous important state and central portfolios, including the Home Secretary of India (2017-2019), the Chief Secretary of Jharkhand (2015-2016), and the Cabinet Secretary of India (2019). He hit the headlines in August 2023 after the Government of India extended his appointment as the Cabinet Secretary of India for the third time, making him the longest-serving Cabinet Secretary in the history of the country.
Wiki/Biography
Rajiv Gauba was born on Saturday, 15 August 1959 (age 64 years; as of 2023) in Punjab, India. His zodiac sign is Leo. After spending a few years in Punjab, Rajiv relocated to Bihar with his family. He completed his schooling in Bihar. In 1976, he enrolled at Patna University, where he successfully obtained a degree in Physics in 1982; he was honoured with a gold medal for securing first class. After completing his formal education, Gauba took the UPSC civil services examination and passed it. Thereafter, he reported at the Lal Bahadur Shastri National Academy of Administration (LBSNAA) in Mussoorie, Uttarakhand. As an IAS, Rajiv has attended many courses. From 1986 to 1987, he pursued a course in Urban and Rural Development at Housing and Urban Development Corporation (HUDCO) in New Delhi. From 1987 to 1988, he did a course in Financial Management Level – I at the Indian Commerce Association (ICA). He pursued a course at CMC in MIS & Computer Application in Government Level-I from 1988 to 1989. He did a course in E-Governance: Opportunities and Challenges at the Indian Institute Of Management Bangalore (IIM Bangalore) from 2006 to 2007. He pursued an advanced course on World Trade Organisation (WTO) at the Indian Institute of Foreign Trade in New Delhi,
Physical Appearance
Height (approx.): 5′ 7″
Hair Colour: Salt and Pepper
Eye Colour: Dark Brown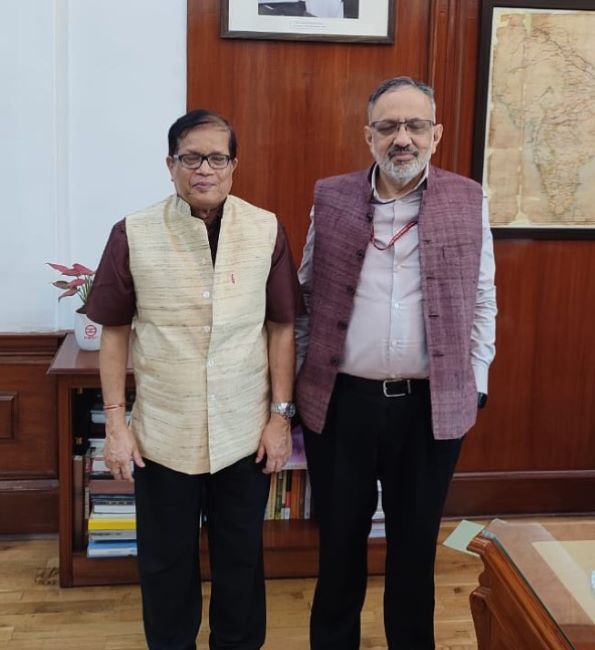 Family
Rajiv Gauba belongs to a Punjabi family in Bihar.
Parents & Siblings
There is not much information about his parents and siblings.
Wife & Children
His wife, Pammi Gauba, is the dean and head of the Department of Biotechnology at Jaypee Institute of Information Technology. The couple have two children, a son, and a daughter.
Signature/Autograph
Career
State Appointments
In 1984, following the completion of his training at LBSNAA, he was assigned to the Bihar cadre and appointed as a Sub Divisional Magistrate (SDM) at the Land Revenue Management & District Administration/Sub Divisional Administration. He served as an SDM till 1 September 1986. He served as a Deputy Development Commissioner (DDC) at Land Revenue Management & District Administration/Development Administration in Santhal Parganas from 1 September 1986 to 1 May 1988. He was appointed as the CEO of Industries/Khadi and Village Industries in May 1988; he remained in the post till October 1988. He was posted at the Land Revenue Management & District Administration/Development Administration in Patna on 1 October 1988. There, he served as a DDC till 1 December 1989. He served as a District Collector (DC) and District Magistrate (DM) in Nalanda at the Land Revenue Management & District Administration/Development Administration from 1 December 1989 to 1 June 1992. He was sent to Muzaffarpur on 1 June 1992. There, he served as a DM and DC till 1 April 1995. He held the post of DM and DC from 1 April 1995 to 1 June 1996 in Gaya. After the separation of Jharkhand from Bihar in 2000, Rajiv Gauba was transferred from the Bihar cadre to the Jharkhand cadre. On 19 August 2005, he was posted to the Jharkhand Bhavan in New Delhi by the Government of Jharkhand. There, he served as a resident commissioner till 15 January 2009. Rajiv served as the chief secretary of the Jharkhand government from 27 January 2015 to 31 March 2016. Under Rajiv's leadership, several initiatives were launched, with a particular focus on addressing Naxalism using a combination of proactive policing and developmental programs. To enhance the effectiveness of law enforcement and government administration, young officers were appointed as DMs and SPs in the region. Additionally, efforts were made to establish CAPF and State Police camps in remote regions while promoting development by constructing roads and bridges. As a result, there was a noticeable reduction in the extent of areas influenced by Left-Wing Extremism.
Central Appointments
The Government of India appointed him as a private secretary in the Ministry of Environment; he served in the ministry from 1 June 1996 to 1 February 1997. From 21 February 1997 to 1 July 1997, he held the post of private secretary in the Ministry of Non-conventional Energy Sources. On 1 August 1997, he was appointed as the director of the Ministry of Environment; he remained in the post till 1 April 1998. From 2 April 1992 to 19 September 2001, Rajiv Gauba served as a private secretary in the Ministry of Defence. On 15 October 2001, Gauba was sent to Washington, D.C. by the Indian government as an adviser/senior adviser to the executive director of the International Monetary Fund (IMF). He remained in the post till 9 June 2005. He served as a joint secretary in the Ministry of Environment from 15 January 2009 to 22 August 2012. The Indian government appointed him as the additional secretary in the Ministry of Electronics & Information Technology; he served in the ministry from 22 August 2012 to 14 July 2014. On 15 July 2014, he was transferred to the Ministry of Home Affairs, where he served as the additional secretary till 26 January 2014. He served as the secretary of the Ministry of Urban Development from 1 April 2016 to 23 June 2017. As the secretary of the Urban Development Ministry, Gauba focused on improving water supply, sewerage networks, and green spaces in the country. He spearheaded efforts to address the significant infrastructure deficit in Indian cities and urban areas. He also played a key role in conceptualizing and implementing major urban transformation initiatives, including the Smart Cities Mission, Swachh Bharat Mission, and AMRUT Mission. Additionally, Rajiv led crucial projects like the preparation of the comprehensive report on decongesting traffic in Delhi, which provided a four-pronged strategy for resolving traffic issues in the city. Moreover, under his leadership, the Ministry prepared a critical National Policy on Fecal Sludge and Sewage Management. One of his significant endeavours was the redevelopment project aimed at repairing 12,970 existing homes and constructing 25,667 dwelling units at an estimated cost of INR 32,835 crores (along with operation costs for 30 years).
From 23 June 2017 to 31 August 2017, Rajiv Gauba served in the Ministry of Home Affairs as an Officer on Special Duty (OSD). On 31 August 2017, he was appointed as the secretary of the Home Ministry, a position that he held till 31 August 2019. As Union Home Secretary, Gauba successfully implemented numerous anti-naxal plans, directed towards countering left-wing extremism throughout the nation. Gauba is accredited for streamlining the procurement of weapons and equipment for the Central Armed Police Forces involved in anti-naxal operations by simplifying procedures and granting financial authority to commandant-level officers.
He served as an OSD to the Cabinet Secretary from 21 August 2019 to 30 August 2019. On 30 August 2019, Rajiv Gauba assumed the position of Cabinet Secretary, succeeding Pradeep Kumar Sinha. In his capacity as Cabinet Secretary, Gauba has been instrumental in India's efforts to combat the Covid-19 pandemic. Notably, he spearheaded crucial initiatives such as establishing multiple task forces and effectively coordinating the entire government machinery to provide a unified and extensive response to the pandemic. According to sources, Gauba played a crucial role in drafting the Jammu and Kashmir Reorganisation Act, 2019. This act led to the division of the former state of Jammu and Kashmir into two separate Union territories after the special status granted to it under Article 370 of the Constitution was revoked.
The Union government has granted Rajiv three extensions during his tenure as the Cabinet Secretary. In August 2023, the Indian government made adjustments to the rules governing the appointment of a Cabinet Secretary, permitting Rajiv to serve an additional term, marking his third extension. The Appointments Committee of the Cabinet (ACC), in its official statement, said,
The Appointments Committee of the Cabinet (ACC) has approved an extension in service to Shri Rajiv Gauba, lAS (JH:82) as Cabinet Secretary for a further period of one year beyond 30.08.2023, in relaxation of AIS (DCRB) Rules, 1958 and Rule 56(d) of the Fundamental Rules."
Salary
According to the 7th Central Pay Commission (CPC), Rajiv Gauba's salary as Cabinet Secretary of India is estimated to be Rs. 2.5 lacs + other allowances.
Facts/Trivia
Rajiv Gauba has served as an advisory council member of the Asian Development Bank Institute (ADBI).
He is a polyglot and can speak Hindi, English, and Punjabi fluently.
Gauba passionately follows his hobby of reading.