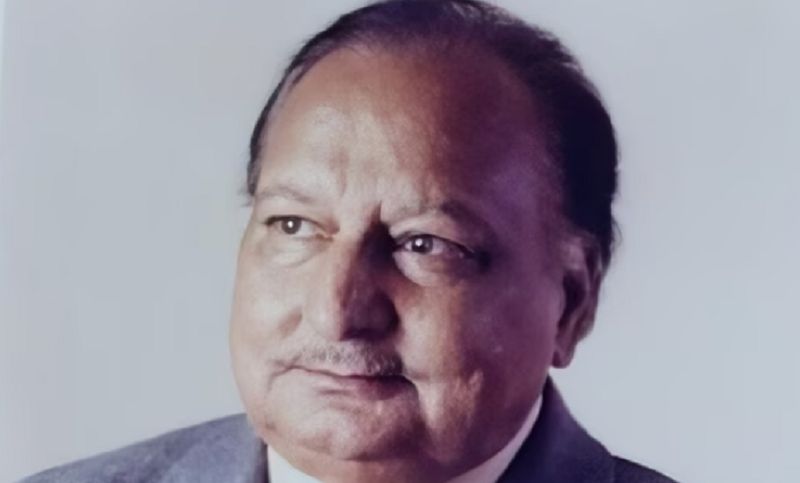 Prayag Raj (1935-2003) was an Indian writer, director and actor. He worked on many popular Bollywood films including Coolie (1983), Gair Kaanooni (1989), and Ponga Pandit (1975). Apart from acting, he did direction, singing and songwriting. On 23 September 2023, he died at his residence in Bandra due to age-related illness.
Wiki

/Biography

Prayag Raj Sharma was born in 1935 (age 88 years; at the time of death) in Allahabad (now Prayagraj). His father died when Prayag was very young after which he shifted to Mumbai. He did his schooling in Mumbai itself. While he was pursuing his formal education, he started working as a child actor in plays at Prithvi Theatre. He was nine years old at that time and to help his family financially, he took up the job. He worked at the theatre for sixteen years and wrote and directed many plays.
Physical Appearance
Height (approx.): 5′ 9″
Hair Colour: Grey
Eye Colour: Black
Family
Parents & Siblings
Prayag's father's name is Ram Das Azad. He was a popular poet. He died when Prayag was very young.
Wife & Children
Prayag was married to Pushpa Raaj, a writer, who died in 2008. His wife's real name was Rabiya Khatoon. He has two sons, Aditya Raaj, who works as an assistant director and Rahul Raaj, who is a dubbing artist.
Career
Writer
Prayag made his debut as a writer with the 1963 film Phool Bane Angaare for which he wrote dialogues.
He worked in more than 100 films as a writer. He worked on the script of the film Juaari (1968). In the same year, he wrote additional dialogues for the film Jhuk Gaya Aasman. He started accompanying the producer duo Ismail Merchant and James Ivory. The first film he worked on with them was The Householder in 1963. He wrote dialogues for the Hindi version of the film. Thereafter, he worked on the script of the film Shakespeare-Wallah in 1965 with them. He was linked with the duo for a long time working on the films In Custody (1994) and Cotton Mary (1999). He wrote the script of other films including Bhai Ho To Aisa (1972), Roti (1974), Parvarish (1977), Desh Premee (1982), and Allah-Rakha (1986).
Director and Assistant Director
In 1972, he started working as a director in the film Kundan. The film did not gain much recognition, but in an interview, Prayag said that the film earned three times profits than the invested amount.
His most famous direction was the film Coolie in 1983.
Some of the other films directed by him include Paap Aur Punya (1974), Ponga Pandit (1975), Chor Sipahee (1977), Hifazat (1987), Gair Kaanooni (1989), and Oonch Neech Beech (1989). In 1965, he worked as an assistant director in the film Jab Jab Phool Khile. He was a second-unit director in the film Cotton Mary (1999).
Actor
Prayag made his acting debut with the film Aag in 1948.
In 1951, he appeared in the film Awara. He used to do small roles in many films including Professor (1962), The Guru (1969), Sachaa Jhutha (1970), My Love (1970), Bombay Talkie (1970) and Prateeksha (1993).
Singer
In the film Shakespeare-Wallah (1965), he composed and wrote a song, 'Dil Dhadke.' He received special credit in the album for the song. He sang refrains in songs including Yahoo for the film Junglee (1961), Affu Khuda for the song HumKo Tumpe Pyar Aaya in the film Jab Jab Phool Khile (1965), Allahrakha for the song Accident Ho Gaya in the film Coolie (1983). He composed the tunes of 1940s Prithvi theatre plays in a CD by recreating the tunes, notations and interludes. The CD was titled Songs Of Prithvi Theatres.
Death
Prayag died on 23 September 2023 at his residence in Bandra after struggling with heart disease and age-related issues for a long time. After the death of his news came out, actors Amitabh Bachchan, Anil Kapoor and Shabana Azmi expressed their condolences on social media. Anil Kapoor took to X and shared a photograph with Prayag from the sets of the film Hifazat and wrote,
I'm truly saddened by the loss of the late Prayag Raj. Working with him on 'Hifazat' was a privilege. May his soul rest in peace."
I'm truly saddened by the loss of the late Prayag Raj. Working with him on "Hifazat" was a privilege. May his soul rest in peace.🙏🏻 pic.twitter.com/Al4RP7poFb

— Anil Kapoor (@AnilKapoor) September 24, 2023
Facts/Trivia
While he was working at the theatre, he became close friends with actor Shashi Kapoor, who was the same age as Prayag.
Prayag used to appear in different plays on-screen and also worked off-screen. He was also a backup actor for Raj Kapoor, Shammi Kapoor and Shashi Kapoor at the theatre. After practising for the plays in the day, he used to practice under filmmakers M.Sadiq and Lekh Tandon in the evening.
After appearing in many films, he decided to write films because he was more interested in writing and filmmaking. He received his first chance to work as a writer in a project with Lekh Tandon and Shammi Kapoor, but the film never got released.
In an interview, while discussing his passion for singing, he mentioned that he initially wanted to pursue it, but he eventually decided to quit because he realized that he would have to face a lot of hardship in the industry.
He has worked with famous actors including Amitabh Bachchan, Rishi Kapoor, Rajesh Khanna, Kamal Haasan, and Rajinikanth.
The last film written by Prayag was Zamaanat: And Justice for All in 2021. However, the film was never released.
His name is also spelt as Prayag Raaj Sharma.