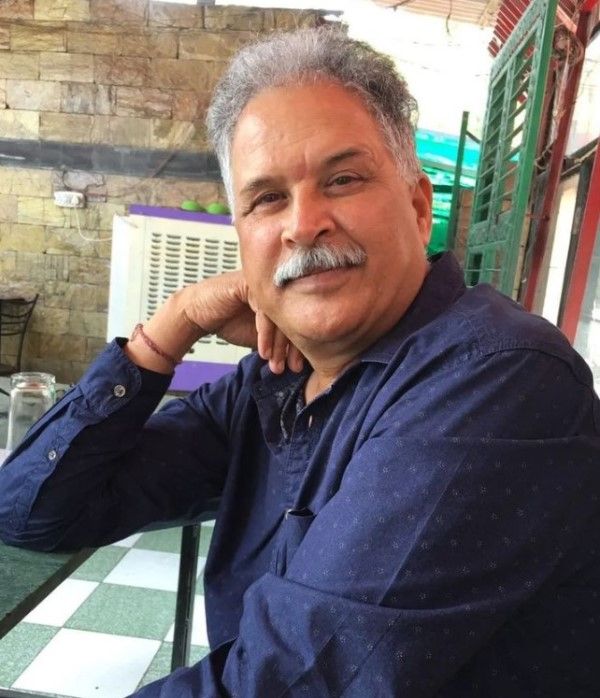 Pawan Chopra is an Indian businessman who is known for being the father of the Indian actress Parineeti Chopra.
Wiki/Biography
Pawan Chopra was born on 4 June. His zodiac sign is Gemini. Pawan Chopra did his schooling at Kendriya Vidyalaya, Ambala Cantt, Haryana, India. Soon after completing his schooling, he pursued an undergraduate degree at the University of Delhi, Delhi.
Physical Appearance
Height (approx.): 5′ 11″
Hair Colour: Black
Eye Colour: Black
Family
Parents & Siblings
Pawan Chopra's father, Kasturi Lal Chopra, served as an army officer. His mother, Champa Wati Chopra, was a homemaker.
Pawan Chopra's brother, Ashok Chopra, served as a doctor in the Indian army.
His sister, Kamini Chopra Handa, is a jewellery designer.
Wife & Children
On 23 November 1986, Pawan Chopra got married to Reena Chopra, an artist. Born and brought up by her parents in Singapore and Kenya, Reena met Pawan in one of his singing concerts while she was pursuing her formal education in India. Reena Chopra, during an interview, talked about her marriage and said that owing to her upbringing in the NRI family in Nairobi, Kenya, she received a cultural shock after getting married to an Indian family. She said,
The move to India for my degree in Architectural Apprenticeship and Interior Design along with a second degree in IT and Management ended up with me being married in India and that too in a very small town called Ambala. 35 yrs ago it was practically non-existent in every way and a typical hinterland township with stereotypical thought processes and was a land forgotten by the world except for its military history. It was a major culture shock for me back then. These years, from coming from Kenya with a particularly open mindset and upbringing, to gingerly treading and overcoming all types of obstacles and regressive traditional ideologies during the following years is basically the inspiration behind a lot of my artwork…you can see the story of most girls back then and even now in my paintings."
The couple's eldest daughter, Parineeti Chopra, is an actress. Their elder son, Sahaj Chopra, is an entrepreneur. Pawan's youngest son, Shivang Chopra, is a doctor.
Other Relatives
Pawan Chopra's nieces, Meera Chopra, Priyanka Chopra, and Mannara Chopra, are actresses. His sister-in-law, Madhu Chopra, is a doctor in the Indian Army.
Religion/Religious Views
He follows Sikhism.
Caste
He belongs to the Khatri caste.
Career
After pursuing formal education, Pawan Chopra started working as a businessman and supplier to the Indian Army at Ambala Cantonment, Haryana, India.
Facts/Trivia
Fond of singing, Pawan Chopra often participates in various musical concerts. Parineeti Chopra, on his father's birthday on 4 June 2020, shared a social media post and shared about her father's likes and dislikes. In the same social media post, Parineeti wrote that her father trained her in music. She wrote,


My dad. The guy who put singing into my veins. He sings before he talks. Makes fun of everything. Everything. Is car obsessed. Buys scooters and redesigns them. Feeds everyone else before eating himself. Does not understanding the concept of ordering "less" from a menu. Army man. Mimics every human being he meets. (Which means he likes you). Insists on growing every vegetable at home." She further wrote about her father's obsession with workout and healthy lifestyle. She added, "Hates processed food. Works out 2 hours every morning and puts us to shame. Cannot eat curd if it has malai. 3 bowls of dessert is nothing. HAPPY BIRTHDAY DAD!."

Initially, Pawan Chopra and his brother, Ashok Chopra, had a musical band named Chopra Brothers and the band used to perform in various events. In an interview, Parineeti Chopra talked about the music band and said that she and her cousin, Priyanka Chopra, often joined their fathers to perform in musical events. Parineeti said,


I have grown up singing with him on stage. My dad and Mimi Didi's (Priyanka Chopra) dad used to have a band called Chopra brothers, so they used to perform all over and we used to go on stage and sing with them." Parineeti adds, "He has given the DNA of music inside me, like music in my blood is from him."

In an interview, Parineeti Chopra said that Pawan Chopra is fond of doing standup comedy and mimicking people.
He follows a non-vegetaraian diet.
He is often spotted consuming alcohol on various occasions.