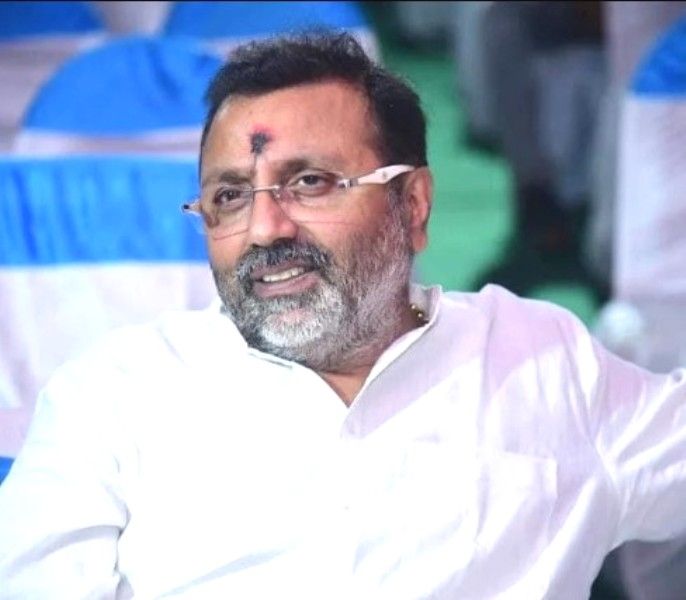 Nishikant Dubey is an Indian politician and a Bharatiya Janata Party (BJP) member. He is a third-time MP from the Godda constituency of Jharkhand. Earlier, he worked in the corporate sector and headed Essar Group as the director.
Wiki/Biography
Nishikant Dubey, also known as Dr. Nishikant Dubey, was born on Friday, 28 January 1972 (age 51 years; as of 2023) in Bhawanipur village of Bhagalpur, Bihar. His zodiac sign is Aquarius. In 1982, he completed his matriculation (10th) at the D.P.M. High School Karharia, Bihar, and his intermediate (12th) at Marwari College Bhagalpur, Bhagalpur University, Bihar, (now Tilkamanjhi University) in 1986. He then pursued a Bachelor of Arts degree at the same college in 1989. In 1993, he completed his Master of Business Administration degree (part-time) from Delhi University, Delhi. He was awarded a Doctor of Philosophy degree (PhD) for his work on 'Emerging Issue of Rural Poverty in India: A Macro View' by the Pratap University Rajasthan in 2018.
Physical Appearance
Height (approx.): 5′ 7″
Weight (approx.): 60 kg
Hair Colour: Salt &  Pepper
Eye Colour: Black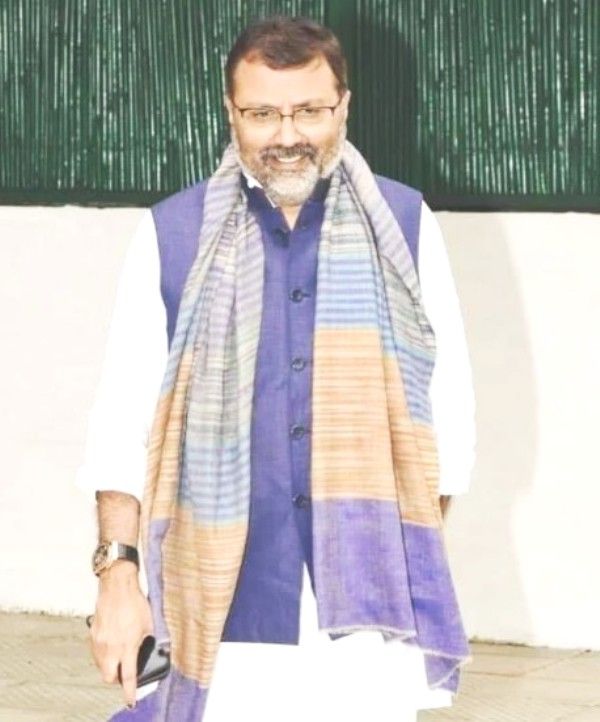 Family
Nishikant Dubey belongs to a Brahmin family.
Parents & Siblings
His father's name is Radheshyam Dubey and his mother's name is Veena Dubey. His father is a communist.
He has a brother named Sheshadri Dubey. Nishikant had a sister who died in 1993 due to a lack of medical facilities in Godda to treat stomach pain.
In 1993, I lost my younger sister, sir. Today, as her brother, I am proud that an institute such as AIIMS was established in my Lok Sabha: BJP MP Nishikant Dubey pic.twitter.com/r0RnjF0x63

— The Pamphlet (@Pamphlet_in) August 9, 2023
Wife & Children
Nishikant got married to Anamika Gautam in 2000. Anamika owns Dhanya Bhooti Enterprises and Online Entertainment Pvt. Ltd which is responsible for the supply of design and other services. Together the couple has two sons, Kanishkkant, and Maahinkant.
Relationships/Affairs
Nishikant and Anamika have known each other since they were kids and eventually fell in love. In 2000, when Nishikant was employed at ESSAR and Anamika was pursuing her studies at the National Institute of Fashion Technology (NIFT), they made the decision to get married.
Religion
Nishikant follows Hinduism.
Caste
He belongs to the General caste.
Address
Nishikant's permanent address is House No. 101, Ankur Apartment, Bhagalpur, Bihar, 812002.
Signature
Career
Corporate Sector
Nishikant has worked in the corporate sector for 14-15 years. He was the director of the Essar group. He also owned a company named Online Entertainment Pvt. Ltd, a consultancy firm based in New Delhi.
Politics
Nishikant has been active in politics since his college days. He was a member of the Akhil Bharatiya Vidyarthi Parishad (ABVP). Later, he joined the Bharatiya Janata Yuva Morcha (BJYM) and then the Bharatiya Janata Party (BJP). In the 2009 Lok Sabha elections, BJP made him a candidate from the Godda constituency of Jharkhand. He won the election by defeating the Furqan Ansari of the Congress party. In the 2014 and 2019 Lok Sabha elections he won from the same constituency and serving as a member of the parliament since 2009.
During his tenure as an MP, he developed the infrastructure and provided basic amenities in his constituency which is considered the most backward district in the country. His work includes AIIMS Deoghar(2019), Deoghar Airport (2022), three engineering colleges, three national highways, four water projects, two power plants, and 14 solar plants.
Controversies
Cases Pending
1 charge related to Promoting enmity between different groups on grounds of religion, race, place of birth, residence, language, etc., and doing acts prejudicial to the maintenance of harmony (IPC Section-153A)
1 charge related to Undue influence at elections (IPC Section-171C)
1 charge related to a False statement in connection with an election (IPC Section-171G)
1 charge related to Punishment for theft (IPC Section-379)
1 charge related to Punishment for Being a member of an unlawful assembly (IPC Section-143)
1 charge related to Obstructing public servants in the discharge of public functions (IPC Section-186)
1 charge related to Danger or obstruction in public way or line of navigation (IPC Section-283)
1 charge related to Punishment for public nuisance in cases not otherwise provided for (IPC Section-290)
1 charge related to Continuance of nuisance after injunction to discontinue (IPC Section-291)
1 charge related to Assault or criminal force to deter a public servant from discharge of his duty (IPC Section-353)
1 charge related to Acts done by several persons in furtherance of common intention (IPC Section-34)
1

charge related to Punishment for Rioting (IPC Section-147)
1

charge related to Punishment for voluntarily causing hurt (IPC Section-323)
1

charges related to Intentional insult with intent to provoke breach of the peace (IPC Section-504)
Fake Degree Controversy
In March 2023, Mahua Moitra, a member of the All India Trinamool Congress (AITMC), alleged that Nishikant's degrees, which he mentioned in his affidavit to the Election Commission of India, are fake. She pointed out that Nishikant was 37 years old in 2009 and 42 years old in 2014, so he must have been born in 1972. But according to his affidavit, he finished 10th grade in 1982, which means he would have been only 10 years old at that time. She added further that Nishikant's MBA degree is also fake because according to the RTI (Right to Information) filed by her, there was no student named Nishikant Dubey at Delhi University in 1993. She demanded the privilege committee to look into this and terminate his membership in the Lok Sabha.
Hon'ble Member in his 2009 and 2014 Lok Sabha affidavit claimed to be "part time MBA from Delhi University". Please note- prior to 2019 full list of educational qualifications was required to be listed.
(1/3) pic.twitter.com/dcI3FaAuFa

— Mahua Moitra (@MahuaMoitra) March 17, 2023
Made Inappropriate Remarks Against

Jharkhand CM
In December 2022, Nishikant called the CM of Jharkhand, Hemant Soren, a 'rapist.' He further said that Soren was charged with the crime in 2013 and the Maharashtra Government has recommended for CBI inquiry into the matter but nothing happened. This is why he is not taking any action against the people who chopped a tribal woman into 50 pieces. Hemant sued Nishikant in a civil court over the baseless remark.
Discriminated Against a Backward-Class Youth
In 2018, Nishikant posted a video on social media where a backward-class young man named Pawan Sah washed Nishikant's feet, dried them with a cloth, and then drank that dirty water. This act was criticized by people who saw it as disrespectful and discriminatory towards a person from a lower social class. Nishikant defended himself in a social media post where he wrote,
Excellence can't be distributed and if the party workers express their happiness by washing the feet (of their leader), there is nothing surprising about it."
Award
Fame India Shreshtha Sansad Award 2015 & 2018
Car Collection
He owns a Ford Endeavor car which he bought in 2009.
Assets & Properties
Movable Assets
Deposits in Banks: Rs. 47,50,039
Shares & Bonds: Rs. 27,69,768
Motor Vehicles: Rs. 10,50,000
Immovable Assets
Agricultural Land: Rs. 18,92,000
Non-Agricultural Land: Rs. 14,88,37,600
Commercial Buildings: Rs. 1,02,00,000
Residential Buildings: Rs. 5,92,00,000
Note: The given estimates of movable and immovable assets are according to the year 2019. It excludes the assets owned by his wife and dependents (minor).
Net Worth
Nishikant's net worth for the financial year 2019-2020 was estimated to be Rs. 22,98,93,130. It excludes the net worth of his wife and dependents (minors).
Facts/Trivia
As per the official data, as of 21 September 2023, Nishikant has an impressive attendance record of 95% in parliament, significantly higher than the national average of 79%. He has been an active participant in parliamentary debates, contributing to 178 discussions, which is well above the national average of 43. Furthermore, Nishikant has asked 329 questions whereas the national average is 191. He has also taken the initiative to introduce 19 Private Member's Bills in parliament.
Nishikant's maternal uncle inspired him to be a politician. His maternal uncle was the President of the Deoghar unit of the Jana Sangh Party. In 1975, his maternal uncle was jailed for 19 months.
He managed a career in the corporate sector and political activities altogether. Discussing this in an interview he said,


Essar was always supportive and there was never a conflict of interest so it was easy for me to manage both things. My wife also played a crucial role in this journey."

In September 2023, he hit the headlines, when he defended BJP MP Ramesh Bidhuri who had used offensive language against BSP MP Kunwar Danish Ali. In a letter to Speaker Om Birla, Dubey criticized Bidhuri's choice of words but also pointed out that Ali had provoked the situation by making inappropriate comments about PM Narendra Modi. This, according to Dubey, was what caused Bidhuri to lose his temper. Discussing this in an interview, he said,


I am the eyewitness to the incident and can give a minute-by-minute account of what happened. A probe against Bidhuri for his derogatory words is welcome but it should also cover other hateful comments. Not doing so would be a miscarriage of justice."