Nihal Baig is an Indian athlete and an aeronautical engineer. He secured a silver medal at the Mumbai marathon and first place at the Ironman 70.3 Goa.
Wiki/Biography
Nihal Baig was born in Hydrabad and grew up in Guntur, Andhra Pradesh. He completed his schooling at Kendriya Vidyalaya, Ponda. In 2011, he pursued an integrated 5-year course of B. Tech and M. Tech in Aeronautics, Aviation, Aerospace Science, and Technology from the Indian Institute of Technology (IIT) Bombay, one of India's most prestigious technical institutes. He currently works as a Senior Associate at Morgan Stanley Capital International (MSCI), a top investment finance company.
Physical Appearance
Height (approx.): 6′ 2″
Weight (approx.): 60 kg
Hair Colour: Black
Eye Colour: Black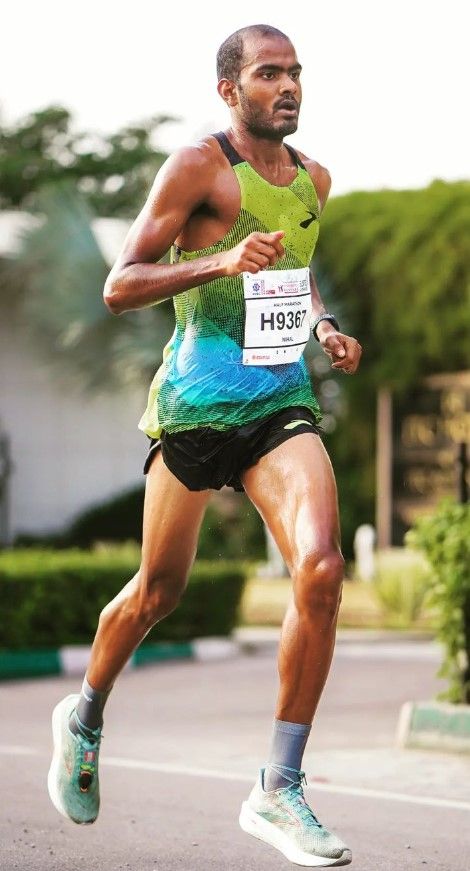 Family
Parents & Siblings
His father, Subedar Major Ahamed Baig, served in the Indian army. There is not much information about his mother. He has an elder brother. In an interview, Nihal Baig talked about his father's perspective on his victory in the amateur men's category at the Mumbai marathon in January 2023 and said,
Dad was just really happy. He was calling everyone and messaging them. Just spreading the news that his son has finished so well. Even now since the race, he's actively doing that."
Wife & Children
Nihal Baig is unmarried.
Religion
Nihal Baig follows Hinduism.
Career
Nihal Baig started taking an interest in sports when he joined the Indian Institute of Technology (IIT) Bombay in 2011. His major focus was on studies but in his institute, it was mandatory for the undergraduate students to choose one extracurricular activity out of sports, social service, and the National Cadet Corps (NCC). Nihal Baig decided to choose sports as his extracurricular activity. In his institute, he was the Ardent Marathon Runner and was the best athlete across the 16 IITs including his institute. Nihal Baig won several medals in the middle and long-distance runs (400m-5000m) at the inter-IIT athletic meets and events as he mentioned in an interview,
I actually wanted to be a sprinter at first. But I realised right away that you need to be god-gifted to be that kind of sprinter. I wasn't that guy. Then I tried other distances 800m, 1500m and 5000m and I realised I was pretty good at it, I was competitive but that was something you'd mostly see in the classroom. I always wanted to be top of the class. I honestly didn't think a great deal about sports in school. I mean, I took part in the school athletics meets in 100, and 200m but even then I wasn't the fastest in the class.I might not be the most talented but I can work really hard. To be a good runner over those distances, you need a combination of hard work and consistency and I could do that even in college. And when I did that, I realised I was one of the fastest middle-distance runners in my college. When I worked out, it didn't hamper my studies as much because, I guess, I've always been a sharp student. I used to grasp things really quickly. I'd spend a few hours and grasp those theories. It wasn't an issue managing grades and sports. In general, the atmosphere in IIT is something where you are expected to do something or the other throughout the day. For me, it was research or sports. I used to be really tired after some workouts but I never felt that it hampered me in any way."
Due to COVID-19, the Ironman 70.3 World Championships 2020 in New Zealand was cancelled. Nihal Baig opted for the middle and long race events of the 2021 edition scheduled in Utah, USA.
I hope to participate in the 2021 TMM in May if it is held as planned.''
In May 2014, Nihal Baig joined Maruti Suzuki India Limited and worked there as a summer inters for three months. In August 2016, he joined as a risk management analyst at Morgan Stanley Capital International (MSCI). He is a Former General Secretary Sports Affairs at IIT Powai and the Former Overall Coordinator of 50th Inter-IIT Sports Meet at IIT Powai. He is currently working as a senior associate at MSCI. In an Interview, Nihal revealed that he convinced his father of his passion and now he wants to balance his job with sports.
I had that conversation with my dad. He wasn't very sure. But once I told him how serious I was and how this was what I wanted to do, he backed me completely. I took my time trying to understand how to work around my job. It was only after I did an hour-and-twenty-minute half-marathon did I felt I could balance my training and work and compete seriously. In Pune, I have a lot of time in the morning. I log in around 12pm. I have enough time to do my workouts in the morning, have a good meal, do stretching and recovery. It's usually morning workouts and in the evening, I do cross training or strength training. It's all at home. I do a lot of mobility and strength sessions, body weight at home. If I'm training for marathon, I'm training every day but in a triathlon, it is 12 sessions a week plus 3-4 strength sessions and a lot of mobility and stretching each day."
Awards, Honours, Achievements
Nihal Baig won the 3rd edition of Ironman 70.3 Goa 2022 with the timing of 04:32:05.
On 2 October 2019, he secured the second place in Ironman 70.3 Goa 2019.
In November 2022, he secured the first position in Ironman 70.3 Goa 2022.
He won 5 medals including 3 golds, 1 silver, and 1 bronze and I was awarded as the Best Athlete across all IITs during his integrated graduation.
On 24th January 2021, he was Overall 3rd in the 10k Cross Country (State Trials) held at Shree Shiv Chattrapati Krida Nagri Balewadi, Pune with the timing of 33:29.
Facts/Trivia
Indeed, Nihal says he can't fathom returning to a regular office job.
I've thought about it, and to be very honest, I can't go into a regular 9-5 job. I still go to office once in a while just so I can keep in touch with regular people who might not share my passion. But I personally see myself staying connected to sports for a long time. I want to keep competing for as long as I can. I've no idea how things will go but right now I don't see a stopping point. Just the journey is interesting for me."
Nihal Baig suffered through lower leg injury in the Fibula and Tibia. He underwent Hernia Repair Surgery. He mentioned in an interview,


I had faced a few injuries in my lower legs, both in my Fibula and Tibia, due to which I had to stop running completely and even cycling to some extent during those periods. But it was not that hard getting back to training after I had recovered fully. I have always been very self-motivated, so I never felt any hindrance to training regularly. I was diagnosed with a Hernia about 7 months back and later got a Hernia repair Surgery on 10th April. The recovery wasn't as smooth as I had anticipated (basically from the knowledge I've gained from reading about the post-surgery rehab and from doctors and physio). In the first 3 months, I was feeling worse than I was pre-surgery. I was constantly in touch with my physio to understand what was going on and how soon I could get back to training. It was all grey, some days you feel okay and you try to do a workout and it goes well and then suddenly you feel even worse. You aren't sure enough whether to listen to your mind, your body, your physio or your friends and family."
In an interview, when asked about the most memorable day of his sports career, Nihal Baig


December, Inter IIT Sports Meet-2013, Guwahati: 5000m race I was used to running on grassy tracks in Mumbai, so the rough terrain in Guwahati had me wrapping up my toes in bandages. I maintained a steady pace and ran all my laps within 85 seconds, but it was the last one where I overtook the one in front of me and beat him by a second to win the race. I completed this lap in 62 seconds, and with a toe that was bleeding profusely. The cold weather had numbed the pain."



Once I graduated and started working, I didn't have the intention to pursue sports seriously. It was still important but I just thought I have to stay fit and focus on my work. I did that for the first year of my job. I also knew I couldn't do the track events any more so I thought I'd keep my fitness up and maybe run a half-marathon. I also got a cycle because I always had this desire to commute to office on a cycle. Because I had a good cardio from running, I figured I could replicate that fitness."
During an interview, when asked about his toughest race of his life, Nihal Baig said,


I set myself a goal timing of 3:05 (Boston Marathon Qualifying Time) I was recovering from a fibula stress fracture so wasn't sure if I could do this since the pain kept coming back after every run that I did. The pain was terrible the night before the race, and I had to mentally prepare myself to run the next morning. I ran with muscle sprays and compression socks and 28km into the race my pain vanished. When I reached the 30K mark, I felt this surge of power that had me complete the marathon in 3:03:37."
In an interview, Nihal Baig talked about him becoming a role model to the youth and said


I have some college batch-mates who had stopped running after starting their jobs. A few of them have restarted (running). They say that they get motivated by looking at my performance and achievements. It feels good that I've been able to get them on track as well," he says. Nihal is planning to double down on his athletic pursuits. "I've actually started coaching. I coach a lot of runners and triathletes. That helps me as well because I get to share my knowledge and learn from their habits and what issues they are facing. That's actually something I want to do [in the] long term."