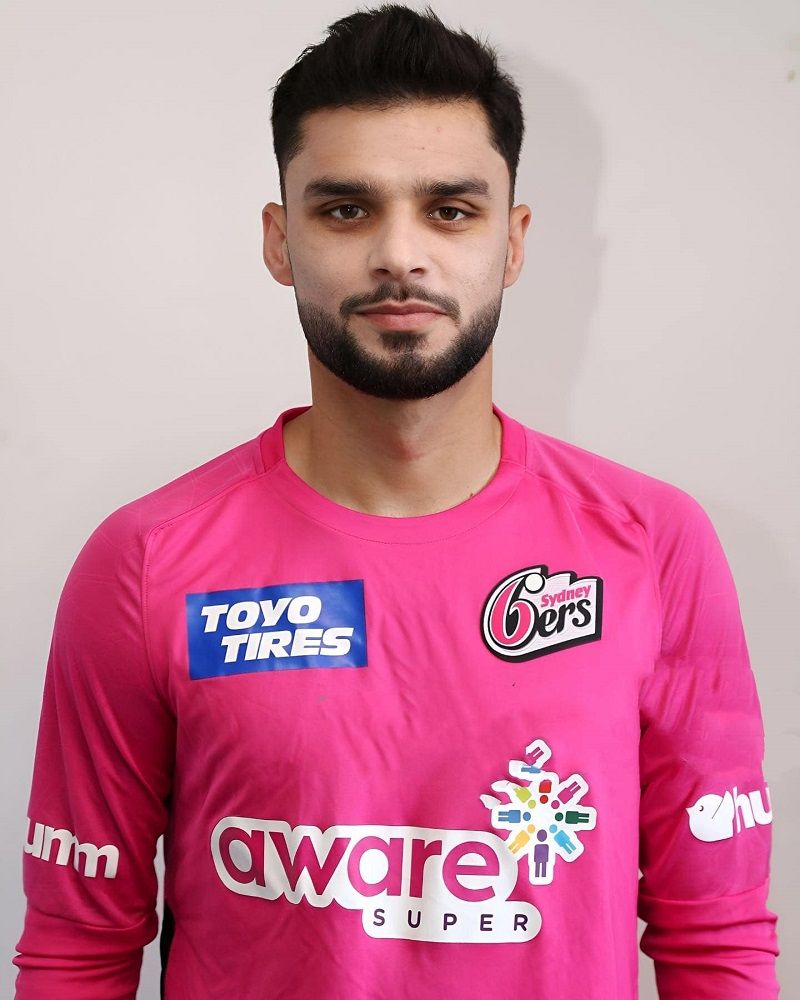 Naveen-ul-Haq is an Afghanistan cricketer known for getting into a spat with former Indian captain Virat Kohli in the IPL match between Royal Challengers Bangalore and Lucknow Super Giants on 1 May 2023.
Wiki

/Biography

Naveen-ul-Haq Murid was born on Thursday, 23 September 1999 (age 23 years; as of 2022) in Kabul, Afghanistan. His zodiac sign is Virgo. He was born in Kabul but had to move to Pakistan because his family conditions were not good at that time. He did his schooling there for five to six years and was not inclined towards cricket at that time. In an interview, he said that when he was young, he used to watch Indian players on TV because of this he started liking cricket. He used to play tape-ball but his parents did not allow him to play cricket. He used to play with his brother and would often do batting and wicketkeeping but did not like bowling. In 2012, he started playing cricket after watching Afghanistan qualify for the first T20 World Cup against West Indies. When he came back to Afghanistan from Pakistan, he decided to become a professional cricketer and told his father that he wanted to play but his father did not support him because he wanted him to focus on his studies. Naveen got upset and asked his elder brother to convince his father to let him play. His brother talked to his father and convinced him to let Naveen join the National Cricket Academy. His brother helped him fill out the registration forms. When he joined the academy, he found it difficult to play with a leather ball so he used to make excuses to skip practice. Sometimes, he would tell his coach that he did not have proper shoes or was injured after which his coach told him to practice with the juniors. After some time, he got his hands on playing with a leather ball and his coach allowed him to play with seniors.
Physical Appearance
Height (approx.): 6′ 1″
Hair Colour: Black
Eye Colour: Black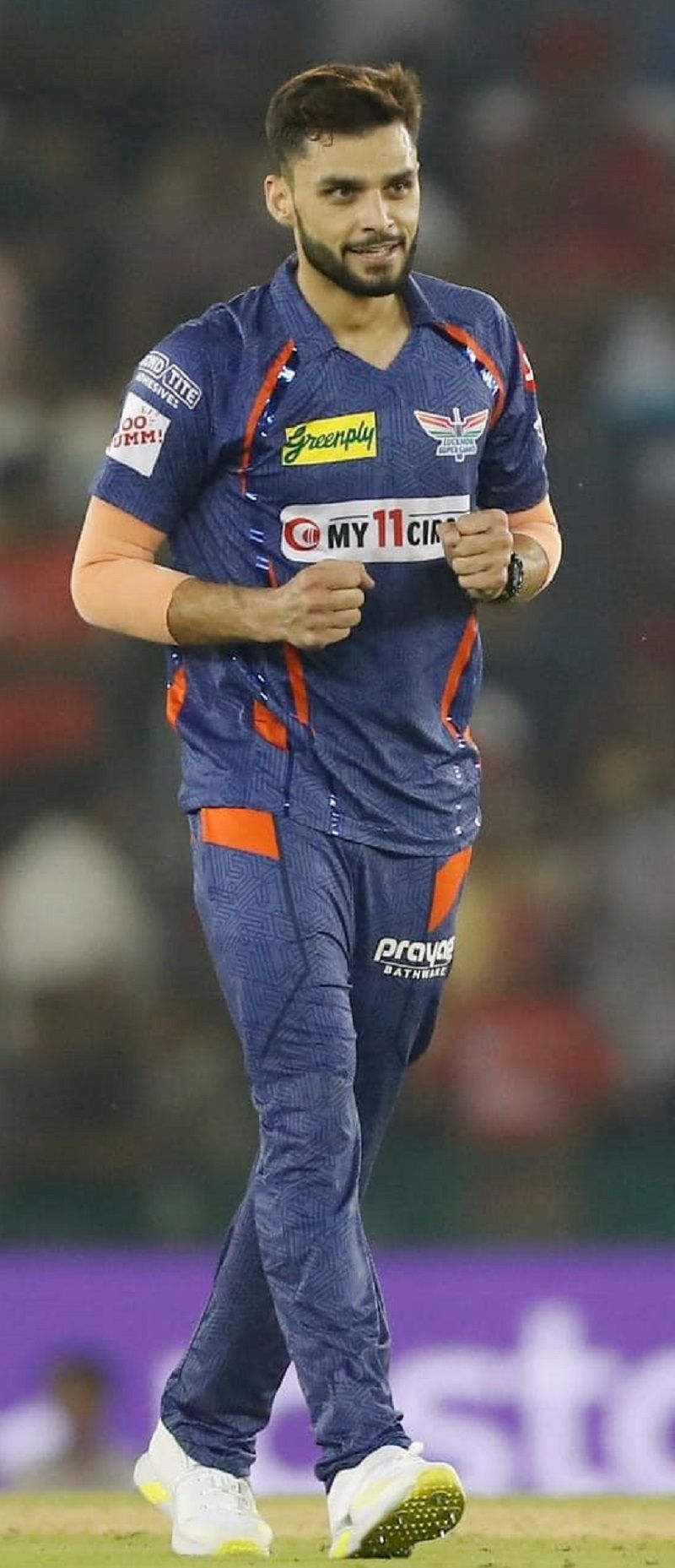 Family
Parents & Siblings
The name of his father is not known. He is a doctor. He has an elder brother.
Career
Domestic Cricket
When he was 11 years old, he represented Afghanistan as a part of the U-16 team in Penang. At the age of 15, he played in the ACC Under-19 2014 Premier League and their team won. In the tournament, he took 16 wickets and gave only 6.5 runs each. On 25 September 2016, he made his debut in List A match against Bangladesh at Mirpur. In 2017, he won the ACC Under-19 Youth Asia Cup.
On 7 March 2018, he made his first-class debut for Kabul Eagles against Boost at Kunar in the 2018 Ahmad Shah Abdali 4-day Tournament. In September 2018, he was selected for the Nangarhar Leopards squad for the first edition of the Afghanistan Premier League tournament. In November 2019, he played the 2019–20 Bangladesh Premier League for Sylhet Thunder. In July 2020, he was named in the Guyana Amazon Warriors squad for the 2020 Caribbean Premier League. In October 2020, he became part of the Kandy Tuskers for the inaugural edition of the Lanka Premier League. In February 2021, he got selected for the Leicestershire Foxes for the 2021 T20 Blast tournament in England. In 2022, he did not play the 2022 season in England. In June 2022, he took his first five wickets in Twenty20 cricket in the T20 Vitality Blast against Worcestershire Rapids. In July 2022, he was part of the Colombo Stars for the third edition of the Lanka Premier League. In December 2022, he was bought by the Lucknow Super Giants in the 2023 Indian Premier League auction.
International Cricket
In 2016, he was named in Afghanistan's squad for the 2016 Under-19 Cricket World Cup.
In December 2016, he became the captain of the Afghanistan team for the 2016 Under-19 Asia Cup. On 19 January 2017, he made his Twenty20 debut for Afghanistan against Namibia in the 2017 Desert T20 Challenge.
In December 2017, he was the captain of Afghanistan's squad for the 2018 Under-19 Cricket World Cup. On 21 September 2019, he made his T20 debut against Bangladesh at Chattogram. In August 2019, he became part of Afghanistan's Twenty20 International (T20I) squad for the 2019–20 Bangladesh Tri-Nation Series. In September 2021, he was named in Afghanistan's squad for the 2021 ICC Men's T20 World Cup.
Controversy
On 1 May 2023, he was involved in a controversy when he had a fight with Virat Kohli in the IPL match between Royal Challengers Bangalore and Lucknow Super Giants. During the match, Virat also had an argument with Amit Mishra. The fight between Kohli and Naveen started in the 17th over of the match when the Lucknow team was batting. Both of them were staring at each other angrily. In the next clip, Kohli was seen showing his shoe and then pointing towards Naveen as a reply to him. Later, Kohli had an argument with Amit Mishra where he was asking him to calm down Naveen. The match continued but after the match, another incident took place when the players were shaking hands with each other. Kohli and Naveen also shook hands with each other but Naveen did not leave Kohli's hand and was seen saying something to him. Kohli avoided him at first but then he also replied to him. Glenn Maxwell stepped in and stopped him from fighting. After this incident, when Kohli shook hands with LSG mentor Gautam Gambhir, they had an argument. Th BCCI punished Kohli, Gambhir and Naveen. Kohli and Gambhir were fined 100% of their match fees after they were found guilty of a Level 2 offence while Naveen-ul-Haq lost 50% of his match fees for his Level 1 offence. Later, Kohli talked about the incident on his Instagram story and wrote, "Everything we hear is an opinion, not a fact. Everything we see is a perspective, not the truth." Naveen replied to him and took to Instagram and posted a story saying "You get what you deserved that's how it should be and that's how it goes."
Domestic/State Team
Facts/Trivia
He took coaching under Ian Pont.
His batting style is Right-hand Bat and his bowling style is Right-arm Medium fast.
In an interview, he said that when he was young, he idolised Hamid Hassan and was inspired by him after which he took up cricket and fast bowling.
Once he went to the academy and there were some trials going on. He was not aware that it was the under-16 national team trials. He stood in the fast bowler's line and bowled three deliveries after which he was told not to bowl more balls. In an interview, he further talked about this and said,


I was sad because I thought they didn't like my bowling. That evening they announced the 50 players to come back and play the trial matches the next day. I was in that list. I think I maybe only got one wicket in the trial games, but my name was in the squad for the under-16s. I didn't know what was happening next or what the squad was going to do."
In the first tournament, he played in Penang, he did not have a good experience and after returning back to his home, he decided not to bowl again. He stopped bowling at the academy and used to only bat for one year. Later, he realized he wanted to play cricket professionally and had to improve his bowling skills. After two years of practising, he played in the same tournament and took 15 wickets giving just 69 runs. He was also named bowler of the tournament. After his performance in this tournament, he asked his family for some time to prove himself. He told his family that he would go to another country to study or work if he was unsuccessful as a cricketer. He started working really hard and hired a personal trainer and used to work out at the gym for four hours a day. He also used to diet without any cheat days.
In 2021, he topped the wicket charts at the Vitality Blast for taking 26 wickets in 14 games for Leicestershire at an economy of 8.67.
In 2022, he received a Gold Fox cap by Leicestershire County Cricket Club, as recognition for "consistent outstanding service to the club."
In January 2023, Naveen took to Twitter to announce that he would not participate in the Big Bash League (BBL) for Sydney Sixers. This announcement came after Cricket Australia announced that it would not play a series against Asian teams in March 2023. In an interview, CA said that they took the decision because the Taliban was restricting women's rights in the country but Australia always worked for women's empowerment. Talking about the decision, in a Tweet, he wrote,


Time to say won't be participating in big bash after this until they stop these childish decisions that's how they went about the one off test now ODI when a country is going through so much in place off being supportive you want to take the only reason of happiness from them #CA."
According to him, he had to change his bowling action because of back issues and injuries in 2015-16.