Nafisa Joseph (1978-2004) was an Indian model and MTV video jockey. She was the winner of the Femina Miss India Universe 1997, and also reached the finals of the Miss Universe Pageant (1997) held in Miami Beach. Nafisa was an animal rights activist. She committed suicide on 29 July 2004.
Wiki/Biography
Nafisa Joseph was born on Tuesday, 28 March 1978 (age 26; at the time of death) in Delhi and was brought up in Bangalore, Karnataka, India. She completed her schooling at Bishop Cottons Girl's School, Bengaluru, Karnataka. She studied at St. Joseph's College (Autonomous), Bengaluru, Karnataka. Nafisa discontinued her studies after she won the Miss India crown. She was fondly called 'Tutu' by her relatives and her mentor Prasad Bidapa.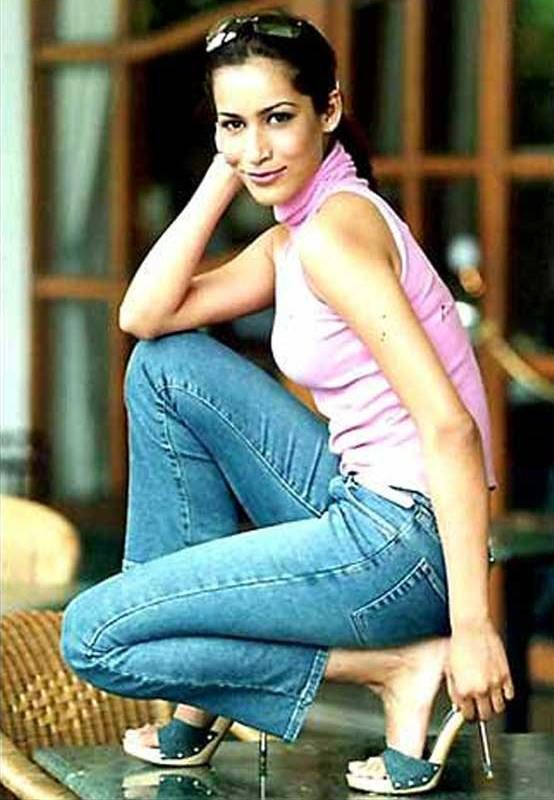 Physical Appearance
Hair Colour: Black (dyed brown)
Eye Colour: Brown
Family
Parents & Siblings
Her father, Nirmal Joseph, was a catholic Christian from Kerala, and her mother, Usha Joseph, a Bengali, was a descendant of Tagore. Usha is the first cousin of Sharmila Tagore. Her paternal grandmother was a Muslim, and some reports suggested that it was how Nafisa got her first name. She was related (maternal side) to the Bollywood actor Saif Ali Khan, Soha Ali Khan, and Saba Ali Khan. Nafisa had an elder sister.
Relationships/Affairs
Sameer Malhotra
Nafisa Joseph was in a relationship with the Bangalore-based model Sameer Malhotra and was engaged to him post her Miss India victory. The reason for their breakup is unknown.
Samir Soni
She was then in a relationship with the Mumbai-based actor Samir Soni. She had met him after she broke up with Sameer Malhotra, and Samir had just gotten out of his first marriage. Samir was working in one of Sandeep Sikhand's play when they both met for the first time and they started going out shortly after that and was dating for nearly two years. In an interview, she revealed that Samir was obsessed with astrological signs and she got influenced by his habit and became interested in astrology. They were both engaged and were set to marry each other, but the wedding did not occur, and they announced their breakup.
Rahul Bose
Some reports suggested that after her engagement with Samir was called off she dated actor Rahul Bose for some time and was engaged to him. However, the relationship did not last and they split up.
Gautam Khanduja
After announcing her split from Rahul Bose, Nafisa Joseph dated the Mumbai-based automobile businessman Gautam Khanduja. They met each other for the first time in 2003, at a party in Mumbai. He was also a professional windsurfer and diving instructor and she fondly called him a 'beach bum'. In an interview, she described him as a caring and sensitive person. The relationship lasted nearly two years and they got engaged and everything was set for their marriage. Naifsa and Gautam were to be officially married on 7 August 2004. Some reports suggested that Nafisa had invited her friends from Bangalore and many other prominent figures in the industry from various places. However, they announced that the wedding was called off when the date of their marriage was less than a few weeks away.
Some reports suggested that Gautam was already married when they met; however, he told Nafisa that he had filed for divorce and promised to marry her. Nafisa had a quarrel with him about his divorce and the legalities of it, as her parents had demanded that the divorce papers be in place before they got married and following this he called off the wedding with hardly two weeks to go. Some reports suggested that she had blackmailed him with threats to meet his wife when he denied to show her the divorce documents he said he had, other reports suggested that he had threatened her over her allegations and questioning. The decision to call off their marriage had severely affected her mental health and she was in depression.
Career
Modelling
She started modelling at the age of twelve in a Wearhouse advertisement. The Bangalore-based fashion stylist and choreographer Prasad Bidapa was her mentor, and he groomed Nafisa as a model. Bidapa was introduced to a young Nafisa through his friends who thought Prasad was the best person for the young Nafisa to learn from. She took a break during her early days as a model to complete her final year of schooling and resumed modelling at the age of sixteen. In an interview, Prasad Bidapa described her as a thorough professional and said,
She was such a beautiful, brilliant girl. I would call her a superachiever."
Beauty Pageants
Nafisa told Bidapa that she wanted to become a professional model and started training under him and later informed him about her desire of participating in the Miss India contest (1997). Nafisa had to convince Prasad who thought that she was too young to participate in the contest as she was just nineteen years old. She was the youngest participant in the Femina Miss India Universe 1997 and was crowned the winner. She then participated in the Miss Universe Pageant in Miami Beach, Florida and reached the finals.
Video Jockey/Host
Following her victory in the Miss India contest, she hosted the program 'Housefull' which was telecasted on MTV, for five years between 1999 and 2004. In 2004, she left MTV and joined Star World and hosted the show 'Style.' In an interview, Prasad Bidapa said that when Nafisa left MTV in 2004, she had asked for his opinion on what she should do next in her career to which he pointed out to her that she should continue working for television and told her to be the Oprah Winfrey of Indian television.
Television Show
C.A.T.S.
In 2001, Nafisa was cast as one of the lead actresses in Sony Entertainment Television's series titled C.A.T.S. The program was based on the American series, Charlie's Angels, and Nafisa Joseph starred with Malini Sharma and Kuljeet Randhawa in the lead roles. Nafisa played the role of Careena, a detective.
Television Programming Unit
In 2004, she launched her own production company '2's Company' with the help of Gautam Khanduja. In an interview, she revealed that she had planned to start her new venture with a travel show.
Controversies
What made her end her life?
Some reports suggested that Nafisa was devastated after her marriage with Gautam Khanduja was called off. After she committed suicide, her parents immediately blamed Gautam's rejection had triggered her suicide and filed a complaint against him. In an interview, her mother said that after Nafisa had questioned Gautam regarding the divorce documents he called off the wedding and it heavily impacted Nafisa's mental health, and the following day Nafisa refused to eat, sleep or see a doctor and ultimately took her life. Following the complaint registered by her parents, Gautam filed for anticipatory bail which was rejected by a local court in Mumbai, which said that upon initial examination there were pieces of evidence against him for abetting Nafisa's suicide.  Following the rejection of anticipatory bail in the sessions court, he allegedly went underground and during that time he filed for an appeal at the Bombay High Court and was granted bail. He was later arrested under section 306 (abetment of suicide) and was questioned by the police, he was not kept in lockup, and his arrest was done for filing the chargesheet as he was accused of a cognizable offence. He told the police that he disliked her constant drinking and alleged that she was short-tempered and that they had multiple arguments after she was drunk, which made him reconsider their decision to get married. In his statement to the Versova Police, Gautam had cited Nafisa's drinking as one of the reasons behind their parting. The police said that there were temperamental differences between Nafisa and Gautam and pointed out it was the main reason for their parting. On 30 December 2003, Versova police fined Nafisa for rash driving following the complaint of a couple; she did not have her license with her at the time. Khanduja had accused that she was prone to reckless driving after she was drunk. Gautam had produced Nafisa's diary at the court and alleged that Nafisa suffered from periodic depression and anxiety, which triggered her suicide. He also pointed out that she had been using Restyl, which belongs to a class of medicines known as benzodiazepines, used to treat anxiety. In his affidavit, Nafisa's father, Nirmal Joseph, accused Gautam had misused her private diary to his benefit and refuted the claim that she was suffering from periodic depression, Joseph also added that the contents of the diary were taken out of context and time and argued that Nafisa started taking Restyl after a gap of one year when she failed to get the divorce papers from Khanduja and that she was upset over the fact that Gautam had continued to operate a joint bank account with his then-wife Nausheen Ali, even though Nafisa and Gautam were about to be married. Joseph rebutted Gautam's claim that Nafisa was a habitual drinker and slammed that it was a baseless argument. In an interview, one of Nafisa's friends alleged that a few days before Nafisa committed suicide, Nafisa had planned to file a defamation lawsuit against Gautam, who had spread false rumours about Nafisa, particularly about her drinking, among their common friends. Nafisa reportedly told her friend that Gautam suffered from an inferiority complex.  Some reports suggested that there were some inflicted injuries on her forearms and cheeks which were two days before her suicide and the bruises were said to have been made with a blade or fingernails. She also had a swelling below the left eye, which according to the police could have been caused by a blow to her cheek. While some reports suggested that she had inflicted these injuries by herself due to her depression, others suggested the possibility of an assault against her as she and Gautam did have a fallout before her untimely death. However, the autopsy reports denied any such injuries and the then DCP Amitabh Gupta said that Nafisa died of hanging and no other reason, also he refuted the claims that there were any injuries on her body as opposed to the reports which were circulated through different media. Some reports suggested that Gautam was not present at the Cooper hospital during Nafisa's autopsy and that he had distanced himself at her funeral; however, a friend of his said to the media that Gautam was present at the Cooper hospital when the autopsy was done but chose not to leave his car as he was afraid of the press. In his press release, Gautam lamented the intrusion of his privacy and accused the media had circulated false information about his family and the death of his fiance. He also denied the rumours that he was not divorced and clarified that he was indeed a divorcee as opposed to the reports propagated through different media. On November 2005, the High Court of Bombay stayed the trial in a lower court against Gautam Khanduja and restrained the sessions court from framing charges in the Nafisa case till 31 January 2006. In his plea of discharge submitted at the Bombay High Court, Khanduja hold to his statement that he had no connection with Nafisa's suicide. He pointed out that no links had been established to prove that the decision to cancel their marriage was the reason for her suicide. He also pointed out that it was not the first time Nafisa had broken off an engagement and cited her failed previous engagements with Sameer Malhotra and Sameer Soni.
Death
Nafisa committed suicide on 29 July 2004. According to some sources, she hung herself from a ceiling fan in her Juhu-Versova flat in Mumbai, India. Police autopsy reports confirmed that the model-turned-VJ ended her life by hanging. Nafisa was in depression following her split with Gautam Khanduja and some reports suggested that Nafisa confided with her mother and her close friend Poonam Malhotra and talked about her fiance and their cancelled wedding hours before she committed suicide. Usha Joseph, Poonam Malhotra, and a maid were present at Nafisa's flat when the model committed suicide. Some reports suggested that Nafisa reportedly asked her mother and friend to leave her alone and then locked them both in one room, she then asked her maid Durga, to leave the flat and went into her room and hung from the ceiling fan in her room using a dupatta. Durga had stayed around and it was she who alerted the watchman when Nafisa's mother raised an alarm from the room. The watchman entered the building through an opening near the AC duct of the room and broke the door and found Nafisa. Nafisa was alive when her mother and others first saw her and were rushed to a nearby hospital. But she was declared dead by the time she was taken to the Nonavati Hospital in Vile Parle, Mumbai, India. The autopsy was done at the Cooper hospital in north Mumbai, India, and her body was released to her relatives and was created later. Following the news of her demise, Rahul Bose told the media that he was shocked and said it was a tragedy. He added that she was a wonderful human being. Many prominent figures from the fashion world, television industry, and Bollywood paid tribute to the model and expressed their dismay at her sudden death. Bollywood actors Sanjay Suri and Amrita Arora along with Prasad Bidapa were present with the family till the last rites were completed.
Facts/Trivia
In an interview, she revealed that she was happy with modelling and hosting television shows and had ruled out a career in acting. However, she had done a cameo in Subash Ghai's directorial 'Taal' (1999).
In 1996, Nafisa worked as a VJ at MTV and in 1999, she worked as a judge for the MTV India VJ Hunt.
During the Miss World Pageant, Nafisa pointed out that according to her, bringing a child into the world and not being able to offer it peace was the biggest injustice done in the world.
In an interview, Indian actress Gul Panag who won the Femina Miss India Universe 1999, said that she got into the world of fashion after being inspired by how Nafisa Joseph had conducted herself during the Femina Miss India Universe 1997.
Nafisa had prepared for the LLB entrance examinations and was serious about pursuing a career in law; however, her plans were changed following her success as the Femina Miss India Universe in 1999.
In an interview, Indian entrepreneur Sharad Ashani revealed that the suicide of Nafisa Joseph had influenced him to come up with his Anti-Suicide Fan Rod, also known as the Gold Life Smart Fan Rod.
As a college student, she was interested in Literature and had told Cherian Alexander, her lecturer in English at St. Joseph's College (Autonomous), Bengaluru, Karnataka, that she would like to continue her studies once she was done with modelling.
Nafisa used to play guitar and piano since her childhood and was passionate about music. During her time at the Bishop Cottons Girl's School, Bengaluru, Karnataka, she was a member of the school choir.
In 2006, Kuljeet Randhawa, a co-star of Nafisa in C.A.T.S. committed suicide in her flat in Mumbai. Some reports suggested that Kuljeet was deeply affected by Nafisa's suicide, with whom Randhawa had developed a close bond during the filming of C.A.T.S. and also Kuljeet used to visit Nafisa's parents after her death and consoled them. In an interview, Nafisa's father, Nirmal Joseph, said that both he and his wife was shocked by the demise of Randhawa and pointed out that she used to often visit them and had visited them just two weeks before her death at their residence in Bangalore.
Nafisa was an ardent animal lover and was actively involved with organizations like People for the Ethical Treatment of Animals (PETA), Blue Cross of India, and People for Animals (PFA). She had numerous written articles for the Bangalore edition of The Times of India under the weekly column 'Nafisa for Animals.' In an interview, Anuradha Sawhney, the ex-Chief Functionary of Indian operations of PETA, described Nafisa as warm and compassionate and pointed out that Nafisa had never worn leather and always used cosmetics which were not tested on animals. Nafisa had seven cats and two dogs and often helped stray dogs and wounded animals on the streets. After her death, her parents took her pets to Bangalore with them. In an interview, she revealed her dislike for circuses and voiced her concern about using animals in the circuses. She was campaigning against the Gemini Circus in Bangalore opened in 1998.