Megan Schutt is an Australian cricketer who plays as a medium-fast bowler for the national team. In domestic cricket, she represents the South Australian Scorpions in the Women's National Cricket League (WNCL) and Adelaide Strikers in the Women's Big Bash League (WBBL). Her career highlights include taking a hat-trick in WT20Is during the 2017–18 India women's Tri-Nation Series, following which she became the first cricketer to take a hat-trick for Australia.
Wiki/Biography
Megan Schutt was born on Friday, 15 January 1993 (age 30 years; as of 2023) in Adelaide, South Australia. Her zodiac sign is Capricorn.
Growing up in Hackham West, her cricketing journey started at 11 when she filled in for someone in a Seaford club match. She recalled the incident in an interview, and said,
We used to play cricket on the road and we'd use whatever we could find — a tennis racquet, whatever — and one day, they needed someone to fill in for a club game at Seaford. In that game, I got bowled first ball, but I took a wicket with my first ball, too."
She did her primary schooling at Hackham West Primary School and then attended Wirreanda High School. She would actively take part in sports day competitions during her school days. While talking about the same in an interview, she said,
Sports day was my favourite day because I'd kick arse. I'd beat the boys, I'd beat the girls. I think I still hold the shot-put record at Wirreanda."
There, she was spotted by someone who was forming a girl's team and was invited to join. Soon after she was discovered by a SAPSASA scout, and before long, she started playing at the Flinders University Cricket Club. By 13, she was playing district cricket for Sturt Cricket Club, where her teammates included Australian cricketer Shelley Nitschke. Thereafter, she followed the state pathway through the U-15, U-17, and U-19. After completing school, she was encouraged to pursue tertiary education through the Australian Cricketers' Association. She did one year of a nursing degree before dropping out.
Physical Appearance
Height (approx.): 5′ 8″
Hair Colour: Dark Brown
Eye Colour: Brown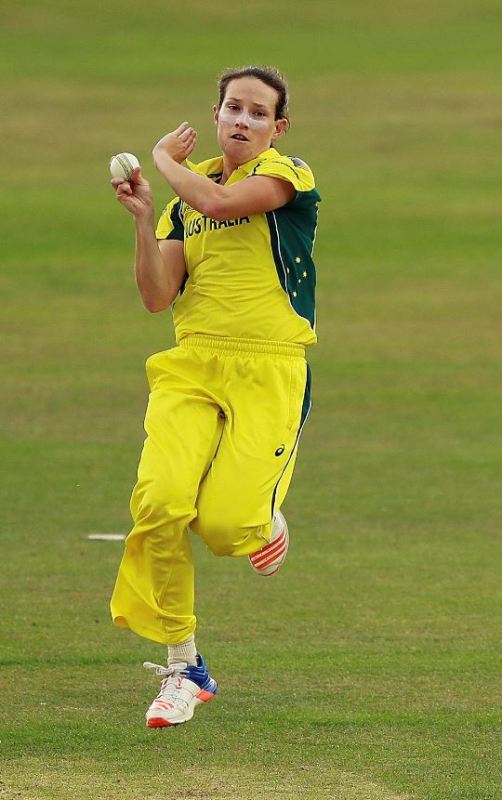 Tattoos
'Believe' inked on her wrist
An Alice in Wonderland theme tattoo inked on her back which includes the Cheshire cat, the words "Drink Me," a falling Alice, and the white rabbit jumping over anine of hearts playing card into a top hat.
A pineapple with sunglasses on one of the feet
A flamingo with a top hat on one of the feet
'Be a voice, not an echo' on her collarbone
'No place for hate' on the side of her right wrist
A smiling emoji near her right elbow
Family
She belongs to a Christian family.
Parents & Siblings
Her father's name is Brian, and her mother's name is Sue. She has an elder sister, Natalie, and a younger brother, Warren Schutt.
Husband & Children
On 31 March 2019, she got married to her longtime same-sex partner Jess Holyoake.
On 8 August 2021, Schutt made an announcement via an Instagram post that Holyoake was expecting their first child. Their daughter Rylee was conceived via a sperm donation on 18 August 2021. She was born 11 weeks premature.
Sexual Orientation
Megan Schutt is a lesbian. In an interview, she revealed that she maintained the façade through her schooling years and dated many guys. One of them in her senior years was a particularly caring one. Talking about him, she said,
I tried to love him in that sense, but it just didn't happen," she reflects. "I knew I wasn't being myself."
The first person Megan came out to was her brother. At that time, she was 16, and he was 12.
Religious Views
She shared her religious views in an interview and said,
This is probably going to offend some people, but I think religion is just something to follow, or believe in. I mean, I don't care if you are religious … but I believe you can believe in yourself and the people around you – your friends and family."
Signature/Autograph
Career
Domestic
In 2009, Schutt made her debut for the SA Scorpions at 16. In the 2015–16 Women's National Cricket League (WNCL) season, Megan Schutt was the highest wicket-taker with 14 dismissals. In 2018, she was named Scorpions' captain after the previous captain, Tegan McPharlin, chose to step down.
In 2015, she debuted for Adelaide Strikers in the inaugural Women's Big Bash League (WBBL).  She was the highest wicket-taker with 27 dismissals in the 2022–23 Women's Big Bash League season in which Adelaide Strikers won the title, defeating Sydney Sixers by 10 runs.
International
On 17 December 2012, she made her ODI debut against New Zealand at North Sydney Oval, Sydney during Rose Bowl 2012/13. She was a part of Australia's squad for the 2013 Women's Cricket World Cup in which Australia emerged as the champion, beating West Indies by 114 runs in the final. During the World Cup, Schutt appeared in all of Australia's seven matches in which she claimed 15 wickets. In the final against the West Indies Schutt opened the bowling for Australia; she claimed 2 wickets for 38 runs in the match. One of her best bowling performances for Australia includes the three-wicket haul for 40 runs which she claimed in the world cup group match against New Zealand. On 22 January 2013, she made her T20I debut against New Zealand at Junction Oval, Melbourne during the New Zealand Women tour of Australia 2012/13. On 11 August 2013, she made her Test debut against England at Sir Paul Getty's Ground, Wormsley during the Australia Women tour of England 2013. Schutt was the highest-wicket taker of the 2013 Women's Cricket World Cup, Schutt, with 15 wickets in 7 matches. In June 2015, she was named to Australia's squad for the 2015 Women's Ashes in England. She was named one of the players in the ICC Women's T20I Team of the Year in 2017. During the 2017–18 India women's Tri-Nation Series, she became the first Aussie woman to claim a T20I hat-trick. Schutt had India on the ropes in their chase of 187 for victory in the series. Schutt struck the first blow with the fifth ball of the second over of India's chase when she bowled Smriti Mandhana, the ball ricocheted off her pads and onto the stumps. Then, Schutt bowled Mithali Raj for a first-ball duck. Australian captain Meg Lanning did not let Schutt bowl the fourth over. Schutt returned to bowl the fifth over, and with her first delivery, the hat-trick ball, she had Deepti Sharma caught at a mid-off.
In 2018, she became the world's no. 1 ranked T20 female bowler following the T20I tri-series played in India. Australia emerged as a champion of the 2018 ICC Women's World Twenty20 with Megan Schutt as a leading wicket-taker with 10 dismissals. During the Australia Women tour of West Indies 2019, Schutt became the first Australian bowler to take a hat-trick in WODIs during the third match on 11 September 2019. With her hat trick in WODI, she also became the first female bowler to take two hat tricks in international cricket. In the 2020 ICC Women's T20 World Cup, Schutt emerged as the leading wicket-taker with 13 dismissals in the tournament, which included taking 4/18 in the final against India.
On 9 March 2020, ICC included Schutt in its team of the tournament.  Schutt was named in Australia's squad for the Women's Ashes 2021–22. She was a part of the 2022 ICC Women's Cricket World Cup squad for Australia, which won the title for the seventh time, defeating England in the finals. On 3 February 2022, Schutt took her 100th wicket in WODI cricket when she dismissed England opener Lauren Winfield-Hill. Australia emerged as a champion in the cricket tournament at the 2022 Commonwealth Games.
She took her 100th wicket in WT20I cricket during the 2022 Ireland women's Tri-Nation Series in the 4th WT20I against Ireland on 21 July 2022. She was a part of Australia's squad that won the title of the 2023 ICC Women's T20 World Cup following which she was named to the Team of the tournament by ICC.
The Hundred
For the 2022 season of The Hundred, she was bought by the London Spirit.
Women's Premier League (WPL)
In February 2023, she was bought by the Royal Challengers Bangalore for Rs. 40 lakhs for the inaugural season of WPL.
Favourites
Football Club: Adelaide Football Club
Rules Football Player(s): Taylor Walker, Eddie Betts, Tom Lynch
Film: Alice in Wonderland (1951)
Dialogue: "That's not normal, well, who's to say what normal is?" from the film Alice in Wonderland (1951)
Facts/Trivia
Her nickname is Shooter and Megs.
Although she was a "fluky good" cricketer as a teenager, she took a long time to fall in love with the sport. In a 2018 interview, she said until she was 19,


I took things for granted and I had to figure out how lucky I was to be playing a sport amongst really good people and a sport that is an incredible sport, it's so simple yet so complicated. It took me to appreciate everything around me to actually fall in love with the game … and I'm glad I did."

At 16, Schutt tried boundary umpiring in the Great Southern Football League. Once when she was called up for umpiring at a junior South Australian National Football League (SANFL), she realised that she preferred fielding in 38C heat over umpiring in pouring rain. Hence, she quit umpiring.
Schutt is an in-swinger for Australia. She changed her action from out-swing when she was 15 after a stress fracture in her back.
In 2018, Schutt returned to Adelaide after an 18-month stint in Brisbane at the National Cricket Centre after she was diagnosed with patella tendinitis in both knees for which she needed to do some heavy rehab. She required full-time access to her physio. Additionally, she wanted to spend some time with Jess Holyoake, her then-girlfriend, who was a facilities officer at Cricket Australia. Talking about it in an interview, she said,


I got to spend time with Jess, but also fix my body which was essential. If I didn't fix it then, it would have never got fixed and I would have had to end my career at 27."

Apart from cricket, Schutt loves skateboarding and is fanatical about the Adelaide Football Club (nicknamed the Crows).
She follows politics and holds strong opinions. She is also a proud gay rights advocate.
Her jersey number for #3 for Australia Women and #27 for Adelaide Strikers.
She occasionally consumes alcoholic beverages.