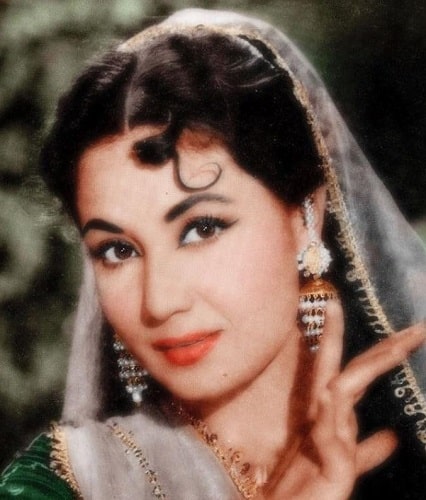 Meena Kumari (1933-1972) was a renowned Indian actress, singer, and poet. She got the name 'The Tragedy Queen' for her roles in various Hindi films. She wrote poetries under her pen name 'Naaz.' She is considered one of the best actresses in Bollywood. On 31 March 1972, she took her last breath at St Elizabeth's Nursing Home in Mumbai, and the cause of her death was determined to be liver cirrhosis.
Wiki/Biography
Meena Kumari was born as Mahjabeen Bano on Tuesday, 1 August 1933 (age 38 years; at the time of death) in Bombay, Bombay Presidency, British India (now Mumbai), India. Her zodiac sign is Leo. She did not have any formal education.
Meena Kumari in Orphanage
After Meena Kumari was born, her father Ali Bux felt disappointed because he had hoped for a son. At that time, Ali was facing financial difficulties and didn't have enough money to pay the hospital fees after Meena's birth. Feeling upset about the situation, he left baby Meena in front of an orphanage. However, when Meena started crying after being bitten by ants, he had a change of heart and decided to take her back home with him.
Physical Appearance
Height (approx.): 5′ 6″
Hair Colour: Brown
Eye Colour: Brown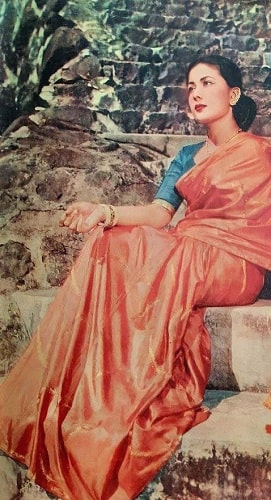 Family
Her father was a Sunni Muslim and her mother was a Christian.
Parents & Siblings
Her father, Master Ali Bux, was a Parsi theatre artist, Urdu poet, music composer, and musician. Her mother, Iqbal Begum (Prabhavati Devi before marriage), was a stage actress and dancer, who was popular with the stage name Kaamini. Meena's elder sister, Khursheed Bano, was a singer, and her younger sister, Mahliqa (known as Madhu), was a film actress.
Husband & Children
At the age of 6, Meena Kumari met the Indian film director Kamal Amrohi for the first time while they were both on a film set. As a teenager, she read an article about Kamal in a magazine and started developing feelings for him. Later, on the set of one of her films, she was introduced to Kamal Amrohi by the Indian actor Ashok Kumar. At that time, Kamal had been married twice before and had three children from his previous marriages. Kamal offered Meena a role in one of his films, but before the project could begin, Meena Kumari met with a car accident on 21 May 1951. She was hospitalized for a long time and went through depression. During her time in the hospital, Kamal regularly visited her and they exchanged letters, which provided comfort to Meena during her difficult time.
After spending four months in the hospital, Meena was finally discharged, and they started having long phone calls. Kamal had signed Meena for a film named 'Anarkali,' but the producer faced a major financial crisis, and the film got shelved. At the age of 18, Menna decided to get married to Kamal Amrohi in a secret nikaah ceremony. Only Meena's sister, Mahliqa or Madhu, was present as Meena's family was against her marrying Kamal.
After a few years of their marriage, Kamal became possessive of Meena and started imposing strict rules on her. He would ask her to come home by 6:30 in the evening, no one was allowed in her makeup room, and she had to use only the car that Kamal provided for her. There were also rumours of Meena facing domestic violence. However, Kamal denied these rumours. According to Meena Kumari's biography written by Vinod Mehta, Vinod interviewed Kamal Amrohi and asked him about the rumours of physical violence. In the book, he wrote,
When her star start rising, his went down. I asked Kamal Amrohi if indeed he had hit her as per many rumours. He completely denied it, saying that such a thing was totally against his upbringing. But six different people told me that there was physical violence in their relationship. Those were the days when Meena Kumari would come back Rembrandt till late at night."
Several other people mentioned that there was indeed physical violence in their relationship. Reportedly, Kamal divorced Meena by saying 'talaq' three times in a fit of anger. However, Meena's stepson, Tajdar Amrohi, refuted the claim, considering it a false belief spread by ill-wishers. According to some other sources, Meena is said to have performed the Nikaah Halala with Amanullah Khan (Zeenat Aman's father) before eventually returning to Kamal Amrohi. In 1964, Meena Kumari and Kamal Amrohi got officially divorced. Earlier, during the mahurat of the film 'Pinjre Ke Panchhi,' Meena was in her makeup room when Kamal Amrohi's assistant, Baqar Ali, slapped her. Meena had insisted that the lyricist Gulzar should be allowed into her makeup room, but Kamal had different rules for his wife, and for this, Baqar slapped her. After the incident, Meena Kumari told Baqar that she would not be going home that night. Meena Kumari felt burdened by many rules, constant surveillance of her whereabouts, and strict regulations. These factors contributed to her feelings of depression. She even consulted a doctor, who prescribed a small dose of brandy to help her sleep better. However, this medicine soon turned into an addiction, and Meena started drinking heavily. By 1968, her health had deteriorated significantly, and she had to seek treatment at renowned hospitals in London and Switzerland, where she was diagnosed with liver cirrhosis. The doctors advised her not to resume work immediately after recovering, but despite this, Meena returned to India from London and resumed acting in films. Some sources claim that problems started arising between Meena Kumari and Kamal Amrohi due to her alleged extramarital affair with the Indian actor Dharmendra. She did not have her own children. She took care of her stepson Tajdar Amrohi, who used to call her chhoti-Ammi.
Other Relatives
Her maternal grandmother, Hem Sundari, was married to a cousin of Rabindranath Tagore. Later, her grandmother got married to the Indian journalist Pyare Lal Shakir Meeruti. Her younger sister, Mahliqa aka Madhu, was married to the Indian actor-comedian Mehmood Ali.
Relationships/Affairs
Dharmendra
After her separation from her husband, the rumours of her affair with the Indian actor Dharmendra started. At that time, Dharmendra was a struggling actor, and Meena was supporting him financially.
In her biography, the author Vinod Mehta said,
The popular view is that Meena and Dharam were intimate for three years. The inside view is that the intimacy lasted no more than six months".
Once, Dharmendra attended a movie premiere in Delhi where he indulged in heavy drinking during the party. However, when he tried to board a flight back to Mumbai, the airport authorities refused him entry, leading to an altercation where he raised his voice at them and said,
But I must get back to Bombay. I must. Meena is waiting for me."
During a picnic outing with her group of friends, Meena unknowingly sat in the wrong car during their return from the picnic spot. This caused Meena to become extremely anxious and hysterical, frantically searching for Dharam. While seated cross-legged inside her own car, she repeatedly shouted out to inquire about Dharmendra's whereabouts. She said,
Where is my Dharam? Where is my Dharam?"
According to several sources, there were claims that in her ex-husband Kamal's film Razia Sultan, he cast Dharmendra and intentionally portrayed him in black from head to toe. This act was believed to be Amrohi's way of seeking revenge against the man who had captured his wife's attention and affection.
Gulzar
There were also rumours that she dated the Indian lyricist Gulzar. However, Gulzar denied all such rumours.
Autograph
Career
Actor
Film
At the age of four, she made her Bollywood debut with the film 'Leather Face' (1939) in which she played the role of Baby Mahjabeen.
Some of her other films as a child actor are 'Adhuri Kahani' (1939), 'Pooja' (1940), 'Kasauti' (1941), 'Vijay' (1942), 'Pratiggya' (1943), and 'Lal Haveli' (1944). In 1946, she adopted the screen name Meena Kumari in the film 'Bachchon Ka Khel.'
She then appeared in various Hindi films like 'Hamara Ghar' (1950), 'Sanam' (1951), 'Madhosh' (1951), 'Hanuman Patal Vijay' (1951), and 'Aladdin Aur Jadui Chirag' (1952). Gradually, she started gaining popularity with the films like 'Baiju Bawra' (1952), 'Parineeta' (1953), 'Chandni Chowk' (1954), 'Azaad' (1955), and 'Mem Sahib' (1956).
Meena Kumari acted in Hindi films such as 'Sharada' (1957), 'Sahara' (1958), 'Chirag Kahan Roshni Kahan' (1959), 'Dil Apna Aur Preet Parai' (1960), and 'Bhabhi Ki Chudiyan' (1961) after which she became popular as 'The Tragedy Queen.' Meena Kumari received critical acclaim for her Hindi films such as 'Sahib Bibi Aur Ghulam' (1962), 'Aarti' (1962), 'Dil Ek Mandir' (1963), 'Phool Aur Patthar' (1966), 'Majhli Didi' (1967), and 'Baharon Ki Manzil' (1968).
In 1970, she acted in a few Hindi films like 'Jawab' (1970), 'Mere Apne' (1971), and 'Gomti Ke Kinare' (1972; released after her death as a tribute).
Last Film
In 1956, the production of the Hindi film Pakeezah started. Meena Kumari was determined to finish the film despite her limited time due to health issues. She worked hard to complete it early, even though her health was deteriorating rapidly. The film had a grand premiere on 3 February 1972, at the Maratha Mandir Theatre in Central Bombay. The prints of the film were carried in a beautifully decorated palanquin. It was released on 4 February 1972 and turned out to be a big success, running for 33 weeks and celebrating its silver jubilee. However, a few days after the film's release, Meena passed away.
Playback Singer
Meena also worked as a singer in various Hindi films like 'Bahen' (1941), 'Duniya Ek Sarai' (1946), 'Piya Ghar Aaja' (1948), 'Bichchade Balam' (1948), and 'Pinjre Ke Panchhi' (1966). She also lent her voice to the Hindi film 'Pakeezah.' However, instead of releasing the song in the film it was released in the music album 'Pakeezah-Rang Barang' (1977). She took only a rupee for the film.
Television
Apart from films, she acted in a few Hindi TV serials. She mainly used to act in mythological TV serials. She was featured in various TV commercials like Zaveri Jewellers and Lux soap.
Poet
Meena Kumari was a poet too and penned various poems under the pen name Naaz. In 1971, her poems were released under the album 'I write, I recite' by the music label LP Vinyl Record, and the music was given by Mohammed Zahur Khayyam. She gave the voice to her poems in the album. On 19 September 2006, the album was re-released. In 1972, her poems were compiled by the Indian lyricist Gulzar for the album 'Tanha Chand.' In 2014, 'Meena Kumari, the Poet: A Life Beyond Cinema' with her poems and nazams was released.
Other Work
In 1953, Meena Kumari and the Indian actor Ashok Kumar appeared in an international Dunlop UK advertisement titled 'Dream House.'
Meena Kumari co-produced the film 'Phool Aur Patthar' (1966), which went on to become a major commercial success. In 1967, her voice was featured in the documentary 'After The Eclipse,' which was produced by S. Sukhdev. She presented a radio programme named 'Jaimala,' which was broadcasted by Radio Ceylon. In 1972, she designed the costume for the Hindi film 'Pakeezah.'
Awards
Filmfare Award
1954: Won Best Actress Award for Baiju Bawra
1955: Won Best Actress Award for Parineeta
1956: Nominated for Best Actress for Azaad
1959: Nominated for Best Actress for Sahara
1960: Nominated for Best Actress for Chirag Kahan Roshni Kahan
1963: Won Best Actress Award for Sahib Bibi Aur Ghulam
1963: Nominated for Best Actress Award for Aarti
1963: Nominated for Best Actress for Main Chup Rahungi
1964: Nominated for Best Actress for Dil Ek Mandir
1966: Won Best Actress Award for Kaajal
1967: Nominated for Best Actress for Phool Aur Patthar
1973: Nominated for Best Actress for Pakeezah
Bengal Film Journalists' Association Award
1958: Won Best Actress Award (Hindi) for Sharada
1963: Best Actress Award for Aarti
1965: Best Actress Award for Dil Ek Mandir
1973: Special Award for Pakeezah
Shama-Sushma Film Awards
1973: Best Actress Award for Pakeezah
Car Collection
Assets/Properties
She owned an apartment on the eleventh floor of a building 'Landmark' at Carter Road, Bandra, Mumbai.
Death
On 31 March 1972, Meena Kumari passed away at St. Elizabeth's Nursing Home in Mumbai due to cirrhosis of the liver which was caused due to overconsumption of alcohol. In June 1968, she received treatment in London and Switzerland. After recovering, she returned to India in September 1968 and resumed her work, but her recovery was only temporary. Three weeks after her film 'Pakeezah' was released, Meena Kumari fell seriously ill and was admitted to St. Elizabeth's Nursing Home on 28 March 1972. Two days later, she slipped into a coma and passed away on 31 March 1972. As per her husband's wish, Meena Kumari was buried at Rehmatabad Cemetery in Narialwadi, Mazagaon, Bombay. On her tombstone, she had requested the following prose,
She ended life with a broken fiddle, with a broken song, with a broken heart, but not a single regret."
Following her husband's death on 11 February 1993 in Bombay, he was buried next to her, as per his wish.
In Popular Media
In October 1972, the Indian author Vinod Mehta penned the official biography of Meena Kumari titled 'Meena Kumari: The Classic Biography.' It was re-published in May 2013.
In 1998, an unofficial biography titled 'Simply Scandalous' was authored by Mohan Deep.
In 2006, another biography of Meena Kumari titled 'Aakhri Adhai Din' was written in Hindi by Madhup Sharma.
The film 'Meena Kumari Ki Amar Kahani,' released in 1979, was a tribute to the late actress. In 1980, a documentary named 'Shaira' was made on the life of Meena Kumari. It was directed by S. Sukhdev, along with Gulzar, and produced by Kanta Sukhdev. In 2018, a play titled 'Ajeeb Daastaan Hai Yeh' was performed at Jawahar Kala Kendra in Jaipur, portraying the life of Meena Kumari.
Facts/Trivia
In an interview, she shared that her parents used to call her Chini because of her small eyes. She was also lovingly called Manju by her family and friends.
During her childhood, Meena Kumari did not have an interest in making a career in film and preferred attending school instead. She wanted to become a lawyer or doctor. However, she pursued her acting career at a very young age as her family's financial condition was not good.
In childhood, Meena Kumari's father did not allow her to play or indulge in leisure activities, as he believed it was a waste of time. Instead, he wanted her and her sisters to focus on work and earning money.
The Indian director Vijay Bhatt gave her a chance to appear in the film 'Leatherface.' She got Rs 25 for the film which she used to pay the rent. It was during the filming of the film that she got the name 'Baby Meena.' Earlier, one of the unit members jokingly remarked that she sounded like a stout Begum Sahiba. As a result, the makers offered her a choice of a few names like Kamla, Prabha, and Meena. She chose the third option.
Once, while travelling by car from Mahabaleshwar to Mumbai, Meena Kumari had a terrible car crash. She was rushed to Sassoon Hospital, where doctors found that her left hand was badly injured. Due to the severity of her injury, Kumari had to stay in the hospital to recover. In the accident, the little finger of her left hand was broken and had a crooked appearance. On several occasions, Meena Kumari used to make a deliberate effort to conceal her left hand from the camera's gaze.
Meena Kumari had a strong preference for the colour white. Despite not being a party person, she would attend various events and gatherings. However, she often felt bored on such occasions. Additionally, Meena Kumari's house was adorned predominantly with white objects, as described in Vinod Mehta's biography.
Her floral and traditional Banarasi silk and Kanjeevaram saris set a trend which is still followed by many Indian fashion designers.
In the 1960s, Meena Kumari started a new fashion trend by wearing a lungi, which became popular among girls. She donned a lungi for the song "Mausam hai aashiqana" from the movie Pakeezah.
Before going to bed, Meena Kumari would always keep mogra flowers by her bedside.
She had a passion for driving cars, and when she turned 18, she bought a second-hand car, a Plymouth.
In her leisure time, she loved to read poetries & books, write a diary, and listen to music. She used to read novels by Agatha Christie.
After separating from her husband, she started drinking heavily and eventually became an alcoholic.
It is said that during emotional scenes, she never relied on glycerine to shed tears, instead, she always shed real tears while acting.

During her era, Meena Kumari was the highest-paid female actress and the first one to own an Impala car.
During her recovery, an interesting incident took place while shooting her last film, Pakeezah. The director, Kamal Amrohi, and the crew faced some challenges during the outdoor shoot. They ran out of petrol and were stranded on the road in a bandit area. Late at night, about a dozen bandits surrounded their cars and asked everyone to get down. Instead of complying, Kamal Amrohi boldly stayed in the car and invited them to come to his vehicle if they wanted to talk. He introduced himself as Kamal, the filmmaker shooting in the area, and explained that their car had run out of petrol. Interestingly, the bandits realized they were dealing with a film crew and changed their demeanour. They provided entertainment, music, and food to the crew, and even arranged a place to sleep for the night. The next morning, they helped the crew get petrol for their car. One of the bandits, Amrit Lal, asked Meena Kumari to give her an autograph on his hand with a pointed knife.
Various media publications have also acknowledged Meena Kumari's talent and popularity. She was featured in Box Office India's Top Actresses list from 1952 to 1961, and several publications, including Hindustan Times, listed her among the topmost sex symbols of Bollywood. In 2011, Rediff ranked her as the fourth-greatest Indian actress of all time, praising her outstanding performance in "Sahib Bibi Aur Ghulam" for its seamless blending of actress and character. In 2012, NDTV placed her at No. 3 in their list of "The most popular Bollywood actresses of all time."
Pandit Lachhu Maharaj, a renowned Kathak master, praised Kumari's exceptional dancing skills. He admired her graceful turns and the angles of her shoulders, noting that these natural talents couldn't be taught and were innate to her.
Kumari's career achieved a remarkable milestone that no other actress has matched. In the 68 editions of the Filmfare Awards, she attained a unique distinction by receiving all the nominations in the Best Actress category. Her record for the highest number of wins in the Best Actress category at the Filmfare Awards remained unbroken for an impressive 13 years, from 1966 to 1979, until it was finally surpassed by Nutan at the 26th Filmfare Awards in 1979.
During the last days of her life, she used to feel very sad and lonely. She started placing pieces of stone on her bed while sleeping. Meena believed that stones were special because they understood her feelings. She once said that when she cried, the stones seemed to cry with her, and when she laughed, they seemed to share her joy. The stones were like her good friends, always listening when she talked to them and giving her comfort when she hugged them.
A few days before her demise, Meena Kumari was admitted to St. Elizabeth nursing home. In her room, she expressed her fear of death, repeating,


Apa, Apa, I don't want to die."
In 1972, after her demise, her close friend Nargis Dutt wrote a letter in memory of Meena Kumari, which was published in an Urdu magazine, where she said,


Meena, Maut Mubarak Ho!"

Nargis shared how their friendship began during the shooting of the film 'Main Chup Rahungi.' Nargis' husband, Sunil Dutt, invited her to the sets with their kids, and that's when she became great friends with Meena. Nargis recalled a moment when she noticed Meena looking tired and panting during a trip to Madras. When she asked, Meena said everything was fine, but Nargis suspected something was wrong, and later, she heard disturbing sounds from Meena's room. Nargis then confronted Kamal Amrohi's secretary, Baqar, about their treatment of Meena. She questioned Baqar,

Why do you people want to kill Meena? She has worked enough for your sake, For how long is she going to feed you?' He said, when the right time comes, we will rest her."

After returning to Bombay, Nargis and Meena didn't meet for a long time. Eventually, Nargis got the news that Meena had left Kamal's home and was staying with Mehmood. Meena had a heated confrontation with Baqar on a film set, leading to a tense situation. Rumours of Meena's alcoholism also started circulating, and it was affecting her health. When Nargis visited her in the hospital, she expressed concern about Meena's self-destructive behaviour. Meena revealed the incident with Kamal's secretary and how Kamal reacted, which made her decide not to go back to him.
Meena Kumari is the only actress to be nominated for an award posthumously. Even after her passing, she received a posthumous nomination for her remarkable performance in 'Pakeezah' at the 20th Filmfare Awards in 1973. The 20th Filmfare Awards sparked controversy when Kumari did not win an award for her outstanding performance in 'Pakeezah.' Filmfare defended its decision by explaining that its rules did not allow for posthumous awards at that time. They mentioned that both Ghulam Mohammad, the music director of 'Pakeezah,' and Josef Wirsching, the cinematographer, also lost out on awards for the same reason.
In 1958, Meena Kumari played the role of a blind woman in the film 'Sahara,' which had a profound impact on her. This experience inspired her to create a charitable trust in her will, with the aim of supporting and assisting visually impaired individuals. Meena Kumari wanted to establish a workshop to benefit the blind as well. While she specified that a portion of her belongings should be devoted to this cause, her wishes were not fulfilled by those responsible for executing her will. Under the guidance and efforts of actress Nargis Dutt and filmmaker Khwaja Ahmad Abbas, the Meena Kumari Charitable Trust was eventually set up. Their goal was to raise One Lakh Rupees (100,000 rupees) for the project. To generate funds, the trust organized a special premiere of Meena Kumari's film 'Gomti Ke Kinare,' which successfully collected 50,000 rupees from the event. Despite facing challenges, the trust managed to donate the collected 50,000 rupees to 'The Muncherjee Nowrojee Banajee Industrial Home for the Blind' in Jogeshwari, Mumbai. Due to the lack of support from the film industry, Nargis Dutt had to make the difficult decision to close down the Meena Kumari Charitable Trust. Nonetheless, Meena Kumari's impact on the cause of helping visually impaired individuals left a lasting legacy. In October 1973, a memorial called the Meena Kumari Memorial for the Blind was established.
Kumari also held the record for the highest number of nominations in the Best Actress category, receiving a total of 12 nominations. However, after 35 years, this record was eventually broken by Madhuri Dixit at the 53rd Filmfare Awards in 2008.
A postal stamp with a face value of 500 paise was issued in her honour on 13 February 2011 by India Post.
Meena Kumari's remarkable performances in "Sahib Bibi Aur Ghulam" and "Pakeezah" earned her a place in Filmfare's list of "80 Iconic Performances" in 2010. Her films "Baiju Bawra" and "Do Bigha Zameen" were recognized among the greatest films in a poll conducted by the British Film Institute. On the occasion of the centenary of Indian cinema, a poll conducted by News18 featured her films "Pakeezah," "Sahib Bibi Aur Ghulam," and "Do Bigha Zameen" in the list of 100 best films ever made.
In 2012, a section of the Bandstand Promenade in Bandra, Mumbai, called the Walk of the Stars, was inaugurated to honour film artists from the Hindi film industry. Meena Kumari's autograph was included along with statues, handprints, and autographs of other renowned artists. However, the Walk of the Stars was later dissolved in 2014.
On 24 February 2016, an exceptional exhibition took place at the Womanhood Festival held in Osianama Liberty, Mumbai, India, showcasing Kumari's original publicity material and memorabilia. The exhibition featured beautiful paintings and portraits from her films, offering a glimpse into her cinematic journey and celebrating her significant contributions to Indian cinema and womanhood.
On 1st August 2018, Google paid tribute to Meena Kumari on her 85th birth anniversary by featuring a Google Doodle in her honour. The search engine described her as an actress who captivated audiences with her beautiful, expressive eyes and portrayed strong yet vulnerable women on screen. Her performances were praised for the flawless moments and complex emotions she conveyed without even saying a word.
She learnt to play table tennis from the Indian actor and comedian Mehmood, who was her brother-in-law.
Meena Kumari's eyes were considered her best feature, captivating and expressive. Her sharp-winged eyeliner became quite popular.
She could speak multiple languages like Urdu, Hindi, English, and Bengali.
Besides her acting abilities, Meena Kumari had a hidden talent for painting and enjoyed creating beautiful artwork during her free time. She was also skilled at playing the Harmonium and often played it as a hobby.
She ventured into the real estate business, acquiring various properties in Mumbai.
Meena Kumari held great admiration for the legendary actor Dilip Kumar and considered him one of her favourite co-stars.
A close friend and legendary artist from Bollywood revealed a touching aspect of Meena Kumari's life, sharing how she was incredibly generous and helped those in need, even giving away everything she had. Unfortunately, towards the end of her life, she faced financial struggles and fell ill, lacking funds for medical treatment. She passed away in a difficult situation, in the outhouse of a bungalow she had gifted to her sister and her sister's husband, the comic legend Mehmood. Her last days were spent in loneliness and hardship, surviving on meals provided by others.
Meena Kumari remains a subject of interest among present-day filmmakers. Some film adaptations were planned, including a modern-day version of her classic film "Sahib Bibi Aur Ghulam" which was initially set to star Aishwarya Rai and later Priyanka Chopra. Although the film got shelved. A TV series directed by Rituparno Ghosh was also made, with actress Raveena Tandon portraying Meena Kumari's role.
In 2023, the Pakistani media shared that the Pakistani actress Meera would play the role of Meena Kumari in the remake of the Hindi film Pakeezah (1972).
In the same year, the Indian fashion designer Manish Malhotra announced that he would direct the biopic of Meena Kumari in which the Indian actress Kriti Sanon would portray Meena. However, soon after the announcement, Meena Kumari's stepson Tajdar Amrohi raised objections to it. He stated that he would wait for an official confirmation regarding the biopic before deciding to take any legal action. He said he was not even consulted by the makers of the film before announcing the biopic.