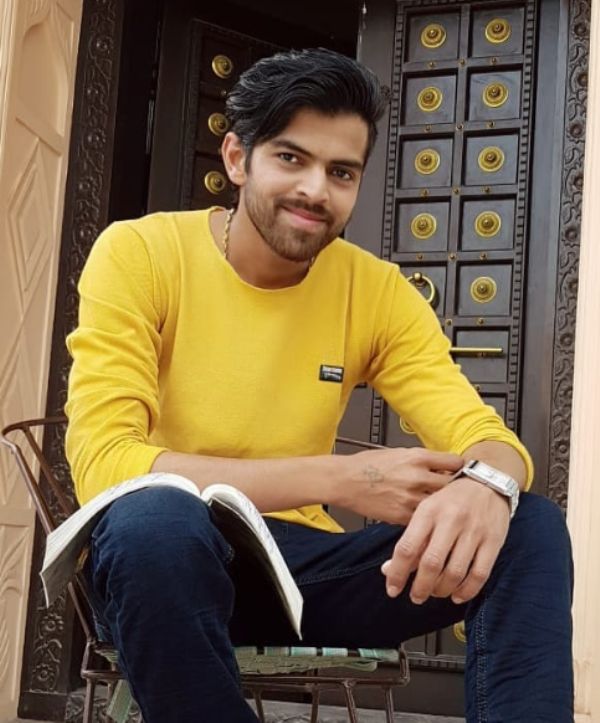 Masoom Sharma is an Indian singer, lyricist, and composer, who is well known for lending his voice to Haryanvi music videos. In 2014, Masoom shot to fame with his Haryanvi song Kothe Chad Lalkaru, which garnered more than 2 crore views.
Wiki/Biography
Aarya Masoom Sharma was born on Wednesday, 27 March 1991 (age 32 years; as of 2023) in Brahmanwas, Jind district, Haryana, India. His zodiac sign is Aries. He completed his schooling at Government Public School, Brahmanwas. Masoom pursued his graduation in music from Kurukshetra University in Haryana. He pursued an acting course from the State Institute of Film and Television, Rohtak, Haryana.
Physical Appearance
Height (approx.): 5′ 11″
Weight (approx.): 65 kg
Hair Colour: Dark Brown
Eye Colour: Black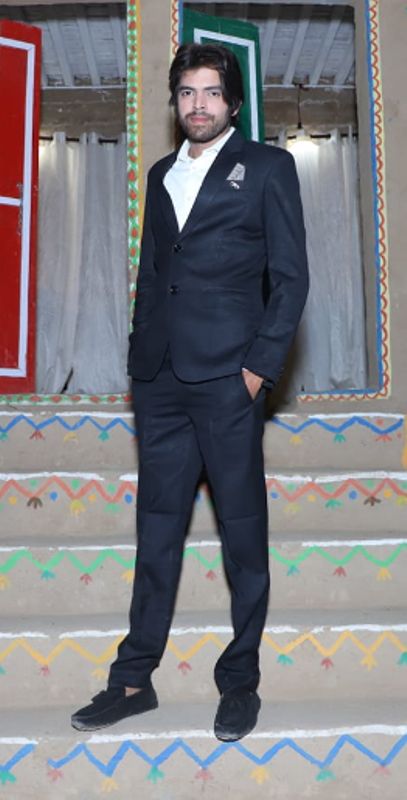 Family
Parents & Siblings
There is not much information about Masoom's parents. He has two brothers, Vikas Brahminwas, who is a politician and Deepak Sharma.
Wife & Children
Masoom Sharma got married on 30 October 2017.
Together, the couple has a son, Netritv Sharma, and a daughter, who was born on 9 June 2020.
Religion
Masoom Sharma follows Hinduism.
Address
Masoom resides on the 8th floor, Sun City Residency, Rohtak, Haryana, India.
Career
Since childhood, Masoom had a special interest in singing. He used to perform Haryanvi Ragnis during cultural shows in his hometown. In 2009, he launched his first music album "Jalwa Haryana," which was composed of eight audio songs, but the album failed to impress the audience. After receiving an average response from the audience for his debut album, Masoom, along with his friend, Mukesh Grover launched a company, GV Videos, which released Masoom's Haryanvi songs cassettes and DVDs. In 2014, Masoom lent his voice to the song Kothe Chad Lalkaru, featuring Anjali Raghav. Later, he rendered his voice to a few songs like Gandaas Hori Se (2016), Gaddya Me Ek Luhari (2016), Challiya (2017), Baitha Balad Kade Laat Maar Kai Thaya Na Karte (2018), Kille Aala Jaat (2018), Bheeda Palang (2018). In 2021, Masoom's song, 2 Numbari, was immensely appreciated by the viewers as it amassed views over 13 crores. In 2023, he gave his voice to the song Khule Khule Baal, starring Sapna Choudhary, which garnered views over 6 crores.
Controversies
Received death threat over the phone
On 16 March 2021, Masoom Sharma received a death threat over a Whatsapp call and text. At first, the caller threatened Masoom and abused him through a Whatsapp call, and later he dropped a Whatsapp text and intimated to kill his family members. He said,
When I asked the caller his identity, he did not respond and hung up."
Terrified by the call, Massom immediately registered a complaint at the Julana police station and asked for help to identify the accused.
Case registered for allegedly blackmailing a woman
In December 2021, a woman filed a complaint against Masoom Sharma and three other people namely Gaurav, Vikas, and Deepak at the Julana police station for allegedly abusing her sexually and intimidating her with death threats. In her complaint, the woman claimed that she was raped by Masoom's brothers, Vikas and Deepak, and one of their mutual friends, Gaurav. The woman alleged that Gaurav asked for an amount of Rs. 48000 on the pretext of treating his ill mother. After a few days, when she asked for her money, Gaurav refused to pay back the borrowed money. However, he called the victim at one of Masoom's recording studios on the pretext of paying her the amount back, but on the contrary, raped her. He recorded the incident and blackmailed her to make it viral. Later, she was raped by Masoom's brothers, Vikas and Deepak. The victim went to Masoom to aware him of the mishappening, but Masoom instead threatened to kill her if she revealed the incident to anyone. On the complaint of the woman, a case was registered against Masoom, Deepak, Vikas and Gaurav.
Fired at the comedian Vishwash Chauhan
In July 2022, Masoom Sharma was accused of firing at Vishwash Chauhan with his revolver at his residence in Rohtak, Haryana. Vishwash, famous for his acting and stand-up comedy skills, got into a heated argument with Masoom following which out of anger, Masoom fired at him, but the bullet, fortunately, didn't hit Vishwash. Vishwash claimed that Masoom, at gunpoint, allegedly threatened him to vacate his apartment within fifteen days. Later, Vishwash filed a complaint with the local police station against Masoom and consequently, both parties settled their dispute in presence of the police officials.
Car Collection
Masoom Sharma owns a Force Gurkha.
Facts/Trivia
In 2021, a person named Manish Sharma, a resident of Nangal Village, Baghpat District, Uttar Pradesh,
created a fake account on Facebook under Masoom Sharma's name and texted random girls with the pretext of providing modelling opportunities to them in the music videos. Manish allegedly faked himself as Masoom Sharma and used to chat inappropriately with several girls. When the fake Facebook account under his name came to Masoom's notice, he reported the matter immediately to the Julana police station following which the police arrested Manish with the help of the cyber cell.
In January 2021, amidst the Indian farmer's protest, Masoom Sharma was invited to meet the Bharatiya Janata Party member and the 10th Chief Minister of Haryana Manohar Lal Khattar in Chandigarh. Along with other artists, he was invited to discuss the problems faced by the Haryanvi artists. However, Masoom was badly trolled by the netizens for meeting Manohar as it was alleged that Masoom was against the farmers and that his meeting with Manohar was a deliberate action to support the implementation of the farm laws by the BJP government.
On 20 January 2022, Masoom released a Haryanvi song, Chand, which garnered views of over 3.5 crores on YouTube. Within fifteen days of its release, the song featured in more than 1o lakh reels on Instagram.
On 23 June 2022, the song 'SYL' was released on YouTube, which was written and sung by Sidhu Moose Wala. The song, which was released within three weeks after his death, was removed from YouTube on 28 June 2022, after the Centre government filed a complaint against the song. The song allegedly focussed on various controversial elements like the dispute related to the sharing of water between Punjab and Haryana through the Satluj Yamuna Link Canal, ownership of Punjab in the canal's water, undivided Punjab, the 1984 anti-Sikh Riots, and hoisting of the Sikh flag at the Red Fort during the farmer agitation. On the contrary, Masoom Sharma released a song, SYL Haryanvi, which was in response to Moosewala's SYL song. Through the song, Masoom highlighted the fact that the water belongs to both states and the Haryanvi people had a right of 50 per cent share in the water of the Satluj Yamuna Link Canal.
In December 2022, Masoom joined the Bharat Jodo Yatra on invitation by the Indian politician Rahul Gandhi.
In an interview, Masoom stated that Manisha Sharma, Sheenam, Raju Punjabi, and Bhagat Ram are one of his favourite Haryanvi singers.
Masoom took professional music training from his guru, Pandit Ram Das Sharma.
Masoom's first international concert was held in Cyprus.
Masoom is often spotted smoking hookah and consuming alcoholic beverages occasionally.