Manisha Keer is an Indian sports shooter. She won the Women's Trap Team event in the 2022 Asian Games along with Preeti Rajak, and Rajeshwari Kumari.
Wiki/Biography
Manisha Keer was born on Thursday, 15 July 1999 (age 24 years; as of 2023) in Goregaon, Bhopal, Madhya Pradesh. Her zodiac sign is Cancer. Manish Keer belongs to a lower middle-class family and since the age of 4, along with her siblings, helped her father in the fishing business. She pursued her education till class 10 and later focused on her shooting practices full-time.
Physical Appearance
Height (approx.): 5′ 2″
Weight (approx.): 52 kg
Hair Colour: Black
Eye Colour: Black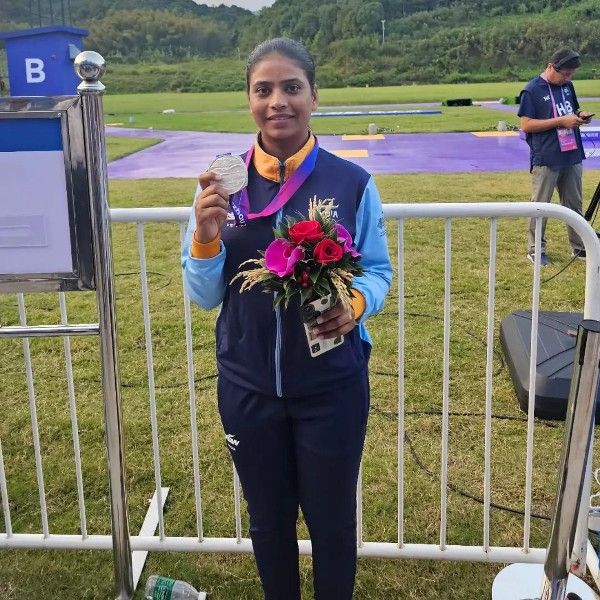 Family
Manisha Keer belongs to a lower-middle-class family from a fishing community in Bhopal.
Parents & Siblings
Manisha Keer's father, Kailash Keer, owns a fishing business and is a chestnut farmer and her mother, Shakuntla Devi Keer, is a homemaker. Manisha Keer has 3 sisters and 3 brothers. Her siblings Sona Keer and Ajay Keer are also sportspersons and are into watersports. Her brother, Gautum Keer, played Volleyball earlier but now works with his father in the fishing business.
Wife & Children
Manish Keer is unmarried.
Religion
Manisha Keer follows Hinduism.
Career
At the age of 13, she accompanied her sister to the state shooting academy in Bhopal. During her visit to the academy, shotgun trials were ongoing and she decided to give it a try, Manisha unexpectedly hit the target and impressed by her talent, the academy offered her the opportunity to pursue shooting professionally and provided her with the training and equipment.
Manisha made her international debut at the ISSF Junior category in Lonato, Italy, in 2015 but she did not win any medal in Italy. In 2017, Manisha began participating in the senior category despite being a junior and won medals in both the junior and senior categories in Jaipur. In 2018, her career took a leap forward when she won a silver medal in the Junior Shotgun event at the ISSF Shooting World Championship in South Korea.
According to Manisha, the turning point in her career came, when she became the 1st Indian woman to win a Silver medal in the Junior Shotgun event at the ISSF Shooting World Championship held in South Korea in 2018. She finished with 41 points which equalled the Junior Record in Trap for Women. According to her, her best finish was at the ISSF World Cup Shotgun while finishing 7th in the Women's Trap competition in Cairo, Egypt; In the final round, her score got her into a three-way shoot-off for the last two final spots. In 2021, she participated in the First Asian Online Shooting Championship and won a medal. She also recorded her best-ever finish at the ISSF World Cup Shotgun stage, finishing seventh in the Women's Trap competition where she scored 23 out of 25 in each of the four preceding rounds. She has attained a world ranking of 37.
Medals
Gold
In 2021, she won a gold medal in the Trap Team Women event at the World Cup in New Delhi.
Silver
In 2018, She won a silver medal in the Trap Women Junior in the singles category at the World Championships in Changwon, South Korea.
In 2018, she won a silver medal in the Trap Mixed Team Juniors category at the ISSF Junior World Cup in Sydney, Australia.
In 2021, she won a silver medal in the Trap Team Women event at the World Cup in New Delhi.
In 2019, she won a silver medal in the Trap Mixed Team Junior category at the Asian Championships in Doha, Qatar.
In 2023, she won a silver medal in the Women's trap team event at the 2022 Asian Games in Hangzhou, Zhejiang Province, China.
Bronze
In 2021, she won a bronze medal at the Online Shooting Championship, in Kuwait 2021.
 Achievements
Manisha Keer has a total of 21 gold medals, six silver medals, and six bronze medals at national shooting competitions over the years.
Facts/Trivia
In an interview, talking about her struggle of coming from a poor family and playing a sport which is considered for the royals or rich, she said,


I come from a humble family in Bhopal. My father is a small fisherman. Growing up, I understood the importance of money from a rather young age and used to help my father in fishing. I had six siblings and my father could barely make enough money for all our expenses. Even though life wasn't easy back then, I always had this innate motivation to do something in life. The turning point came when I visited the State Shooting Academy with my elder sister once. Our visit to the academy coincided with the Shotgun Trials held at the academy. Ever since I have been playing, I have tried as much as possible to improve with each tournament I have participated in."
Remembering her sudden encounter with a shooting at the Madhya Pradesh Academy in an interview, she said,


I recall, I was standing there watching the trials when the Olympian Mansher Singh approached me and asked me to give the sport a shot. Let alone prior training needed to shoot, I didn't even know the technique required to hold the gun. However, when I gave the sport a try, something within me clicked and I hit the target easily. Impressed by my shot, the authorities asked me to pursue the sport seriously and they also offered me training. That moment changed it all for me and the rest has been history. Since I played my first shot, I have been training extensively and playing with all the dedication that I have ever been able to muster. All thanks to the generosity of the state, I was provided with the equipment necessary for me to learn and become better at the sport. I stay at the academy only so that there are no distractions whatsoever."
Manisha's favourite food is Dal Chawal and Bhindi.
Mansher Singh, an Indian sport shooter who specializes in double trap and trap, personally trains Manisha Keer before international matches.
When Manisha is not practising or playing, she helps her father in fishing and also enjoys playing Volleyball which is her hobby.