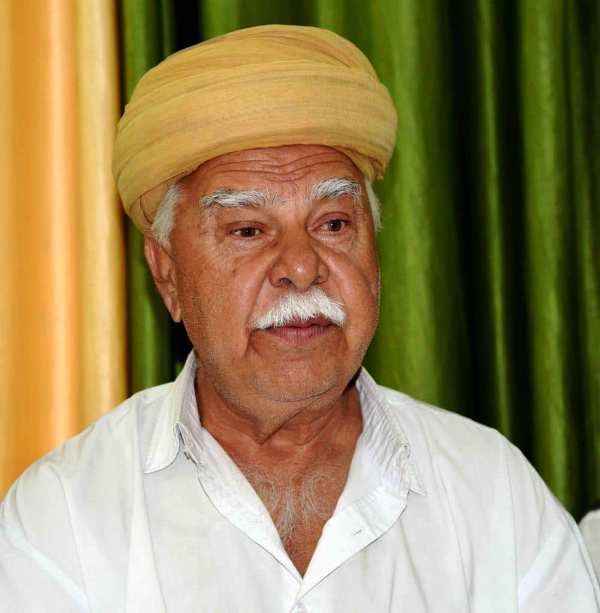 Lokendra Singh Kalvi (1955-2023) was an Indian politician and activist who founded the Shri Rajput Karni Sena (SRKS), a Rajasthan-based organisation working for the welfare and rights of the Rajput community. He is the son of Kalyan Singh Kalvi, a politician and member of Janata Dal party who served as the Agriculture Minister in the Bhairon Singh Shekhawat-led government in Rajasthan. Lokendra Singh was also associated with various political parties, including the Indian National Congress and the Bahujan Samaj Party. He came into the national spotlight for spearheading the protests against the making and release of the Indian historical drama film Padmaavat (2018). On 14 March 2023, he died due to heart attack in Sawai Man Singh Hospital in Jaipur, Rajasthan.
Wiki/Biography
Lokendra Singh Kalvi was born in 1955 (age 68 years; as the time of death), and he hails from Kalvi, Nagaur district, Rajasthan. He attended the Mayo College and the Government College in Ajmer. He was a national level basketball player.
Physical Appearance
Height (approx.): 6′ 2″
Weight: 120 kgs
Hair Colour: Grey
Eye Colour: Light Brown
Family & Caste
He belongs to a Hindu Rajput.
Parents & Siblings
His father, Kalyan Singh Kalvi, was Agriculture Minister in the Government of Rajasthan between 1993 and 1998, the period when Bhairon Singh Shekhawat served as the CM of the state. Kalyan Singh was the Minister of Energy (1990 – 1991) in the Chandra Shekhar-led governement. His mother's name is Lad Kanwar.
Wife & Children
Lokendra Singh Kalvi is married and has two sons, Bhavani Kalvi and Pratap Kalvi.  Bhavani Kalvi is a polo player who has represented India in the sport and Pratap Kalvi is a reputed marksman.
Religion
He follows Hinduism.
Politics
1996 General Elections
In 1996, Lokendra Singh Kalvi contested and lost the Nagaur Lok Sabha seat on the party ticket of Samata Party.
1998 General Elections
In 1998, Lokendra Singh Kalvi contested and lost Barmer Lok Sabha seat on the party ticket of BJP.
2003 Rajasthan Legislative Assembly Elections
Ahead the 2003 assembly elections, he formed the Social Justice Front or Samajik Nyaya Manch, a body of Rajputs and Brahmins to demand reservation for economically backward upper castes. The party was led by the veteran Rajput politician of the state Devi Singh Bhati. The result was a rout– out of the 60 candidates the party had put up all over in Rajasthan, it won just one seat, Kolayat in Bikaner; Devi Singh was elected as the MLA of Kolayat. The duo fell out later over differences over their views on caste based politics. In 2006, Lokendra Singh founded the Karni Sena.
2008 Rajasthan Legislative Assembly Elections
Lokendra Singh Kalvi began his association with INC ahead the 2008 Rajasthan Assembly elections. Kalvi-led Karni Sena offered to lend their support to INC on the condition that the party would give a specified number of tickets to Rajput candidates. Reportedly, he sought a Congress ticket to contest the 2009 general elections, but he never got. In 2010, he joined the Congress and also formed his own Shri Rajput Karni Sena.
Karni Sena
The origin of the Karni Sena can be traced back to 2005 when the Rajput leaders Lokendra Singh Kalvi and Tarun Pratap Singh Yaduvanshi attempted to mobilise the Rajput community. However, the organisation was formally formed on 23 September 2006 in Jhotwara, a suburban area of Jaipur, with the central aim of demanding caste-based reservation for Rajputs in government jobs and education. Additionally, it worked towards ending the alleged "sidelining of Rajput figures in textbooks" and promoting the election of Rajput legislators in the government. Ajeet Singh Mamdoli was appointed as the first president of the organisation. Differences between Kalvi and Mamdoli led Kalvi to leave the organisation and form his own Shri Rajput Karni Sena (SRKS) in 2010. Mamdoli filed a case against Kalvi's SRKS for using the name of his organisation that was already registered. Kalvi appointed Sukhdev Singh Gogamedi as the president of his faction. In 2015, Gogamedi was expelled over criminal charges following which he floated his own faction, Shree Rashtriya Rajput Karni Sena. Kalvi then appointed Mahipal Singh Makrana as the state president of his faction. In 2017, Kalvi-Karni Sena launched a protest against Sanjay Leela Bhansali's film Padmaavat (2018) alleging that it hurts the Rajput sentiments by distorting history regarding the 14th century Chittor queen Padmini.
Death
On 14 March 2023, Lokendra Singh Kalvi passed away due to heart attack at SMS Hospital in Jaipur. He was admitted to the hospital fifteen days before his death. He suffered a brain stroke on 12 June 2022. His corpse was taken to his native village, Kalvi, in ​​Nagaur district for his last rites.