Kundan Lal Saigal (1904-1947) was an Indian actor-singer. He is considered the first superstar of the Hindi Film Industry. He was hailed as "Shahenshah-e-Mausiqi" (Emperor of Music) and acclaimed as 'Ghazal King'. He became a superstar in those days when actors who knew singing were the first priority. The status he achieved in singing was a result of informal learning only. 'Devdas' released in 1936 was the landmark film of his career which gave him an iconic status. He belonged to a Punjabi family but he sang in 6 different languages. In a short span of 15 years career, he worked in 36 films and sang 185 songs in different languages.
Wiki/Biography
Kundan Lal Saigal was born on Monday 11 April 1904 (age 42 years; at the time of death) in Jammu, The Princely State of Jammu and Kashmir, British India (now Jammu, India). His zodiac sign is Aries. He took elementary education from Jammu and then discontinued it because education was restricted to several factors like caste, community, and economic status in those days. Kundan's mother was very fond of music and he used to accompany her in religious functions. There he learnt the skill of singing and refined it through practice. He became a disciple of Ustad Fayyaz Khan for a few years. He died in 1947 in Jalandhar, Punjab, India.
Physical Appearance
Height (approx.): 5′ 9″
Weight (approx.): 70 kg
Hair Colour: Black
Eye Colour: Black
Family
Kundan was born in a Punjabi family in the Jammu region.
Parents & Siblings
Kundan's father, Amarchand Saigal, was a Tehsildar in Maharaja Pratap Singh's court. His mother's name was Kesarbai Saigal. He had 4 siblings, 3 brothers and a sister.
Wife & Children
Kundan got married to Asha Rani in 1935. Together they had 3 children, two daughters, Nina, and Bina and a son Madan Mohan. He adopted, Durgesh Nandini, the daughter of his elder brother because he died at a young age. Kundan adopted Durgesh while he was single.
Religion/Religious Views
Kundan belonged to a Punjabi Khatri family in Punjab.
Signature/Autograph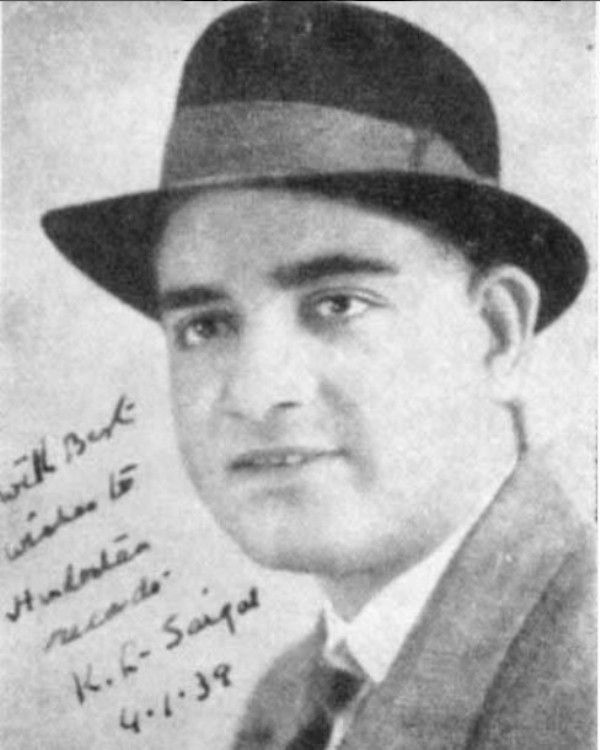 Career
In the early 1930s, classical musician Harishchandra Bali brought Saigal to Calcutta. Saigal moved to Calcutta with his friend Mehrchand Jain where he recorded several discs of Punjabi songs written and arranged by Harishchandra Bali. These songs were released through the Indian Gramophone Company. In Calcutta, he met R.C. Boral who hired him for New Theatres Ltd Calcutta, a film studio owned by B.N. Sircar. In 1932, 'Mohabbat Ke Ansu', the debut film of Saigal was released; Prmankur Atorthy directed it. In the same year, another two films, Zinda Laash and Subah Ka Sitara got released. In these 3 movies, he used his pen name Saigal Kashmiri.
In 1933, 'Yahudi Ki Ladki' was released. It was the first film of New Theatres in which Saigal lent his voice. He sang 'Nuktacheen Hai Ghame-Dil', a ghazal of Ghalib and a few other songs which made this film a hit. He used his name, KL Saigal, in this movie.
In the same year, another movie 'Puran Bhagat' was released. In this, Saigal sang four bhajans which created a sensation all over the country and made him a star. In the following years, several films such as 'Rajrani Meera', 'Dulari Bibi', 'Daku Mansoor', and 'Mohabbat Ki Kasauti' got released. In 1934, 'Chandidas' came which got him applauded from everywhere. In 1935, he appeared in 'Devdas' in the lead role. This was the turning point of his life. He became popular throughout the country and established himself as the most sought-after actor-singer.
By then he started learning Bengali and acted in several Bengali films such as 'Sathi', 'Jiban Maran', 'Deshar Mati', and 'Parichay', all produced by the New Theatres. He lent his voice to the songs written by Rabindranath Tagore such as 'Ek Tuku Chhoa Laage', and 'Tomar Binaye Gaan Chhilo Aar Aamar'. In 1937, 'President' was released. The song 'Ik Bangla Bane Nyara' was a major hit of that era.
In 1938, his other film 'Street Singer' was released. It was directed by Phani Majumdar and produced by New Theatres. The Bengali version of this movie was made with the title 'Sathi' in the same year.
At that time cinema was turning towards Bombay from Calcutta so in 1941, Saigal also shifted there. By this time he was already a star and got one after another films. He worked in many films such as 'Tansen', 'Dushman', 'Lagan' 'My sister', and 'Shahjehan'.
His last film was 'Parwana' which was released in Feb 1947, after a month of his death. In such a short span he worked in 36 feature films, of which 28 were Hindi language films, 7 were Bangla, and 1 was Tamil. He sang 185 songs, of which 142 were film songs, and 43 non-film songs. He sang in Hindi, Bangla, Tamil, Punjabi, Pashto, and Persian language.
Salary/Income
He was receiving Rs 80 per month when he was working as a salesman at Remington Typewriter Co. His grandson Sumant Batra revealed the fact in an interview.
He joined New Theatres Ltd Calcutta in 1931 where he was working at a salary of Rs 200 per month.
In 1941, he moved to Bombay where he was receiving a salary of Rs 1800 per month.
He received Rs 1 lac from Ranjit Movietone Film Studio, Mumbai, for three films (Bhakta Surdas, Bhanwara).
Death
Alcoholism was gripping Saigal day by day. In his last years, he was unable to record a song without taking a drink. As the impact of this, his health deteriorated and he died at the young age of 42 on 18 January 1947 in Jalandhar, Punjab, India.
Facts/Trivia
Amrish Puri was a cousin of Kundan Lal Saigal.
Amrish Puri's elder brother, Chaman Puri, worked with KL Saigal in the film Street Singer.
KL Saigal did many jobs before becoming a Singer. He was a timekeeper in Railways, then he worked as Salesman at Remington Typewriter Co. For some time he worked as a hotel manager while he was in Calcutta.
Kundan Lal Saigal used to sing and act in Ramlila in his childhood.
He was the first non-Bengali singer whom Rabindranath Tagore allowed to sing a song based on Rabindra Sangeet.
Indian Department of Post released a postal stamp on 4 April 1995 to pay tribute to KL Saigal. Its denomination was 500 paisa.
On his 114th birth anniversary in 2018, Google paid tribute to him by making a doodle.