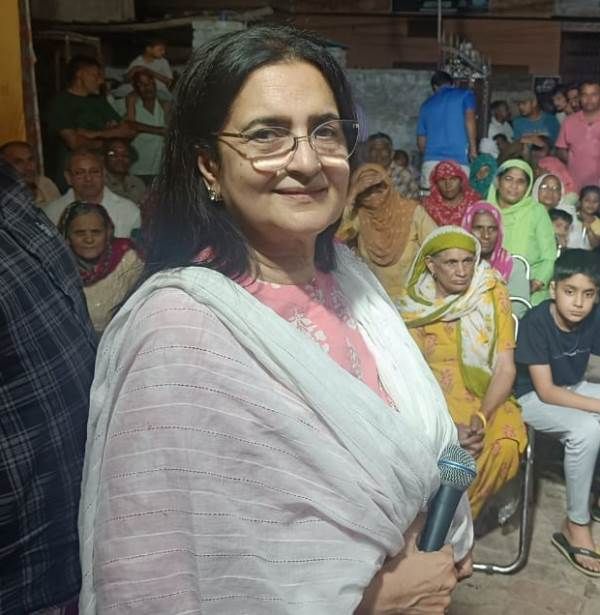 Kiran Chaudhry is an Indian politician who won Haryana Election 2014 and became a Member of Legislative Assembly (MLA) representing  Tosham Vidhan Sabha constituency as a member of the Congress legislative Party.
Wiki/Biography
Kiran Chaudhry was born on Sunday, 5 June 1955 (age 68 years; as of 2023) in Faizabad, Uttar Pradesh. Her zodiac sign is Gemini.  She pursued her bachelor's degree in arts from Adarsh College, Bhiwani, Haryana in 1975 and LLB degree from Panjab University, Chandigarh in 1986. She continued practising law in Supreme Court but gave it up after 15 years when she was elected as Deputy Speaker of the House unopposed . Her decision to join politics came after Rajiv Gandhi's persuasion. Rajiv Gandhi was one of her main source of inspiration and he also acted as her benefactor in 1986. She appreciated the fact he wanted to infuse some young blood into the Congress. Therfore, she joined All Indian Mahila Congress as General Secretary in 1986, marking her entry into a political career. Soon into her career, Chaudhry realised that politics wasn't for the squeamish and in an interview stated
You have to have resilience and strength of character to fight opposition at every step. I am not complaining, after all it's my political ambition that has made me choose this path. It's been frustrating trying to change things, but i realise that you have to be dogged."
Due to pre-existing political background of her in-laws she's often accused of having it all too easy. Bansi Lal, her father in-law was Haryana's Chief Minister and Surendra Singh, her husband was the chief of Haryana Vikas Party which made her political access relatively easier. To clear this viewpoint, Kiran Chaudhry in an interview said
I"ve worked hard to be where I am today. I"ve been lucky to have a political family. But at the end of the day, you're on your own."
In 2014, she was made the Congress Legislature Party(CLP) leader in Haryana by party chief Sonia Gandhi, where the party lost power after a 10-year rule under Bhupinder Singh Hooda. This was then seen as a political opportunity to start afresh after Hooda's 10-year rule. She is also known as the Fire brand Women leader in Haryana and believes in properly managed election campaigns and takes on personal meeting with workers and poll strategist from Vcsmedia time to time.
In her latest political activities she has mentioned that she'll be raising issues of drug addiction, unemployment and non-withdrawal of cases against farmers in the upcoming winter session of the Haryana Legislative Assembly.
Physical Appearance
Height (approx.): 5′ 6″
Weight (approx.): 75kg
Hair Colour: Black
Eye Colour: Dark Brown

Family & Caste
Parents & Siblings
Kiran Chaudhry's father's name is Brig Atma Singh and mother's name is Sarlat Devi. Her father was a retired military officer of Indian Army. Both her parents passed away due to Covid-19 in 2021. Kiran has two siblings Ashok Choudhry and Anuradha Choudhary. Anuradha Choudhary is also a Member of Parliament.
Husband & Children
She was married to Surender Singh at the age of 16. He was an Indian politician who served as a MLA of Haryana Vidhan Sabha and also as a member of Rajya Sabha. He died in 2005 at the age of 59, in a chopper crash during an emergency landing in Saharanpur district of Uttar Pradesh. They have a daughter named Shruti Choudhry who turned towards politics after her father's demise in 2005 and currently serves as a member of INC.
Caste
Kiran Chaudhry is one of the most notable jat face of Haryana's politics.
Address
Resident Of Ward No 25 Vijay Nagar Hansi Gate Bhiwani Haryana 127021
Career
Kiran Chaudhry began her career as a Member Legislative Assembly from "Delhi Cantt" Vidhan Sabha where she later went on to become Deputy Speaker in the year 1998. On her journey forward, she was chosen as one of the Congress candidates for the Rajya Sabha elections from Haryana Assembly in 2004. In 2005, she was appointed as the cabinet misinter of state for Forest, Environment, Tourism and Sports in Haryana. With her continued presence as MLA "Tosham" Vidhan Sabha-Haryana in the next tenure, she was appointed as the Cabinet Minister for Excise and Taxation & Public Health Engineering in 2009. She was later elected as the  MLA "Tosham" Vidhan Sabha – Haryana for the years 2014 and 2019. She has also served as the president of Social Welfare for Rural and Urban poor (S.W.R.U.P).
Party Positions Held
1986 – General Secretary – All Indian Mahila Congress
All India Mahila Congress Spokes Person DPCC(Delhi Pardesh Congress Committee)
Leader of the Congress Legislature Party (CLP)
Member – AICC Delhi in 1989
General Secretary of Delhi Pradesh Congress Committee
Controversies
Haryana Forestry scam case
In 2009, Sanjiv Chaturvedi an Indian Forest Service(IFS) officer exposed a multi-crore fake plantation scam allegedly involving Bhupinder Singh Hooda, Kiran Chaudhary and others where government money was embezzled. An inquiry committee of the Ministry of Environment & Forest (MoEF) found Chaturvedi's allegations against Haryana government true and the case is currently pending in Supreme Court.
Assets/Properties
Movable assets
Cash: Rs 1,04,000
Bank deposits: Rs 40,94,000
Shares: Rs 73,00,000
Immovable assets
Agricultural land: Rs 8,61,45,000
Non Agricultural Land: Rs 1,43,06,000
Commercial Buildings: Rs 4,11,88,000
Residential Buildings: Rs 51,07,78,000
Note: This information is an archive of the candidate's self-declared affidavit that was filed during the elections
Awards/Achievements
Kiran Chaudhry has been awarded with Best Tourism Minister Award in 2009 by PATA (Pacific Asia Travel Association) .
Facts/Trivia