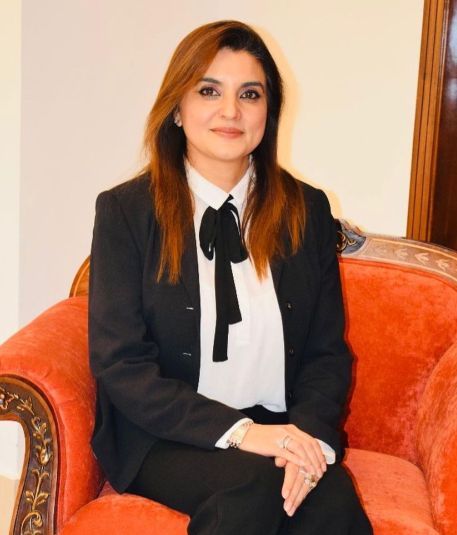 Kashmala Tariq is a Pakistani politician and lawyer who was sworn in as the Federal Ombudsperson for Protection against Harassment of Women at the Workplaces on 27 February 2018 in Islamabad, Pakistan.
Wiki/Biography
Kashmala Khan was born on Monday, 24 January 1972 (age 50 years; as of 2022) in Lahore Cantonment, Lahore, Punjab, Pakistan. Her zodiac sign is Aquarius. Kashmala attended the Govt. Queen Mary Graduate College, Lahore. In 1991, she pursued a Bachelor of Arts degree at Kinnaird College, Lahore. Kashmala completed her Bachelor of Law degree at the Punjab University Law College in 1998. Kashmala enrolled herself at the London School of Economics and Political Science in 1999, where she earned a degree in Master of Laws degree in Corporate and Commercial Law.
Physical Appearance
Height (approx.): 5′ 4″
Hair Colour: Medium Golden Brown
Eye Colour: Dark Brown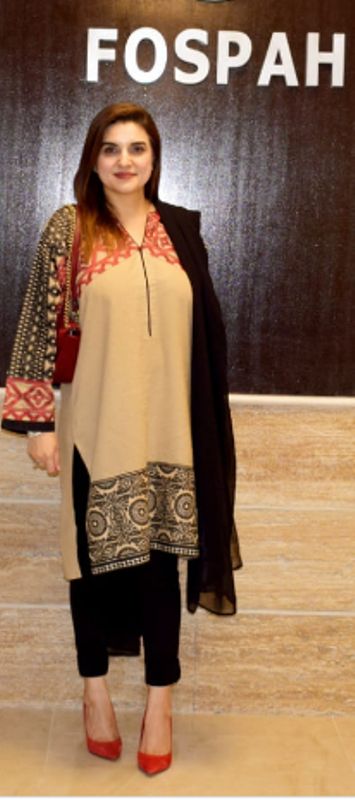 Family
Kashmala Tariq belongs to a Muslim family.
Parents & Siblings
There is not much information available about Kashmala's father or siblings. Her mother's name is Farida Khan.
Husband & Children
Kashmala Tariq is married twice. Her first husband, Tariq Rashid Khan, is a former member of the Commonwealth Parliamentary Association (CPA). Together, they have a son, Azlan Khan.
On 31 October 2020, Kashmala got married to Waqas Khan, a business and owner of the Best Western Hotel in Islamabad.
Relationships/Affairs
In 2014, there were rumours of marriage between Kashmala Tariq and Khawaja Muhammad Asif, a Pakistani politician who was appointed as the Defence Minister of Pakistan on 19 April 2022. As per some media sources, during a meeting in the National Assembly, the parliamentary members congratulated Asif on her marriage to Kashmala, and Asif, in return, smiled at them. Later, Kashmala and Khawaja Asif were invited to a political talk show, Capital Talk, hosted by Hamid Mir on Geo News, where Kashmala denied the rumours about her affair with Asif and said,
Only people who have a dirty mind, can talk about these things. Negative people try to spread negativity about a woman and blame her character."
Religion
Kashmala Tariq follows Islam.
Address
Kashmala resides in C-4 Officers Colony, Zarrar Shaheed Road, Lahore Cantt.
Signature/Autograph
Career
As a lawyer
Since 1993, Kashmala was registered as a partner at the law firm Mandviwalla & Zafar Advocates in Lahore, Pakistan. On 21 November 1996, Kashmala started her law practice with Mandviwalla & Zafar, headed by Senator S.M. Zafar and Syed Ali Zafar respectively. In January 1998, she was appointed as an associate lawyer at the Bower Cotton in London, England, United Kingdom, where she served till January 1999. Kashmala, in January 2003, was authorized as a partner at Khan & Pirzada Law Associates, a corporate & commercial law firm in Lahore and worked there till January 2007. In January 2008, she was appointed as the chairperson at the Kashmala Law Associates in Lahore and served the post till 2017. On 27 February 2018, she was appointed as the Federal Ombudsman Secretariat for Protection Against Harassment in Islamabad, Pakistan.
As a politician
Kashmala started her political career in 2002 and joined the Pakistan Muslim League (Q) (PML-Q) party. In the 2002 Pakistani general elections, she was elected to the National Assembly of Pakistan on a reserved seat for women from Punjab. In the 2008 Pakistani general elections, she was re-elected on a reserved seat for women to the National Assembly of Pakistan as a candidate of the Pakistan Muslim League (Q) (PML-Q) party.
Controversies
Expulsion from the Pakistan Muslim League (Q) (PML-Q) party
In February 2008, the Pakistani general elections were held in which Kashmala was elected to the National Assembly of Pakistan on a reserved seat for women representing the Pakistan Muslim League (Q) (PML-Q) party. In July 2008, the party expelled her and cancelled her party membership as she was indulging in various activities, which violated the party's discipline and unity. Kashmala was accused of having differences with the party's leaders and opposing them and their decisions on several occasions. In an interview, Kashmala revealed that before expelling her from the party she was not even informed about it and the reason behind such a big decision. She said,
One fine day, when I was relaxing at home, I was suddenly inundated with calls from journalists wanting to know my views on my expulsion from the PML-Q parliamentary party. I told them it was news to me as well. I rang up the Muslim League House. They confirmed the news and informed me that I would be receiving the notice soon. I questioned them as to how the media had got the news before me and I was informed that Tariq Azeem had issued a press release in this regard. They tried to de-seat me from the National Assembly. But I am not willing to give up. I have checked up on my legal status and found that I am safe and do not fall under the ambit of 63A.
Accused of performing sexual favours for political gains
On 15 September 2009, on the occasion of The International Day of Democracy, the anchor of Express News channel invited politicians Dr Firdous Ashiq Awan, Dr Shireen Mizari, and Kashmala Tariq to have a healthy discussion on democracy. However, the discussion soon turned into a heated argument after Kashmala addressed Firdous as "Lota" (a reference used to address the person who often switches from one party to another), which made Firdous anxious and angry and in her response, she accused Kashmala of doing sexual favours for political gains.
Feud with a news reporter
In December 2011, Kashmala attracted controversy when she got into an argument with a reporter, Azaz Syed, representing the Dawn News channel. While interviewing Kashmala, Azaz inquired about the explanation letter, which was issued to her by Salim Saifullah, a Pakistan Muslim League (Q) party member inquiring about the alleged usage of Rs 850000 from the party funds. Annoyed with his questions, Kashmala got into a serious dispute with Azaz, intimidated him to shut the camera down, and later escaped in her car.
Leaked audio call scandal
In 2013, an audio tape of a recorded phone conversation between Kashmala and Humanyun Akhtar, a Pakistani politician and businessman, who was elected as a member of the National Assembly four consecutive times between 1990–2007, was leaked in which they were having an inappropriate obscene conversation, which indicated sexual relations between them. Though the authenticity of the recorded tape was not confirmed, Kashmala was badly trolled
Accused of harassing media reporter
On 8 March 2018, Rameeza Majid Nizami, the CEO of Nawa-i-Waqt group accused Kashmala Tariq of allegedly obstructing and harassing his media team at the office of Federal Ombudsperson for Protection against Harassment of Women at the Workplace, in Islamabad. He alleged that his team went to Kashmala's workplace to interview her for their show "Apna Apna Gareban." However, during the interview, after a series of questions, she got annoyed and instructed the crew to hand over the interview footage to the office. When the Waqt news crew members refused to hand over the footage, Kashmala ordered her staff to seize and delete the clip following which the crew members were mishandled, harassed, and illegally detained by staff. One of the team members, Matiullah Jan, took to Twitter to share the details of the incident, which read,
Waqt News Apna Apna Gareban team was attacked and harassed on the orders of Kashmala Tariq. Our equipment was confiscated and we were illegally kept in detention for an hour or so. Kashmala did not like questions and ordered her staff to detain us and confiscate the video."
Kashmala, in her justification, accused the crew members of the Waqt News channel of asking unethical and inappropriate questions after the interview ended. She claimed that while having a conversation with the channel off-record, she noticed that the camera was still recording. She instructed them to hand over the interview clip or delete it, but the crew member refused her request. In an interview, one of the staff members revealed that Kashmala was harassed by a crew member, Matiullah Jan, and said,
Mr Jan told the ombudsperson not to touch the equipment and lunged towards her. He not only harassed Ms Tariq but also pushed and injured other members of the staff."
Investigated by the National Accountability Bureau (NAB)
In January 2021, an investigation was launched by the National Accountability Bureau (NAB) to investigate a transaction made by Khawaja Muhammad Asif, who was appointed as the Defence Minister of Pakistan on 19 April 2022, for allegedly transferring Rs 12 crore to Kashmala's account through a frontman. The NAB had adequate pieces of evidence, which indicated that the money was transferred in two different transactions; a transaction of Rs 7 crore in January 2015 while Rs 5 crore was transferred to her account in August 2016. Reportedly, Tariq also transferred a huge sum of money to Kashmala Tariq transferred a large sum of money to the Punjab Enterprises bank account, which is held by Javed Waraich, the frontman of Asif in making transactions.
Trolled for making vague statements on harassment
In February 2022, Kashmala made headlines while addressing the students during the Women's Day celebrations at the Rawalpindi Chamber of Commerce and Industry (RCCI) in Rawalpindi, Pakistan and remarked that sending "Salam" (greetings) or "good morning" texts to unfamiliar women will be considered a form of harassment. As soon as her video went viral, she was trolled badly for making vain and baseless statements regarding harassment. Tariq took to Twitter and blamed the media for manipulating her statement and said,
At the Women's Day Celebrations at Rawalpindi Chamber of Commerce today, I said that people should not use their position of power to exploit women and ask them out for lunches and teas. That tantamounts to harassment too. I said unwelcoming and unwanted text messages and stalking on social media is also harassment. And then I gave examples. Media should not take just one line out of context please."
Notice issued for serving the post of Federal Ombudsman after completion of tenure
On 7 June 2022, the Islamabad High Court issued a notice to Kashmala Tariq regarding serving the post of Federal Ombudsman Secretariat for Protection Against Harassment of Women (FOSPAH) despite the completion of her tenure after a petition was filed by Ejaz Mansoor, a resident of Lahore. She was appointed to the post on 27 February 2018, and her four-year tenure ended on 27 February 2022, but still she continued to work. Ejaz, in his petition, requested the court to cease Kashmala from working as a federal ombudsperson as her four-year tenure was over.
Accused of mental exploitation
In August 2022, Zarmina Iqbal, an employee of the Federal Ombudsman Secretariat for Protection Against Harassment of Women (FOSPAH), accused Kashmala of harassing her mentally at the workplace. She even attempted suicide at the workplace after she was investigated inappropriately by the Federal Investigation Agency (FIA) agents. Her promotion to the post of assistant director was due for two years, but after requesting several times to Kashmala, Zarmina wasn't promoted following which she filed a case at the Islamabad High Court in February 2022. Zarmina claimed that after she filed a case, Kashmala's behaviour towards her changed severely, and she started torturing her mentally. Zarmina even tried to apologize to her, but Kashmala continued harassing her with unjustified allegations in the workplace.
Facts/Trivia
In 1993, Kashmala served as the President of the Peoples Students Federation (PSF) till 1995.
From January 2003 to January 2018, Kashmala served as the

Executive Director of the

Parliamentarians Commission for Human Rights (PCHR) Pakistan.
In 2005, Kashmala was appointed as a Convener for the Special Committee for Earthquake 2005 of the National Assembly of Pakistan.
On 24 September 2007, Kashmala was appointed the new chairperson of the Commonwealth Women Parliamentarians (CWP) group. Earlier, she served as the vice-chairperson of the CWP.
Kashmala was the first-ever Pakistani Parliamentarian who won a foreign election (by 175 Legislators) in 2007 and got elected as Chairperson of the Commonwealth Women Parliamentarians in New Delhi, India.
In 2011, Kashmala ranked 9th in a survey of the most glamorous women politicians in the world, which was conducted by India Today, an Indian newspaper.
On 2 February 2021, four young men were killed and two others were injured when Kashmala Tariq's car broke the traffic signal and collided with another car and a motorbike on the Srinagar Highway. Kashmala and her family were accused of fleeing away from the crime scene, but she denied the accusations and claimed that they were present at the accident site until the ambulance arrived to help the injured and even drove to the Ramna police station as per the procedure. The FIR filed by the victim's family accused Kashmala's son of driving the car, which resulted in the fatal accident. However, Kashmala claimed that the car, which hit the victim's car was driven by her driver, whereas her son was in a separate car. In an interview, Kashmala talked about the innocence of her son and said,


This whole matter is being blamed on my son but the driver was unable to control the car. My son's pictures are being broadcast and shared everywhere when, in fact, he was riding in the car behind us. It was a terrible accident and I feel sadness in my heart for the children who lost their lives. Justice will be served but please don't unjustly drag anyone's child into the matter."
طاقت کے نشے میں چور پانچ گاڑیوں کے پرٹوکول میں بیسٹ ویسٹرن کے مالک وقاص خان کی گاڑی جی الیون اشارہ توڑتے ہوئے پانچ شہریوں کو کچل ڈالا
ستم یہ کہ ظالموں کی فوج بھاگ گئی، پولیس نے آدھے گھنٹے بعد پہنچ کر ایک شخص کو پکڑا
امید ہے آئی جی ، ڈی آئی جی اور ڈی سی اس ٹوئٹ کا جواب دیں گے pic.twitter.com/ccMQ3Yqxjd

— Noorulamin Danish (@Noorulamin000) February 1, 2021
Kashmala served as a member of the Pakistan National Group of Parliamentarians for Global Action and UNAIDS Pakistan's Special Committee.
Kashmala served as the General Secretary of an NGO, Social Advancement Towards Humanity.
Kashmala served as a working partner for various human rights organisations like Save the Children UK, the United States Agency for International Development (USAID), Department for International Development (DFID), and International Labour Organization (ILO).
Kshmala has a pet dog, Duke, and she often posts pictures of her pet on social media.
In December 2022, an audio tape of Pakistani politician Imran Khan, indicating his sexual relations with Ayla Malik, went viral on social media. In the leaked audio, Ayla and Imran can be heard referring to Kashmala as "Kinky Kashmala." In the recording, it was evident that Ayla questioned Imran about Kashmala's love interest in him to which Imran revealed that Kashmala was romantically interested in him.