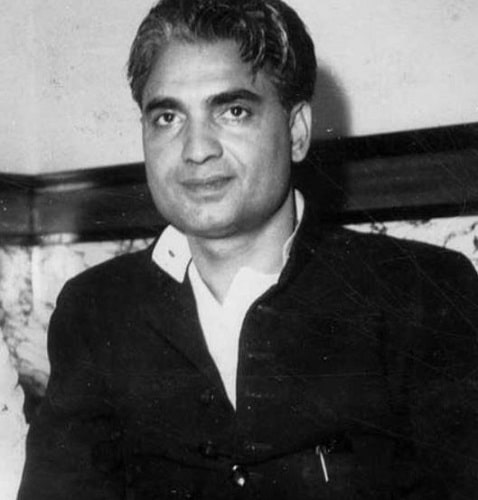 Kamal Amrohi (1918-1993) was an Indian film director, screenwriter, and poet. He was the husband of the renowned Indian actress Meena Kumari. On 11 February 1993, he took his last breath in Bombay, Maharashtra, India.
Wiki/Biography
Kamal Amrohi aka Syed Amir Haider Kamal Naqvi was born on Thursday, 17 January 1918 (age 75 years; at the time of death) in Amroha, United Provinces of Agra and Oudh, British India (now Uttar Pradesh, India). His zodiac sign is Capricorn. He did his schooling at a local school in Amroha. He did his graduation in Persian and Urdu at Oriental College Punjab University.
Physical Appearance
Height (approx.): 5′ 8″
Hair Colour: Salt & Pepper
Eye Colour: Brown
Family
Kamal Amrohi belonged to an affluent family of Shia Muslims.
Parents & Siblings
His brother Jamal Amrohi was an assistant director and production manager.
Wife & Children
Bilkis Bano
At a young age, he got married to Bilkis Bano, who used to work as a maid of Jaddan Bai; the mother of the Indian actress Nargis.
Mehmoodi ​
He then got married to one of his close cousins Sayeda Al-Zehra Mehmoodi, daughter of Jamal Hasan. Kamal and his second wife Mehmoodi were blessed with two sons named Shandaar Amrohi (film director) and Tajdar Amrohi (film director), and a daughter named Rukhsar Amrohi (author).
Meena Kumari
One day, on the set of a Hindi film, he was introduced to the Indian actress Meena Kumari by the actor Ashok Kumar. Kamal then offered Meena a role in one of his films, but before the project could begin, Meena Kumari met with a car accident on 21 May 1951. She was hospitalized for a long time and went through depression. During her time in the hospital, Kamal regularly visited her and they exchanged letters, which provided comfort to Meena during her difficult time. After spending four months in the hospital, Meena was finally discharged, and they started having long phone calls. Soon, they fell in love with each other. On 14 February 1952, Meena decided to get married to Kamal Amrohi in a secret nikah ceremony.
Only Meena's sister, Mahliqa or Madhu, was present as Meena's family was against her marriage to Kamal. After a few years of their marriage, Kamal became possessive of Meena and started imposing strict rules on her. He would ask her to come home by 6:30 in the evening, no one was allowed in her makeup room, and she had to use only the car that Kamal provided for her. There were also rumours of Meena facing domestic violence. However, Kamal denied these rumours. According to Meena Kumari's biography written by Vinod Mehta, Vinod interviewed Kamal Amrohi and asked him about the rumours of physical violence. In the book, he wrote,
When her star start rising, his went down. I asked Kamal Amrohi if indeed he had hit her as per many rumours. He completely denied it, saying that such a thing was totally against his upbringing. But six different people told me that there was physical violence in their relationship. Those were the days when Meena Kumari would come back Rembrandt till late at night."
Reportedly, Kamal divorced Meena by saying 'talaq' three times in a fit of anger. However, Kamal's son Tajdar Amrohi, refuted the claim, considering it a false belief spread by ill-wishers. According to some other sources, Meena is said to have performed the Nikah Halala with Amanullah Khan (Zeenat Aman's father) before returning to Kamal Amrohi. After returning to Kamal, she said,
Now, after this Nikah Halala, what is the difference between me and a prostitute?"
In 1964, Meena Kumari and Kamal Amrohi got officially divorced. During the mahurat of the film 'Pinjre Ke Panchhi,' Meena was in her makeup room when Kamal Amrohi's assistant, Baqar Ali, slapped her. Meena had insisted that the lyricist Gulzar should be allowed into her makeup room, but Kamal had different rules for his wife, and for this, Baqar slapped her. After the incident, Meena Kumari told Baqar that she would not be going home that night. Meena Kumari felt burdened by many rules, constant surveillance of her whereabouts, and strict regulations. These factors contributed to her depression. Some sources claim that problems started arising between Meena Kumari and Kamal Amrohi due to her alleged extramarital affair with the Indian actor Dharmendra.
Deep Kaur
After the demise of Meena Kumari, he lived with his second wife Mehmoodi. After the death of Mehmoodi in 1982, he got married to his physician Deep Kaur; to avoid loneliness in his old age and not become a burden on his children. Earlier, he used to visit a hospital for minor ailments where he met his fourth wife. Soon, they became good friends and then decided to get married.
Other Relative(s)
He was the first cousin of the Pakistani writers Jaun Elia and Rais Amrohvi.
Autograph
Career
Film
Story Writer
In 1938, Kamal made his debut as a story writer with the Hindi film 'Jailor.'
He then wrote the story of various Hindi films like 'Pukar' (1939), 'Prem Ki Jyot' (1939), 'Main Hari' (1939), 'Mahal' (1949), and 'Pakeezah' (1972).
Director
Kamal made his directorial debut with the Hindi film 'Mahal' (1949).
Some of his other Hindi films as a director are 'Daaera' (1953), 'Pakeezah' (1972), 'Majnoon' (1979; unreleased), and 'Razia Sultan' (1983).
Producer
In 1953, he made his debut as a producer with the Hindi film 'Daaera.'
He worked as a producer in a few other Hindi films like 'Dil Apna Aur Preet Parai' (1960), 'Pakeezah' (1972), and 'Majnoon' (1979; unreleased).
Screenplay Writer
He made his screenplay writing debut with the Hindi film 'Pukar' (1939).
He wrote the screenplay of various Hindi films such as 'Prem Ki Jyot' (1939), 'Main Hari' (1940), 'Mahal' (1949), 'Pakeezah' (1972), and 'Razia Sultan' (1983).
Dialogue Writer
In 1938, he made his debut as a dialogue writer with the Hindi film 'Chhalia.'
He has worked as a dialogue writer in a few other Hindi films like 'Mazaaq' (1943), 'Phool' (1945), 'Saqi' (1952), 'Mughal-E-Azam' (1960), and 'Shankar Hussain' (1977).
Lyricist
In the 1939 Hindi film 'Pukar,' he made his debut as a lyricist. He penned down the lyrics in two other films named 'Pakeezah' (1972) and Shankar Hussain' (1977). In 1998, he worked as one of the lyricists for the song "Thare Rahiyo" from the Indo-Canadian film 'Such a Long Journey.'
Kamal Amrohi Studios
In 1958, he started Kamaal Studios. However, the studio was shut down after three years, and subsequently, it was acquired by Natraj Studios.
Kamal Amrohi had a dream of creating a world-class film studio that would cater to all aspects of film production. In 1958, Kamal Amrohi turned his dream into reality and established Kamal Amrohi Studios in addition to his film production house Kamal Pictures (Mahal Films) which he started in 1953.
The studio was spread over a sprawling 15-acre plot in the Jogeshwari East area of Mumbai, making it one of the most extensive and well-equipped studios of its time. Soon, Kamal Amrohi Studios became a hub for filmmaking. The studio's state-of-the-art facilities, including multiple sets, soundstages, post-production rooms, and outdoor shooting locations, made it a preferred choice for filmmakers to bring their visions to life. Besides being a renowned film studio, Kamal Amrohi Studios also served as a cultural and creative centre, fostering talent and nurturing aspiring artists in various disciplines of filmmaking. Many legendary actors, directors, writers, and technicians honed their skills within the premises of this prestigious studio. As time passed, the film industry's dynamics changed, and newer studios and filmmaking trends emerged. Kamal Amrohi Studios faced financial challenges, and its operations gradually scaled down. After his demise, the ownership of the studio was transferred to his children, who later sold the property to a builder.
Controversy
Accused of Domestic Violence
According to sources, he was accused of domestic violence by his third wife Meena Kumari. According to reports, Kamal Amrohi reportedly divorced Meena Kumari by uttering the word 'talaq' (divorce) three times in a fit of anger.
Awards
1961: Won Filmfare Award for Best Dialogue for Mughal-e-Azam (1960)
1972: Nominated for Filmfare Award for Best Director for film Pakeezah (1972)
Death
On 11 February 1993, he passed away in Mumbai. The reason for his death is not known. As per his wish, he was buried next to his third wife Meena Kumari's grave in Rehmatabad Qabristan, an Indian-Iranian graveyard in Mumbai.
Facts/Trivia
He was also known by the name Chandan. His name was spelt as Kamal Amrovhi or Kamaal Amrohi as well.
His second wife Memhmoodi used to call him Maalik.
When Kamal Amrohi was in school, he discovered a passion for writing short stories in Urdu. He dreamt of turning these stories into films. However, his father had other plans for him and wanted him to manage the family estates, urging him to give up his dream of becoming a filmmaker.
In childhood, Kamal was quite mischievous, and one day, after his elder brother had enough of his antics, he slapped Kamal. This incident deeply affected Kamal, and in a fit of anger, he left his home. At the age of 16, he decided to elope and moved to Lahore, which was then part of British India (now Pakistan). To afford the train ticket, he even sold his sister's gold bangles. In Lahore, he began writing short stories for an Urdu magazine but eventually lost interest in the job. He then decided to move to Mumbai (then Bombay), where he had the opportunity to meet veteran Indian actors like Sohrab Modi and Kundan Lal Sehgal.
Over time, he became proficient in various languages including Urdu, Hindi, Persian, and Arabic, which greatly influenced his work as a writer and poet.
Prior to entering the realm of filmmaking, Amrohi had already made a name for himself as a highly esteemed poet and writer.
During the last days of his life, Kamal Amrohi had a vision for a film titled 'Aakhri Mughal.' He had written a significant portion of the script, but the project was shelved after his demise. Filmmaker J P Dutta considered reviving the film in the late 1990s with Abhishek Bachchan's debut, but the plan didn't execute.
Kamal was often spotted smoking cigarettes and hukka.
He often insisted on having Lata Mangeshkar lent her voice to the songs in his films. He used to consider her like his daughter.
The Independent, a UK daily, published an obituary for Kamal Amrohi six days after his demise. In the obituary, he was described as having a "Moghul-like" presence and being a prominent figure presiding over the Hindi film industry for more than five decades.
In the year 2013, India Post issued a commemorative stamp for him with a denomination of Rs 5.
In February 2022, Music label Saregama and actor Bilal Amrohi (grandson of Kamal Amrohi) announced a web series on the love story of Amrohi and Meena Kumari against the backdrop of the making of the film Pakeezah.