Kabir Khan is an Indian film director, cinematographer, and screenwriter. He is known for his Hindi films like 'Kabul Express' (2006), 'Ek Tha Tiger' (2012), 'Bajrangi Bhaijaan' (2015), and '83' (2021).
Wiki/Biography
Kabir Khan was born on Tuesday, 14 September 1971 (age 52 years; as of 2023) in Hyderabad, Telangana, India. His zodiac sign is Virgo. Kabir's family moved to Delhi when he was very young. He completed his schooling at The Modern School, Barakhamba Road, Delhi and later pursued a Bachelor of Arts in Economics honours from the Kirori Mal College, Delhi. Kabir then pursued a filmmaking course at the AJK Mass Communication Research Centre (MCRC) of Jamia Milia Islamia, Delhi. He is settled in Mumbai.
Physical Appearance
Height (approx.): 5′ 8″
Weight (approx.): 75 kg
Hair Colour: Natural Black
Eye Colour: Dark Brown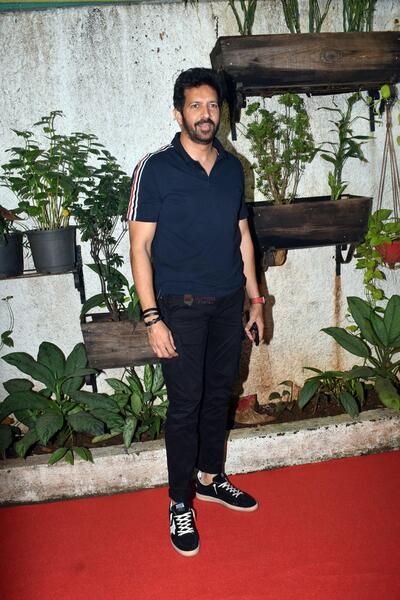 Family
Kabir Khan belongs to a Pathan family in Kaimganj, in Farrukhabad district, Uttar Pradesh, India.
Parents & Siblings
Kabir Khan's father, Rasheeduddin Khan, was an Indian author, educator, and parliamentarian, who passed away in 1996. His mother was Leela Narayan Rao. Kabir Khan has an elder sister named Anusha Khan.
Wife & Children
Kabir Khan got married to his long-time girlfriend and Indian television host and actress Mini Mathur on 28 February 1998.
The couple was later blessed with a son Vivaan, and a daughter Sairah.
Relationships/Affairs
Kabir Khan and Mini Mathur dated each other before getting married.
Other Relatives
Kabir Khan's father was the nephew of the former president of India Dr. Zakir Hussain. India film director and screenwriter Vijay Krishna Acharya is the brother-in-law of Kabir Khan.
Religion/Religious Views
Kabir Khan is an atheist. In an interview, he talked about religion and said,
I don't really truly believe in God and religion."
Career
Cinematographer
At the age of 24, Kabir shot his first documentary named 'Beyond the Himalayas' (1996) which was aired on the Discovery Channel. In 2001, he directed 'Taliban Years and Beyond,' followed by a documentary on the environmental destruction in Afghanistan, named 'The Titanic Sinks in Kabul.' In 2006, he worked as a cinematographer for the documentary named 'The Journalist' and 'Jihadi: The Murder of Daniel Pearl.'
Director
Documentaries
In 1999, Kabir Khan made his directorial debut with 'The Forgotten Army' (1999).
Bollywood Films
Kabir Khan made his Bollywood directorial debut in 2006 with the Hindi-language adventure thriller film 'Kabul Express.' He was also the scriptwriter of this film and the film was based on the conditions of post-Taliban Afghanistan.
In 2009, he made a Hindi-language crime thriller film 'New York,' which was based on the effects of 9/11 on the Muslims living in New York.
In 2012, Kabir directed and wrote the script for the Hindi-language action thriller film 'Ek Tha Tiger.'
In 2015, he produced, directed, and wrote the script of the Hindi-language comedy-drama film 'Bajrangi Bhaijaan' which was inspired by the 1987 Telugu film Pasivadi Pranam.
In the same year, he wrote and directed the Hindi-language action thriller film 'Phantom' which was based on the aftermath of the 26/11 Mumbai attacks.
In 2017, Kabir produced and directed the Hindi war drama film 'Tubelight' which was the adaptation of the 2015 American film 'Little Boy.'
In 2019, Kabir started working on a Sino-Indian production film 'The Zookeeper. The film was supposed to be released in 2020; however, due to some reasons, it never made it to the big screen. In 2021, Kabir wrote, produced, and directed the Hindi biographical sports drama film '83' which was based on the Indian national cricket team's winning of the 1983 Cricket World Cup.
In 2022, Kabir announced his new film 'Chandu Champion,' which is based on the real-life story of a sportsman.
Controversies
Thoughts about 'Porn Ban' and 'Beef Ban'
In 2015, Kabir Khan opposed the government's decision to ban 857 websites that promoted child pornography. While expressing his views, Kabir was quoted saying in an interview,
The government shouldn't play nannies to all of us. We're all grown-up individuals."
In the same year, Kabir Khan also opposed the Beef Ban in the country and was quoted saying in an interview,
We should be tolerant about each other's choices, whether it's about eating a particular kind of meat, or not wanting to eat meat. We need to let others live the way they want to live."
Verbal spat with a journalist
In 2015, Kabir Khan got into a heated argument with a journalist during the trailer launch of his film 'Phantom' (2015). Kabir Khan expressed his unhappiness about the notion that terrorists are generated by Pakistan. In an interview he said,
People to people friendship can't happen as long as these extremist elements exist in either country. And these elements have to be eliminated for both the countries to get along peacefully."
However, a journalist misinterpreted Kabir's statement and heard him saying that 'there are terrorist elements in India.' The journalist started shouting at Kabir and asked him to 'name the terrorist elements in India' to which the director said,
First do not talk to me like that. I do not appreciate it. Come over here, let me see your face and have a normal conversation. Do not get into all these talks."
Kabir told the journalist to not confuse "terrorist" with "extremist."
Trolled for his poor knowledge of Indian cricket
In 2020, during the promotion of his film '83,' Kabir Khan was quoted saying in an interview,
Till '83, India had never won a match in the history of the world cup."
The netizens trolled him for his statement and expressed how sad it was that the director of the film which is based on cricket, does not know the facts of the Indian cricket. People gave Kabir a fact check on Twitter and even said how disappointed they were with him.
"Till 83, India had never won a single match in the history of the World cup & West Indies had not lost a single match in the history of the world cup till then…": @kabirkhankk while talking about #83TheFilm#TalkingFilms #BollywoodHungama
YT: https://t.co/lTr1sAQVcg pic.twitter.com/0Fzw33KmKt

— BollyHungama (@Bollyhungama) January 13, 2020
What rubbish? India had won a match against East Africa in 1975 world cup. Here is score card of the match.https://t.co/1pYvSNkPjA

— Vishal विशाल 🇮🇳 (@vishalkmumbai) January 13, 2020
The 1975 East African team after listening to this pic.twitter.com/fCAtTq6Emr

— Nihal Anand (@nihalishungry) January 13, 2020
Trolled for praising Mughals
In 2021, Kabir Khan was slammed on social media for his views regarding the Mughals. In an interview, he talked about how disturbing he feels when films demonise Mughals, and he also termed Mughals as the 'original nation-builders.' This was not taken well by the netizens, and people trolled him for supporting looters and murderers.
Filmmaker Kabir Khan says he cannot respect films that demonise the Mughals, whom he described as the 'original nation-builders'. He gets brutally trolled#TheEmpire #BanTheEmpireSeries #UninstallHotstar https://t.co/SJxkrxgBjG

— India TV (@indiatvnews) August 28, 2021
Trolled for his 'Khan' surname
Kabir Khan is often trolled on social media for his surname, and trollers often ask him to 'go to Pakistan.' Reacting to the trolling, Kabir Khan was quoted saying in an interview,
I am told 'Go to Pakistan'. I have been to Pakistan once and was told to go back to India, so I am neither here nor there."
Awards & Nominations
In 2006, Kabir Khan received the 'Indira Gandhi Award for Best Debut Film of a Director Award' at the 54th National Film Awards for his film 'Kabul Express' (2006).
In 2007, he received the 'Swarovski Trophy for Best Director Award' and the 'Purple Orchid Award' for the best film at the Asian First Film Festival for his film Kabul Express' (2006).
In 2009, Kabir was nominated for the 'Golden Pyramid Award for Best Film' at the 33rd annual Cairo International Film Festival for his film 'New York' (2009).
In 2013, he received the 'Hottest New Filmmaker Award' at the Stardust Awards for his film 'Ek Tha Tiger' (2012).
In 2016, Kabir received the 'Best Popular Film with Entertainment Award' at the 63rd National Film Awards for his film 'Ek Tha Tiger' (2012).
In 2016, he was nominated for the 'Best Director Award' at the 61st Filmfare Awards for his film 'Ek Tha Tiger' (2012).
In 2016, he won the 'Best Film' and 'Best Screenplay Award' at the 17th International Indian Film Academy
In 2022, Kabir Khan was nominated for the 'Best Film' and 'Best Director Award' at the 22nd International Indian Film Academy Awards for his film '83' (2021).
In 2022, Kabir Khan was nominated for the 'Best Director,' 'Best Screenplay,' and 'Best Dialogue Award' at the 67th Filmfare Awards for his film '83' (2021).
Car Collection
Kabir Khan owns a Land Rover Ranger Rover car.
https://wikibio.in/wp-content/uploads/2023/10/Kabir-Khan-driving-in-his-Range-Rover-car-260×300.jpg 260w" sizes="(max-width: 351px) 100vw, 351px" />
Kabir Khan (driving) in his Range Rover car
Net Worth
Kabir Khan's net worth is estimated to be Rs 300 crores; as of 2023. ((GQ India
Favourites
Food: Vada pav, Mutton Biryani
Film Director: Rajkumar Hirani
Sport: Football, Swimming
Film(s): 'Sholay' (1975), 'Gandhi' (1982), 'The Beach' (2000)
Travel Destination(s): Tibet, Myanmar (formerly Burma), Morocco
Facts/Trivia
Kabir Khan's father, Rasheeduddin Khan, was a political science professor, and one of the founding professors of Jawaharlal Nehru University, Delhi. He was later nominated to the Rajya Sabha where he served two terms from 1970 to 1976 and 1976-1982.
Kabir Khan and Mini Mathu met in 1996 when he was a freelance photographer and she was a freelance presenter.
His father was a Muslim, and his mother was a Hindu. Kabir grew up celebrating all the festivals of both religions.
Kabir's sister who was a year senior to him, skipped a year of her education as she went mountaineering. After she returned from her trip, she applied for a film course at the Jamia Milia Islamia, and Kabir followed in her footsteps and joined the exact same course. 10 days into the course, Kabir decided that filmmaking was what he was going to make his career out of.
Kabir is a board member of the Mumbai Academy of the Moving Image (MAMI), an association that conducts international film festivals in Mumbai.
He started working with the Indian journalist Saeed Naqvi to shoot documentaries and soft news during the initial days of his career. During that time, they both travelled to about 60 countries to gather information.
In 2001, he along with his wife and Morani Brothers, were flying from Los Angeles to Washington just 15 days after the 9/11 terrorist attack. Hearing them talk in Hindi, a few other passengers on the plane complained about them talking in a 'strange language.' 2 FBI agents came and took all three of them to the front of the plane and started interrogating them. After realising that Kabir's second name is 'Khan,' the agents questioned him for two hours and googled his name to search if there were any terrorist links associated with his name. After all the research, they finally allowed Kabir and his co-passengers to fly. 
Shah Rukh Khan was Kabir Khan's senior at the MCRC of Jamia Milia Islamia, Delhi. Kabir also took the assistance of Shah Rukh's notes to study at the university. Kabir and Gauri Khan did the production and were dance partners in a musical play named 'West Side Story.' Shah Rukh Khan used to come to meet Gauri Khan during the dance practice sessions and that's how Kabir got to know about him.
'Kabul Express' (2006) was loosely based on the experiences of Kabir Khan and his friend Rajan Kapoor as documentarians working in Kabul, Afghanistan. They even received death threats from the Taliban to shut down the shooting of the film.
When Kabir had written the script of 'Kabul Express' (2006), there was no one to invest in the film as Kabir had no connections in the industry; however, one of his friends took it to the Indian filmmaker Aditya Chopra as Aditya was in search of a script outside his comfort zone. After a few days, Kabir got a call from the office of Yash Raj Films saying that Aditya Chopra wanted to meet him regarding the script; however, Kabir thought that somebody was pulling a prank on him as his wife, Mini Mathur, was working with MTV channel and they had a popular TV show called 'MTV Bakra' at that time. Eventually, he realised that it was a serious phone call and finally went to the office of YRF where he met Aditya Chopra. Aditya told Kabir how much he loved the script of 'Kabul Express' and how interested he was to produce the film and that's how Kabir finally got a producer for his directorial debut film. 
Before the release of his debut film 'Kabul Express' (2006), Kabir had to face a lot of difficulties regarding the producers of the film. Many self-styled producers claimed to be behind the production of the film before Yash Raj Films came on board. The matter was taken to the court, and the verdict was later announced in Kabir Khan's favour.
Kabir loves adventurous activities like scuba diving and fishing and often performs these activities when he is on vacation.
He loves doing photography and often shares his clicked pictures on social media.
He loves dogs and often shares pictures of his dog on social media.
In 2009, Kabir had to travel to the US to start the shooting of his film 'New York.' The American embassy officer rejected his visa applications on 'suspect grounds' and was suspicious because Kabir's surname was 'Khan,' and he also had previous travel history to the US.
Kabir Khan launched his own production company named 'Kabir Khan Films Private Limited' on 11 February 2014.
In 2016, Kabir Khan was held by some protesters when he went to Karachi, Pakistan, to attend a marketing seminar. As soon as Kabir reached the Jinnah International Airport in Karachi, protestors started accusing him of degrading Pakistan in his film 'Phantom' (2015). 'Pakistan Zindabad' and anti-Indian slogans were shouted at him; however, he didn't respond to them and walked directly into the airport lounge.
At the age of 21, when Kabir Khan was assisting Indian Journalist Saeed Naqvi with an international documentary in South Africa, he met one of his idols, Nelson Mandela. Kabir was waiting outside his house while carrying Mandela's autobiography and wearing a t-shirt that said 'Vote for Mandela,' and as soon as Mandela stepped out and saw his t-shirt, he told Kabir that he could go to jail for wearing that t-shirt. Nelson Mandela autographed Kabir's t-shirt along with the autobiography and left a long-lasting impact on Kabir Khan.
In 2020, Kabir made his debut TV series 'The Forgotten Army – Azaadi Ke Liye,' and it was streamed on Amazon Prime Video.
In 2022, Kabir was featured in the 'Grazia Cool List 2022' under the category of 'The Risk-takers Who Have Gone Against The Odds.'
In 2015, it was rumoured that Salman Khan and Kabir Khan had a tough time working together during the shoot of the film 'Bajrangi Bhaijaan' and that the duo decided to not work together again. Salman Khan used to change dialogues and scenes as per his comfort; however, Kabir being the director didn't like his behaviour and ended up removing an entire scene from the film without informing the actor. In 2023, Kabir cleared all the speculations and credited Salman for his contribution to the director's career. He also revealed that they are working on 'Bajrangi Bhaijaan 2.' Kabir was quoted saying in an interview,


There have been times when we've not agreed about things, and we've argued and argued, and he has sulked, but it's always been… Either I am able to convince him, or he has been able to convince me."
In the initial days of his career, Kabir Khan came on board with a director from London to shoot a film based on the growing gun culture in Bihar for the British TV channel 'Channel 4.' Goons later turned into politicians like Pappu Yadav, and  Anand Mohan Singh were rivals during that time. Kabir and his team convinced Pappu Yadav for an interview as he thought the team was from BBC and they were considering him as a politician. During the interview, Pappu was roaming around in his district, showing around the social work that he did in his village. The rival gang got to know that Pappu was roaming around unarmed and without his gunmen for his security, and that surged a gunfight. 10 bullets were shot at Kabir's car and one of them hit the driver, and he died on the spot. Trying to save themselves, the film crew hid under the cars while the firing was going on, and fortunately, Kabir was saved.
During his initial documentary direction days and soon after the terrorist attack of 9/11, Kabir Khan went to Afghanistan to shoot a documentary and meet the then-politician Ahmad Shah Massoud at the Afghan tragic border. While on his way to the border, Kabir stopped at a place to get a shot of the moving vehicles with the Hindu Kush mountains in the background. In order to take the shot, he started walking more towards the area and didn't notice the red-stoned (in Afghanistan, mines are detected by the colour of the stones outside. Red indicates an active mine whereas white indicates a field which is de-mined) minefield. He walked 100-150 feet inside the mine until he heard his friend and driver scream 'Khatra e mine' (danger! mine ahead). Even though the location had a temperature of -15 to -19 degrees, Kabir was sweating due to the heat generated from the minefield. As soon as he realised, he walked back outside by retracing his own footmarks.
After the 9/11 terrorist attack, Kabir collaborated with an international channel to shoot a documentary in Afghanistan to showcase how the Taliban was falling apart amidst the war and bombing. Kabir and his friend Rajan tried their maximum to enter Afghanistan but somehow all the attempts went in vain and they were stuck in Dushanbe in Tajikistan for 13 days. Finally, they decided to give it a last try and went to the nearby airbase and asked for help and somehow convinced and bribed a Russian pilot who was going to transport medical supplies in Kabul, Afghanistan to carry them in his aircraft as well. After a 40-minute ride in the plane and before reaching Kabul, the pilot stopped mid-air fearing that he might get caught for carrying civilians in his plane. The aircraft was about 15-20 feet above the ground and the pilot asked Kabir and Rajan to jump off. After jumping from the plane, they saw a Mujahideen (people who engage in jihad) coming towards them with a gun in his hand. Kabir and Rajan got scared and started shouting 'Hindustan! Hindustan!' in order to tell him that they were innocents from India. As soon as the Mujahideen came, he started smiling at them and sang 'mere sapno ki rani kab aayegi tu.' That was the day when Kabir realised the importance of the Hindi mainstream cinema in Afghanistan and its nearby areas.
In 2023, Kabir was featured in GQ India's list of the 'richest and most powerful film directors in the country.'
Kabir Khan's mother was a huge Bollywood fan, and she used to take Kabir and his sister during their childhood days to the Vigyan Bhawan, New Delhi every weekend to watch screenings of both Bollywood and international films.
He underwent 2 years of research before making and releasing the film '83' in 2021.
Kabir loves travelling and often shares his travel experience on social media.
He is close friends with Indian actress Katrina Kaif and considers her a part of his family.