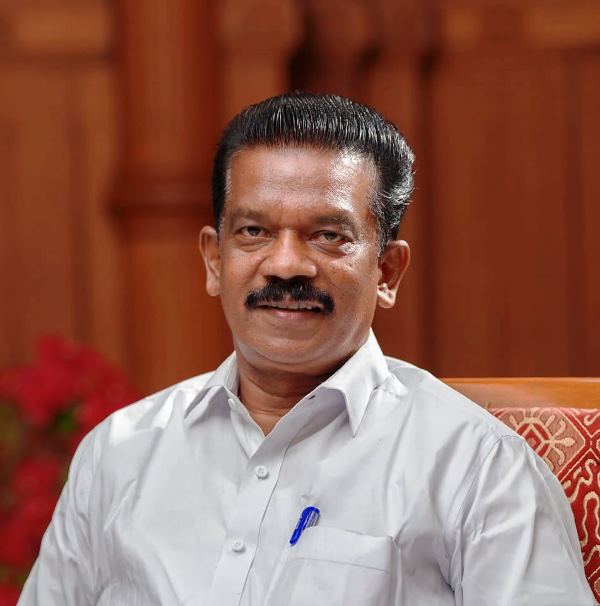 K. Radhakrishnan is an Indian politician and a member of the Communist Party of India (Marxist). He was appointed as the Minister for Welfare of Scheduled Castes, Scheduled Tribes and Backward Classes, Devaswoms, and Parliamentary Affairs in the Government of Kerala in 2021. He served as the Speaker of Kerala Legislative Assembly from 2006 to 2011.
Wiki/Biography
K. Radhakrishnan was born on Sunday, 24 May 1964 (age 59 years; as of 2023) in Pullikkanam Vagamon, Kerala.
He did his schooling at Aided Upper Primary School, Thonoorkara, and SMTGHSS, Chelakkara.
Later, he attended Sri Vyasa NSS College, Wadakkanchery.
He pursued a BA in Economics at Sree Kerala Varma College,  Thrissur from 1985 to 1988.
He developed an interest in politics during his formative years. He was an active member of the Students' Federation of India (SFI), a left-wing student organisation often labelled as the student wing of CPI(M).
He held various positions like Sree Kerala Varma College Unit Secretary, Thrissur District Secretariat Member, DYFI Chelakkara Block Committee Secretary, DYFI State Committee Member, National President, Dalit Soshan Mukti Manch (D.S.M.M.), State President, Farm Workers' Union (C.t.U.), State President, Kerala Samsthana Kaliman Patra Nirmana Thozhilali Union (K.P.N.T.U.) and President, Steel & Industrial Forging Ltd. (S.I.F.L.) Union.
An activist during his college days, Radhakrishnan led students' agitations against the education policy of the government in 1982-87 for which he was brutally assaulted by the police. He was actively involved in the issues of agricultural labourers and organised protests with them.
Additionally, his affiliations with Kerala Sastra Sahitya Parishad and Total Literacy Movement helped him build strong ties with the people.
Physical Appearance
Height (approx.): 5′ 9″
Hair Colour: Black
Eye Colour: Black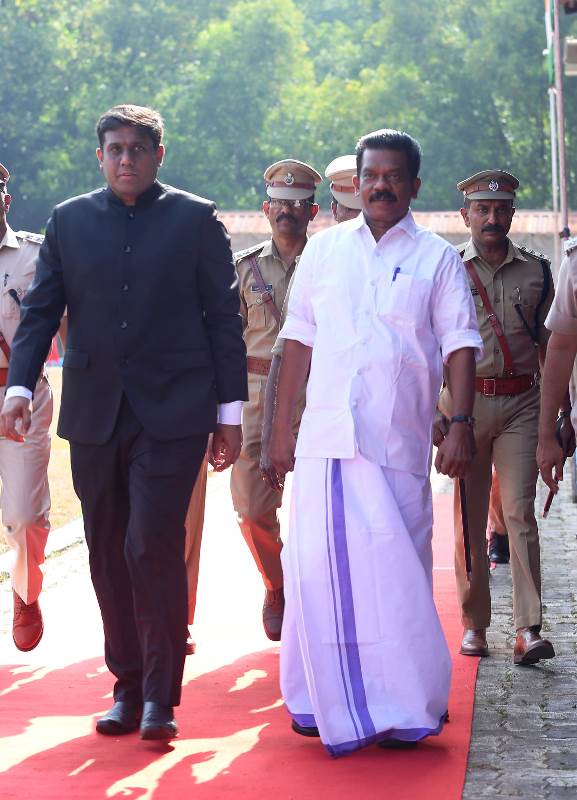 Family
Parents & Siblings
His father's name is M.C. Kochunni, and his mother's name is Chinna.
Wife & Children
He is unmarried.
Religion/Religious Views
K. Radhakrishnan follows Hinduism.
Caste
He belongs to the Scheduled Caste (SC) community (Dalits).
Address
His permanent address isVadakkevalappil House, Thonnoorkara P.O., Chelakkara, Thrissur -680 610.
Career
In 1991, Radhakrishnan was elected to the Thrissur District Council from the Vallathol Nagar division. In 1996, he won the Chelakkara Assembly seat defeating INC candidate T. A. Radhakrishnan by 2323 votes. He was inducted into the then EK Nayanar government as Minister for the Welfare of Backward and Scheduled Communities and Youth Affairs from 1996 to 2001.
In 2001, he won the Chelakkara Assembly seat defeating INC candidate K.A.Thulasi by 1475 votes. He was the Opposition Chief Whip from 2001 to 2006. In 2006, he won the Chelakkara Assembly seat defeating INC candidate P.C. Manikandan by 14,629 votes. He served as Speaker of Kerala Legislative Assembly from 3 June 2006 to 13 May 2011. Thereafter, he became a central committee member of CPI(M). In 2011, he won the Chelakkara Assembly seat defeating INC candidate K. B. Sasikumar by  24,676 votes. In 2021, he won the Chelakkara Assembly seat defeating INC candidate C. C. Sreekumar by 44,015 votes. He was given the portfolios of SC/ST welfare and Temple administration (Devaswom) in the second Pinarayi Vijayan ministry.
Controversies
Booked for Unlawful Assembly and Rioting
According to his 2021 election affidavit, an FIR was registered against him for being a member of an unlawful assembly, rioting, deterring a public servant from discharge of his duty, etc. He was charged under IPC sections 143, 147, 149, 283, 332, and 353 at Thiruvananthapuram Cantonment Police Station.
Revealing the Name of A Rape Victim
In November 2016, K. Radhakrishnan was accused of revealing the name of the victim in the Wadakkanchery sex scandal while interacting with the media. He revealed the woman's name while explaining the party's decision to suspend Wadakkanchery municipal councillor Jayanthan, who was facing charges of sexual molestation, from party membership. The police initiated a preliminary probe into the complaint filed by Youth Congress activists. The complainant said that when someone alerted him against revealing the victim's name, Radhakrishnan said that if Jayanthan's name could be revealed, the victim's name too could be.
Assets & Properties
Movable Assets
Cash: Rs 3,500
Deposits in Banks: Rs 1,01,651
Bonds, Debentures and Shares: Rs 10,000
Immovable Assets
Non-Agricultural Land: Rs 7,50,000
Residential Buildings: Rs 16,00,000
Note: The given estimates of the movable and immovable assets are according to the financial year 2020-21. It does not include assets owned by dependents.
Net Worth
His net worth was Rs 19,73,759 in 2021. It does not include the net worth of dependents.
Facts/Trivia
In an interview, while talking about what inspired him to become a communist, he said,


My family believed in communism. We lived in an era of inequality and exploitation. The communist party fought against social evils and, naturally, we were inspired by the movement. The ideology changed the world order."

In 2021, a Kachani native named Ajith was arrested for making calls to the office telephone of K Radhakrishnan. The minister revealed the incident while inaugurating an e-office facility at the Directorate of Scheduled Castes Development. Reportedly, the threat call was in connection with the probe into misappropriation of funds that were provided by the Centre for SC welfare.
In September 2023, Radhakrishnan made headlines when he shared that he faced caste discrimination during a lamp-lighting ceremony marking the inauguration of the Nadapanthal (temple porch) of the Payyanur Nambiatrakovval Siva Temple, which comes under the Devaswom board. Videos of the incident, which took place on 26 January 2023, went viral on the internet and a case was lodged against the two priests. Radhakrishnan said that the chief priest resisted handing over the ceremonial lamp to him as he was a Dalit. He said that the chief priest gave it to an assistant priest who also resisted handing over the lamp and placed it on the floor. The Minister said he felt insulted by the priests and officials of the temple. The event triggered public outrage as many questioned how would ordinary devotees be treated if such behaviour was meted out against a minister. Later, it was discovered that the alleged untouchability incident was a 'misunderstanding' of the rituals. The State committee of the Akhila Kerala Thanthri Samajam revealed that the priests who perform 'deva pujas' do not touch anyone, be it Brahmin or non-Brahmin, till the same is over. The samajam also questioned whether there was an ill intention behind bringing up the incident and turning it into a controversy eight months later. It also claimed that ignoring the truth, many were insulting the temple's melsanthi and his community based on the minister's statement. They accused Radhakrishnan of misinterpreting an innocent act and creating communal tension in society.
In August 2023, Mollywood actor Salim Kumar took a dig at the Communist Party of India (Marxist)-led government amid the row over Speaker AN Shamseer's science vs. myths speech. Kumar humorously suggested renaming the Devaswom minister as the "mythism" minister and referred to the offerings made at temples as "myth-money" on social media. The actor made the statement along with a picture of K Radhakrishnan (the Kerala Minister for Devaswoms) and said that "change should begin from administrative centres." A political argument started in Kerala after Speaker Shamseer, while speaking to school children at an event in Ernakulam on July 21, criticized the idea of promoting myths instead of science. He mentioned a statement by Prime Minister Narendra Modi, who had used Lord Ganesha as an example of ancient plastic surgery during one of his speeches. The BJP, Vishwa Hindu Parishad, Nair Service Society (NSS), and others raised objections to the statement, with the BJP filing a police complaint against him.
His hobbies include reading books and watching sports and cinema.