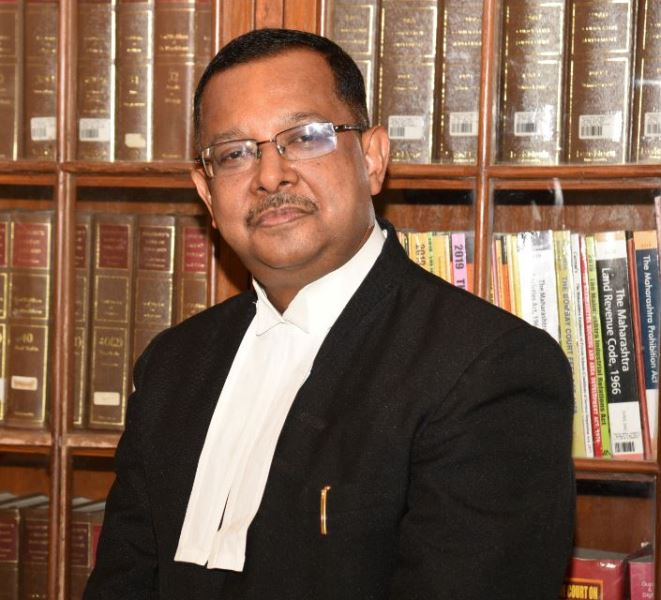 Ujjal Bhuyan is an Indian lawyer who was appointed as a Judge of Supreme Court of India on 14 July 2023. He has served as the Judge of Gauhati High Court (2011-2019), Judge of Bombay High Court (2019-2021), Judge of Telangana High Court (2021-2022), and Chief Justice of Telangana High Court (2022-2023).
Wiki/Biography
Ujjal Bhuyan was born on Sunday, 2 August 1964 (age 59 years; as of 2023) in Guwahati, Assam. He did his schooling at Don Bosco High School, Guwahati. After that, he enrolled in Cotton College, Guwahati. He obtained a bachelor's degree in Arts from Kirori Mal College, Delhi and an LLB from Bishnu Ram Medhi Government Law College, Guwahati. He enrolled with the Bar Council of Assam in March 1991. Subsequently, pursued an LLM at Gauhati University.
Physical Appearance
Height (approx.): 5′ 5″
Hair Colour: Black
Eye Colour: Black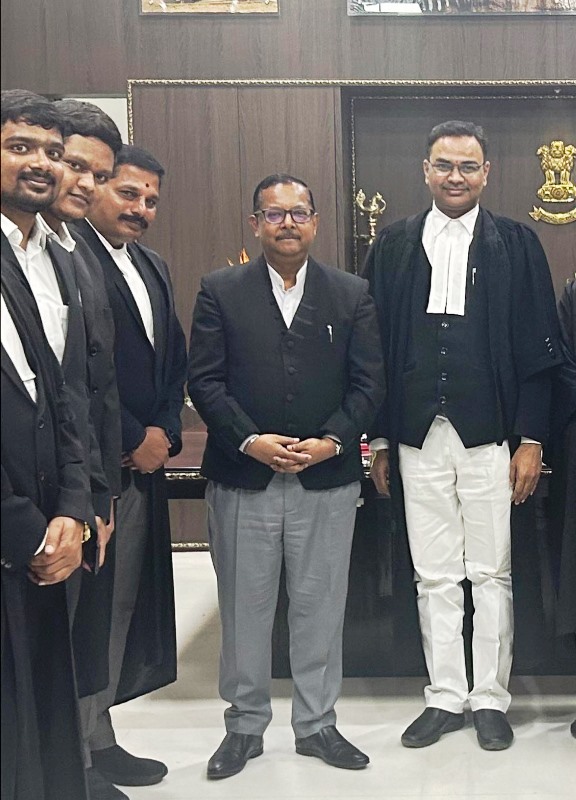 Family
Parents & Siblings
His father, Suchendra Nath Bhuyan, was a Senior Advocate and a former Advocate General of Assam. He passed away due to cardiac arrest in 2010. His mother's name is Subhadra Saikia. He has three sisters, Shagata, Anulekha and Jyoti.
Wife & Children
Ujjal Bhuyan is married and has a daughter.
Religion
He follows Hinduism.
Career
Ujjal Bhuyan enrolled with the Bar Council of Assam, Nagaland, Meghalaya, Manipur, Tripura, Mizoram and Arunachal Pradesh on 20 March 1991. He practised as a lawyer under the guidance of his father Senior Advocate Suchendra Nath Bhuyan. He had an extensive legal career that began at the Principal Seat of the Gauhati High Court in Guwahati. He also represented cases at the Agartala, Shillong, Kohima, and Itanagar Benches of the Gauhati High Court, as well as before the Central Administrative Tribunal, Guwahati Bench, and the Assam Board of Revenue. In addition, he appeared before the Labour Court in Guwahati, various Civil Courts, and the State Consumer Forum in Arunachal Pradesh. For 16 long years, he was the Standing Counsel of the Income Tax Department, starting as the Junior Standing Counsel in May 1995 and later becoming the Senior Standing Counsel on 3 December 2008. He also served as the Additional Government Advocate in Meghalaya at the Principal Seat of the Gauhati High Court from April 2002 to October 2006. Additionally, he worked as the Special Counsel for the Forest Department, Government of Arunachal Pradesh, from December 2005 to April 2009. On 3 March 2010, he was appointed as the Standing Counsel of the Gauhati High Court, and on 6 September 2010, he earned the designation of Senior Advocate by the Gauhati High Court. On 21 July 2011, he was appointed as the Additional Advocate General of Assam. He was a member of the Gauhati High Court Bar Association, Lawyers Association, Guwahati, Bar Association of India, All India Federation of Tax Practitioners, and the Indian Law Institute, Assam Chapter. On 17 October 2011, he was appointed as an Additional Judge of the Gauhati High Court; he was confirmed in this role on 20 March 2013.
He served in this capacity till 2 October 2019. He also served as the Executive Chairman of the Mizoram State Legal Services Authority. He had close associations with the Judicial Academy, Assam, and the National Law University, Guwahati. From 3 October 2019 to 21 October 2021, he served as a Judge of Bombay High Court. After a two-year stint in Mumbai, he was transferred to Telangana High Court, where he took his oath as a Judge on 22 October 2021; he served in this capacity till 27 June 2022. During his tenure at the Telangana High Court, he also served as the Executive Chairman of the Telangana State Legal Services Authority. From 28 June 2022 to 13 July 2023, he served as the Chief Justice of the High Court for the State of Telangana; he was sworn in and assumed charge at Rajbhavan, Hyderabad.
Justice Ujjal Bhuyan and Justice SV Bhatti, who was serving as Chief Justice of Kerala High Court, were sworn in as Supreme Court judges on 14 July 2023.
Notable Judgements
Striking down the Telangana Eunuchs Act, 1329 Fasli
In the V. Vasantha Mogli v. State of Telangana case, a division bench of Chief Justice Ujjal Bhuyan and Justice CV Bhaskar Reddy struck down the Telangana Eunuchs Act of 1919 citing that it was violative of Articles 14, 15 and 21 of the Indian Constitution and violative of the rights of the people belonging to the transgender community in July 2023. Eunuchs refer to all persons of the male sex who admit being impotent or who clearly appear to be impotent on medical inspection. Enacted in the Hyderabad Nizam's dominions, the act mandated all eunuchs to register with the authorities and allowed for the arrest of transgender people without a warrant. This was applied because they were "reasonably suspected" of abducting or kidnapping boys, or of committing offences that are unnatural. In September 2018, a petition was filed by Vyjayanti Vasanta Mogli, a transgender activist pioneering public interest litigation in high courts and the Supreme Court of India to promote LGBTQI+ rights.
Properties Attached in PMLA Probe Should Be Released After Acquittal
In the VANPIC Ports (P) Ltd. v. Directorate of Enforcement case, a division bench of the Telangana High Court, led by Chief Justice Ujjal Bhuyan and Justice N. Tukaramji, ruled that properties seized under the Prevention of Money Laundering Act (PMLA) should be released if the case against their owners is closed, either due to acquittal or settlement through compromise. The High Court was addressing a petition filed by Manturi Shashi Kumar and his wife Swapna, who contested a single judge's decision denying their request to instruct the Enforcement Directorate to release their properties, as the money laundering case against them had been closed. The single judge rejected the initial petition on the grounds that the couple had settled the case in the Lok Adalat through a compromise, rather than on its merits. The judge also noted that the couple had no legitimate income and that the properties were acquired using proceeds from money laundering activities. However, the division bench referred to the Supreme Court's judgment in the Vijay Madanlal Choudary case, where the apex court had ruled that a final acquittal from a scheduled offence or criminal case by a competent authority implied that no offence had taken place, emphasizing that it didn't matter whether the acquittal was based on merit or through a compromise settlement.
Staying Abroad For Career Not "Cruelty to Husband" or "Desertion of Spouse"
In 2021, a division bench of Justices Ujjal Bhuyan and P K Chavan at the Bombay High Court declined to intervene in the dismissal of a husband's divorce petition by a Bandra family court. The family court ruled that the husband had failed to establish any case of cruelty or desertion against his wife, who is an overseas citizen of Canada. Both the husband and wife hold dual citizenship in India and Canada, but currently, the husband resides in Mumbai, while their minor son lives with his mother in Canada. The couple got married in 2004 in Mumbai. In 2016, the husband sought a divorce on the grounds of "willful desertion" by his wife. He claimed that during his visit to Canada in 2013, he was not warmly received, and in 2015, he faced "mental cruelty." Therefore, he filed for divorce, citing cruelty by desertion. The High Court observed that the wife's desire to settle in Canada was driven by the fact that the husband had initially made the conscious decision to settle abroad. The court stated that the wife's wish to settle in Canada should not be considered selfish or unjustified since both of them had mutually decided to move to Canada permanently for better prospects. The High Court found the husband's evidence to be vague and insufficient, and it concluded that there was no basis to claim that the wife had treated him with cruelty by deserting him. As a result, the court upheld the family court's decision to dismiss the husband's divorce petition. The court said that it made out no case to interfere with the family court order and added,
We hope that there is still scope for the couple to restore the bond, at least for the sake of their child", as "it would be very difficult to construe that the marriage… has deteriorated to such an extent that it would be impossible to unite the couple."
No Coercive Steps Against Schools, Parents Over Online Classes Up To Standard II
In 2020, a bench of Justices Ujjal Bhuyan and N R Borkar at Bombay high court asked the state government not to take any coercive steps against schools, which are conducting online classes for students up to standard II, to those willing to avail such teaching. A petition was filed by the Parents Teachers Association of United Forum and two parents challenging the state's circular that doesn't allow online classes for students of pre-primary to standard II.
Quashing an FIR against Republic TV's Editor-in-Chief Arnab Goswami
In 2020, a division bench of justices Ujjal Bhuyan and Riyaz Chagla at the Bombay High Court granted interim relief to Arnab Goswami, anchor and Chief Editor of Republic TV, suspending the two FIRs filed by Mumbai police against him for his alleged provocative and inflammatory comments on the incidents of Palghar lynching and the gathering of migrant workers at Bandra railway station. Goswami was charged under various sections of the Indian Penal Code for making allegedly communal comments on his TV show. Bhuyan and Chagla while responding to the writ petition filed by Goswami to quash the two FIRs, said,
Seventy years into our republic we cannot be seen to be skating on thin ice so much so that mere mention of a place of worship will lead to animosity or hatred amongst religious communities causing upheaval and conflagration on the streets. Subscribing to such a view would stifle all legitimate discussions and debates in the public domain."
Appointing Wife As Guardian To Her Husband Lying In Coma
In 2020, a division bench of Justice Ujjal Bhuyan and Justice Milind N Jadhav held that while there was no law on appointing guardians to such patients, the wife can be "best-suited" to be the guardian "as Hindu Vedic philosophy considers marriage as a union of two souls for life." The court was hearing a plea by a woman in the Rajni Hariom Sharma v. Union of India case who sought to appoint her as a guardian to her 42-year-old husband, who had suffered a cardiac arrest while jogging and went into a coma.  The woman submitted that since her husband was not in a position to use intellect, converse and sign documents, she was required to act as his guardian to safeguard his business and other interests. She had requested the banks to allow her to sign cheques in place of her husband but was denied permission.
Branding Women as Witch and Then Resoting to Witch-hunting is Human Rights Violation
In Bhim Turi v. State of Assam (2017), the division bench comprising Ujjal Bhuyan and Paran Kumar Phukan, JJ. observed that branding a man or a woman as a witch and then resorting to witch-hunting is the most dehumanizing act and is one of the worst forms of human rights violations. In the case, the appellant had appealed against the judgment of the Sessions Court which sentenced them to imprisonment for life as the accused persons had murdered the victims suspecting them to be witches.
Facts/Trivia
His father, Suchendra Nath Bhuyan, actively participated in the Quit India Movement as a freedom fighter. However, he later developed an interest in leftist ideology and became involved in the Left movement. In the early 1950s, he became a dedicated activist of the Communist Party of India (CPI). However, CPI was banned by the authorities, and as a result of his involvement in CPI activities, Bhuyan was imprisoned. Suchendra Nath Bhuyan was not only a political activist but also a true philanthropist. He tirelessly worked for the betterment of the underprivileged and generously contributed to the establishment of various institutions, including educational ones in Kampur and Guwahati. A 52-minute documentary titled Kopilir Polos Suchendra Nath Bhuyan was scripted and directed by Dip Bhuyan in 2006.
Besides his interest in law, he loves listening to music, acting, and following various sporting activities.