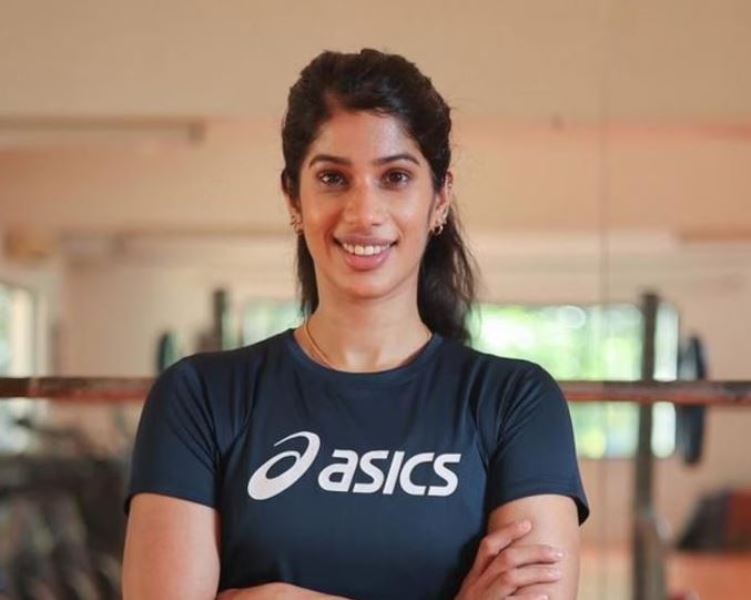 Joshna Chinappa is an Indian squash player and the youngest woman to win The National Squash Championship in India. In 2014, Joshna along with Dipika Pallikal Karthik helped India secure its first-ever Commonwealth Games medal in Squash. She is the first Indian to become the Asian Squash Champion. She was part of the Indian women's national squash team that won a bronze medal in the 2023 Asian Games.
Wiki/Biography
Joshna Chinappa was born on Monday 15 September 1986 (age 37 years; as of 2023) in Chennai, Tamil Nadu, India. Her zodiac sign is Virgo. She completed her primary education at the Lady Andal Venkatasubba Rao School, Chennai. Later, she pursued a bachelor's degree in English Literature at the Ethiraj College For Women, Chennai.
Physical Appearance
Height (approx.): 5′ 7″
Weight (approx.): 65 kg
Hair Colour: Black
Eye Colour: Black
Family
Parents & Siblings
Joshna Chinappa's father, Anjan Chinappa, is a coffee plantation owner in Coorg and a squash player who represented Tamil Nadu in squash. Her mother's name is Sunita. She has a younger brother named Gaurav.
Religion/Religious Views
In an interview, she talked about her religious practices and said that she is not religious.
Career
2000
She won junior, and senior squash national championship titles and became the youngest player to hold both titles at the age of 14.
2003
At 16, Joshna won the British Junior Open title in the U17 category.
2004
She lost the finals of the British Junior Open title to Egypt's Omneya Abdel Kawy in the U19 category.
2005
She won the British Junior Open title by defeating Tenille Swartz of South Africa in the finals. Later, she participated in the World Junior Squash Championships held in Belgium and stood as the runner-up in the championship.
2008
She won her first Women International Squash Player Association (WISPA) tour title and became the first Indian woman to achieve this feat. A week later she won the NSC Super Satellite No. 4 held in Malaysia, by defeating Low Wee Wern in the final match, and claimed her second consecutive WISPA title.
2010
She won the German Ladies Open squash tournament held in Saarbrucken, Germany and claimed her first WISPA tour title in Europe. She remained undefeated the entire tournament which made the victory remarkable. In 2010, she was a member of the Indian women's national squash team; Anaka Alankamony, Dipika Pallikal, and Anwesha Reddy were the other members of the team. The team bagged the bronze medal at the 2010 Asian Games held in Guangzhou, China.
2011
She won the Windy City Open held in Chicago, US, by defeating her compatriot Dipika Pallikal in the final.
2014
Joshna alongside Dipika Pallikal represented India in women's doubles at the Commonwealth Games held in Glasgow, Scotland. They went on to win the finals by defeating the English pair of Jenny Duncalf and Laura Massaro in less than 28 minutes with scores of 11–6, 11–8. With this win, they won India's first-ever squash medal in the Commonwealth Games.
In 2014, she was a member of the Indian women's national squash team; Anaka Alankamony, Aparajitha Balamurukan, and Dipika Pallikal were the other members of the team. The team bagged the silver medal at the 2014 Asian Games held in Incheon, South Korea.
2015
In September 2015, while playing in the finals of the NSCI Open title she was hit in the face by her opponent's racquet but still managed to win the game. In the first round of the Qatar Classic, she defeated Raneem El Welily from Egypt, the World No. 1 squash player at that time. By December 2015 she became the highest-ranked Indian woman player, overtaking Dipika Pallikal in rankings for the first time.
2016
She won the South Asian Games held in Guwahati by defeating her Pakistani rival Maria Toorpaki Wazir in the finals.
She won two bronze medals at the 2016 World Doubles Championships held in Darwin, Australia, in the doubles, and mixed doubles category.
2017
She won the Asian Individual Squash Championships held in Chennai by defeating Dipika Pallikal in a nailbiting final match with the score 13–15, 12–10, 11–13, 11–4, 11–4 and became the first Asian Squash Champion from India.
Our CHAMPION #Joshna !!@joshnachinappa scripted history by becoming the first Indian to clinch the #AsianSquash title. pic.twitter.com/DWTrlpmVlX

— Doordarshan National दूरदर्शन नेशनल (@DDNational) May 1, 2017
In August 2017, she participated in the World Doubles Squash Championship alongside her former rival, Dipika Pallikal and bagged a bronze medal.
2018
She participated in the 2018 Commonwealth Games, reached the quarterfinals of the women's singles event, and won a silver medal in the women's doubles event. She was a part of the Indian women's squash team that bagged a silver medal at the 2018 Asian Games held in Jakarta, Indonesia alongside Tanvi Khanna, Sunayna Kuruvilla, and Dipika Pallikal. She also won a bronze medal in the single's event at the 2018 Asian Games.
2019
She won the Asian Individual Squash Championships held in Kuala Lumpur by defeating Annie Au in the final. In an interview, talking about her experience of the final match she said,
Annie is tough to play against, mentally and physically. I had lost to her three times so it was extremely satisfying to win the final."
2020
She won the 77th Senior National Championship claiming her 18th national title.
#Squash@joshnachinappa wins 18th national title; @SauravGhosal 13th crown

READ: https://t.co/NMdClgCupY pic.twitter.com/RYBi1tsf0O

— The Times Of India (@timesofindia) February 15, 2020
2021
Joshna along with the Indian team won the bronze medal at the 2021 Asian Team Championships held in Kuala Lumpur.
Bronze🥉 at the Asian Team Championships 2021! So thrilled and grateful to play for India again✨ #TeamIndia #Kl pic.twitter.com/zLu7dViPH3

— Joshna Chinappa (@joshnachinappa) December 4, 2021
2022
She won the Squash World Doubles Championships held in Glasgow, Scotland alongside Dipika Pallikal.In December 2022 she won the HCL 78th National Squash Championship claiming her 19th national title by defeating Anahat Singh in the women's singles finals.
Joshna you beauty 😍
Joshna Chinappa wins National Squash title for staggering 19th time!
The 36 yrs old got the better of rising sensation 14 yrs young Anahat Singh 11-8, 11-9, 11-9 in Final. pic.twitter.com/gMeidpjxwP

— India_AllSports (@India_AllSports) December 10, 2022
2023
She was a national team member alongside Saurav Ghosal, Tanvi Khanna, and Abhay Singh in the Squash World Cup 2023 hosted by India in Chennai, Tamil Nadu. Joshna helped India keep an edge in the pool stage by performing exceptionally well.
Massive cheer from the home crowd as the former World No.10 comes from behind to shock the World Cup's top ranked player Watanabe

📺 https://t.co/4yHWM4F8R0, @Olympics Channel and JioCinema@indiasquash #squashworldcup pic.twitter.com/jFAnBsJrlj

— World Squash (WSF) (@WorldSquash) June 15, 2023
However, India lost the semi-finals against Malaysia; Joshna Chinappa lost to Aira Azman 3-7, 3-7, 7-5, 4-7, Saurav Ghosal lost to Darren Pragasam 5-7, 7-2, 6-7, 5-7, and Abhay Singh lost to Ong Sai Hung 4-7, 7-5, 7-1, 1-7, 6-7. In 2023, she was a member of the Indian women's national squash team; Dipika Pallikal, Tanvi Khanna, and Anahat Singh were the other team members. The team bagged the bronze medal at the 2022 Asian Games held in Hangzhou, China.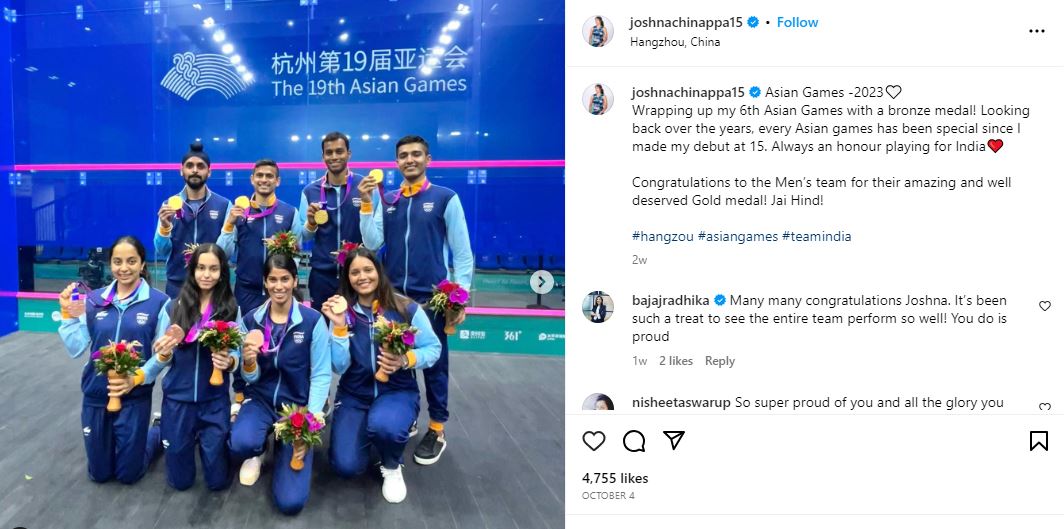 Award
In 2013, she received the Arjuna Award, the second-highest sporting honour in India, for excellence in squash.
Favourites
Cuisine: South Indian food
Sportsperson: Andre Agassi
Holiday Spot: Los Angeles
Clothing Brands: Abercrombie, Topshop, Tommy Hilfiger, Diesel, and Mango
Facts/Trivia
In 2023, she held the record for most national championship wins, with a total of 19 national titles.
Joshna Chinappa started playing squash when she was seven years old at the Madras Cricket Club under the guidance of her father. She considers herself lucky as she grew up around people who played squash which helped her access the game easily and pursue her interest.
In 2007, she was being coached by Mohammad Medhaat of Egypt but later switched to Malcolm Willstrop of England. In an interview, while talking about why she changed her coach, she said,


Malcolm is more technically sound and I love training under him mainly because he is strict and insistent on discipline and work ethics."

According to her, Malcolm helped her better her game by changing a few technical aspects like the gripping of the racquet. In 2019, she started training under Hadrian Stiff in Bristol, England.
In 2016, she achieved a world rank of 10, her career's highest ranking and became the second Indian to enter the list of the world's top 10 squash players after Dipika Pallikal. Six years later, i.e. in 2022, she again made it back to the top 10 squash players in the world.
She shares a great bond with P. V. Sindhu and is often seen hanging out with her.
Our laughs ?
Limitless
Our memories ?
Countless
Our friendship
Endless😘 @joshnachinappa
#bestfriend#friendship#friendshipgoals#matchingoutfits#loveubabe#mymonkey#👭 https://t.co/erMTVs3n0k

— Pvsindhu (@Pvsindhu1) December 27, 2019
In 2011, she faced a career-threatening knee injury but made her comeback in 2015 by performing exceptionally well in some of the games and becoming India's highest-ranked player. During her break, she teamed up with the former national champion Ritwik Bhattacharya to introspect and improve her game. In an interview, while talking about her comeback she said,


Well, (the results) are coming not just because I worked hard only this season. It has a lot do with my routine over the past three or four years, ever since I returned from injury (in 2011). I look after myself a lot better than I used to. I can never forget to be honest. I didn't know whether I would be holding the racquet again even after I had my knee operated. Now looking back, I feel I learnt so much. I am fitter than ever and spend more time in the gym than anywhere else."
According to Joshna, one of her biggest achievements is winning the Asian Championship title of her long singles career.
In 2019, she broke Bhuvneshwari Kumari's record of holding the maximum number of national titles, by winning her 17th national squash champion title in June.
According to Joshna, one of the naughtiest things she has done is getting a Smoking Devil tattoo on her back at the age of 15 without informing her parents. She also got her belly pierced in order to feel some pain after losing a game.
She does not train on weekends, instead spends time with her family and friends and eats chocolates. In her leisure time, she enjoys surfing.
Joshna's rivalry with Dipika is often exaggerated in the media, however, Joshna clarified the rumours and said,


They just want to see two girls fight and not necessarily on the court! We care little about what is being written. The truth is we are teammates and often roommates too. We have to back each other up. It's just her and I who are strong enough for the Indian team as of now. We both want to do well, win medals for the country. We have been playing each other for a long time to respect each other. Of course, on court you want to win, just as you want to against any other player on the PSA World Tour."
According to Joshna her favourite playing destination is the United States of America. In an interview she mentioned,


The United States: I love playing in America. In New York, we have a tournament played on a glass court which has been set up bang in the middle of the Grand Central station. I just love that venue."
In 2021, she became the brand ambassador of ASICS.
Joshna Chinappa is an animal lover.

 
She walked the ramp at Lakme Fashion Week x FDCI 2023 as a showstopper for the Caprese X Gauri & Nainika show alongside other squash team members.
a memorable Friday night @LakmeFashionWk with four beautiful women, for two beautiful women , thankyou @gauriandnainika ❤️ pic.twitter.com/nIc1O3hQ8E

— Abhay Singh (@abhaysinghk98) October 15, 2023