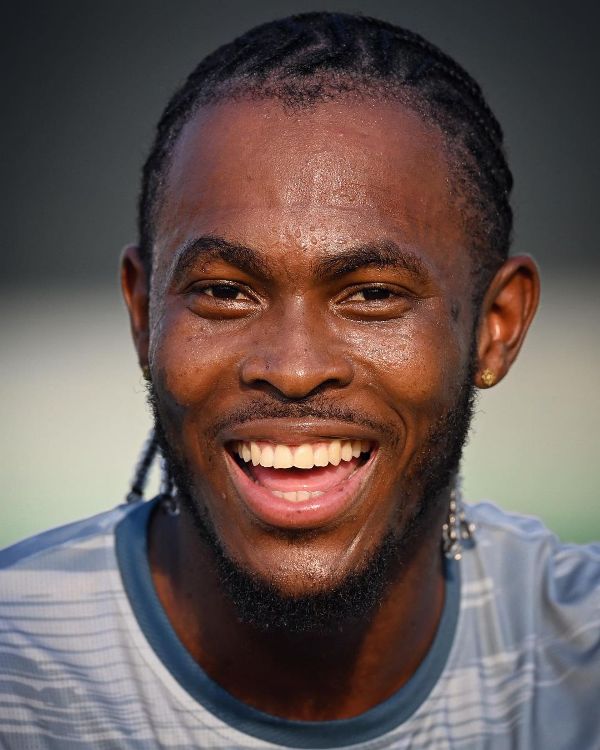 Jofra Archer is an English cricketer who is renowned for his pace bowling. He is a very good fielder and is also capable of hitting big shots. He was one of the best bowlers in the 2019 ODI World Cup which England won. He is considered a bowler who can open the bowling and bowl during the death overs at speeds around 150 kmph.
Wiki/Biography
Jofra Chioke Archer was born on Saturday, 1 April 1995 (age 28 years; as of 2023) in Bridgetown, Barbados. His zodiac sign is Aries. He attended Hilda Skeene Primary School and Christ Church Foundation School in Barbados. He was active in sports since childhood and competed in long jump competitions. He later switched to cricket at the age of thirteen and improved his skills exponentially over the next few years. Chris Jordan, another Barbados-born English cricketer, was impressed by his bowling in the nets and suggested him to move to England. After his 18th birthday in 2015, he moved to England and attended Dulwich College in London.
Physical Appearance
Height (approx.): 6′ 0″
Weight (approx.):  70 kg
Hair Colour: Black
Eye Colour: Black
Body Measurements (approx.): Chest 42″, Waist 32″, Biceps 16″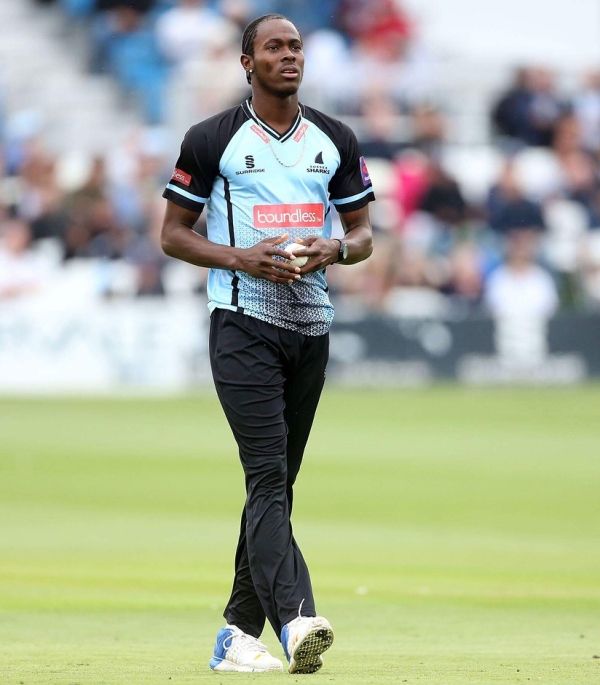 Family
He was born into a Christian family.
Parents & Siblings
His father's name is Frank Archer, and his mother's name is Joelle Waithe. His father is a retired London underground metro driver. After her divorce from Frank when Jofra was three years old, she married Patrick. Patrick coached Jofra and helped him become a skilful bowler.
Wife & Children
He is unmarried.
Relationships/Affairs
It is rumoured that he is in a relationship with Druanna Butler, a girl from Bridgetown in Barbados. They attended the same school, Christ Church Foundation School in Barbados.
Nationality
He is British from his father's side as his father Frank is a British citizen. He is Barbadian/Bajan from his mother's side as his mother Joelle is from Barbados.
Signature
Career
Domestic
He made his debut for Sussex in county cricket on 8 July 2016 in a match against the touring Pakistani national team and took 5 wickets for 73 runs in the match. He played his debut T20 match for Sussex on 15 July 2016 against Hampshire in the NatWest t20 Blast and took 1 wicket for 27 runs. He played his debut one-day match on 24 July 2016 for Sussex against Gloucestershire in the Royal London One-Day Cup and took 1 wicket for 48 runs. He was the highest wicket-taker for Sussex in the 2017 season in Division two. He gave several good performances including 7 wickets for 67 runs in an innings and 11 wickets for 137 runs in the match. He took a hattrick in a T20 match against Middlesex in August 2018. In a T20I match, he took 4 wickets for 18 runs. He also displayed his athletic fielding and striking abilities by scoring 81 runs not out in a match.
International
Under-19
He played for Barbados Under-19 and West Indies Under-19 in various tournaments. He injured himself while practising and was not selected for the Under-19 World Cup in 2014. He moved to England in 2015.
Test
Since he did not live in England, he had to play in England for seven years to be selected for England's national team as per then-England Cricket Board's (ECB) rules; however, ECB amended the residency rule in November 2018 by reducing the required years to three following which he became eligible for selection in 2018. He played his debut test match on 14 August 2019 against Australia at Lord's, London in the second test of the 2019 Ashes series. He took his maiden test five-wicket haul in the third test of the series by taking 6 wickets for 45 runs in the first innings and 8 wickets for 85 runs in the match. He took 6 wickets for 62 runs in the first innings of the fifth test helping England to win the match and tie the 5-match series 2-2. In December 2019, he took 5 wickets for 102 runs in the second innings of the test match against South Africa.
ODI
He played his debut ODI match on 3 May 2019 against Ireland in Dublin, Ireland and took 1 wicket for 40 runs. On 1 February 2023, he took his maiden ODI five-wicket haul by claiming 6 wickets for 40 runs against South Africa at Kimberley, South Africa.
2019 ODI World Cup
He was selected in England's squad for the 2019 ODI World Cup held in England and was the highest wicket-taker for England with 20 wickets in 11 matches. He played in all 11 matches for England and bowled the super over in the final against New Zealand, helping England to clinch the World Cup.
T20I
He played his debut T20I match on 5 May 2019 against Pakistan in Cardiff, Wales and took 2 wickets for 29 runs. On 18 March 2021, he took 4 wickets for 33 runs against India in Ahmedabad, India. On 14 March 2023, he took 4 wickets for 33 runs against Bangladesh in Mirpur, Bangladesh.
Indian Premier League (IPL)
He was acquired by Rajasthan Royals in the 2018 auction for £800,000 (Rs 7.20 crores) against the base price of Rs 40 lakhs and played his debut match against Mumbai Indians on 22 April 2018 and took 3 wickets for 22 runs. He displayed his bowling skills by taking 15 wickets in the 2018 IPL season, 11 wickets in the 2019 IPL season, and  20 wickets in the 2020 IPL season. In the 2022 auction, he was acquired by Mumbai Indians for Rs 8 crores against the base price of Rs 2 crores.
Pakistan Super League (PSL)
Jofra Archer played for Quetta Gladiators in the 2018 Pakistan Super League and made his debut against Karachi Kings. He played in two matches that season before pulling out of the tournament due to an injury.
Bangladesh Premier League (BPL)
He played for Khulna Titans in the 2017 season of the Bangladesh Premier League.
The Hundred
He was acquired by the Southern Brave for the 2022 season of the 100-ball tournament The Hundred in the April 2022 auction.
Big Bash League(BBL)
He played for Hobart Hurricanes in the 2017-18 and 2018-19 seasons of the Big Bash League.
SA20 League
He was acquired by MI Cape Town for the inaugural season of the SA20 League.
Injuries
He injured the middle finger of his right hand when he accidentally broke the fish tank while cleaning his home in January 2021. Surgery was done in March 2021 to remove a piece of glass from his right tendon. He suffered a stress fracture to his right elbow and underwent surgery in May 2021 to remove a piece of bone from his elbow. He underwent another surgery to treat the same injury in December 2021. In May 2022, he suffered a stress fracture in the lower back which ruled him out of play for 6 months. He returned to international cricket in January 2023.
Controversies
Hitting Steve Smith by a bouncer
In August 2019, during the second test of the 2019 Ashes, he was bowling during his debut match at Lord's, London, and he bowled a bouncer which hit the former Australian captain Steve Smith on the neck. Smith fell to the ground and was treated by the team doctor. Archer did not go up to Smith to ask about his well-being and was also seen laughing with his teammate Jos Buttler while Smith was being attended to by the team doctor. Fans and several cricketers like Shoaib Akhtar criticised Archer for laughing at Smith's injury. After the match, he said that he was trying to unsettle Smith and was shocked when he fell to the ground.
Racially Abused by New Zealand fan
On the fifth day of the first test of the 2019 series against New Zealand, he was batting when a fan shouted some racial slurs towards him. He tweeted about the incident on Twitter which enraged many fans following which England Cricket Board (ECB) raised the issues with New Zealand Cricket (NZC). Allegedly, the fan shouted BBC and BC towards Archer. NZC investigated the incident and identified a 28-year-old Auckland resident as the culprit and subsequently banned him from attending any international match for two years.
A bit disturbing hearing racial insults today whilst battling to help save my team , the crowd was been amazing this week except for that one guy , @TheBarmyArmy was good as usual also

— Jofra Archer (@JofraArcher) November 25, 2019
No Ball Controversy
In December 2019, he was bowling against South Africa in the first test match at SuperSport Park Stadium at Centurion near Pretoria, when he was warned by the on-field umpire to keep the height of his deliveries in check as he bowled a slow ball which was given as a high-waist no-ball by the umpire. On the next delivery, he again bowled a similar delivery which was not given a no-ball. South African players were miffed at the umpire's actions and then South African captain Faf du Plessis and coach Mark Boucher complained to the match referee Andy Pycroft.
Covid-19 Protocol Breach
England was playing against West Indies in England in midst of the onset of the Covid-19 pandemic in July 2020. Biosecurity rules were put in place to ensure that players do not get infected with Covid-19 which included travelling from one venue to another without any unplanned or unpermitted trip; however, after the first match in Southampton, Jofra Archer went to his home in Hove instead of going directly to Manchester. As per one source, he met with a friend (or girlfriend), and as per another source, he met with his dogs. Apparently, he told a member of the staff about his unapproved trip who informed ECB about it. When the news of this violation spread in the media, there was a huge uproar. He was banned for one test match by ECB and fined £15,000 match fee. ECB's team director Ashley Giles said that a lot of money was invested to secure the biosecurity bubbles, and Jofra should learn from this mistake. He said,
This could have been a disaster. A small act with a ripple effect through the whole summer could have cost [English cricket] tens of millions of pounds. A lot of work and money has gone into setting up biosecure environments. There is a lot at stake: this match, this series, this summer, and financially things bigger beyond that. Hopefully Jofra can learn from it and he will, I'm sure. Show me someone who says they've never made a mistake and I'll show you a liar. This is the first issue with this very good addition to our team – a fine young man who works hard. This occasion he got it wrong. We have to support him but there have to be consequences and there will be a process we go through."
He apologised for his mistake and said,
I am extremely sorry for what I have done. I have put not only myself but the whole team and management in danger. I fully accept the consequences of my actions, and I want to sincerely apologise to everyone in the biosecure bubble. It deeply pains me to be missing the Test match. I feel like I have let both teams down, and again I am sorry."
He spent five days in isolation and was checked twice for Covid-19 before being reinstated to England's national team.
Replying Taslima Nasreen
In April 2021, reports came in the media that British cricketer Moeen Ali requested his IPL franchise Chennai Super Kings to remove the logo of a liquor brand from the jersey which the franchise denied. Then the noted writer Taslima Nasreen tweeted that had Ali not played cricket, he would have joined ISIS in Syria. Archer replied to her tweet by tweeting that she was not okay. When Nasreen tweeted that she was being sarcastic when she put out that tweet, Archer replied again by tweeting that no one laughed at her sarcasm and that she should delete that tweet. Nasreen later deleted her ISIS tweet.
Awards, Honours, Achievements
Named as one of the five Wisden Cricketers of the Year in April 2020
Named as Rising Star of the England squad in the 2019 ODI World Cup by ICC
Named in the CWC 2019 Team of the Tournament by ICC
IPL Most Valuable Player of the 2020 season
Car Collection
He owns a Land Rover Range Rover Sport.
Favourites
Cricketer(s): Chris Jordan, Curtly Ambrose, Michael Holding, Craig Kieswetter, and Joel Garner
Film(s): Transformers, Madea, The Hangover, Robin Hood, Hush-The Movie, Fast & Furious
Singer(s): Mavado, Kanye Omari West, Lil Chuckee, Miley Cyrus, and Adam Lambert
Facts/Trivia
He is a right-handed batsman and right-arm fast bowler.
He is a dog lover and owns many dogs.
He is a gamer and likes to play games on PC like Fortnite and Call of Duty.
He has multiple tattoos on his body including a tattoo on his chest and arms.
Although his batting stance and bowling arm is right, he writes with his left hand.
His tweets are very popular among his fans as they claim that many of his tweets have come true like the super over tweet about World Cup Final and the tweet about the fiery bouncer towards Steve Smith.
Wouldn't mind a super over

— Jofra Archer (@JofraArcher) July 4, 2015
He lost the medal he received after winning the 2019 ODI World Cup while changing flats in 2020 and found it after a week.
When he was playing in the 2019 ODI World Cup, his cousin Ashantio Blackman was shot dead outside his home in St Philip, eastern Barbados at the age of 24 on 31 May 2019. Archer was affected by his cousin's death but put up a superb display of bowling to help England win the tournament.