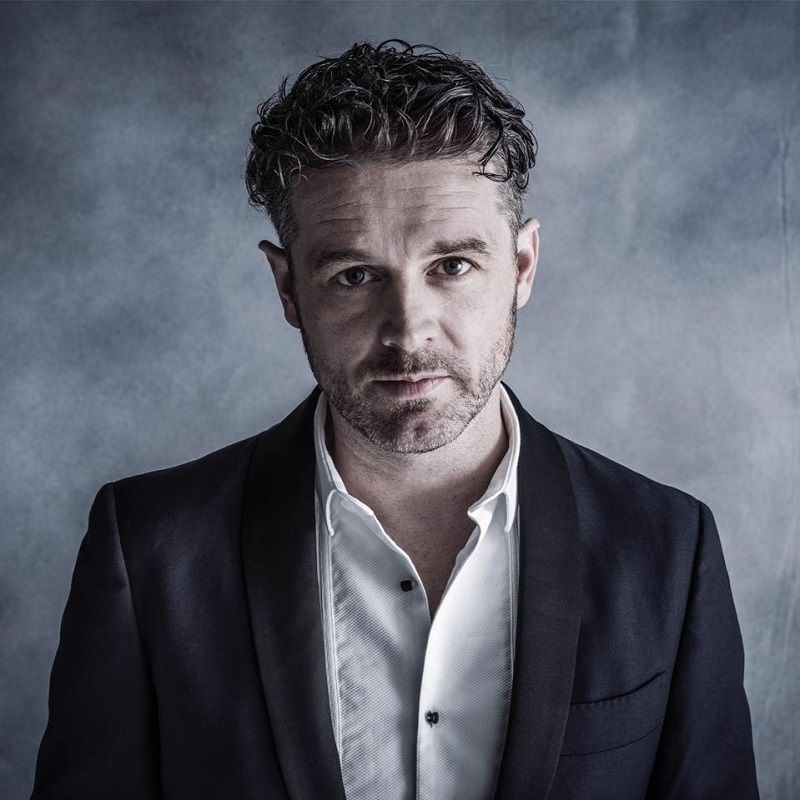 Jock Zonfrillo (1976-2023) was a Scottish television presenter and chef who is known for being a judge on MasterChef Australia. He was also known for being the founder of The Orana Foundation.
Wiki

/Biography

Jock Zonfrillo was born as Barry Zonfrillo on Wednesday, 4 August 1976 (age 46 years; at the time of death) in Glasgow, Scotland. His zodiac sign was Leo. He was Scottish from his mother's side of the family because they belong to Dalmellington, Ayrshire, while his father's side of the family is from Scauri, Italy. He did his schooling at Belmont Academy, Ayr, Scotland and left school at the age of 15. He used to work as a part-time dishwasher in kitchens after school when he was 13 years old.
Physical Appearance
Height (approx.): 5′ 9″
Hair Colour: Salt and Pepper
Eye Colour: Grey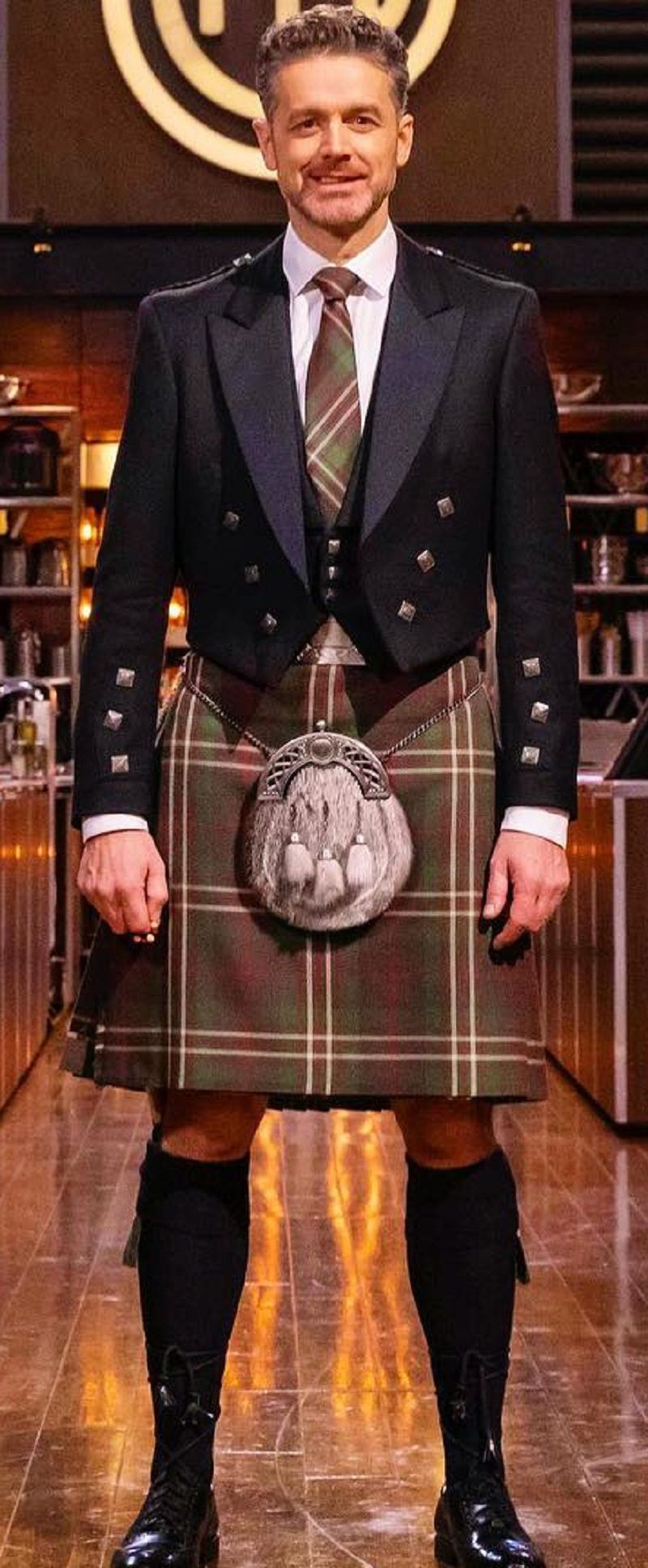 Family
Parents & Siblings
Jock's father's name is Ivan Zonfrillo, who was a barber.
His mother's name is Sarah, who was a hairdresser. He has a sister, Carla.
Wife & Children
At the time of his death, he was married to Lauren Fried, who is a marketing strategist and entrepreneur. They got married on 1 January 2017.
Before marrying Lauren, he was married twice. Lauren and Jock have two kids together, a son, Alfie and a daughter, Isla. Their son was born in February 2018 and was two months premature and weighed only 1.2 kg at the time of birth.
He has two daughters from other two marriages, Ava and Sophia.
Relationships/Affairs
He dated Lauren Fried from 2014 to 2017.
Career
Apprenticeship
At the age of 15, after leaving school, he started an apprenticeship in the kitchens of The Turnberry Hotel in Scotland. Later, he joined the Arkle Restaurant in Chester. He also worked for a British chef Marco Pierre White.
Chef
He moved to Australia and worked at Restaurant 41 in Sydney for 12 months as the head chef. At the age of 22, he returned to the UK after staying in Australia for a year and was appointed as the head chef at The Tresanton Hotel in Cornwall.
Restaurateur
In November 2013, he opened Restaurant Orana and Street ADL in Adelaide and in September 2017, he started the restaurant Street ADL which replaced Bistro Blackwood. In December 2018, he opened the restaurant, Nonna Mallozzi in Adelaide, South Australia. In July 2019, he faced a loss of $140,000 because of which he had to close the restaurant, Nonna Mallozzi. Later in 2019, he shut his restaurant Bistro Blackwood and in March 2020, he closed the restaurant Orana. Because of the shutdown of these restaurants, he was under huge debts amounting to approximately $3.2 million, his manager Greta Wohlstadt resigned from the job and he went to Melbourne in March 2020 along with his family.
Television
In 2014, he appeared as a guest chef on Season 6 of MasterChef Australia. Later in 2014, he was the host of the Discovery Channel show Nomad Chef where he travelled to 10 countries and learned to gather ingredients and cook from communities. In 2015, he hosted the cooking reality television series Restaurant Revolution. In 2016, he was a co-host with Chef Qu Jianmin on the show Chef Exchange where they learned about each other's food and wine cultures. In October 2019, he became one of the new judges for MasterChef Australia, alongside Melissa Leong and Andy Allen. In July 2020, he was also the judges for Junior MasterChef Australia. He appeared as a judge in the 15th season of MasterChef Australia which was to air on 1 May 2023, but he died on the eve of the premier. Later, the show's release was postponed to 7 May 2023. Also, Network 10 announced a special episode of The Sunday Project to be shown before the show which was based on Jock's life.
Last Shot
In 2021, he wrote a memoir titled Last Shot. In the book, he talked about his journey from being a drug addict to being one of the most renowned Chefs in Australia. According to him, he got addicted to drugs in the 1980s in Scotland. When he started drug consumption, he used to take cocaine and pills but to get higher, he eventually started using heroin. When he was 15 years old, he tried heroin for the first time. Later, when he got addicted to it, he also started using needles. This addiction continued for nine years because of which he was expelled from his school and job. In the book, he also mentioned that his drug addiction was his dark secret and his parents and wife did not know about it. In an interview, he talked about this and said,
Drugs were everywhere — we were surrounded. A lot of kids got into trouble and I was one of them."
He quit the addiction in 1999 when he moved to Australia. According to him, he took his last shot of heroin in a Heathrow Airport toilet on New Year's Eve.
Controversies
Physical abuse of an employee
In 2002, Jock deliberately set fire to Martin Krammer, who worked as an apprentice chef in his kitchen because he was working very slowly. After Martin filed a complaint against him, he was charged with a penalty of $75,000. In May 2007, Martin went to the Federal Magistrates Court to file a petition against Jock for not giving him the penalty and being bankrupt.
Orana Foundation v/s Media 
In September 2020, Jock filed defamation proceedings in the Federal Court of Australia against Nationwide News. The petition was based on an article written about the Orana Foundation founded by Jock in 2016 to preserve the historical cooking techniques and ingredients of Indigenous Australians. In October 2017, the foundation was awarded The Good Food Guide Food for Good Award. After this achievement, there were many questions from the media about the charity management of his foundation. There were proceedings regarding the articles after which on 17 December 2020, Nationwide News wrote an apology to Jock in The Australian newspaper.
Jock under debts
On 5 October 2020, his restaurants Restaurant Orana and Bistro Blackwood entered into voluntary administration after going through unpaid debts amounting to approximately $3.2 million. After this, a preliminary report was filed by the Voluntary Administrators with ASIC to check whether his restaurants were trading while insolvent or if there had been unfair preferences or potential breaches of director duties.
The Last Shot Controversy
On 28 July 2021, Simon and Schuster published a feature story in The Sydney Morning Herald about Jock's memoir Last Shot. In the memoir, had talked about his heroin addiction and visits to indigenous communities. In the memoir, he also referred to Marco Pierre White, a renowned chef as a father figure, but in an interview, Marco refused to help Jock and said, "almost everything he has written about me is untrue." In another interview, Simon and Schuster talked about the book and said that it was "a historical account written from the personal knowledge of the subject writing it."
Awards, Honours, Achievements
2011: Chef of the Year Award at the South Australian Food Industry Awards
2014: South Australian Best New Restaurant and South Australian Restaurant of the Year at The Advertiser Food Awards
2015: South Australian Restaurant of the Year at The Advertiser Food Awards
2015: Chef of The Year at Restaurant & Catering Awards
2015-2016: Australia's Hot 50 Restaurants by The Australian
2017: Hottest Chef and Hottest South Australian Restaurant by The Australian
2017: Food for Good Award by The Good Food Guide
2018: Australian Restaurant of the Year by Gourmet Traveller magazine
2018: Australia's Hottest Chef by The Australian
2018: Australian Food for Good Award by The Good Food Guide
2018: Basque Culinary World Prize by Basque Culinary Center
2019: Australia's Restaurant of the Year by The Good Food Guide
2019-2020: Three-hatted restaurant at Chef Hat Awards
Tattoo
He has a tattoo on his right arm.
Death
He died on 30 April 2023 in Melbourne, Australia. Reportedly, the reason for his death was not discovered. After his death, his family took to social media and talked about him and said,
With completely shattered hearts and without knowing how we can possibly move through life without him, we are devastated to share that Jock passed away yesterday. For those who crossed his path, became his mate, or were lucky enough to be his family, keep this proud Scot in your hearts when you have your next whisky. So many words can describe him, so many stories can be told, but at this time we're too overwhelmed to put them into words. For those who crossed his path, became his mate, or were lucky enough to be his family, keep this proud Scot in your hearts when you have your next whisky. We implore you to please let us grieve privately as we find a way to navigate through this and find space on the other side to celebrate our irreplaceable husband, father, brother, son and friend."
Facts/Trivia
He followed a non-vegetarian diet.
After coming back to Australia, he started using Australian native ingredients in his cooking. In an interview, he talked about this and said,


At the end of the day, what I wanted to do was with good intent as anything, and I was doing it in consultation in keeping with indigenous people on country and was being asked by them and they were my check in points, they were my advisors and so I knew that I was on a path that I felt okay about. I've spent nearly two decades trying to bring some kind of acknowledgement around a conversation for indigenous culture and its people and its food and through food."
His Restaurant Orana was named Australia's 2018 Restaurant of the Year by Gourmet Traveller magazine in August 2017.
In July 2021, was seen wearing worry beads in the MasterChef show. Many of his fans got interested in what he was carrying. Later, he sold the handmade bracelets with skulls on them for up to $500 each, under the brand named Caim. In an interview, he talked about this and said,


Caim is Scottish Gaelic, pronounced kyem. It's not religious – it's an invisible circle of protection that you draw around your body with your hand, to remind you of being safe and loved, even in the darkest times. I've got lots of different types of worry beads and when I'm feeling anxious or a little bit stressed, basically I worry. So I flick through them … and the more anxious … I get, the faster I do it."
In an interview, he said that cooking saved him from drug addiction. In the interview, he added,


I've always said, 'If it wasn't for food, I would've died.' When you're an addict, there's very little that's more compelling than doing that drug. Luckily for me, I somehow fluked upon cooking."