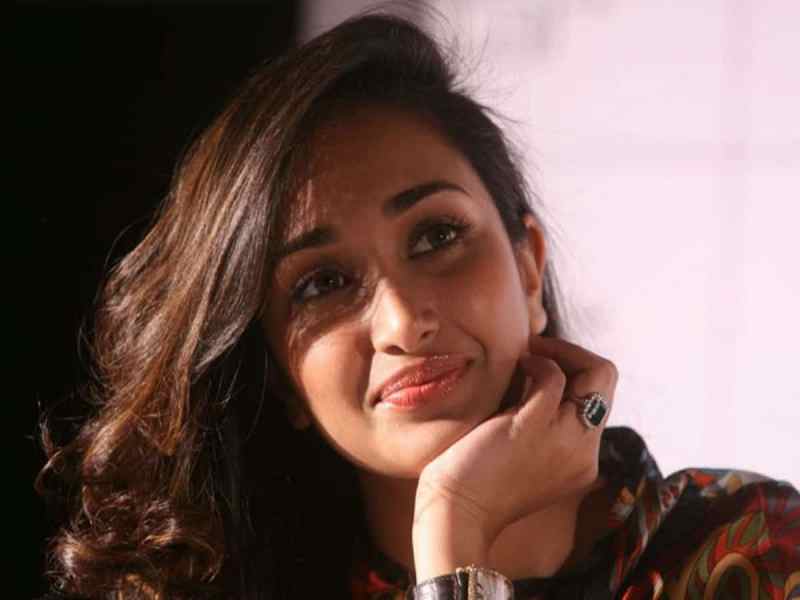 Jiah Khan (1988-2013) was an American-British actor who worked in Bollywood. She was known for her work in the films like 'Nishabd' (2007) and 'Ghajini' (2008).
Wiki/Biography
Jiah Khan was born as Nafisa Rizvi Khan on Saturday, 20 February 1988 (age 25 years; at the time of death) in Chelsea, London, U.K. Her zodiac sign is Pisces. She grew up in London.
Jiah attended Lee Strasberg Theatre and Film Institute in the United States.
Physical Appearance
Height (approx.): 5′ 5″
Weight (approx.): 50 kg
Hair Colour: Black with Light Brown highlights
Eye Colour: Dark Brown
Body Measurements (approx.): 32-28-32
Family
Parents & Siblings
Jiah Khan's father, Ali Rizvi Khan, is an Indian-American businessman, while her mother, Rabia Khan (also known as Rabya Khan and Rabia Amin), is a former British actor, who worked in Hindi-language films. Her father left the family when she was merely three months old. Her mother later got married to Thomas Puppendahl. Jiah Khan had two younger stepsisters named Karishma Khan and Kavita Khan. When Jiah was about seven years old, her stepfather, Thomas Puppendahl, left the family.
Husband & Children
Jiah Khan was unmarried and had no children.
Other Relatives
Pakistani actresses Hina Rizvi, Parveen Rizvi (better known as Sangeeta), and Nasreen Rizvi (better known as Kaveeta) are her paternal aunts.
Relationships/Affairs
Sooraj Pancholi
Jiah Khan dated Sooraj Pancholi, an Indian actor and assistant director. Reportedly, they met in 2012 and started dating in the same year.
Religion
Jiah Khan followed Islam.
Career
Film
Jiah Khan made her acting debut as a child artist with the film 'Dil Se' (1998); she appeared as young 'Meghna,' a role played by Manisha Koirala, in the film. In 2007, Jiah appeared as a lead actor in Ram Gopal Varma's 'Nishabd' as Jia.
In 2008, she played the role of a medical student named 'Sunita Kalantri' in the action thriller film 'Ghajini,' starring Aamir Khan, Asin Thottumkal, and Pradeep Rawat.
Jiah appeared in Sajid Khan's comedy-drama film 'Housefull' as Devika K. Samtani in 2010.
Awards
Jiah Khan was nominated for the Filmfare Award for Best Female Debut for the film 'Nishabd' (2007).
Death
Jiah Khan committed suicide on 3 June 2013 by hanging herself from the ceiling fan of her bedroom at her residence in Juhu, Mumbai. She was laid to rest in the Santa Cruz graveyard in Mumbai.
Suicide or Murder?
Jiah Khan's mother, Rabia Khan, alleges that Jiah's death was a murder, accusing Sooraj Pancholi of the crime and also raising concerns about financial impropriety involving money and jewellery. According to Rabia, Jiah had given Sooraj a substantial sum to buy jewellery for her sister's 21st birthday, but he never provided the jewellery or updated Jiah on the money's status. Although Sooraj apologized and sent flowers, which Jiah rejected, she confronted him regarding the money; the outcome of this confrontation remains undisclosed. Rabia also revealed that Jiah shared her apartment's biometric lock with Sooraj, raising suspicions about his involvement in her death. Sooraj, on the other hand, has claimed that Jiah was struggling with depression, which he tried to help her overcome on numerous occasions. He also alleges that he informed Rabia about Jiah's condition, but she failed to take action, resulting in Jiah's suicide.
Legal Proceedings
On 7 June 2013, Mumbai police recovered a suicide note at Jiah's residence in which Jiah had mentioned having aborted a baby whose alleged father was Sooraj Pancholi, son of Veteran actor Aditya Pancholi. She also expressed her disappointment at not receiving the love she expected and deserved from Sooraj. The letter also detailed the emotional and physical abuse Jiah endured while she was in a relationship with Sooraj.
On the basis of the suicide note, Sooraj Pancholi was arrested on 10 June 2013 on charges of abetment of suicide under Indian Penal Code (IPC) section 306; however, the Mumbai High Court granted him bail on 1 July 2013, saying that he could not be held solely responsible for the incident.
On 1 October 2013, Rabia approached the Bombay High Court, alleging that her daughter Jiah Khan was murdered and demanding that the Central Bureau of Investigation (CBI) probe the case. On 2 July 2014, the case was transferred to the CBI, which subsequently filed a chargesheet against Sooraj Pancholi. In 2016, CBI ruled out any foul play and informed the High Court that Jiah Khan's death was a suicide. Following this, Rabia hired a British forensic expert named Jason Payne James who alleged Jiah's death was 'staged.' Rabia later submitted a plea to the Bombay High Court, requesting a Special Investigation Team (SIT) take over the case; however, the Bombay High Court dismissed her plea in February 2017.
In September 2017, Rabia Khan wrote a letter to Prime Minister Narendra Modi to seek justice. She then approached the special CBI court in Mumbai and filed a plea for further investigation into the case, which was later rejected. In 2021, Jiah's case was reassigned to a special CBI court after the sessions court claimed it lacked jurisdiction following the CBI probe. In 2022, the Bombay High Court dismissed Rabia's petition seeking a fresh investigation into the case. On 28 April 2023, the special CBI court in Mumbai acquitted Sooraj Pancholi in the Jiah Khan suicide case due to the lack of evidence. The court, in its judgement, said that the evidences against Sooraj Pancholi were 'vague and general,' and Jiah was a 'victim of her own sentiments.' The special CBI court judge A. S. Sayyad noted that Jiah had suicidal tendencies which only Sooraj Pancholi was aware of. The judge further stated that Sooraj could not devote his time to Jiah as he was focusing on his acting career, and Rabia attempted to prove that Jiah did not commit suicide but was killed, which contradicted the prosecution's case and ultimately undermined it. A. S. Sayyad, in his jurisdiction, said,
In the instant case it cannot be ignored that the deceased had suicidal tendency. She had on earlier occassion attempted suicide and that time accused had called for doctor. The accused had treated her and had tried to get her out of depression. At the relevant time the accused was pursuing his career in acting and could not devote sufficient time for the deceased. However on the earlier occassion, when she tried to commit suicide, the accused had saved her and helped her to come out of the depression. Rabia through her evidence tried to show that Jiah never committed suicide and that she was killed by the accused (Pancholi). However, this is not the case of the prosecution. When the case of the prosecution was of suicide, Rabia kept claiming that it was murder. By giving such openly contradictory evidence the complainant herself destroyed the case of the prosecution."
After the court's verdict in Jiah Khan's murder case, Rabia Khan said that Sooraj Pancholi was not accused of abetment of suicide but of abetment of murder. In an interview, while reacting to the verdict, Rabia expressed her intention to challenge the decision in the high court.
Favourites
Chocolate Brand: Charbonnel et Walker
Garden (in London): Chelsea Physic Garden
Facts/Trivia
Jiah was fondly called 'babe,' 'bebo,' and 'snow baby' by her mother, Rabia Khan.
She had a passion for dancing since she was a child. She started taking dance lessons before she turned 6. In addition to her early training, she became proficient in a variety of dance styles including reggae, belly dancing, lambada, salsa, kathak, jazz, and samba.
Jiah was a trained opera singer. By the time she reached the age of 16, she had already recorded six pop tracks. In an interview, she talked about her passion for singing and said that she liked composing songs more than singing.
Jiah had a difficult relationship with her father, Ali Rizvi Khan, who left the family when she was just three months old. Growing up, she harboured intense feelings of anger and resentment towards him. Jiah talked about her father, in an interview, and said,


A man who left his daughter when she was two, should be hanged in public."
In an interview, Jiah Khan disclosed that when her stepfather, Thomas Puppendahl, left the family, he took their savings and obtained ownership of their house. Consequently, Jiah, her mother, and stepsisters had to live in a rented home in London, United Kingdom, managing on a tight budget. Jiah further shared that, for a certain period, they depended on McDonald's burgers as their primary source of sustenance.
Before making her acting debut with the film 'Nishabd' (2007), Jiah Khan changed her name from Nafisa Khan to Jiah Khan, drawing inspiration from the title of the Hollywood film 'Gia,' which featured Angelina Jolie in the lead role; however, in 2012, she reverted to her birth name, Nafisa Khan.
The film 'Nishabd,' featuring Jiah Khan and Amitabh Bachchan, sparked controversy on its release. With a plot focused on an older man becoming infatuated with an 18-year-old girl, many believed that the actors were promoting a negative message to audiences.
Jiah Khan was initially approached by Mukesh Bhatt for the lead role in his film 'Tumsa Nahin Dekha' (2004), but she declined the offer as she was just 16 years old at the time and didn't feel capable of doing justice to the character; Jiah was later replaced by Dia Mirza. She was also the first choice for the 2010 film 'Chance Pe Dance,' directed by Ken Ghosh, but Genelia D'Souza was ultimately cast instead.
The 2010 comedy-drama film 'Housefull' was the last film in which Jiah appeared.
Reportedly, Aamir Khan was once referred to as Jiah Khan's stepfather; however, in an interview, he clarified that although Jiah Khan's mother, Rabia, was one of his close friends, he never married her, and Jiah was not his daughter.
In 2021, a three-part documentary titled 'Death in Bollywood' was aired on the channel BBC Two. The documentary was based on Jiah Khan's suicide case. The documentary included interviews with Jiah's family, Sooraj Pancholi, and his father Aditya Pancholi.