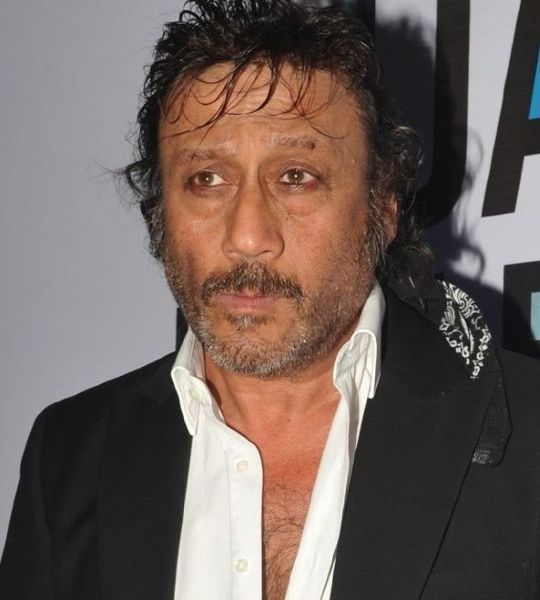 Jackie Shroff is an Indian actor and model. He is known for starring in super-hit cult classic films such as Ram Lakhan (1989), Khalnayak (1993), Rangeela (1995), and Border (1997).
Wiki/Biography
Jackie Shroff was born as Jaikishan Kakubhai Saraf on Friday, 1 February 1957 (age 66 years; as of 2023) in Bombay (now Mumbai), Bombay State (now Maharashtra), India. His zodiac sign is Aquarius. He dropped out of school in the 11th standard due to the poor financial status of his family and started working in 'Trade Wings', a travel agency in Mumbai. He was approached by an employee of a modelling agency when he was standing at a bus stand. He then got invited by Aasha Chandra to her acting school and was exposed to people working in films and their work culture before starring in movies himself.
Physical Appearance
Height (approx.): 6′
Weight (approx.): 85 kg
Hair Colour: Dark Brown
Eye Colour: Salt & Pepper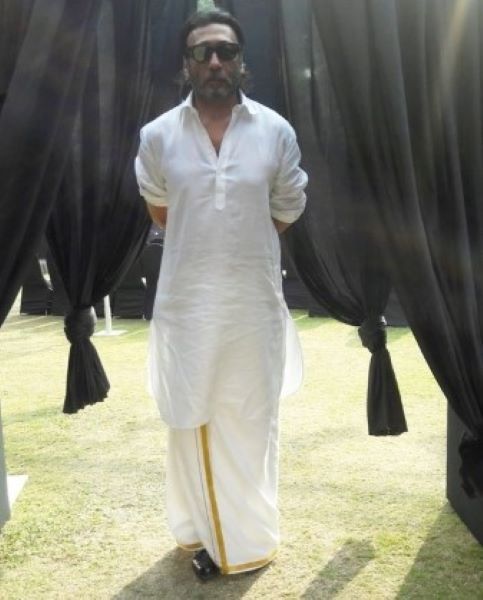 Family
Jackie Shroff was born into a Gujarati-speaking Hindu family in Mumbai.
Parents & Siblings
His father, Kakubhai Haribhai Shroff was an astrologer and came from a wealthy Gujarati merchant family. He lost a lot of money in stocks and was forced to leave his house at the young age of 17. Jackie's mother was of Turkish origin. She escaped Kazakhstan during a coup along with her mother and 6 sisters and settled in Mumbai. In an interview, he discussed the background of his parents and said,
My father Kakubhai Haribhai Shroff was an astrologer. My father was a Gujarati and my mom Turkish. My mom came from Kazakhstan, where there was a coup and she, along with six sisters and my nani, came down all the way down to Ladakh where they slept on a chatai on ice, down to Delhi and then Mumbai where she met my dad and they got married."
Jackie had an elder brother, Hemant Shroff (now deceased), who was known as 'Dada' in the chawl because of his heroic deeds. Unfortunately, he drowned while trying to save a person from drowning. He talked about this incident in an interview and said,
I had an older brother, who died when he was 17. I was 10 then. My brother was a mill worker and had just got a job a month back, when he drowned saving another man's life. He jumped into water even though he knew that he did not know how to swim. "
Wife & Children
Jackie married his long-time girlfriend, Ayesha Dutt on 5 June 1987. Ayesha is a former model and actress who works as a film producer.
Jackie Shroff has a son and a daughter. His elder son, Tiger Shroff is an Indian actor known for his acrobatic moves and dancing skills in films. His daughter, Krishna Shroff has worked as a film producer. Along with her brother Tiger and her mother Ayesha, she is the founder of Matrix Fight Night (MFN) and MMA Matrix Gym.
Relationships/Affairs
Jackie Shroff was briefly involved with Tina Munim's niece, Leena Somaiya, who was a model at the time.
Religion/Religious Views
Jackie was born in a Hindu family. In an interview, he claimed that he doesn't adhere to any one religion and said,
We do Ganpati, we go wherever they call us, any puja… Being in the films, they keep calling me. Kahin bhi chale jayein, church mein jaa kar sermon bhi padh leta hun, I go to dargah also. Farak nahi padta."
In the interview, he also talked about the religion of his kids and said,
They ask me, 'What's our religion?' I say that mother is your religion. Touch your mother's feat, respect her, and that's it."
Signature/Autograph
Career
Film
Hindi Films
Jackie Shroff got his first break in Dev Anand's 'Swami Dada' in 1982 as a henchman to the villain, played by Shakti Kapoor. His breakthrough role came the next year in 1983 when he starred in Subhash Ghai's 'Hero' as Jackie Dada alongside Meenakshi Sheshadri. 'Hero' brought him to the limelight and made him an overnight sensation.
In 1985, he starred in a blockbuster film 'Yudh' as police inspector Vikram along with Anil Kapoor, marking it as the first of many collaborations of the duo. In 1986, he starred in 'Karma' as Baiju Thakur along with Dilip Kumar, Naseeruddin Shah and Anil Kapoor. The film was critically praised and became the highest-grossing film of the year.
In 1989, he starred in Ram Lakhan and Tridev as Inspector Ram Pratap Singh and Ravi Mathur respectively, both of which opened to great commercial success. In the same year, he also starred in the movie 'Parinda' as Kishan which earned him a Filmfare Award For Best Actor.
In 1993, his role as sub-inspector Ram starring opposite Sanjay Dutt in 'Khalnayak' received high critical praise and the film became a cult classic. In 1994, he starred in '1942: A Love Story' as Shubhankar alongside Anil Kapoor and won a Filmfare Award for Best Supporting Actor.
In 1995, Jackie starred in the romantic comedy film, 'Rangeela' along with Aamir Khan and Urmila Matondkar. His performance was critically appraised, earning him the 'Filmfare Award For Best Supporting Actor'. In 1997, he worked in a multi-starring, super-hit war film, 'Border', which was based on the Indo-Pakistan war of 1971.
In 2000, he starred in a negative role as a terrorist Hilal Kohistani in 'Mission Kashmir' which was released to high critical success and got him nominated for the Filmfare Award for Best Performance in a Negative Role.
In 2001, he starred in the musical drama 'Yaadein' in a memorable performance as Raj Singh Puri. In the same year, he also starred in another film, 'Lajja' as Raghu. In 2002, he had a supporting role in 'Devdas' alongside Shah Rukh Khan and gave a highly acclaimed performance as 'Chunnilal'.
In 2006, he starred in 'Bhoot Unkle', as the titular character Bhoot Unkle. In 2009, he starred in 'Malik Ek', as Sai Baba. In 2016, he had a cameo in 'Freaky Ali' as Bade Bhai. In 2022, he starred as Rameshwar in Sujit Sen's 'Life's Good', which is based on the personal diary of Sujit Sen during his stay in a hospital.
Bhojpuri Films
Jackie Shroff made his Bhojpuri debut in 2004 with 'Hum Haeen Khalnayak' as Arjun. In 2009, he played the role of Khan Bhai in 'Balidaan'.
Bengali Films
In 2005, Jackie Shroff made his debut in Bengali films by starring in 'Antarmahal' as Bhubaneswar Chowdhury. In 2013, he starred in 'Swabhoomi' as Iswar Singh. In 2018, he starred in 'Jole Jongole' as an antagonist.
Kannada Films
In 2006, he made a debut in Kannada films with a guest appearance in 'Care Of Footpath'. In 2010, he starred in the film 'Zamana' as Ramakanth Tyagi. In 2012, he played the role of antagonist in the movie 'Anna Bond'.
Telugu Films
Jackie Shroff made his Tollywood debut with the 2006 film, 'Astram' as K.V. which was the remake of the Bollywood film 'Sarfarosh'. In 2011, he had a role in the fantasy action film 'Sakthi' as Jackie The Great. In 2019, he appeared in 'Saaho' along with Prabhas and Shraddha Kapoor.
Malayalam Films
In 2007, he debuted in 'Athisayn' as Sekharan and won the Asianet Film Award for Honour Special Jury. In 2011, he starred as Mahendran in the movie 'Platform No. 1'. In 2015, he played the role of Swathi in 'ATM'.
Marathi Films
In 2009, Jackie Shroff starred in his first Marathi film 'Rita' as Salvi. In 2012, he starred in 'Hridayanath' as Sadashiv Sawant. In 2015, he starred in 3:56 Killari as a Catholic Father.
Tamil Films
In 2010, Jackie Shroff starred in 'Aaranya Kaandam', a neo-noir, Tamil gangster film which earned him 'Ananda Vikatan Cinema Awards for Best Villain'. In 2017, he made a guest appearance as himself in 'Mupparimanam'. In 2023, he made a cameo in 'Jailer' which starred Rajinikanth.
Punjabi Films
In 2011, he starred in 'Mummy Punjabi' as Kanwal Sandhu. In 2017, he starred in 'Sardar Saab' as the titular character, Sardar Saab. In 2020, he played the role of Dharam Raaj in 'Jagga Jiunda E'.
Konkani Films
In 2017, Jackie Shroff made his Konkani debut with 'Soul Curry' as Philip and won the Best Actor Award at the Goa State Awards. In 2019, he starred as Jordan Marcus in 'Kantaar'.
Short Films
Jackie Shroff has worked in several short films. His first short film was a music video of DJ Aqeel titled 'Arey Diwano', released in 2003.
In 2017, he starred in 'Khujli', alongside Neena Gupta, a short drama film which earned him the Filmfare Award For Best Actor Male. In 2019, he starred in 'Raat Baaki Baat Baaki', a film with a beautiful message of letting go of any regrets and living life to its fullest.
Television
In 2010, he worked as a judge in the reality show 'India's Magic Star'. In 2018, he worked in a crime thriller 'Criminal Justice', and his performance received a favourable response from critics. In 2021, he had a guest appearance in 'Call My Agent: Bollywood' as himself. In 2023, he had a cameo in 'Hunter Tootega Nahi Todega', an action-packed web series.
Controversies
Allegedly attempted to rape Tabu at a party 
Farah Khan, sister of Tabu has accused Jackie Shroff of attempting to rape teenage Tabu at a party in Danny Denzongpa's house. Jacky Shroff was heavily intoxicated and was stopped by Danny Denzongpa. Although Tabu has neither accepted nor denied this allegation in public, she has never worked with Jackie Shroff.
Talking about the incident in an interview, Jackie Shroff completely denied the incident and said,
I'm not a rapist. I'm not so hard up for a woman that I need to rape one. When Tabu accused me of attempted rape, I thought it was foolish, corny, hurtful and basically funny. She says she didn't say it, I think it was a publicity stunt. She had an inclination towards the film line which most of us didn't realise at that time!

I love to make a woman feel like a queen and its not just with words and gestures, One has to go deeper. But rape? It feels terrible to even think of it!"
Rumours of homosexuality
In 2011, a Pakistani website claimed that in an interview, Jackie Shroff suggested that he was gay. The claim immediately went viral on X (formerly Twitter). He immediately refuted the claims of the website and said that he never gave such an interview. He said that he and his wife had a good laugh when they read it because of the absurdity of such a claim. Speaking on the issue, he said,
Can you believe it? Bas ab yehi baqi reh gaya tha. Logon ko kaam-dhanda nahin hai. Bas, yehi sab… For the record, I've never spoken to any journalist on this subject and certainly made no such declaration. Main pagal hoon kya. In any case, what's the big deal about sexual preference? If one is gay, one is gay. If I was, I'd have no qualms in accepting it. But the fact is, I am most certainly not. And I'm surprised at the audacity of the journalist who cooked up this imaginary scandal."
Awards & Honours
He won the Filmfare Award For Best Actor for the film Parinda in 1990.
In 1996, he won the Filmfare Award for Best Supporting Actor for Rangeela.
In 2007, he won the Asianet Film Honour Special Jury Award for outstanding performance in various films.
In 2014, he won GQ's The Original Rockstar Award.
In 2016, he won HT Most Stylish Living Legend Male.
In 2017, he was awarded the Hindi Cinema Gaurav Samman Award.
In the same year, he was given a Doctor of Arts for his contribution to Indian Cinema by Invertis University.
In 2023, he won the Natraj Award for his outstanding contribution to Indian cinema.
Bike Collection
Car Collection
Salary
Jackie Shroff charged Rs 1 Crore for his role in Phone Booth.
Net Worth
The net worth of Jackie Shroff is Rs. 2,16,43,70,000.
Assets & Properties
He owns various properties including a sea-facing flat in Khar West which is worth Rs. 33,30,82,000.
Favourites
Movie: Hare Rama Hare Krishna (1971)
Facts/Trivia
In 2020, he started an online campaign called 'Ped Lagao Bhidu'.
He spent the lockdown in his 44,000-square feet garden at his farmhouse.
He can play the flute very well.
Jackie Shroff loves animals and donated a van to Ayesha Jhulka to help her start an animal ambulance.
He also used his X (formerly Twitter) account to urge people not to turn stray dogs away and to show them compassion.
He quit smoking on the continuous insistence of Tiger Shroff. In an interview, he said,


Tiger used to say daddy stop it…stop it…stop it. Jab hum bachhon ko bolte hai ki aisa mat karo, we expect them to understand in one go. So, I realised that we, as parents, should also understand why the child is making a request and the intent behind it. When my children told me to stop it, I just quit. It took some time though, but now, I'm completely out of it."
He consumes alcohol occasionally.
He is the brand ambassador of Thalassemia, an inherited blood disorder.