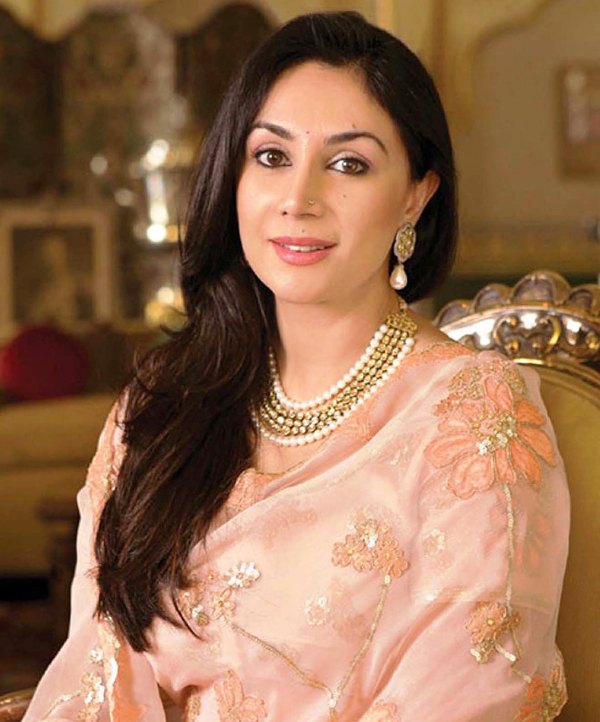 Diya Kumari is an Indian politician, socialite, and a member of the Bharatiya Janata Party who was elected as the MP from Rajsamand in 2019. She is the granddaughter of Man Singh II, the last ruling Maharaja of the princely state of Jaipur during the British Raj in India.
Wiki/Biography
Diya Kumari was born on Saturday, 30 January 1971 (age 52 years; as of 2023) in Jaipur, Rajasthan, India. Her zodiac sign is Aquarius.
Diya talked about her childhood in a column for a prominent Hindi daily of Jaipur in which she revealed how she was groomed as an ordinary child by her father. She wrote
My father was in army and in Delhi where he was posted he used to live in the army accommodation, which were not big and I lived and played with other army officers' children. But I was groomed as a disciplined child and was never pampered and I never thought that I came from the royal stock and was a special person or child."
She did her schooling at Modern School in New Delhi, G.D Somani Memorial School in Mumbai, and Maharani Gayatri Devi Girls' Public School in Jaipur. Later, she pursued a Fine Arts Decorative Painting Diploma from Parsons Art and Design School, London (1989).
Physical Appearance
Height (approx.): 5′ 5″
Hair Colour: Black
Eye Colour: Dark Brown
Family & Caste
Diya Kumari belongs to the royal Kachhwaha Rajput clan.
Parents & Siblings
Diya Kumari's father, Bhawani Singh, was an entrepreneur and an officer in the Indian Army. Bhawani Singh ascended the throne of Jaipur in 1970 following the death of his father and held the title of Maharaja until the abolition of the princely order by Indira Gandhi in 1971. Bhawani Singh earned distinction in the Indo-Pakistan war of 1971 as a Lieutenant colonel and Commanding Officer of the Para Commandos of the 10th Parachute Regiment. Eventually, he left the army to concentrate on his duties towards the erstwhile State of Jaipur. He died in 2011 due to multi-organ failure. Her mother, Padmini Devi, was the Princess of Sirmur (in Himachal Pradesh), a princely state of British India. Diya Kumari is the only child of her parents.
Husband & Children
On 6 August 1997, Diya Kumari publicly got married to a commoner, Narendra Singh Rajawat, who is a chartered accountant and also runs a construction business.
Together, they have had 3 children. Her eldest son, Padmanabh Singh, is the titular Maharajah of Jaipur and an established polo player. On 22 November 2002, Bhawani Singh adopted Padmanabh Singh as his son to make him the heir apparent to the throne of Jaipur. Upon Bhawani Singh's death in 2011, the 12-year-old Padmanabh Singh was unofficially installed as the Maharaja of Jaipur. Thereafter, Diya Kumari started running the affairs of the royal family on the behalf of her minor son. Her daughter Princess Gauravi Kumari of Jaipur is a renowned feminist and serves as the general secretary of the Princess Diya Kumari Foundation (PDKF). Her son Prakash Singh ascended the throne of Sirmaur.
After being married for 21 years, Diya Kumari and Narendra Singh filed for divorce in December 2018 under Section 13B (divorce by mutual consent) of the Hindu Marriage Act, 1955.
Others
Diya Kumari's grandfather, Man Singh II, was the Maharaja of the princely state of Jaipur in the British Raj from 1922 to 1947, Rajpramukh (Governor) of Rajasthan (1949-1956), Ambassador of India to Spain (1965 – 1970), and a notable polo player. Man Singh II had three wives, Maharani Marudhar Kunwar, Maharani Kishore Kunwar, and Maharani Gayatri Devi. Diya Kumari is the granddaughter of Marudhar Kunwar. Her step-grandmother Gayatri Devi served as MP from Jaipur for three consecutive terms (1962, 1967, and 1971).
Relationships/Affairs
Diya Kumari first met Narendra Singh in 1989 when she was just 18. In 1989, Rajiv Gandhi asked Diya Kumari's father, Bhawani Singh, to contest elections from Jaipur. Narendra Singh's father, Thakur Budh Singh, who hails from Madhopur, assisted Bhawani Singh in his political campaign. At that time, Narendra Singh, who was pursuing his chartered accountancy after graduation, joined the accounts section in the Sawai Man Singh Museum Trust to enhance his knowledge base and gain experience. Narendra served in the department for three months. While talking about her relationship in an interview, she said,
It was certainly not love at first sight or anything like that in our case. I don't believe in love at first sight. It was only after three months, when he left, that I realised I wanted to meet him more often. We would meet, whenever he was in Jaipur, at a common friend's place.Upto this time it was just a very nice, strong friendship. It was only when I accompanied my parents on a trip abroad, when I missed him unbearably, that I realised things went deeper than a mere friendship. I wanted him to be with me always. That was when I realised how serious my feelings for him were."
Her parents were furious when she confessed her love for Narendra to them as he did not come from a royal family and they shared the same gotra, Rajawat. Thereafter, the two tried to break off the relationship, but they couldn't stay away from each other and reconciled after six months. After a six year long turbulent relationship, the two got married in a Arya Samaj wedding ritual in 1994, and later, they went on to register the marriage in court as well. The two kept it a secret for the next two years. In November 1996, she confessed her marriage to her mother; meanwhile, Bhawani Singh came to know about the marriage in January 1997. In the same year, Bhawani Singh secretly solemnised the marriage without much fanfare at his Maharani Bagh house in Delhi. Thereafter, the couple started staying at the city palace. She had to face the wrath of the Rajput community and the royal family, who raised objections to the fact that they both belong to the same gotra. However, in an interview, Diya explained that she and husband are not related over generations. She said,
 My husband and I do belong to the same gotra — he is a Rajawat and my grand-father was adopted from a Rajawat thikana. But we are not blood-related. As for breaking tradition, yes, I do believe traditions must be followed and kept alive. But traditions cannot rule your life. They change with times. Having more than one wife was a Rajput tradition, but can anyone do it today? I honestly never imagined that they'd make such an issue of it all.."
Religion
Diya Kumari follows Hinduism.
Address
Diya Kumari resides in the City Palace, Jaipur.
Signature/Autograph
Career
Princess of Jaipur
As the Princess of Jaipur, Diya Kumari manages several properties, businesses, trusts and schools of the royal family, including City Palace, Jaipur, Jaigarh Fort, Amber, and two trusts Maharaja Sawai Man Singh II Museum Trust and the Jaigarh Public Charitable Trust. In addition to overseeing the daily functioning of the royal family's trusts, she also manages two schools in Jaipur, The Palace School and Maharaja Sawai Bhawani Singh School, and three hotels, Rajmahal Palace and Hotel Lal Mahal Palace in Jaipur and Hotel Jaipur House in Mount Abu.
She is also an entrepreneur who manages Durga Diya enterprises and the Palace Cafe, and she also looks into the management of the Ashok Club, one of the most exclusive clubs of the country. She is a patron of Royal Fables, a heritage platform that showcases the craft, culture, and cuisine of Princely India. A prominent socialite of Jaipur, Diya Kumari is the most sought-after woman for social gatherings and inaugurations in the state.
Politics
Following in the footsteps of her late grandmother Gayatri Devi, Kumari ventured into politics on 10 September 2013 when she joined the Bharatiya Janata Party (BJP). She joined the party before a crowd of two-lakh people, in the presence of then Gujarat Chief Minister, Narendra Modi, BJP president, Rajnath Singh, and Vasundhara Raje, at a rally in Jaipur. She was elected as an MLA of Rajasthan from the Sawai Madhopur constituency in 2013. In 2019, she was elected as an MP from Rajsamand.
Philanthropy
A dedicated philanthropist, she founded the Princess Diya Kumari Foundation (PDKF) to empower the underprivileged in 2013. She is actively associated with several NGOs and charity organizations, including the Eye Bank Society of Rajasthan. She is also the patron of Rays, an NGO working for HIV+ children. She monitors the working of Sawai Man Singh Prathmik Chikitsalya (supported by the Trust). In her bid to provide good medical attention to the common man, the trust distributes free allopathic medicines to the poor and the needy.
Controversies
Death Threats from Rajput Community Upon Marriage
Following her marriage in 1997, she received death threats from the Rajput community for marrying a man of same gotra. Ironically, they received threats from her husband's namesake, Narendra Singh Rajwat, and his henchmen, who said that they will send suicide squads for the couple and blacken their faces. They barged into Diya's father's office to protest her marriage and told her mother to convert to Islam in to conduct the wedding. One of Narendra Singh's henchmen, Kamlendra Singh, threatened to kidnap the couple, while other insistsed that the couple should remain celibate and not have children.
Claiming to be Lord Rama's Descendant
In 2019, Diya Kumari claimed to be Lord Rama's descendant, highlighting that Jaipur's throne is the capital of the descendants of Kush, the elder son of Lord Rama. The claims were made amid the Ayodhya dispute when the Supreme Court asked Ram Lalla's lawyer whether there were any alive descendants of Lord Rama in Ayodhya or in the world. Diya Kumari submitted a pamphlet in the court in which the names of all the ancestors of Lord Shri Ram's clan were recorded in sequential order. The Royal family of Jaipur claimed that they are descendants of the famous Kachhwaha / Kushwaha dynasty of Kush. According to Annexure-2 of the famous historian R Nath's book 'The Jai Singhpura of Sawai Raja Jai Singh at Ayodhya,' the Kachhwaha dynasty of Jaipur had the right over the Ram Mandir in Ayodhya.
Demanding the Ownership of the Taj Mahal
In 2022, she claimed that the plot on which the Taj Mahal stands used to have a "palace" belonging to her royal family, and that it was "grabbed by Shah Jahan". She said that while compensation was given for the acquisition of the land, no law existed at that time to allow an appeal against the takeover. She asserted that she has documents that show Jaipur royal family's claim on the land. She filed a petition before the Lucknow bench of the Allahabad High Court seeking the court's directions to the Archaeological Survey of India (ASI) to open 22 locked rooms inside the Taj Mahal to reveal their contents, which she claims to be Hindu idols. However, the HC rejected the petition.
Assets & Properties
Movable Assets
Deposits in Banks: Rs 2,36,11,943
Bonds, Debentures and Shares in companies: Rs 12,49,56,519.20
LIC or other insurance Policies: Rs 1,08,35,000
Note: The given estimates of movable assets are according to the year 2019. It excludes the assets owned by her spouse and dependents
Net Worth
Her net worth was Rs 16,59,84,623 in 2019. It excludes the net worth of her spouse and dependents.
Favourites
Food: Pasta, Chocolates, Laal maas
Travel Destination(s): New York, London, Canada
Facts/Trivia
In 2014, she was appointed as Rajasthan State Government's Ambassador for the "Save the Girl Child" campaign.
In January 2017, Diya Kumari received an honorary doctorate from Amity University, Jaipur, for her active philanthropy and leading role in heritage management.
In August 2019, she was appointed as a member of the government's National Tiger Conservation Authority.
Vasundhara Raje Scindia inspired Diya Kumari to join the BJP. In an interview, she said,


I was definitely inspired by Vasundharaji who asked me to join the party. I would not like to be labelled as the representative of any community and I want to serve the community. I am joining politics to serve the people and not for any personal gains."

Additionally, she advocates that the UPA government led by Manmohan Singh and the Congress' massively failed to understand the basic problem of the country. This led her to think that she should join BJP which had leaders like Narendra Modi. In an interview before the Modi government came into power, she said,


Modi is the answer for this country. In six decades the country was mostly ruled by the Congress and it failed to give the people what they deserved and desired. I have pinned a lot of hope on Modi. He has given the country the Gujarat model of development and the country needs this model. I am sure the country's destiny would change once Modi takes over as prime minister."

A connoisseur of art and culture, Princess Diya Kumari takes an active part in promoting traditional arts, music and dance. She takes a keen interest in maintaining 'The Friends of Museum,' which was established by her father in the city palace for artists and craftsmen to display their skills and crafts. Via The Friends of Museum, she makes efforts to promote the dying arts of Jaipur and support craftsmen associated with it. Various fairs and festivals are organized within and outside the city to provide a platform to the craftsmen for demonstrating their skills and selling their products directly to the customer. Her efforts gave the much-needed impetus to those arts of Jaipur which are on the verge of extinction. In 2013, she revived the tradition of the Gunijankhana, wherein the Jaipur Royal Family provided an institutional forum for singers, musicians, and dancers from the 17th century through to 1949.
Keeping her contribution to the tourism and hospitality sector in mind, Diya Kumari was appointed as the Chairperson of Assocham's Rajasthan Unit. The Associated Chambers of Commerce and Industry of India (ASSOCHAM) is a non-governmental organisation and advocacy group that represents the interests of trade and commerce in India. In 2012, she actively worked towards inspiring farmers to take up organic farming.
Diya also contributes a column to a prominent Hindi daily of Jaipur in which she writes about her life and how she was groomed as an ordinary child by her father.
She has instituted the Young Achiever in Education award in her name to encourage the youth to excel in the field of academics. This award is given during the annual award ceremony organized now in memory of her father Late Maharaja Sawai Bhawani Singh of Jaipur.
Reportedly, Narendra started looking after the affairs of the palace and its trust after his marriage to Diya. But his involvement in the day-to-day affairs of the city palace was disliked by some of the senior staff members and they started complaining against him to the Maharaja. This resulted in a rift between Diya and her husband. One day Diya's parents asked Narendra to leave the palace at Diya's instance. Thereafter, he shifted to a bungalow given to him by the Maharaja for his parents. The period of turmoil between Narendra and Diya continued for more than two years. The children were sent to him for a few hours at an appointed place once a week. Their separation became the talk of the town and Narendra faced humiliation at the hands of his wife and in-laws. After two years, for the sake of the children, Diya reconciled and Narendra came back to the city palace. Both started charting out the career of their children.
She was awarded the YFLO Women Achievers Award in Politics by the Young FICCI Ladies Organization (YFLO), New Delhi.
In an interview, she revealed that she had a sweet tooth and loved chocolates.