D. K. Shivakumar is a prominent leader of the Congress party in Karnataka and has held several positions within the Congress party, including serving as the President of the Karnataka Pradesh Congress Committee (KPCC). He has also been a Member of the Legislative Assembly (MLA) and has held ministerial portfolios in the Karnataka state government. He is considered one of the richest politicians in India.
Wiki/Biography
Doddalahalli Kempegowda Shivakumar aka D .K. Shivakumar was born on Tuesday, 15 May 1962 (age 61 years; as of 2023) in Kanakapura, a small village near Bengaluru in the state of Karnataka. His zodiac sign is Taurus. He studied at the National Public School, Bengaluru till 8th standard before he was suspended from the school for failing. While studying at RC College in Bengaluru, he decided to enter the field of politics. He dropped out of college and joined the youth wing of the Congress party, known as the Youth Congress, and served as the General Secretary of the Karnataka State Youth Congress from 1983 to 1985. He completed a Master of Arts in Political Science from Karnataka State Open University, Mysore in 2006.
Physical Appearance
Height (approx.): 5′ 10″
Weight (approx.): 70 kg
Hair Colour: Black
Eye Colour: Black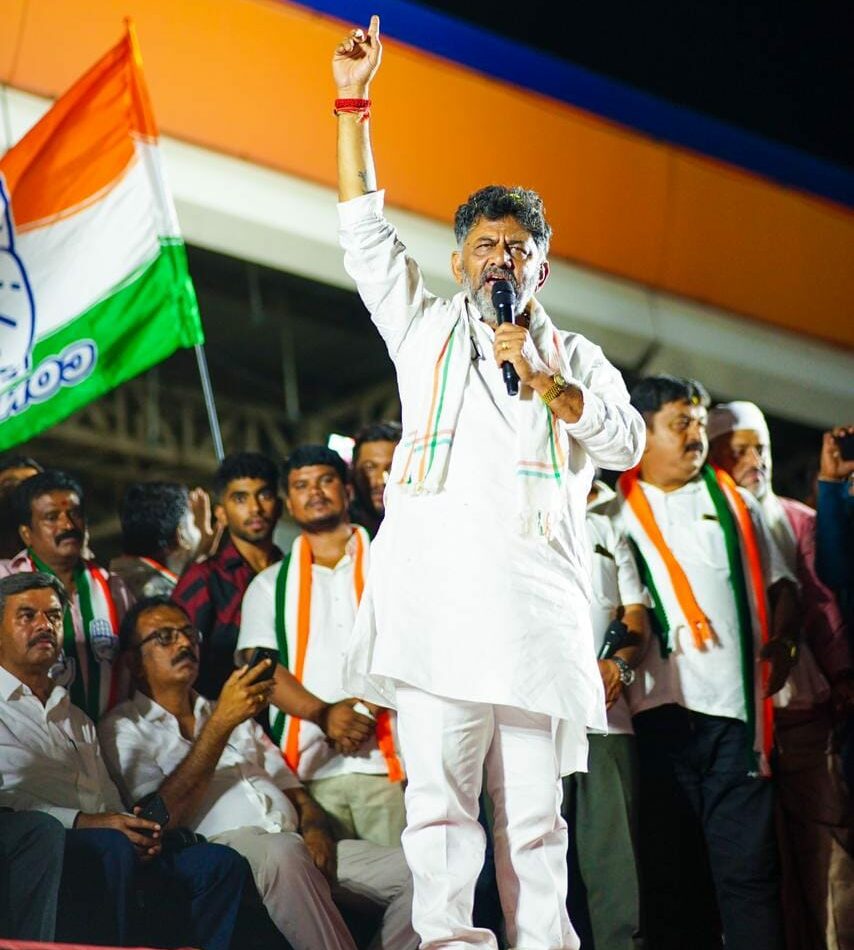 Family
He was born into a Vokkaliga family.
Parents & Siblings
His father's name was Kempegowda, and his mother's name is Gouramma. His father passed away on 31 December 2013 at the age of 82. He has a younger brother D. K. Suresh who is also an MLA and a sister named Manjula Shantachandra.
Wife & Children
In 1993, he got married to Usha. They have two daughters named Aishwarya and Aabharana, as well as a son named Aakash. Aishwarya, the eldest daughter, is married to Amartya, who is the son of V. G. Siddhartha, the founder of Café Coffee Day.
Religion
He follows Hinduism.
Signature
Career
Politics
D.K Shivakumar began his political journey in the early 1980s as a student leader and gradually climbed the ranks of the Congress party. In 1989, at the age of 27, he won his first election representing the Sathanur constituency in Mysuru district, as a member of the Congress party. He was victorious again in the following assembly elections held in 1994, 1999, and 2004, all from the same constituency. In the assembly elections held in 2008, 2013, 2018, and 2023, he emerged victorious from the Kanakapura constituency.
Saving Maharashtra Congress Government
Shivakumar's leadership was highlighted in 2002 when Maharashtra's Congress Chief Minister, Vilasrao Deshmukh, faced a no-confidence motion. Shivakumar gathered all the Congress legislators at a Bengaluru resort for a week before safely returning them to Mumbai, where Deshmukh won the trust vote.
Landslide win in 2023
D. K. Shivakumar became emotional as the results of the vote count in the 2023 Karnataka Legislative Elections indicated a significant victory for his party in Karnataka. He expressed that he had made a promise to Sonia Gandhi, the leader of the Congress party, that he would secure a win in Karnataka. He mentioned his assurance to Sonia Gandhi, Rahul Gandhi, Priyanka Gandhi, and Mallikarjun Kharge, and also recollected Sonia Gandhi visiting him in jail. Speaking to reporters, he stated that the Congress office holds great significance to them, referring to it as their temple. He further added that the next course of action would be decided at the Congress office. Out of 224 Karnataka Assembly seats, Congress won 135 seats, BJP won 66 seats, JD(S) won 19 seats, and 4 seats were won by other independent candidates.
Controversies
Corruption Charges
Shivakumar and his family have faced allegations related to illegal mining, illegal transportation of granite, and improper land distribution. In 2015, notices were issued by the Karnataka High Court to Shivakumar and his family members regarding their alleged involvement in illegal mining activities in the Kanakapura and Ramanagaram districts of Karnataka. Additionally, Shivakumar and his brother DK Suresh have been accused of encroaching upon 66 acres of land designated for the welfare of Dalits and the economically disadvantaged.
2017 Income Tax Raids
On 2 August 2017, the Income Tax Department raided Shivakumar's home and office in Bengaluru due to suspected tax issues. They also searched Eagleton Golf Resort in Bidadi, owned by Shivakumar's brother, D. K. Suresh. The raids took place in several cities, including New Delhi, Bengaluru, Mysuru, Chennai, and Kanakapura. Around 300 officials conducted the searches for 80 hours across 67 locations. They seized ₹8 crore from Shivakumar's Delhi residence and ₹2 crore from other places. The raids were conducted after 44 Congress party members from Gujarat stayed at the resort following some legislators defecting to the Bharatiya Janata Party before the Rajya Sabha elections. The raids concluded on 5 August, and approximately ₹300 crore of undisclosed income was reportedly recovered. Shivakumar and his associates obtained anticipatory bail. He was arrested on 3 September 2019 on the charges of tax evasion. He claimed that his arrest was politically motivated and a vindictive step by the then Karnataka BJP government.
Car Collection
He owns a Toyota Qualis.
Investment in Properties
D. K. Shivakumar has invested in cooperative banks, educational institutions, agricultural lands, and flats in various locations such as Mysuru, Mumbai, Kanakapura, Bangalore, and Delhi. He has made investments in properties like Shobha Developers, Davanam Properties, Kabini Granites, Dalmia Cement, and others.
Income
His income for the financial year 2022-23 was Rs 14 crores.
Assets & Properties
Movable Assets
Bank Deposits: Rs. 14,67,73,028
Motor Vehicles: Rs. 8,35,026
Jewellery: Rs. 1,47,84,014
Other Assets (Rolex & Hublot watch): Rs. 32,90,246
Immovable Assets
Agricultural Land: Rs. 25,50,00,000
Non-Agricultural Land: Rs. 57,50,00,000
Commercial Buildings: Rs. 8,52,36,47,685
Residential Buildings: Rs. 19,10,00,000
Note: The given estimates of movable and immovable assets are according to the year 2022. It excludes the assets owned by his wife and dependents (minor).
Net Worth
Shivakumar's net worth for the financial year 2022-2023 was estimated to be Rs. 1414 crores.  It excludes the net worth of his wife and dependents (minors).
Tattoos
He has got a tattoo inked on his right elbow.
Facts/Trivia
He believes firmly in numerology, and his favourite number is 6 which, according to him, is ruled by Venus and attracts power.
He has many nicknames including D. K. Shi, DKS, Kanakapura Rock, Congress' Man Friday, and The Tiger of Santhur.
Reportedly, during his early years as a politician, he was a protege of Bengaluru gangster Ramachandra Kotwal.