Chitra Wagh is an Indian politician who was appointed as the president of BJP's women's wing 'Maharashtra Pradesh Mahila Morcha' on 3 November 2022.
Wiki

/Biography

Chitra Kishor Wagh was born on Sunday, 16 February 1975 (age 48 years; as of 2023) in Mumbai. Her zodiac sign is Aquarius.
Physical Appearance
Height (approx.): 5′ 7″
Hair Colour: Black
Eye Colour: Brown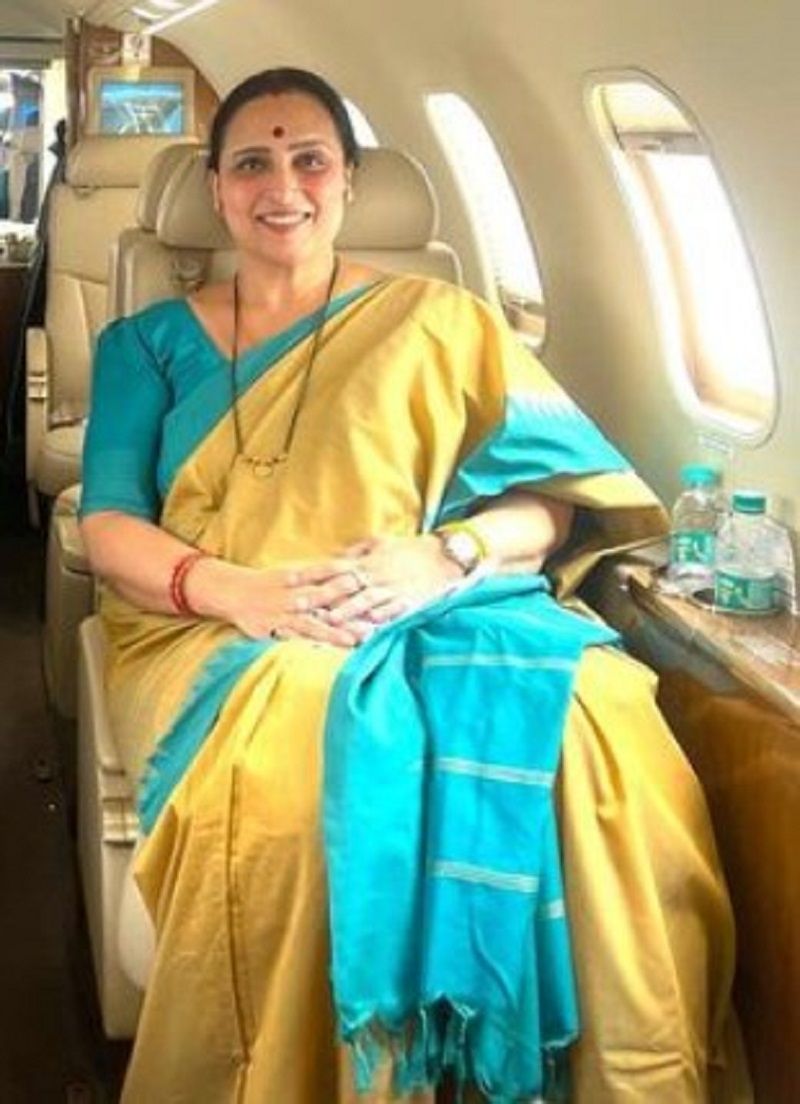 Family
Parents & Siblings
There is not much information available about her parents and siblings.
Husband & Children
Chitra got married to Kishore Wagh on 11 May 1993.
They have one son Aditya Wagh.
Religion
Chitra follows Hinduism.
Signature
Political Career
Chitra joined the Nationalist Congress Party in 2014 and worked as an NCP's Maharashtra ladies' wing president. In 2019, she resigned from the post and left the party. In 2021, she joined Bharatiya Janata Party and was elected as the State President of BJP Maharashtra Mahila Morcha on 3 November 2022.
Controversies
Protests in front of Mantralaya
In September 2021, the Marina Drive police filed a case against Chitra for violating section 144 of the Code of Criminal Procedure (CrPC) when she was protesting outside Mantralaya, the state secretariat, for a special Assembly session to discuss women's safety. In November 2022, the charges against her were removed by a Mumbai court.
Accused of portraying BJP leaders in the wrong light
In February 2022, Chitra attracted controversy when she was accused of forcing a 23-year-old girl to accuse the deputy leader of Shiv Sena, Raghunath Kuchik of raping her. A 23-year-old girl accused the BJP leader of false marriage promises, torturing, threatening and undergoing a forced abortion. Kuchick totally opposed the allegations and said,
The case has been registered out of a political conspiracy to defame me and my family. It is also a form of blackmailing and an attempt to tarnish my work in the labour sector and my many years of social and political image."
After some time, he was granted anticipatory bail by the Pune court. Chitra was not fine with the decision and asked the court to take action against him. In April 2022, the victim took away her charges against Kuchik and in return alleged that Chitra forced her to file a case against Kuchik. She also claimed that it was Chitra who forced her to present a suicide note to the media. Chitra felt betrayed and denied the allegations saying,
Raghunath Kuchik case victim heard the accusations against me now….actually felt bad but never mind. Standed with the victim who was fighting alone since Feb when no one helped her but today I am happy that everyone is united against me..I am ready for all inquiries."
Later, Chitra was also alleged of defaming Kuchik after Kuchik's daughter filed an FIR against her.
Posting an unseen video of BJP leader Nana Patole
In July 2022, a video of BJP leader Nana Patole went viral on social media. In the video, he was seen in a hotel with his around a woman's neck. Chitra reposted his video on social media and arranged a press conference to talk about this and said,
The video that came out of Nana Patole is shocking. Be it Solapur, Raigad, Nana Patole or any party, when you are a representative of the people, your responsibility is increased several times. Everyone should act responsibly. What lessons have people learned from this? It is wrong to pry into someone's private life. But when that thing becomes public, it does not stay private. Today, after the video went viral, it came to me. So I asked Nana, are you also Nana?"
Chitra's stand against the suicide of a girl
In August 2022, Shiv Sena leader Sanjay Rathod was accused of being involved in the death of a 23-year-old girl Pooja Chavan in 2021. Chavan committed suicide after jumping from her apartment's balcony. After her death, some audio clips of a conversation between Chavan and Rathod came forward. On 14 February 2021, Maharashtra Chief Minister Uddhav Thackeray asked Rathod to resign from his position in the party. In 2022, he was again appointed as the cabinet minister. Chitra was not happy with the decision taken by the party and in an interview, she said,
It is very unfortunate that former minister Sanjay Rathore, who caused the death of Pooja Chavan, has been given the post of minister again. Even though Sanjay Rathore has become a minister again, I have continued my fight against him."
Chitra in a tiff with Urfi Javed
On 1 January 2023, Chitra attracted controversy when she filed a police complaint against social media personality Urfi Javed for wearing a revealing outfit. She took to Twitter and wrote,
Today I met the commissioner of Mumbai police and the joint commissioner of police (law and order) and requested them to take immediate legal action against Uorfi Javed for indulging in nudity publicly on the streets of Mumbai."
An investigation was taken out against Urfi and she was called to the police station. In the station, she said that she could wear anything she wanted because it was her constitutional right. She also filed a complaint against Chitra for threatening her. Urfi tweeted about the incident and wrote,
This is how ancient Hindu women used to dress. Hindus were liberal, educated, women were allowed to choose their clothes, actively participated in sports, politics. They were sex and females body positive people. Go learn about Bhartiya Sanskriti first."
Facts/Trivia
In 2015, in an interview, she said that under the BJP-Shiv Sena government, women in rural areas were not attended in police stations when they go to file an FIR against sexual harassment cases against them.
In October 2020, when Congress leader Priyanka Gandhi went to Hathras to meet the family members of the rape victim, she was stopped by a police officer who held her Kurta. Chitra presented her anger on the issue and pleaded the UP government to take strict action against the police officer. She took to Twitter and wrote,


How dare the male police put their hands on the clothes of a female leader. If women are coming forward in support, then wherever the police may be, they must take care of their dignity. Chief Minister Yogi Adityanath, who believes in Indian culture, should take strict action against such policemen."
In February 2021, Chitra's husband was accused of holding 90.24 per cent of assets that were disproportionate to his income. A case under sections of the Prevention of Corruption Act was registered against him. In 2016, when he was working as a librarian at the Mahatma Gandhi Memorial Hospital, he was accused of bribery. In February 2017, an open investigation was taken out against and raids were also conducted in his house. After the case was reopened in 2021, BJP leader Praveen Darekar said that this was a move of the Maha Vikas Aghadi government because his wife Chitra was actively trying to prove the state Forest Minister and Shiv Sena MLA Sanjay Rathod's involvement in the suicide case of Deepali Chavan.
In March 2022, the government provided a planning counselling kit which included the models of male and female reproductive organs that the Asha workers found uncomfortable to carry and use while workshops. Chitra criticized the government for providing such a kit.
On 14 March 2022, in Mumbai, a mother and her three daughters were misguided by a Hindu guru who asked them to change their religion and sexually abused them. Chitra criticized the Maha Vikas Agaadi government for not taking any strict decision in the case. In an interview, she talked about this and said,


It is really sad and shocking that some 'Baba' has dared to do the act. The woman and her daughter come from an educated family and still exploited by this man. This has to stop. I would stand by these women and bring justice for them if police fail to act."
In December 2022, she arranged a press conference and questioned the government about the vehicles that were missing from the Nirbhaya funds. She claimed that 220 vehicles were purchased from Nirbhaya funds, but only 121 were allotted to the police stations and the remaining were being used by the government for their own benefit.
In 2022, she was featured on the cover of Cafe Social magazine.