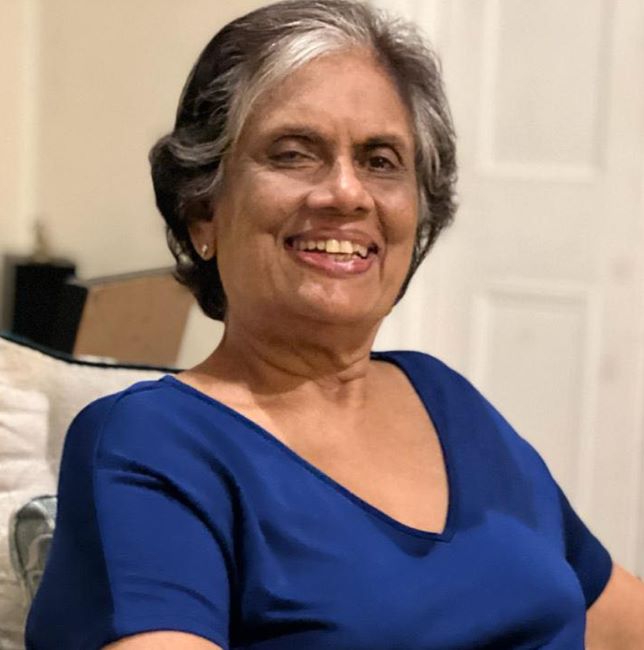 Chandrika Kumaratunga is a Sri Lankan politician. She is the first female President of Sri Lanka and the second female Prime Minister of Sri Lanka.
Wiki/Biography
Chandrika Bandaranaike Kumaratunga was born on Friday, 29 June 1945 (age 78 years; as of 2023) at Wentworth in Guildford Crescent, Colombo, Ceylon (now Sri Lanka). Chandrika received her education at St. Bridget's Convent in Colombo and later joined Aquinas University College in Colombo, a Roman Catholic institution, to pursue a law degree. In 1967, she left Aquinas University before completing her law studies and embarked on a scholarship from the Institute of French Studies to study in France. She spent a year at the Institut d'études politiques d'Aix-en-Provence, immersing herself in the study of French language and culture. In 1968, she pursued studies at the Institut d'Etudes Politiques de Paris and earned a diploma in Political Science in 1970. Subsequently, she entered a Ph.D. program in development economics at the École Pratique des Hautes Études in Paris, where she studied from 1970 to 1973.
Physical Appearance
Height (approx.): 5′ 7″
Hair Colour: Black
Eye Colour: Black
Family
Parents & Siblings
Chandrika's father, Solomon West Ridgeway Dias Bandaranaike (1899-1959), practised as a barrister. During the time of her birth, he occupied the role of Minister of Local Administration. He was the fourth Prime Minister of the Dominion of Ceylon (now Sri Lanka), a post which he held until he was assassinated in 1959. Chandrika's mother, Sirima Ratwatte Dias Bandaranaike (1916-2000) was the first female Prime Minister of Sri Lanka and the world's first female Prime Minister (appointed by her daughter who was President then). Sirima passed away in 2000 due to a cardiac arrest. Chandrika has an older sister, Sunethra Bandaranaike who is a Sri Lankan philanthropist and socialite, and a younger brother Anura Bandaranaike (1949-2008) who was a Sri Lankan politician and served as Speaker of the Parliament of Sri Lanka and Leader of the Opposition.
Husband & Children
Chandrika married actor and politician Vijaya Kumaratunga (also spelt as Wijaya Kumaratunga) in 1978. Vijaya Kumaratunga was assassinated on February 16, 1988, right outside their home, with Chandrika and their two young children (then aged five and seven) present. Their daughter, Yasodhara Kumaratunga, received her education at Corpus Christi College, Cambridge, and St George's, University of London, and pursued a career in medicine. Their younger son, Vimukthi Kumaratunga attended the University of Bristol and became a veterinary surgeon.
Religion/Religious Views
Chandrika Kumaratunga follows Buddhism.
Address
WV48+5PF, Independence Ave, Colombo 00700, Sri Lanka.
Signature/Autograph
Career
Early Political Career
After completing her studies, she returned to Ceylon (now Sri Lanka) in 1972, during which her mother took on the role of prime minister for the second term. Upon her return, she enrolled in and actively participated in the SLFP (Sri Lanka Freedom Party), which was founded by her father and led by her mother. Her involvement led her to become a member of the executive committee of the party's Women's League in 1974. She was appointed as an Additional Principal Director in the Land Reforms Commission (LRC). She moved on from the LRC in 1976 and assumed the position of Chairman of the Janawasa Commission, which converted acquired land into collective farms. She then shifted from government service and worked as a consultant for the Food and Agriculture Organization of the United Nations until 1979. In 1978 she married Vijaya Kumaratunga, who was associated with the Lanka Sama Samaja Party (LSSP) turned SLFP. She was involved in his election campaign in 1983. In 1984, she joined her husband's party, the Sri Lanka Mahajana Pakshaya (SLMP) and became its Vice President, causing a rift with her mother and brother, who led the SLFP. After her husband's assassination, she assumed leadership of her husband's party and formed the United Socialist Alliance with other left-leaning parties. Amidst political turmoil and safety concerns, she left the country in 1988 and sought refuge in the UK. There, she worked for the World Institute for Development Economics Research at the United Nations University. She returned to Sri Lanka in 1990. In 1994, she played a pivotal role in forming the People's Alliance coalition for the general elections. After securing a slim majority with the support of the Ceylon Workers' Congress, she became prime minister in August 1994. She also succeeded her mother as the leader of the SLFP.
Prime Minister
At the 1994 general elections, Chandrika contested and secured a parliamentary seat representing the Gampaha District in August 1994. Chandrika became the Prime Minister, and notably, her mother also became a Cabinet Minister within this government, solidifying her political influence on August 19, 1994. In addition to her Prime Ministerial role, she succeeded her mother as the leader of the SLFP.
Presidency
Term 1
During her initial term from 1994 to 1999, Prime Minister Kumaratunga, supported by the People's Alliance (PA), engaged in a presidential race. In the 1994 presidential election, Chandrika emerged victorious with 62.28% of the vote, becoming Sri Lanka's first female President in November 1994.
Despite her significant economic endeavours, many of her major projects were unsuccessful, resulting in a recession by 2001. Her involvement in the Water's Edge development project led to a fine of three million rupees for unlawful land acquisition and sale. Her administration adopted a firm stance against the United National Party (UNP), employing Presidential Committees to investigate actions of the opposition's tenure. Her governance was also criticized for actions such as attacks on journalists, election manipulation, and attempted arrests of political opponents, notably Ranil Wickremasinghe. Regarding the civil war, she initially pursued conciliatory efforts with the separatist Liberation Tigers of Tamil Eelam (LTTE) to end the conflict. Still, these attempts failed when the LTTE violated the cease-fire by attacking Sri Lanka Navy gunboats. Her approach shifted to a more military-based strategy, launching significant offensives like Operation Riviresa, which recaptured the Jaffna peninsula, though facing setbacks in battles like Mullaitivu and Kilinochchi. Her administration also initiated Operation Jayasikurui, which encountered challenges and casualties.
Term 2
In October 1999, Kumaratunga initiated an early presidential election. She secured victory and was sworn in for another term on 22 December 1999.
During her second term, the civil war escalated, with her government suffering significant setbacks against the LTTE, including losses in battles like the Second Battle of Elephant Pass and the Bandaranaike Airport attack. In 2001, the country's economy faced its first-ever recession. In December 2001, her party, the People's Alliance, was defeated by the UNP in the parliamentary election, resulting in Ranil Wickremasinghe becoming the new Prime Minister. Kumaratunga continued as Sri Lanka's President. In February 2002, the Wickremasinghe government and the LTTE signed a permanent ceasefire agreement, leading to the initiation of peace talks. In December 2002, the government and the rebels agreed to power-sharing during negotiations in Norway. In November 2003, while Prime Minister Wickremasinghe was visiting the US, Kumaratunga suspended Parliament and assumed control of the Defense, Interior, and Media ministries herself. In January 2004, Kumaratunga's PA and the leftist Janatha Vimukthi Peramuna (JVP) formed the United People's Freedom Alliance (UPFA) and dissolved Parliament. The UPFA won the April 2004 election and formed a government with Mahinda Rajapaksa as prime minister, marking the JVP's first participation in a Sri Lankan government. However, in June 2005, the JVP left Kumaratunga's government due to disagreements over a joint mechanism with the LTTE for foreign aid distribution in the tsunami-affected Northern and Eastern regions. Kumaratunga's six-year term ended in 2005.
Post-presidency 
In 2006, while continuing as the leader of the SLFP after her presidency, she temporarily stepped down from the party leadership. Following this, she left the country for self-imposed exile in the United Kingdom. Kumaratunga is a member of the Council of Women World Leaders and the Global Leadership Foundation. She joined the 12-member board of directors of the Club de Madrid in November 2009. She participates as a panellist and member of the Clinton Global Initiative and serves as an advisor to its annual meeting. In February 2017, Kumaratunga accepted an invitation to become part of the distinguished international Council of Patrons of the Asian University for Women (AUW) in Chittagong, Bangladesh. In the lead-up to the 2015 Sri Lankan presidential election, Kumaratunga formally declared her return to active politics, aligning with the opposition coalition. In 2015, she was appointed as the Chairperson of the Office for National Unity and Reconciliation to oversee national unity efforts in Sri Lanka.
Controversies
Waters Edge Case
The Waters Edge case involves a significant legal matter centred around the actions of former President Chandrika Bandaranaike Kumaratunga. The case pertains to her alleged abuse of executive powers to facilitate a corrupt deal related to state lands meant for public use, which was transferred to a private golf course known as Waters Edge. The Supreme Court ruled in favour of a fundamental rights petition filed by retired public servants Suganapala Medis and Raja Senanayake. The court determined that Kumaratunga's involvement in the transaction violated her role as a public officer and Executive President, breaching the trust placed in her by the Constitution and the people of Sri Lanka. The court imposed fines on Kumaratunga and another individual involved in the corrupt deal and ordered the restoration of the affected land.
Awards, Honours, Achievements
In 2005, Forbes magazine ranked her 25th on its list of the "100 most powerful women."
President Kumaratunga was presented with a medal for France's Highest National Order – the 'Commander of the Legion of Honour' (Commandeur de la Légion D'Honneur) in 2018.
President Kumaratunga was awarded the 2019 Common Ground Award for her vision, courage and commitment to peace and reconciliation by Search for Common Ground at the Cholmondeley Room, House of Lords in London.
Facts/Trivia
Chandrika Kumaratunga is referred to as CBK (her initials) for short.
During Chandrika's final election rally at Colombo Town Hall premises on 18 December 1999, she sustained an assassination attempt by the LTTE, resulting in permanent optic nerve damage to her right eye.
Chandrika Kumaratunga wrote a book named 'Wijaya' which marks the 25th anniversary of her husband's passing, "celebrates his memory and his commitment to a just and humane society, offering inspiration for future generations to courageously pursue their beliefs and values."
Chandrika Kumaratunga is known to be a workaholic. In an interview, Chandrika stated,
I'm a workaholic, I like to work. And I'm in this, not to fill my pockets like lots of others, or because the idea of power thrills me – I find it a joke."
Chandrika Kumaratunga was closely acquainted with Nelson Mandela and would sit next to each other at multi-lateral conferences. In an interview she said,
Nelson Mandela embraced me like a daughter each time we met, and asked me how my mother was doing."