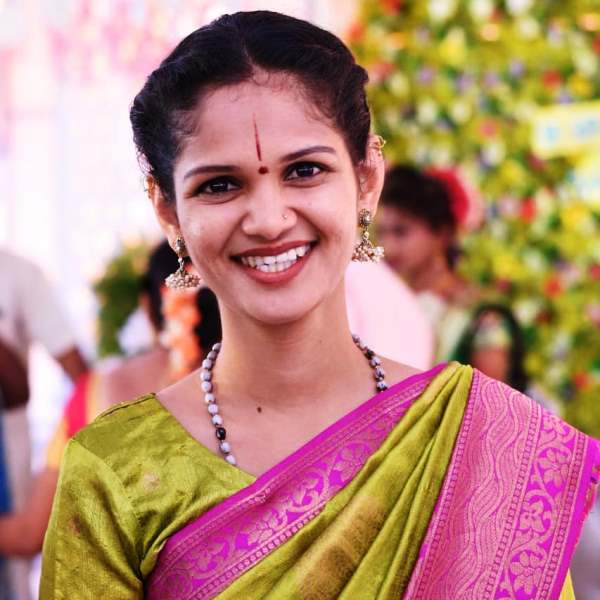 Chaitra Kundapura is a former Indian news anchor, journalist, and Hindutva activist who made headlines in September 2023 in the BJP Ticket Fraud Case.
Wiki/Biography
Chaitra Kundapura was born on 5 April, and she hails from Kundapur, Karnataka. Her zodiac sign is Aries. She attended a government school in Kundapura and then enrolled in Govt Pre-University College Thekkatte, Karnataka. She studied journalism and mass communication at Mangalore University.
Physical Appearance
Height (approx.): 5′ 4″
Hair Colour: Black
Eye Colour: Black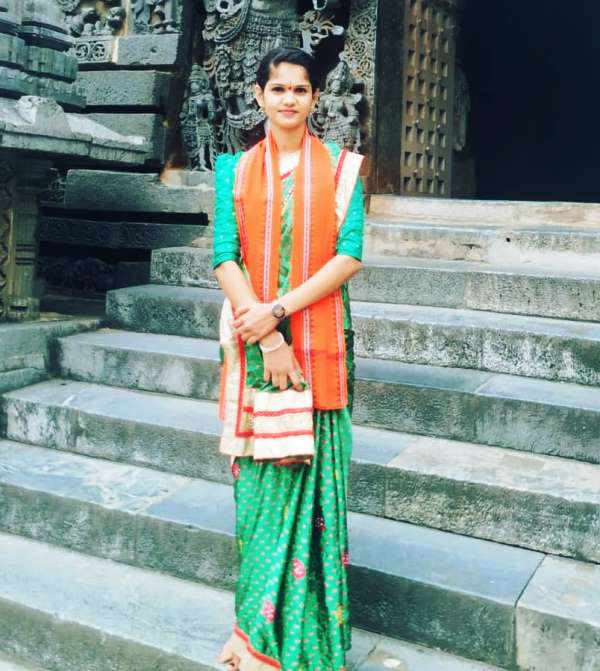 Family
Parents & Siblings
Her mother's name is Rohini.
Husband & Children
Her marital status is unknown.
Religion
She follows Hinduism.
Career
According to her Facebook profile, she started working at Samaya News 24X7, a Kannada television news channel. In 2016, she joined the media company Spandana TV as a news anchor.
Later, Chaitra moved to Kundapura town in Udupi district, Karnataka, where she continued to work as a journalist.  In 2015, she started working as a sub-editor at the Kannada daily newspaper Udayavani in Manipal, Karnataka.
In 2020, she joined KLH Infotech Limited as SEO Marketing Manager. She also worked at the UBMC School in Kundapur, Karnataka.
As a Hindutva Activist
In 2013, she became a National Executive Committee Member of Akhil Bharathiya Vidhyarthi Parishath (ABVP). By 2015, she became its Central Working Committee (CWC) member. An active ABVP member, Chaithra led agitations over the murders of two students, Rathna Kothari in 2014 and Akshatha Devadiga in 2015. In 2018, Chaitra earned immense appreciation from BJP leaders, including Shobha Karandlaje, for opposing the September 9 Bharat bandh called by the INC and other parties over the rising fuel prices. She often delivers provocative speeches at events organised by right-wing groups like Ramakshatriya Seva Sangha (Puttur), Bajrang Dal, and Vishwa Hindu Parishad (VHP). Her social media handles feature numerous images from anti-Muslim rallies, public engagement initiatives, and campaigns.
She first came into the limelight in October 2021 when she delivered a hate speech that sparked communal tensions. In the speech, she said that Hindu groups can also convert Muslims and make them wear kumkum (vermilion). She said,
Being just 23%, if you are showing this much arrogance, how much (arrogance) should 70% Hindus show? This is the final warning for you. If you can stop doing 'love jihad', you will live. If 70% Hindus decide to convert 23% Muslims, and decide to love them, only two days are enough and you won't see a single burqa in the houses of Muslims. We will put a kumkum on each Muslim girl's forehead"
She actively campaigned for the BJP during the 2023 Karnataka Assembly elections, particularly in Uttar Kannada. While campaigning, she often shared the stage with various Hindutva leaders like Sri Rama Sena founder Pramod Muthalik and Bajrang Dal's Sharan Pumpwell. Reportedly, Chaitra was banned from entering Kalaburagi's Aland taluk from 27 February to 3 March 2022 by a District Collector's order which cited the need to maintain peace and harmony in the district as the primary reason for the restriction.
Controversies
Assaulting a Hindu Jagarna Vedike Activist
In 2018, Chaitra Kundapura, along with five of her associates, were sent to a seven-day police custody by a Karnataka court. She was arrested after an incident in which she and her group assaulted Guruprasad Panja, who served as the Sullia taluk secretary of the Hindu Jagarana Vedike. According to a sub-inspector, Chaitra and her associates attacked Panja outside his shop near Kashi Katte. This assault occurred after Chaitra had visited the Kukke Subramanya Mutt earlier that day. One of Chaitra's aides used a steel rod to attack Panja after a heated argument between the two Hindu leaders. Chaitra was charged with assault under IPC 351. At that time, Panja and Chaitra had been engaged in disputes for over two weeks on Facebook regarding the performance of a "Sarpa Samskara" ritual, which involves worshipping the snake god. Chaitra wanted the ritual to be conducted at the mutt, while Panja, who was aligned with the Kukke Subramanya Temple, preferred it to be held there. Vidyaprasannateertha Swami, the Mutt's seer, had initiated a hunger strike over this controversial issue. Even Karnataka Chief Minister HD Kumaraswamy reacted to the incident on October 14, urging the seer to end the hunger strike and find a peaceful resolution to the matter.
Cash-for-MLA Ticket Scam
On 8 September 2023, a businessman named Govind Babu Pujari filed an FIR in Bengaluru accusing Kundapura and her accomplices of stealing Rs 5 crores from him by promising a BJP ticket to contest from the Byndoor constituency in the 2023 Karnataka Assembly elections. The FIR named Kundapura as the first accused followed by Gagan Kadur, Abhinava Halasri Swamiji (from Samsthana Mutt in Hospet), Ramesh, Naik, Dhanraj, Srikanth and Prasad Byandur. They were booked under IPC Sections 406 (criminal breach of trust), 419 (cheating by personation), 420 (cheating), 170 (personating a public servant), 506 (criminal intimidation) and 120B (criminal conspiracy). While Kundapura had clutched Rs 3.5 crore, the seer Abhinav Halasree had pocketed ₹1.5 crore from Pujari. Pujari narrated the events to the police and said,
Through Prasad Baindoor, I met Chaitra in 2022 and she promised to help me in getting a ticket from Byndoor constituency in the assembly elections. In July 2022, they took me to Chikkamagaluru and introduced me to one Vishwanathji, claiming he was an RSS pracharak. He promised a ticket but said it will cost me. …In July 2022, I made an advance of Rs 50 lakh in cash to one Gagan Kadur from BJP Yuva Morcha. Later, Vishwanathji told me that my name had appeared in the probable list and I should pay Rs 3 crore for getting the ticket. I paid Rs 3 crore to Gagan and Chaitra in October 2022. Then, as directed by Chaitra and others, I met one Abhinava Halashri Swamy, who claimed he had contacts with top BJP leaders and will get me the ticket, in his Bengaluru residence and paid him Rs 1.5 crore cash ….In March this year, Chaitra told me that Vishwanathji had died of illness. When I enquired with other BJP functionaries, they told me that no RSS pracharak by name Vishwanathji lived in Chikkamagalur. When I questioned Chaitra and others and demanded my money back, they threatened to commit suicide. When I questioned other BJP workers in Chikkamagalur, I realised that I was conned."
The case was transferred to the Central Crime Branch (CCB), which formed three teams to track down the suspects. G M Abhinava Halaveerappajja, the seer of the Halashri Mutt in Vijayanagara, was absconding when he was nabbed by the police on 18 September while travelling on a train near Cuttack in Odisha. Reportedly, Chaitra sensed that the police were on her trail, and hence, she switched off her mobile and asked one of her associates to get her a new phone and a sim card. However, the police tracked her down on 12 September after arresting Prasad Baindoor. They got Baindoor to call Chaitra, asking her to meet him for the mobile and sim card in the parking lot of Sri Krishna Mutt, Udupi, where the police arrested her. Meanwhile, her associates Gagan Kadur, Ramesh, Dhanaraj, Srikant, and Prajwal were caught from various places in the state, meanwhile, Abhinava Hala Swami was still on the run. Gagan Kadur is a member the BJP youth wing Bharatiya Janata Yuva Morcha. On 15 September, she suffered from epileptic seizures when she was being questioned by the CCB officials following which she was taken to Victoria Hospital in Bengaluru. While Kundapura was being brought to the CCB office for interrogation she said that her arrest was part of a "conspiracy related to Indira canteen pending bill issue" during a media interaction. She also said that the arrest of a Swamiji would bring many big names out in the open. By 17 September, the Central Crime Branch (CCB) officials recovered over Rs 2 crore from Chaitra, which she had used to buy a car, invest in fixed deposits, and purchase gold valuables. The matter first came to notice in July 2023 when a Hindu leader from coastal Karnataka named Satyajit Suratkal called Rajashekharananda Swamiji of Vajradehi Math and asked him to return RS 1.5 crore that he had taken from Poojary. Confused, Rajashekharananda Swamiji told Suratkal that he had met Poojary only once at Kollur and knew nothing about the money. Later, it was clarified that the actual person involved in the matter was another seer Abhinav Halasree Swamiji and not Rajashekharananda Swamiji.
Cheating a BJP Member
While she was in the custody of the Central Crime Branch (CCB) in Bengaluru, she was booked in another case for allegedly cheating a BJP member of Rs 5 lakh. The complainant, Sudheena Pujari, was a resident of the Udupi district. He claimed that Kundapura deceived him out of Rs 5 lakh on the pretext of helping him to establish textile shops in Udupi and Kota in 2015. Sudheena claimed that he first met Kundapura in 2015 during a 'Go Raksha Samavesha.' Kundapura encouraged him to open a clothing store following which he raised the necessary funds through fishing and other means. Sudheena claimed that he provided Kundapura with Rs 2 lakh in cash and transferred Rs 3 lakh to her bank account. However, according to Sudheena's complaint filed at the Kota police station in Udupi, the clothing shop was registered under Kundapura's name while Sudheena was away working in Andhra Pradesh. The BJP member claimed that when he asked Kundapura to refund his money, she threatened him with lodging a sexual harassment complaint. The Kota police have registered a case under sections 506 (pertaining to criminal intimidation), 417 (involving cheating), and 420 (involving cheating and dishonestly inducing delivery of property) of the Indian Penal Code (IPC).
Facts/Trivia
She won a traditional queen contest in 2014.
She has also written a book on Love jihad named Prema Pasha which translates to Love Loop. Love Jihad or Romeo Jihad is an Islamophobic conspiracy theory promoted by right-wing Hindutva activists. The conspiracy theory alleges that Muslim men 'trap' Hindu and Christian women for conversion to Islam by means such as seduction, love, and marriage.